Last-Minute Holiday Gifts: 4 Rock Star Memoirs
Great stocking stuffers by Neil Young, Carly Simon, Patti Smith and Tom Jones
As the rest of the country throws itself into the shopping frenzy of Apple watches, drones, Droids and hoverboards that is Christmas 2015, I am wistfully, blissfully lost in the 1970s. The I who is lost is wearing an embroidered peasant blouse, a colorful Indian skirt, Fred Braun platform shoes and a fringed leather shoulder bag. I am rotary-dialing my friends, dripping sealing wax on my handwritten letters, stringing beads and pretending I'm Carole King when I sit down at the piano.
And on my turntable, over and over I am spinning my favorite LPs: among them, Neil Young, Carly Simon, Patti Smith and Tom Jones.
But these are not drug-induced flashbacks, man. For the past few weeks, I've been reading — past the point of distraction to the point of immersion — the new memoirs by Neil Young, Carly Simon, Patti Smith and Tom Jones. What a trip! The only thing unchanged is that the country is, now as then, gripped in the clutches of Stars Wars mania. If you're looking for last-minute holiday gift ideas, consider one or more of these:
Neil Young: Old Man, Look at His Life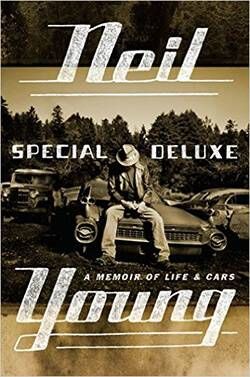 Neil Young, or the artist formerly known as God, wrote his first autobiography, Waging Heavy Peace: A Hippie Dream, in 2012, to mostly positive reviews. More recently, he's penned another book about his life (published in hardcover in 2014, it's now out in paperback), one that gives new definition to the term "autobiography." Called Super Deluxe, it retells his life story with an emphasis on the cars he's owned and loved. Interestingly, Young learned to paint (in watercolor) to create the images of the cars that appear at the beginning of each chapter.
This book is for someone who appreciates Young's music, particularly his lyrics, likes cars and doesn't mind a little preaching about environmental issues. Young is famously curmudgeonly, and today is kind of a 70-year-old enfant terrible. He's remarkably candid in presenting himself as such, although one senses that the flippancy of his descriptions doesn't do justice to the sucker punch that those on the receiving end no doubt experienced.
Much material is retread from the first book — Young's family history, his rise to fame, his boldface friends and fellow musicians, health crises and, of course, love and lovers — yet the emphasis on his many classic cars makes Super Deluxe a unique read. Young's quirky writing style feels like riding shotgun in one of those old Buicks. Part of the credit may belong to us, however. Our generation had such an intense connection to the music and the musicians we grew up with that reading about their lives almost feels like we're reading our own stories.
Carly Simon: Clouds in Her Coffee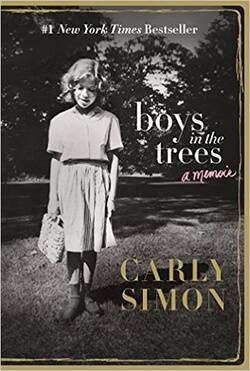 We all knew Carly could write songs, but who knew she could write such a solid book? One could argue it's in her DNA: Her father, Richard Simon, was one-half of the publishing giant Simon & Schuster, and Carly grew up around such literary lights as William Styron, Bennett Cerf, Dashiell Hammett and Lillian Hellman, not to mention such musical giants as Benny Goodman, assorted Hollywood types and sports idols including Jackie Robinson.
To girls like me, Carly was the Queen. She was the coolest, the cutest, the edgiest. She broke the rules, but in such an admirable way! We felt like if she came to our town and met us, we'd be BFFs, or whatever the 1973 equivalent of that was. Reading her terrific new book, Boys in the Trees, in 2015, I still feel that way.
Beyond the voyeuristic delight of devouring her A-list anecdotes, a reader is smitten by Simon's honesty, her sincere self-deprecating humor, her Everygirl'ness. She writes candidly — and achingly — of her mother's adultery, her father's tragic death, her stutter, shyness, painful sibling rivalries, stage fright and eating issues (collectively comprising the demon she calls "the Beast"). Though she was raised as New York royalty, Simon always felt — as so many young people do — like a misfit, an alien.
Yet as we were singing into our hairbrushes, that misfit was recording No. 1 hits, flying first-class on world tours, dating the likes of Kris Kristofferson, Warren Beatty and Mick Jagger, and later breaking every one of our hearts by marrying our future husband, James Taylor.
While the writing is uneven — veering from sparkling and lyrical to flowery and turgid — it has a you-are-there immediacy. Simon possesses a rare gift for storytelling and a candor that doesn't feel like bragging (or even humblebragging). You feel like you're with her at Radio City, in her charming Stanford White apartment in Murray Hill, backstage with The Stones. You simultaneously love her and empathize with her and want to be her. Bless you, Carly Simon, for keeping a diary your entire life!
Patti Smith: Still Dancing Barefoot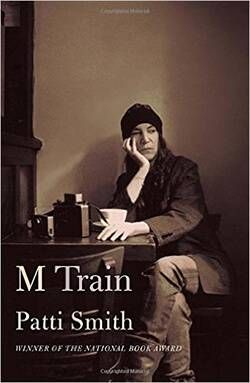 Those of us who liked Patti Smith loved her. The "Grandmother of Punk" taught us that girls could be gnarly, didn't have to wear makeup or act girly. We could play electric guitar and make loud music and sing out of key. She taught us that writing poetry was important.
After her first groundbreaking quartet of albums, Smith went on to achieve acclaim for her drawings and poetry. Her first memoir, Just Kids, about her entrée into rock 'n' roll and early life in NYC with artist Robert Mapplethorpe, won the prestigious National Book Award in 2010. This is a rocker who can write!
Fans who've impatiently been waiting for the follow-up won't be disappointed. M Train, a slimmer but proportionately entrancing volume, doesn't pick up where Just Kids left off. It careens through space and time — Smith's favorite West Village café; a defunct prison in French Guiana that was a dream destination of Jean Genet's; wistful snippets of life in Detroit with her late husband, Fred; a midnight meeting with Bobby Fischer in Reykjavik singing Buddy Holly songs; a miscalculated lecture in East Berlin to an oddball assemblage of geeks dedicated to the memory of the Continental Drift theorist — all fueled by a bottomless cup of black coffee and stitched together as a pastiche that includes her quirky obsessions, rich dream life and philosophic musings on art and life. The only thing missing: any hint of her life as a rock 'n' roller.
Tom Jones: It's Not Unusual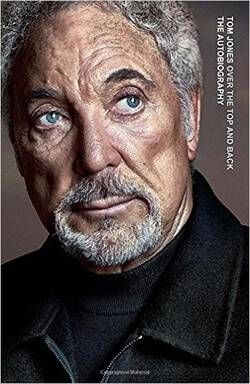 Welsh rocker Tom Jones — excuse me, Sir Tom Jones — has also given the world a memoir, Over the Top and Back. It makes for addictive reading because: a) Jones has led an indisputably extraordinary life and b) it was ghostwritten by the gifted British journalist Giles Smith, who also penned Rod Stewart's autobiography.
Sir Tom takes us on a rollicking ride that begins humbly in the Welsh coal-mining town of Pontypridd. He explains that the only reason he didn't follow the career trajectory of all the townsmen was because he had tuberculosis. (He's also dyslexic, we learn.) He never took singing lessons, got his girlfriend pregnant at 16 and eight months after that, they married. (Today, 58 years later, they're still married.)
But young Tom's life had destiny writ large all over it. While selling vacuum cleaners, he was moonlighting as a singer in local pubs and — as these stories often go — was discovered by an agent in the audience, whose wife said of Jones, she'd never seen anything "so male" in her life.
That's the gift that, along with his deep baritone and sexy onstage gyrations, rocketed him to international fame. In the book, Jones lifts the veil on plenty of behind-the-scenes escapades and acknowledges the ubiquitous temptation of sex. But though he clearly kissed (he has an out-of-wedlock 27-year-old son), he doesn't tell.
(Or, as Daily Mail reviewer Jan Moir more bluntly put it, "At the height of his fame in the Sixties and Seventies, Jones notoriously slept with hundreds of women — and carried on his marathon shagathon into the next few decades for good measure.")
My recommendation for gift recipients: Save these books for times to tuck into them for hours at a stretch. The continuity that creates is a potent set-and-setting vehicle that will catapult a reader through the time tunnel and plop him or her (or you) right back to that era.
And one other suggestion for anyone getting one of these books:  if you happen to own a pair of ripped and patched jeans, a well-worn flannel shirt, a colorful Indian skirt or some jangly bangles, put them on. Then cue up the Neil, Carly, Patti or Tom (or JT, CSN, Stones or all of the above) and get your groovy on.
Suzanne Gerber
, former Living & Learning editor for Next Avenue, writes about inspirational topics including health, food, travel, relationships and spirituality.
Read More