A New Report Spotlights the Need for More Inclusive LGBTQ Long-Term Housing
The new 'Equality Index' shows more training and education is needed in long-term care facilities
Do you know the story of Marsha Wetzel? She moved to a retirement community in the Chicago area after the death of her long-time partner. After numerous incidents, Wetzel, now deceased, eventually sued the management organization for violating the Fair Housing Act, due to harassment by other residents because she was a lesbian.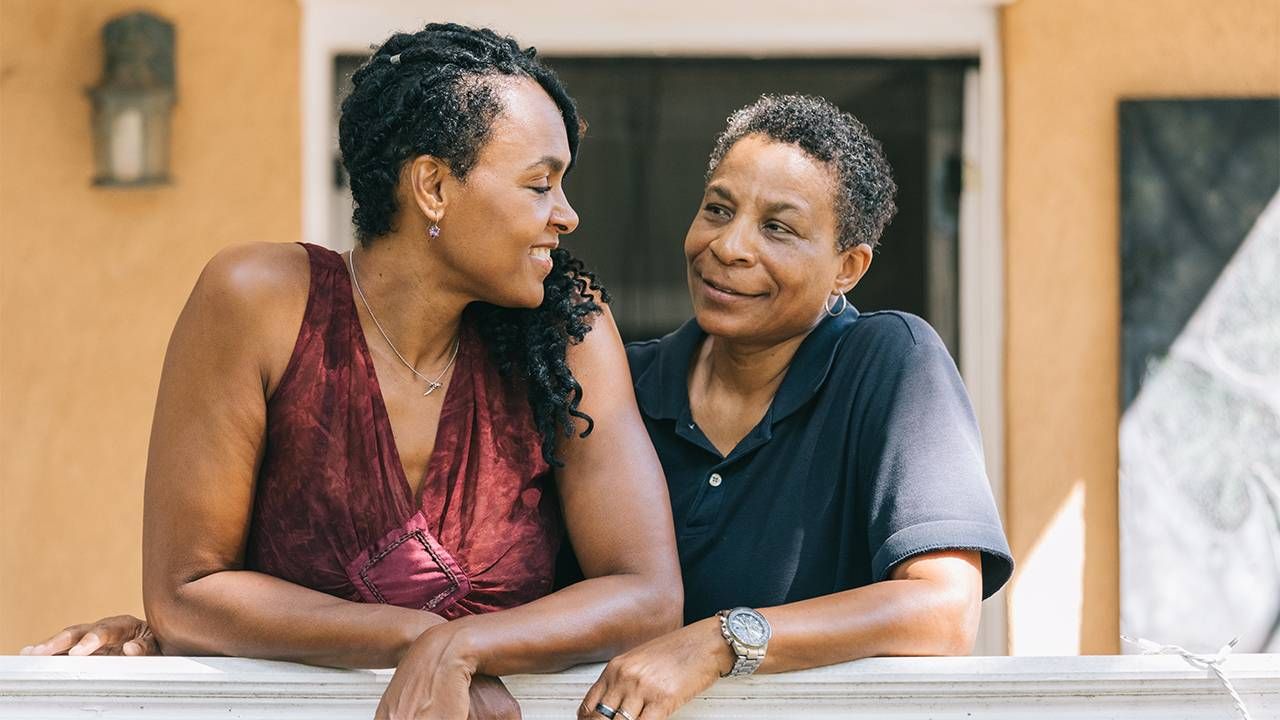 She won her case. A precedent-setting ruling by the Court of Appeals, Seventh Circuit, affirmed that housing discrimination against LGBTQ people is a form of sex discrimination, prohibited by the Fair Housing Act. The ruling also maintained essential safeguards for victims of harassment in rental housing, saying landlords could be held liable for a hostile housing environment if they failed to protect tenants from known harassment, according to Lambda Legal Services, which handled Wetzel's case.
About 5% of people who live in long-term care communities are LGBTQ, but many remain closeted or feel a need to hide their identities.
Although LGBTQ older adults experience many of the same concerns while aging and seeking care as anyone else, there are additional concerns, considerations and fears unique to this population. That's where the first Long-Term Care Equality Index (LEI) can help.
SAGE (a nonprofit advocating for older LGBT adults) and the Human Rights Campaign Foundation, the educational arm of the nation's LGBTQ civil rights organization, recently released this national benchmarking tool, which evaluates long-term care communities based on the equity and inclusion of their LGBTQ residents and patients. One hundred and eighty-four long-term care communities were represented in the report.
What Does LGBTQIA+ Stand For?
Lesbian, gay, bisexual, transgender, queer, intersex, and asexual. The "plus" is sometimes used to represent identities not reflected in the acronym, such as pansexual or genderfluid.

The report also lays out how organizations can participate in the Long-Term Care Equality Index and improve their policies. About 5% of people who live in long-term care communities are LGBTQ, but many remain closeted or feel a need to hide their identities, according to the report.
Seventy-six percent of LGBTQ older adults express apprehension about having adequate social support as they age, according to AARP. Many are unmarried and don't have children, who might otherwise help with caregiving at home.
"Aging service providers are just starting to recognize that LGBT people exist."
Despite making strides in fostering equality over the past few decades, there are still thousands of people like Wetzel who experience discrimination, harassment or abuse when seeking or living in senior housing.
"People should be able to age, and live, in the communities that they've always lived at and not feel like they have to move to a new state or city that's more open and accepting," said Sherrill Wayland, director of national education initiatives for SAGE. "People need to have choice and know that they have places that are open and affirming to them."
LGBTQ Bias Is Still Common
No consistent federal anti-discrimination protections for LGBTQ people currently exist. Without these protections, half of all LGBTQ older adults in the U.S. live in a state where they can be legally denied access to housing and public accommodations, according to the LEI report.
Researchers found fear of discrimination is still real and persistent. Thirty-four percent of all LGBTQ older adults say they are afraid they will have to hide their identity just to access housing. Those who are also BIPOC are additionally fearful of racial discrimination.
"The aging industry is still fairly conservative," said Dan Stewart, associate director, aging equality project, at the Human Rights Campaign Foundation.
Unlike hospital systems that have had to create more inclusive policies under the Affordable Care Act, that wasn't the case for long-term care facilities. "It's not necessarily that people weren't welcoming or not wanting to welcome. But aging service providers are just starting to recognize that LGBT people exist," said Stewart.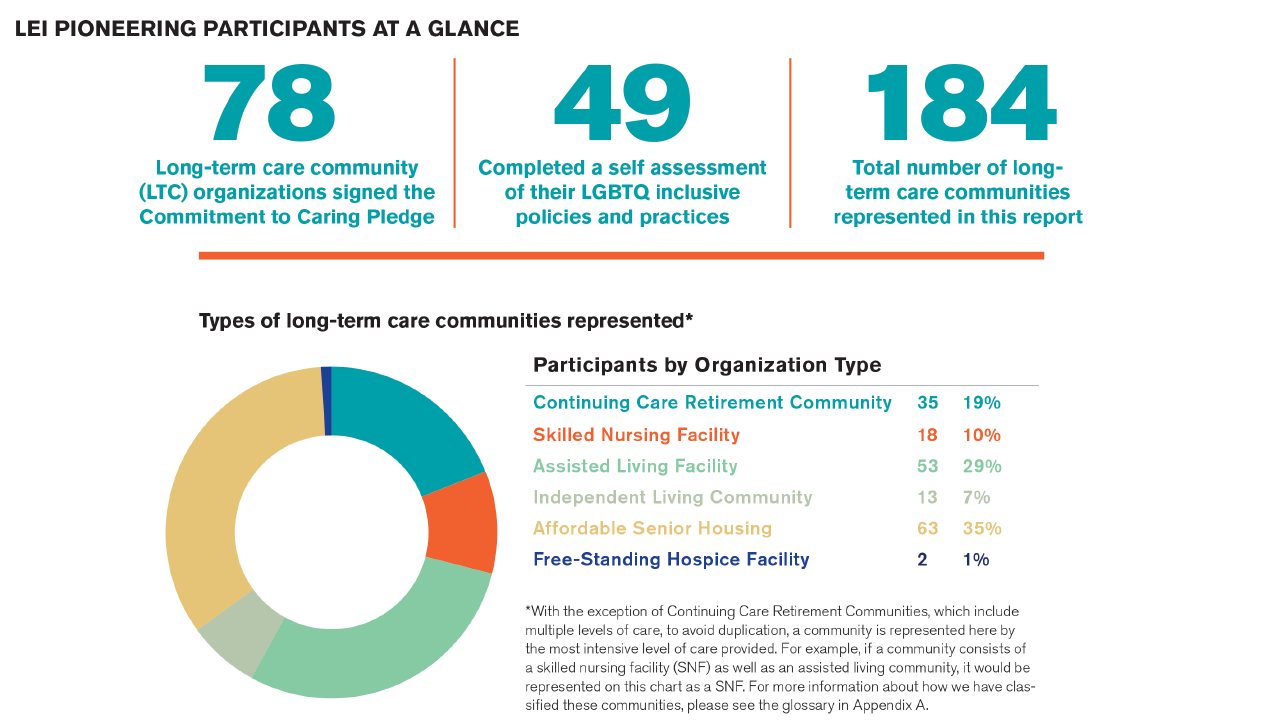 Some states, including California and New Jersey, have enacted LGBTQ-inclusivity in long-term care through legislation. These laws prohibit denial of admission, service, medical care and reasonable accommodations due to sexual orientation, gender identity, and expression, intersex status or HIV status. LGBTQ residents also have the right to use their chosen names, pronouns, and chosen clothes. Additionally, administrators and staff members must complete cultural competency training and must adopt policies that protect LGBTQ residents and employees.
However, the LEI report found that few long-term care communities adopted fully inclusive and protective non-discrimination policies for residents and employees based on their sexual orientation or gender identity.
The LEI measured several key areas as benchmarks of LGBTQ inclusion in long-term care settings, including foundational policies and practices; resident services and support; employee benefits and policies and resident and community engagement. 
For this first analysis, researchers looked at 115 of the largest continuing care retirement communities (CCRCs) and skilled nursing facilities (SNFs).
"It's not necessarily that people weren't welcoming or not wanting to welcome. But aging service providers are just starting to recognize that LGBT people exist."
Over half (62%) of these communities included a resident non-discrimination policy statement on their websites. While the majority of those statements included a list of protected classes, only a handful (18%) were fully LGBTQ-inclusive, protecting residents based on their sexual orientation and their gender identity. The rate was slightly better for employee non-discrimination, with 69 specific policies. About a third of those (36%) were fully LGBTQ-inclusive. 
Of the 90 largest long-term care systems, which operate multiple communities, only 29% of those were LGBTQ-inclusive. Just 59 of the systems had detailed employee non-discrimination policies, and only 46% of those were LGBTQ-inclusive. 
"LGBT folks are living all over the country. They're in the smallest communities to the largest metropolitan areas. How do we make sure that people, even in some of our more rural and less densely populated areas have access to welcoming services?" Wayland said.
The LEI Equality Index was designed to help facilities meet this goal and provide a tool for those seeking long-term housing options. 
Choosing The Right Environment
Inclusivity was the key factor in March 2020 when Melissa Frey, 72, and her wife Laura Cooper, 75, purchased a single-level home at Beatitudes Campus, a continuing care retirement community in Phoenix. Although they had looked elsewhere, they felt Beatitudes was more welcoming and inclusive. 
"We talked to one of the residency counselors, and we just decided right upfront that if we were going to move into this type of situation where you're part of a community, then that community needed to be somewhere we felt comfortable," Frey said. "We just said, 'If y'all have a problem with same sex couples, you just tell us right now. And we're out the door.'"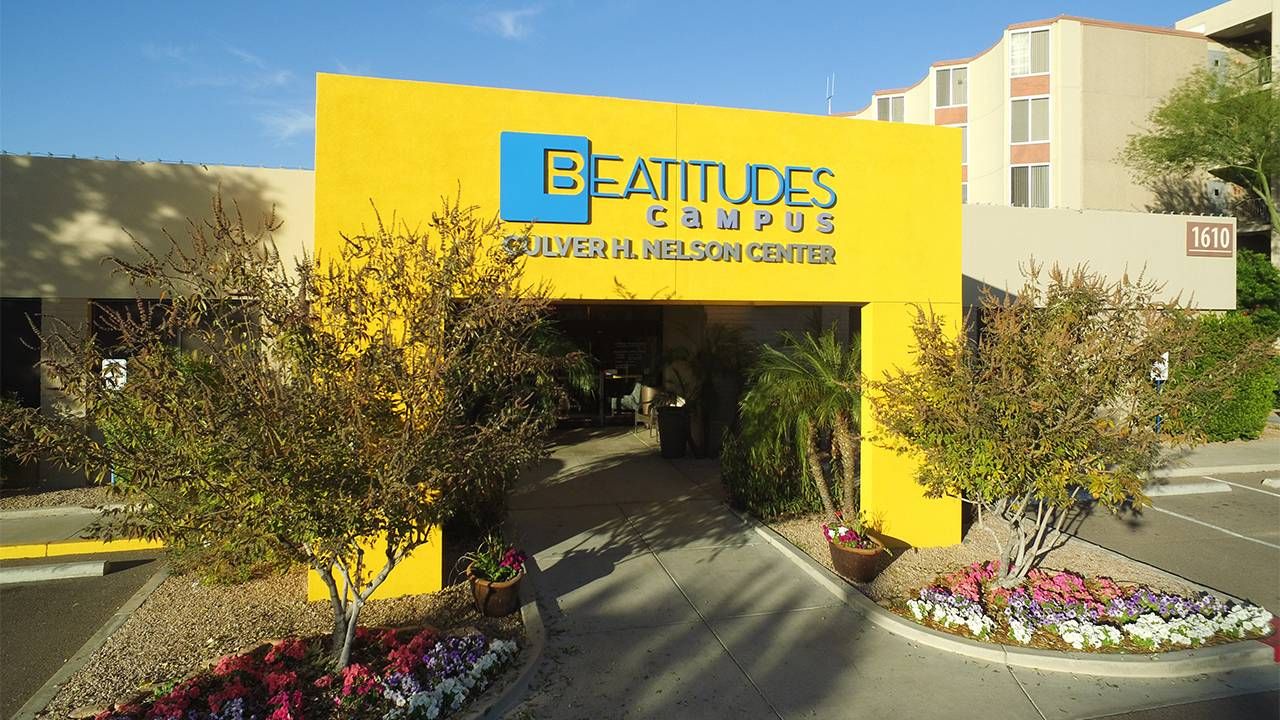 The couple felt reassured that Beatitudes did more than just pay lip service to diversity and inclusion. "
Their promise statement is very inclusive," Frey said. "It's on their website, on their wall, when you walk in the welcoming center. They're very upfront about being inclusive."
"We were not going to hide who we were with this move," said Cooper. "We were going to be ourselves."
It was the first time they had ever introduced themselves as spouses to other people. Cooper said the reaction from everyone they met at Beatitudes was very matter of fact.  "We wanted to be a part of a community. And you do feel that here," she said.
A Commitment to Caring
Since the LEI effort was first announced in 2019, 78 long-term care community organizations (both individual communities as well as larger systems with multiple communities) have signed a Commitment to Caring Pledge, indicating these communities' intentions to adopt LGBTQ inclusive and culturally competent policies and practices.
Additionally, 49 long-term communities completed self-assessments, which allowed them to determine which benchmarks of LGBTQ inclusion they already have in place.
The LEI website includes an interactive map showing which organizations have signed the commitment to the pledge and completed the self-assessment. Several facilities throughout the United States which have made significant commitments to inclusivitiy are also featured — they range from multi-facility, faith-based organizations to private long-term care communities in places as different as Milwaukee, Tucson and Asheville, N.C.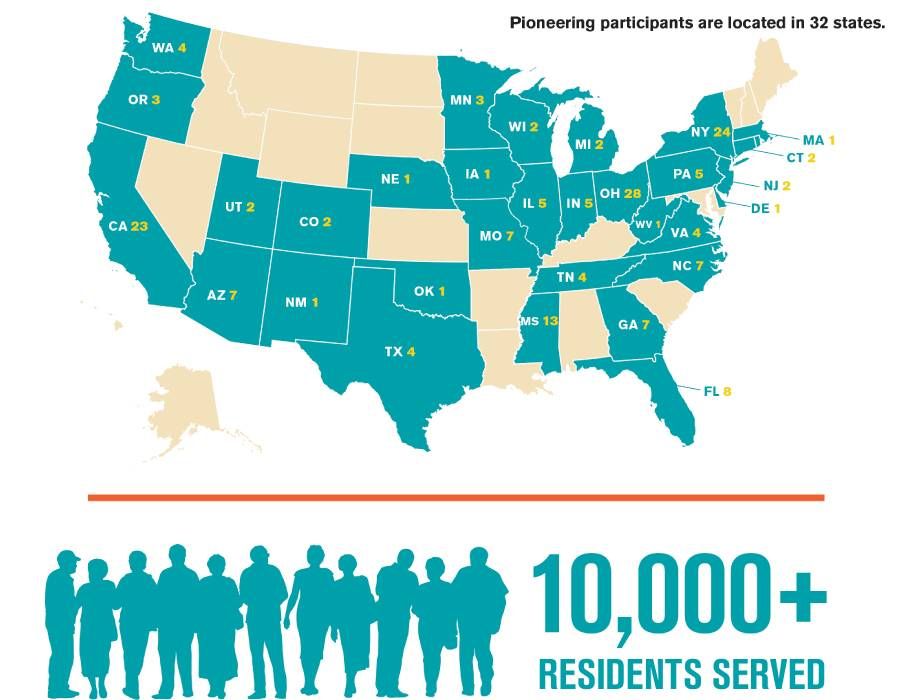 However, even in regions considered more progressive, finding LGBTQ-inclusive housing is difficult, according to Jacqueline Boyd, CEO of The Care Plan, a Chicago area care management and consulting firm.
"It's a challenge everywhere because there's too few housing organizations that are run by and for LGBTQ+ folks," said Boyd. "I actually don't know of any skilled care facilities that are LGBTQ-focused."  
"One of the biggest reasons why the long-term care index is needed is because [the] aging services [world] doesn't see marginalized communities," said Boyd, a longtime aging specialist and LGBTQI advocate. She said most facilities fall short on staff training, intentionally incorporating inclusion throughout their culture, and intervention, when necessary.  
In addition to retirement and assisted living communities, there's also an ongoing effort to include affordable senior housing complexes, home care companies and geriatric care managers in SAGE's training sessions. This will help to reach more areas which may include diverse LGBTQ elders, according to Wayland.
If you're a member of the LGBTQ community and looking to transition into senior housing, Stewart advises doing some homework before signing a contract:
Look for symbols of inclusivity, like a rainbow flag, on their website or marketing materials 
Ask about the facility's anti-discrimination and anti-harassment policies
Find out how staff or management will intervene if harassment or bullying occurs  
Ask whether management and administration provide cultural competency training to staff about serving diverse communities, including LGBTQ older adults
Find out if residents are offered information on diversity and equity
Ask whether there are other diverse residents, couples and staff at the facility
Editor's note: This story is part of The Future of Elder Care, a Next Avenue initiative with support from The John A. Hartford Foundation.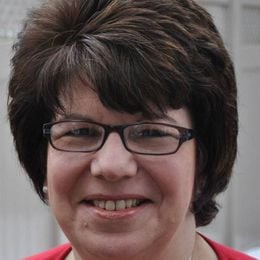 Liz Seegert
New York-based journalist Liz Seegert has spent more than 30 years reporting and writing about health and general news topics for print, digital and broadcast media. Her primary beats currently include aging, boomers, social determinants of health and health policy. She is topic editor on aging for the Association of Health Care Journalists. Her work has appeared in numerous media outlets, including Consumer Reports, AARP.com, Medical Economics, The Los Angeles Times and The Hartford Courant.
Read More