The Hidden Suicide Epidemic Among Long-Term Care Residents
Experts point to loneliness, disability and lack of proper care as reasons
(This article appeared previously in Kaiser Health News. This is an abridged version of the story. Click here to see the entire story.)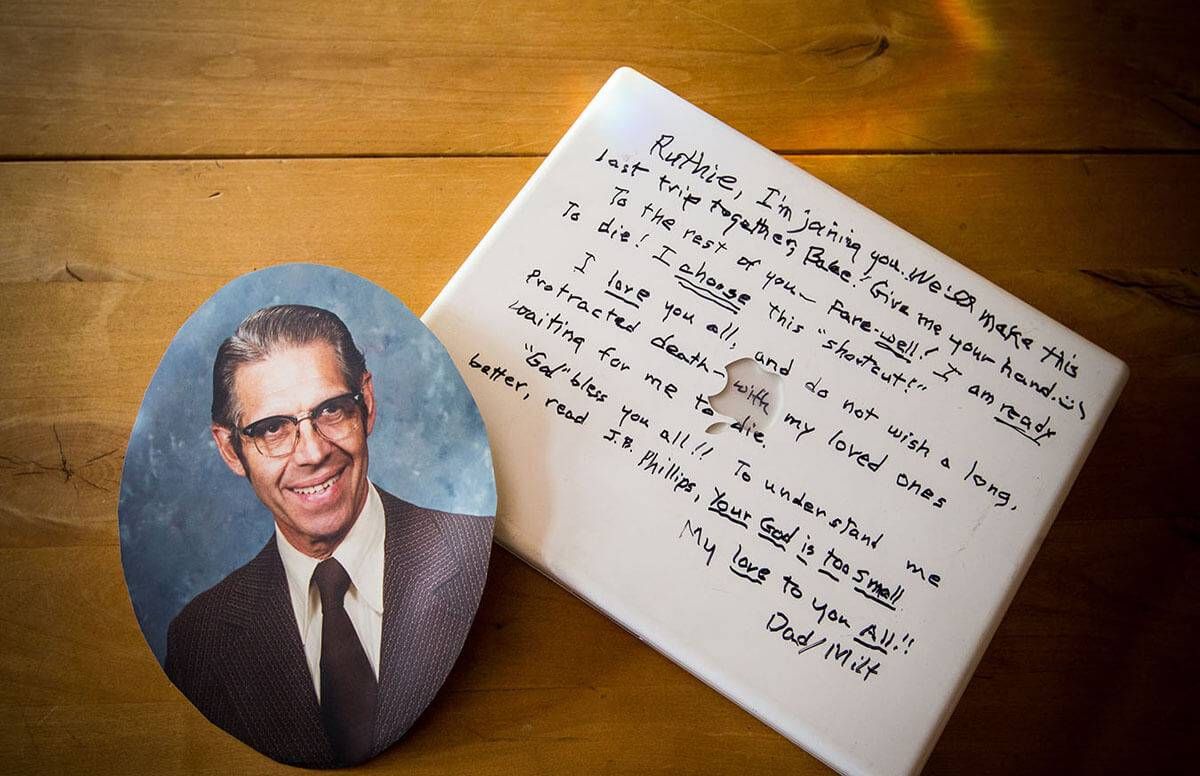 When Larry Anders moved into the Bay at Burlington nursing home in late 2017, he wasn't supposed to be there long. At 77, the stoic Wisconsin machinist had just endured the death of his wife of 51 years and a grim new diagnosis: throat cancer, stage 4.
His son and daughter expected him to stay two weeks, tops, before going home to begin chemotherapy. From the start, they were alarmed by the lack of care at the center, where, they said, staff seemed indifferent, if not incompetent — failing to check on him promptly, handing pills to a man who couldn't swallow.
Anders never mentioned suicide to his children, who camped out day and night by his bedside to monitor his care.
But two days after Christmas, alone in his nursing home room, Anders killed himself. He didn't leave a note.
The act stunned his family. His daughter, Lorie Juno, 50, was so distressed that, a year later, she still refused to learn the details of her father's death. The official cause was asphyxiation.
"It's sad he was feeling in such a desperate place in the end," Juno said.
Suicides in Long-Term Care:  Often Overlooked
In a nation where suicide continues to climb, claiming more than 47,000 lives in 2017, such deaths among older adults — including the 2.2 million who live in long-term care settings — are often overlooked. A six-month investigation by Kaiser Health News and PBS NewsHour finds that older Americans are quietly killing themselves in nursing homes, assisted living centers and adult care homes.
Poor documentation makes it difficult to tell exactly how often such deaths occur. But a KHN analysis of new data from the University of Michigan suggests that hundreds of suicides by older adults each year — nearly one per day — are related to long-term care. Thousands more people may be at risk in those settings, where up to a third of residents report suicidal thoughts, research shows.
Each suicide results from a unique blend of factors, of course. But the fact that frail older Americans are managing to kill themselves in what are supposed to be safe, supervised havens raises questions about whether these facilities pay enough attention to risk factors like mental health, physical decline and disconnectedness — and events such as losing a spouse or leaving one's home. More controversial is whether older adults in those settings should be able to take their lives through what some fiercely defend as "rational suicide."
Tracking suicides in long-term care is difficult. No federal regulations require reporting of such deaths and most states either don't count — or won't divulge — how many people end their own lives in those settings.
Is There Adequate Supervision?
Briana Mezuk, an associate professor of epidemiology at the University of Michigan, found in 2015 that the rate of suicide in older adults in nursing homes in Virginia was nearly the same as the rate in the general population, despite the greater supervision the facilities provide.
In research they presented at the 2018 Gerontological Society of America annual meeting, Mezuk's team looked at nearly 50,000 suicides among people 55 and older in the National Violent Death Reporting System (NVDRS) from 2003 to 2015 in 27 states. They found that 2.2% of those suicides were related to long-term care. The people who died were either people living in or transitioning to long-term care, or caregivers of people in those circumstances.
KHN extrapolated the finding to the entire U.S., where 16,500 suicides were reported among people 55 and older in 2017, according to federal figures. That suggests that at least 364 suicides a year occur among people living in or moving to long-term care settings, or among their caregivers. The numbers are likely higher, Mezuk said, since the NVDRS data did not include such states as California and Florida, which have large populations of elders living in long-term care sites.
Industry Says It's Not the Facilities
But representatives of the long-term care industry point out that by any measure, such suicides are rare.
The deaths are "horrifically tragic" when they occur, said Dr. David Gifford of the American Health Care Association. But, he added, the facilities offer "a very supervised environment," and settings that receive Medicare or Medicaid funding are required to assess and monitor patients for suicidal behavior.
"I think the industry is pretty attuned to it and paying attention to it," Gifford said, noting that mental health issues among older adults, in general, must be addressed. "I don't see this data as pointing to a problem in the facilities."
KHN examined over 500 attempted and completed suicides in long-term care settings from 2012 to 2017 by analyzing thousands of death records, medical examiner reports, state inspections, court cases and incident reports.
Even in supervised settings, records show, older people find ways to end their own lives. Many used guns, sometimes in places where firearms weren't allowed or should have been securely stored. Others hanged themselves, jumped from windows, overdosed on pills or suffocated themselves with plastic bags. (The analysis did not examine medical aid-in-dying, a rare and restricted method by which people who are terminally ill and mentally competent can get a doctor's prescription for lethal drugs. That is legal only in seven states and the District of Columbia.)
Despair, Loneliness, Longevity
Descriptions KHN unearthed in public records shed light on residents' despair: Some told nursing home staff they were depressed or lonely; some felt that their families had abandoned them or that they had nothing to live for. Others said they had just lived long enough: "I am too old to still be living," one patient told staff. In some cases, state inspectors found nursing homes to blame for failing to heed suicidal warning signs or evicting patients who tried to kill themselves.
A better understanding is crucial: Experts agree that late-life suicide is an under-recognized problem that is poised to grow.
By 2030, all baby boomers will be older than 65 and 1 in 5 U.S. residents will be of retirement age, according to census data. Of those who reach 65, two-thirds can expect to need some type of long-term care. And, for poorly understood reasons, that generation has had higher rates of suicide at every stage, said Dr. Yeates Conwell, director of the Office for Aging Research and Health Services at the University of Rochester.
"The rise in rates in people in middle age is going to be carried with them into older adulthood," he said.
Long-term care settings could be a critical place to intervene to avert suicide — and to help people find meaning, purpose and quality of life, Mezuk said. "There's so much more that can be done. It would be hard for us to be doing less," he said.
If You Need Help
If you or someone you know has talked about contemplating suicide, call the National Suicide Prevention Lifeline at (800) 273-8255, or use the online Lifeline Crisis Chat, both available 24 hours a day, seven days a week.
People 60 and older can call the Institute on Aging's 24-hour, toll-free Friendship Line at (800) 971-0016. The Institute on Aging also makes ongoing outreach calls to lonely older adults.
Melissa Bailey
is a Boston-based correspondent on the KHN enterprise team, focusing on aging and dying. Her stories have appeared in The Washington Post, TIME, USA Today, PBS, the Chicago Tribune and other publications. She was a 2015 Nieman Journalism Fellow and holds a math degree from Yale.
Read More