Loss, Loneliness and My Aunt Eva
It took decades to realize how much I had in common with the woman who took me in
Years ago, when my husband planned a surprise 40th birthday party for me at a restaurant near our home in northern New Jersey, I was startled that so many of my friends and relatives turned out for the occasion. I was no less surprised when my cellphone rang in the restaurant and it was my aunt Eva, calling to wish me a happy birthday.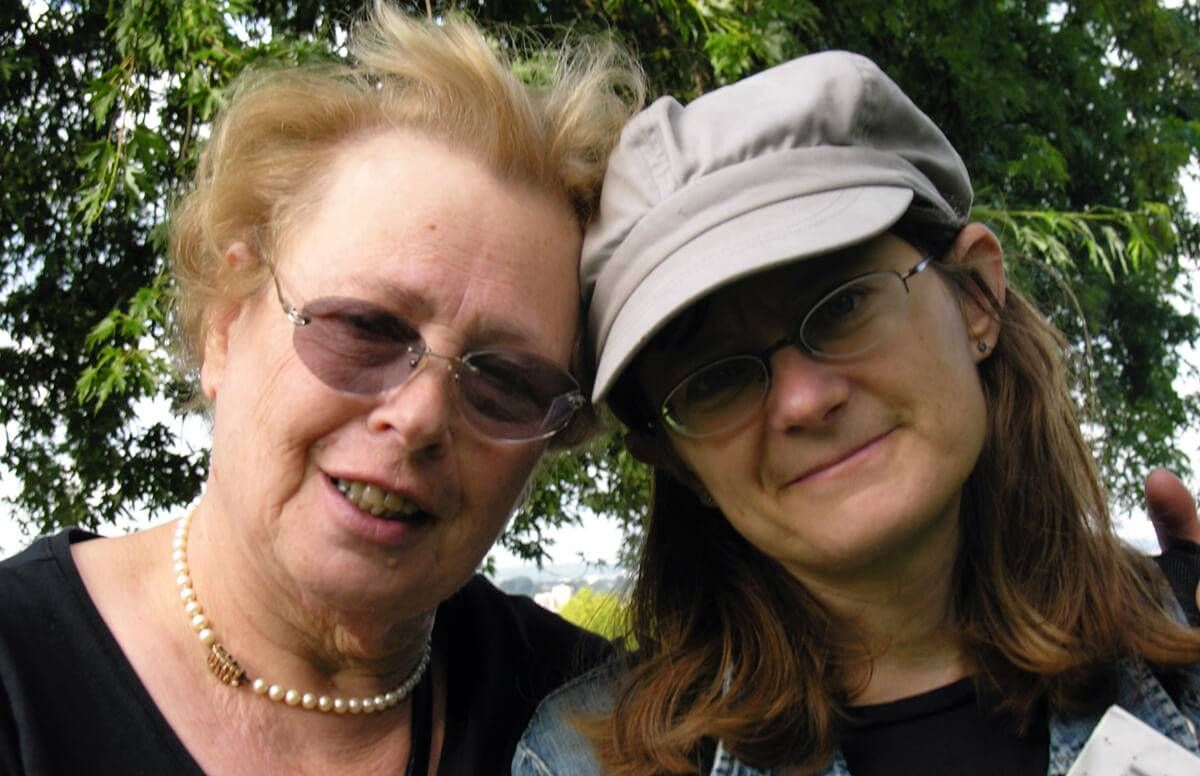 "Eva, you shouldn't stay up so late," I admonished, as I imagined her lying in her bed in London, cozy under her white comforter.
"I wanted to wish my niece a happy birthday," she said. Then she stepped out of the restaurant's kitchen. I took a few steps forward and with tears in my eyes. We hugged.
'I Am Alone'
Eva and I have a long history. I lived with her when I was 16. My mother had just died of leukemia. My stepfather was in a state of mourning. My father lived in Canada with a wife who did not want me in their home, so he arranged for me to live with my mother's younger sister. As the plane soared thousands of miles from my friends, school and bedroom, I was preoccupied by a single icy thought: I am alone.
Neither the sight of Eva waving to me through the crowd in Heathrow airport nor the warmth of her hug softened the stiffness of my body. My mind remained gridlocked.
In Eva's home, her kitchen hummed with the sounds of tea being poured into cups and the purr of the water heater. "Oh, Mudsie, you've lost weight!" she said as she served warm slices of her homemade apple kuchen. I knew that she and my mother had grown up in Nazi-run detention camps and a Swiss children's home, and that their suffering had cemented their relationship. I felt that the fierce, protective love that had bound Eva and my mother together now included me.
But in the following days, I couldn't find my bearings. I'd wake up and hear the soft murmur of voices, water pipes gurgling, the toilet flushing, footsteps on the blue carpet and doors closing. These morning sounds told me that I was extraneous. "You have no purpose," the floorboards creaked.
An Unwanted Gift
Many days, Eva would invite me to walk with her in Hampstead Heath, a wooded area not far from her house. We'd follow a path across windswept fields of grass bordered by dark, green bushes and thick, old trees. The rich smell of unfettered earth awakened my senses. Eva wanted me to be well, to move beyond the spiraling knot of mourning that strangled me.
A few weeks after I arrived, Eva motioned me into a little room at the foot of the stairs. Brandishing a small box, her voice unsteady, she said, "Here, Muds, I bought this from the jeweler and had the man write something in it." She withdrew a thin silver chain with a locket and handed it to me. On the back it read: "Myriam 1/16/29–10/7/75."
"Oh, it's beautiful," I stammered. "Thank you so much." I ran my finger over the smooth back of the locket engraved with my mother's name.
"When I was at hospital," Eva said, "I got some of Myriam's hair." She reached for a plastic bag and pulled out a few strands of my mother's straight, dark brown hair. "You can put it in the locket. That way, you can carry her with you."
I stared at my mother's hair and knew I did not want it. Mom, I cannot carry your hair around my neck, I thought. This is not anything to do with you, with my memory.  
"Thank you, Eva," I said.
Sensing I was not happy, she said, "You don't appreciate anything that I do for you."
"No, I like it," I said. "I will wear the locket. I just can't put Mom's hair in it."  
I walked out of the room, mounted the stairs to my room and crumpled on the bed.
Detention Camps
I remained a sullen teenager, despite Eva's best efforts to draw me out of my shell. "I'm trying to reach you," she said repeatedly.
As the months went by, I balanced the feeling that I should remain in the big, protective eggshell that Eva had formed around me with my need to crack it and step back into an unraveled life. I realized that I needed to leave England and go home, back to my school, my friends, and my classes.
Shortly before my return flight to New Jersey, Eva opened a white, wooden kitchen cabinet containing letters, poetry, and photos from my mother's family. I felt overcome. My mother had told me that her mother was a poet, but had never shown me my grandmother's work. I had assumed that her writings were lost, along with other written material and family photos. All I knew about my mother's past was that it was so painful she could never talk to me about it.
Now, Eva spoke about her childhood, her time in detention camps with my mother and their escape into Switzerland. Fragments of my mother's past poured out as effortlessly as the tea that cascaded from Eva's pot. As I listened to Eva's stories and songs, vivid colors filled the befogged landscape of my mind. I felt that I was there with them, that I had lived it. Though these stories were deep in the past in another culture, another land, they had somehow been woven into my psyche.
After dinner one night, Eva handed me a gray-and-pink-checkered notebook. "I asked my mother-in-law to write my mother's poetry into German. You can read. It is not in Zitterling," she said, referring to old German script. "You will have to learn German to read the poems, but this will make it easier."
"Oh, Eva, thank you so much!" I said, my voice cracking. "I will learn German."
Missing Our Mothers
In coming years, I studied German in college and pieced together the details of of my mother's life. As my research deepened, I returned to England to record Eva speaking about her experiences during the Holocaust. She sang songs she had learned in the camps and children's homes and invited friends she had known during those years to sing with her. She put me in touch with people who had been friends with my mother. I'd call her and ask questions when I did not understand a letter, poem, or diary entry. Eva always knew the answer. She had been there.
When I got married and had children, Eva sent me news clippings that provided details of her speaking engagements in schools and lecture halls in Germany. Like me, Germans wanted to hear about her family's experiences during the Holocaust.
"Muds," she said by phone one afternoon, "I met someone who went to school with my mother!" On another day, she told me that she had met someone who knew Esther, her older sister. Like Eva's mother, Esther had died in Auschwitz.
As the years went by, I realized that just as I was digging to unearth the past and discover who my mother had been, Eva had been doing the same. When I told her that I was working on a book entitled, In My Mother's Footsteps, she said, "I have also been looking to find out who my mother was." She was 11 when her mother was deported to Auschwitz.
In her 60s, Eva began to make artwork that expressed her experiences during the war. In my 20s, I began to paint and created a puppet show based on my maternal family's experiences.
I finally understood that Eva and I had been running down parallel paths. We both had a burning desire to dig into the past to get a glimpse of who our mothers had been. We both had to salve and express the ache in our hearts through art and through speaking and writing about it. Through our misunderstandings, walks, teas, hugs and tears, my aunt Eva and I forged a bond that keeps us close to this day.
Pleasant Surprises
We continue to speak on the phone and write letters. Photos of Eva and her artwork adorn my house. Now, we email. A photo of her waving goodbye is the "wallpaper" on my computer.
And we step into each other's lives on special occasions.
One such occasion was my aunt's recent 85th birthday, when I flew from New Jersey to give her the same surprise she'd given me 17 years earlier.
I'd met up with some cousins at a pub, and then we'd walked to Eva's home together. I waited on the sidewalk while they went inside, before placing a phone call to wish her a happy birthday.
"Mudsie," she said. "So nice of you to call."
"Sounds like you have family around," I said.
"Yes, David's here with family, and Jonny…"
As she spoke, I walked up to her house and knocked.
"Just a minute," she said. "Someone's at the door."