10 Mental Health Hacks to Help Manage Depression and Anxiety
Learn about some ways to lessen depression and anxiety based on an author's real-life experience
Angie Read survived a massive stroke at age 46 thanks to her husband's quick action to call 911 and get her to a hospital. But after the stroke that could have killed her, she faced an even more formidable opponent: debilitating depression and anxiety.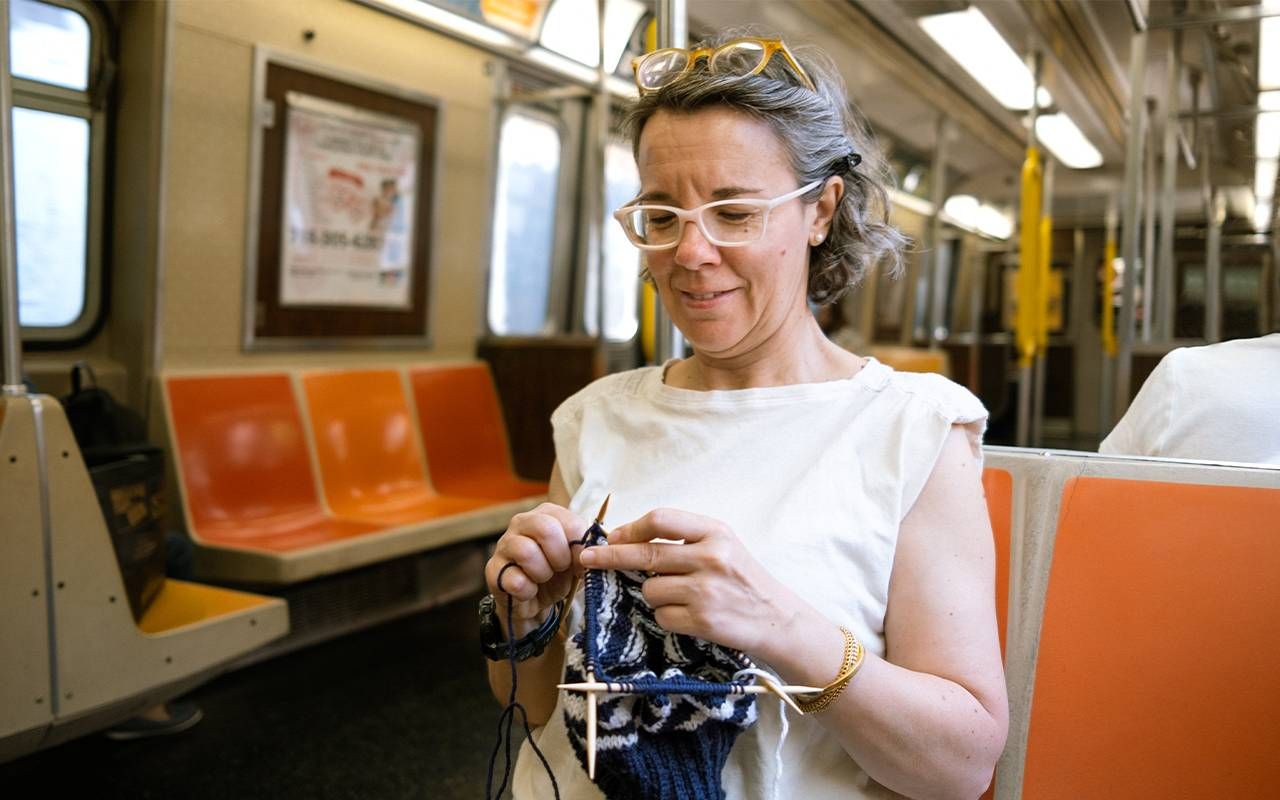 Since her early 30s, Read lived with mild anxiety as she juggled life as a career-driven mom of three kids. The stroke magnified and worsened her anxiety symptoms and triggered her first experience with depression. She felt numb to the world at the height of her suffering despite wanting to be there for her kids and husband and return to her marketing career.
The stroke magnified and worsened her anxiety symptoms and triggered her first experience with depression.
In addition to physical, occupational and speech therapy to recover from the stroke, Read also tackled her mental health crisis through talk therapy with licensed counselors, two in-patient visits at mental health facilities, and taking a variety of medications until finally finding the right combination of drugs with the help of her psychiatrist.
She wrote about her journey and several practical coping mechanisms that she adopted in a new book called "Invisible Scars: Stroke Survival, Recovery, and the Unexpected Mental Health Fallout."
"These tips worked for me, and even if just one or two of them work for others and help them feel better, then that's a positive step forward," says Read.
Read's 10 Tips
1. Journaling
Keeping a journal or diary can be helpful to lower anxiety, stress and promote better sleep. Even though Read liked to write, she never thought she would like journaling because it involves writing about feelings. 
Keeping a journal can be helpful to lower anxiety, stress and promote better sleep.
"My therapist suggested that I try it and I was reluctant, but once I got started it was easier and more helpful than I ever expected," she says. "It's an opportunity to write about what you're grateful for and things you like about yourself. You can write, draw, doodle and write poems — just let your feelings out and capture positive self-talk."
Journaling can also help prioritize problems, worries and concerns. It can help track symptoms and recognize triggers. Read recommends taking a few minutes every day to write in a journal, but keep a pen and paper handy throughout the day if there's something to write down. 
If you like keeping everything on your smartphone, there are phone apps for journaling, such as Daylio, Day One and Penzu.
2. Meditation
Some may think meditation is too "new age" for them. Read was one of them, and she wasn't sure if she would like meditation. Once she opened her mind to the possibility, she tried it and found meditating helped clear her mind.
There are many different ways to practice meditation, with the ultimate goal of reducing the noise in your head by gently training it to bring about mental and emotional focus.
According to a study in JAMA Psychiatry, mindfulness-based stress reduction (MBSR) was comparably effective to the antidepressant escitalopram (Lexapro) in reducing stress and anxiety in 276 people diagnosed with anxiety.
How to get started with meditation? Find a comfortable place to sit quietly and still your mind for a few minutes. Try to keep your mind focused on observing feelings and sensations. Try these phone apps to help guide you through a meditation session: Calm, Head Space and Healthy Minds Program.
3. Exercise
Research shows that people who exercise regularly have better mental and emotional well-being. Exercise also helps treat some mental health conditions like depression and anxiety. 
In fact, for mild to moderate depression, research suggests physical activity can be as effective as antidepressants or certain types of therapy, according to a study published in the British Journal of Sports Medicine.
When Read's psychiatrist prescribed her antidepressant medications, he also prescribed 30 minutes of exercise daily. She started with 10 minutes on the treadmill. 
"The first few weeks were a massive undertaking, but he was right. I eventually increased my treadmill time to 15 minutes and eventually to 30 minutes a day."
"The first few weeks were a massive undertaking, but he was right. I eventually increased my treadmill time to 15 minutes and eventually to 30 minutes a day. I've now run a few 5Ks and hopefully will run more in the future."
4. Enjoy Nature
Breathe fresh air and get reacquainted with the outdoors. Kids grow up playing outside during recess, but adults are locked up in offices with less time to enjoy nature. Remember how good it feels to walk out in the park, on the beach or down the main street. 
Sunlight, fresh air — and even the mood-boosting aromas from grass, flowers and trees — nourish our bodies, minds and souls. Spending time outdoors can have many positive effects including improving your mood, reducing stress and anger, improving your physical health, boosting your confidence and self-esteem and reducing loneliness.
Being outside in natural light can also be helpful if you experience seasonal affective disorder (SAD), a type of depression that affects people during certain seasons or times of year, especially in the winter when it's darker outside and temperatures get colder.
5. Music Therapy 
The benefits of music therapy have been widely studied in those living with depression. A 2017 Cochrane Review examined nine studies with 421 people that compared the benefits of music therapy with and without psychological or talk therapy. 
Researchers found that music therapy with treatment compared to treatment alone was more effective in reducing symptoms of depression and improved participants' involvement in work, activities and relationships.
Read says that she listens to upbeat music as she gets ready in the morning. "This can temporarily transport you elsewhere and give you a short break from your concerns, just like reading a good book," she says.
6. Eat Nutritious Food
From a young age, we're taught that eating well makes us grow strong and healthy. But we probably weren't told that good nutrition also affects our mental health. A healthy, well-balanced diet can help us think clearly and be more alert. It can improve concentration and attention span. 
On the other hand, a bad diet can lead to fatigue, stress and our capacity to work over time. Processed foods are high in flour and sugar and train the brain to crave more of them rather than nutrient-rich foods.
To improve your mental health, focus on eating more fruits and vegetables and foods rich in omega-3 fatty acids, suggests Read. Dark green leafy vegetables are brain protective. Nuts, seeds, and legumes like beans and lentils are also excellent brain foods. 
Read also pays attention to how she feels when she eats. "It's helpful to write in a journal what you're eating to gain insight into your eating patterns."
7. Get Better Sleep
Chronic sleep issues can impact depression, anxiety and other mental health conditions. About three-quarters of depressed people show signs of sleep problems, according to one study.
During her lowest points with depression and anxiety, Read could not fall asleep no matter how tired she was. "The sleepless nights fueled my anxiety and depression to the point of requiring in-patient mental health care help," says Read. She worked with her doctor to get a prescription sleep medicine to help her get regular rest.
When you're dealing with depression and anxiety, it's important to find people to talk to about your feelings.
What are some ways to sleep better? Go to sleep at a consistent bedtime every night, wind down with relaxation techniques like journaling or meditation, avoid alcohol, caffeine and other stimulants in the early evening, and turn off TVs and smartphones close to bedtime.
8. Keep Your Hands Busy
According to researchers, activities that use your hands and do repetitive tasks relieve stress and help solve problems and clear our minds. Read suggests finding something you love to do that requires using your hands, even if it's only for five or 10 minutes a day. This could mean cooking, folding laundry, crafting, gardening or writing in a journal.
Read's therapist recommended that she start a new hobby like knitting. She tried, but her hand-eye coordination didn't work well after the stroke. Instead, she enjoys playing with makeup and writing. "When I'm doing these activities, I zone out and forget my worries," says Read. 
"Try to combine the joy of working on a favorite project with keeping your hands busy, and you'll likely notice you're calmer and more relaxed," says Read.
9. Get Into a Routine
The anxious mind needs routines, which help us cope with change, create healthy habits and improve our relationships. Setting aside time daily to take care of tasks can also help us focus on our mental and physical health.
Read realized how important a daily routine is to her state of mind. About a month into the pandemic, when Read started working from home full-time, she started a "fake commute." Rather than just rolling out of bed and into her desk chair, she showered, changed, fixed her hair and makeup, and got in her car to drive halfway downtown and return home. 
"For me, restoring this piece of my former routine helped me balance my mental health during a difficult transition period. And when I told my psychiatrist what I was doing, he said it was brilliant and started suggesting the 'fake commute' to his other patients," says Read.
10. Talk It Out
When you're dealing with depression and anxiety, it's important to find people to talk to about your feelings. Read says that talking to someone can help you feel less alone, help lighten the load of your concerns, and help you look at your circumstances differently, making them easier to handle.
Talk therapy with doctors or therapists is a safe place to discuss feelings and emotions, but it's also important to find family and friends with whom you can share your feelings. 
"I don't advise talking to someone who can't empathize with or understand your situation," says Read. "Seek out those who are good listeners and will sympathize with your situation."