9 Glorious Movie Palaces Still Thrilling Audiences
Concerts, plays and more are giving these historic theatres new life
Americans love the movies. From the 1910s through the 1940s, palatial and ornate movie palaces popped up all across the country. Inspired by Hollywood, over-the-top architectural gems lured in the crowds three or four times a day with extra weekend showings. Designed to seat large audiences and primarily located in downtowns, hundreds of these magnificent theaters closed and were demolished when the economy declined and families moved to the suburbs.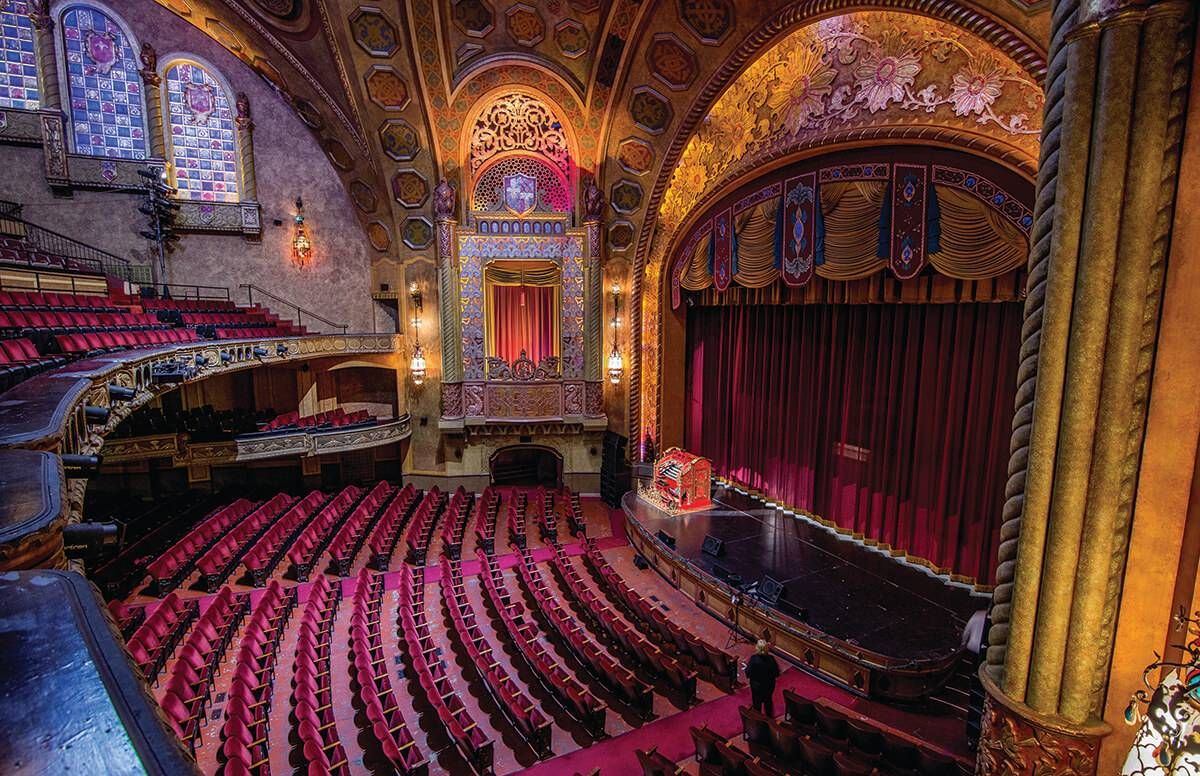 Fortunately, however, some of these magnificent structures were preserved.
While most no longer show movies, they do host musicals, dramas, concerts, comedians, community events and more. These cathedrals of entertainment are treasures, and today's audiences are transported to a magical place.
Here are nine impressive historic movie palaces still warmly welcoming new patrons: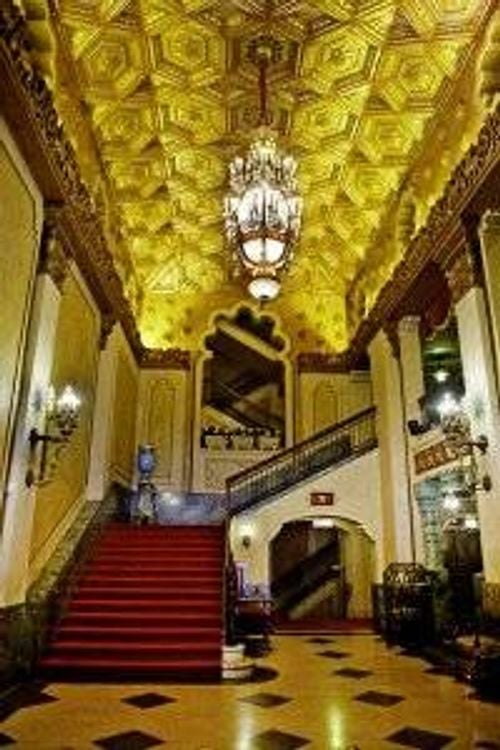 Alabama Theatre
Birmingham, Ala.
Paramount Studios built Alabama Theatre in 1927 to showcase its silent films, which were accompanied by Big Bertha — a Mighty Wurlitzer Organ. The theatre's architecture combines Spanish and Mission Revival with an opulent interior of mirrored walls, eight-foot candelabras, gilded coffered ceiling and Moorish arches.
In the early 1930s, children gathered every Saturday morning for the Mickey Mouse Club meetings. In 1935, the Club had more than 7,000 members and bragging rights to being the largest Mickey Mouse Club in the world.
This summer, audiences can watch The Wizard of Oz, Dial M for Murder and Edward Scissorhands in the historic movie palace.
Chicago Theatre
Chicago, Ill.
A prototype for all of the movie palaces in America, this 1921 gem designed in the French Baroque style features a miniature replica of Paris' Arc de Triomphe on the exterior; the grand staircase is modeled after the one in the Paris Opera House. Reaching up seven stories, the auditorium seats 3,600 people.
Besides showing movies, the theatre brought live entertainment by performers such as John Philip Sousa, Benny Goodman and Duke Ellington to the Windy City.
Beaming a welcome to today's audiences, the nearly six stories high "C-H-I-C-A-G-O" vertical marquee is a cherished landmark.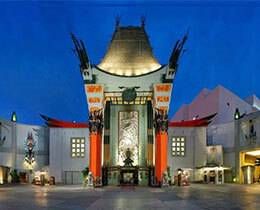 TCL Chinese Theatre (formerly Grauman's Chinese Theatre)
Hollywood, Calif.
A Hollywood and American icon, the pagoda-shaped roof rising 90-feet up in the air is supported by two coral red columns, and a 30-foot tall carved dragon sits between them. Opened in 1927, the theatre contains imported pagodas, temple bells and stone Heaven Dogs.
Look for handprints and footprints of stars from yesterday and today in the Forecourt to the Stars. Each year, more than four million people visit this landmark theatre, which is a popular venue for premiering new movies and has one of the largest IMAX auditoriums in the world.
Tennessee Theatre
Knoxville, Tenn.
The theatre's Moorish Revival design incorporates elements from all parts of the world: French-style chandeliers with Czechoslovakian crystals, Italian terrazzo flooring in the Grand Lobby and Asian influences in the carpet and drapery patterns.
Opened in 1928, the theatre created elaborate lobby displays to compliment the screenings. The stage has been doubled in size to accommodate the needs of a modern entertainment venue where audiences can see concerts, touring Broadway shows, and resident companies — the Knoxville Opera and Knoxville Symphony — perform.
Louisville Palace
Louisville, Ky.
In 1928, gilded mirrors, ornamental wall sconces, carved furniture, medieval-styled tapestries, four flowing water fountains and more than 500 statues filled the castle-like space, dazzling the patrons who welcomed the new theatre. Ushers, dressed in cadet uniforms, bowed to each audience member as they were seated. Proud to be the only movie theater in town with cool air, ads promised the temperature inside would be a comfortable 70 degrees. Movie ticket prices for adults ranged from 25 to 65 cents.
The 2,600-seat theatre still draws the crowds. While waiting in the Faces Lobby you can admire busts of Beethoven, Shakespeare and Socrates. Once inside, watch the twinkling stars on the ceiling align to the same formation they did during the grand opening.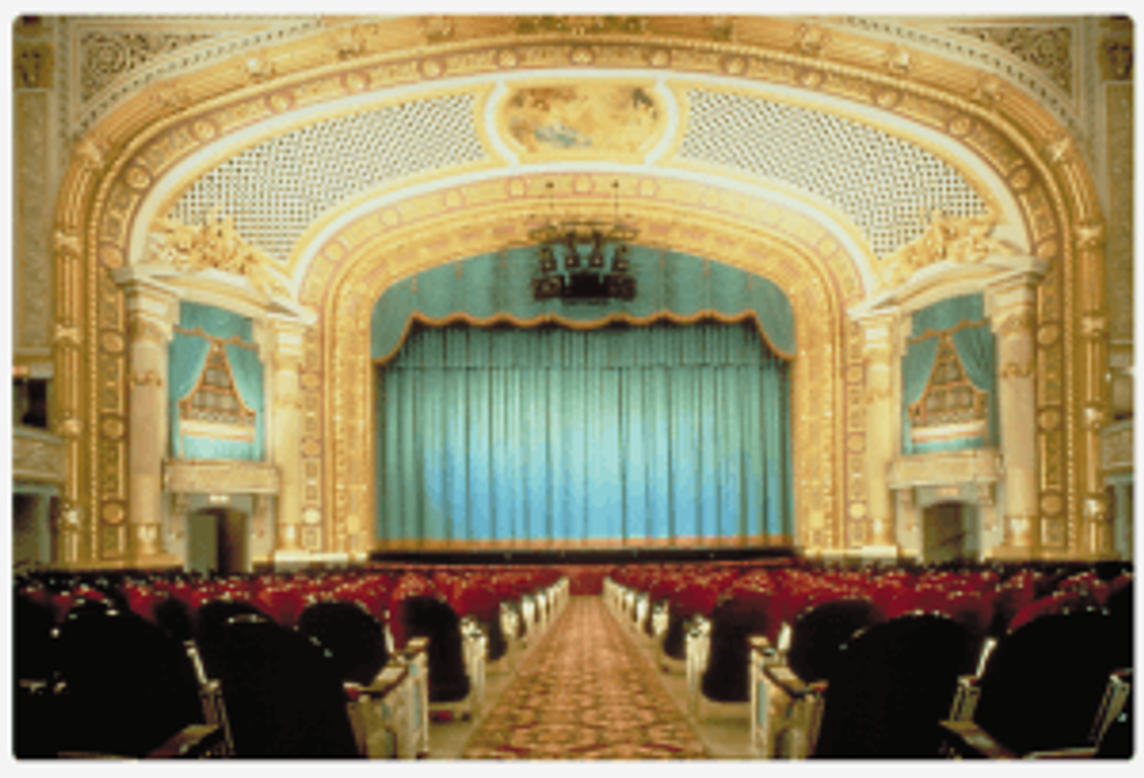 State Theatre
Minneapolis, Minn.
When State Theatre made its debut in 1921, one reporter called it "a gilded pleasure palace." Designed in Italian Renaissance style, the stage floor was made of glass and illuminated from below to create sparkling special effects. The six chandeliers and murals are original.
A variety of live arts events — from touring Broadway musicals and concerts to comedy and dramas — are featured at the theatre. Twice a month, tours of are offered for $5.
Fabulous Fox
St. Louis, Mo.
Design elements inspired by far Eastern, Moorish, Babylonian, Indian, and Egyptian themes came together in 1929 to create an imaginary place beyond the audience's most fantastical dreams.
The 90-foot lobby with rows of flanking columns and terrazzo floor is reminiscent of a Buddhist monastery. Hand-stenciled walls, leather-lined elevators, a 2,000 pound chandelier,and marble bathroom fixtures were just a few of the ornate touches found in the new $5 million theatre, which has undergone a variety of restorations over the years, the latest in 2013 when the ceiling was restored.
Today's audiences can see Broadway shows, comedy acts, concerts, Vegas performances and classic movies. Every Tuesday, Thursday and Saturday, tours are offered.
Majestic Theatre
San Antonio, Texas
Patrons enter a fantasy villa inspired by Baroque, Spanish Mission and Mediterranean architecture. The walls are painted to look like towers with windows of colorful glass and grape vines creeping among the luscious foliage. Balconies, tile roofs, statues and a bell tower complete the transformation.
Built just a few months before the stock market crash in 1929, the Majestic was the second largest theater in the country. Not only did it show movies, but the Majestic also featured vaudevillian acts and stars such as Bob Hope, Jack Benny and George Burns.
Today, it's home to Broadway Across America San Antonio, concerts, comedians and other live events. Spend an evening under the stars and clouds at this theater that's just three blocks from the Alamo.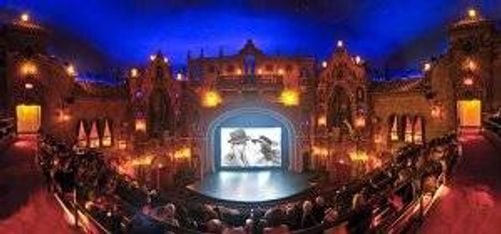 Tampa Theatre 
Tampa, Fla.
Still showing classic and first-run films, audiences step into a stunning Mediterranean courtyard. Prior to almost every film screening, music from the original Mighty Wurlitzer Theatre Organ fills the auditorium. Occasionally the organ still accompanies a silent film.
For a close-up demonstration of the organ, sign up for the Balcony-To-Backstage Tour to learn more about this theatre, built in 1926. One of Tampa's largest preservation projects, it hosts more than 600 events each year.