New York Fashion Week Proves Style is Ageless
The big spring and summer trends, plus a few inspiring women
Legions of fans were hoping to snap a picture of — or with — Iris Apfel, the 94-year-old icon of design, jewelry and fashion, at  Desigual show during New York Fashion Week (NYFW) last week. Apfel proved more of a draw than Solange Knowles, Mary J. Blige, Tracy Ellis Ross and other stars of song and screen.
Apfel is a presence, even shortly after the death of her husband of 67 years. She layered on bright red costume jewelry in the style she's famous for, wore her signature bold glasses and carried on in a Desigual coat of many colors.
Fern Mallis, 67, the woman who started Fashion Week, was another attendee who everyone wanted a selfie with, no matter their age. True style setters are impervious to age.  Whatever the weather threw at Mallis — humidity, rain,  blazing sun, sometimes it felt like all three at once — Mallis remained calm, collected and stylish, with a smile and ready to pose with her fans for a quick pic. She may have been the most hugged woman at NYFW.
Then there was model Maye Musk, 67,  from Los Angeles, who has been modeling for 50 years. She drew thunderous applause at designer Malan Breton's show. Breton has an infectiously cheerful attitude, and he selected Musk to don a gown which was a perfect fit.  Breton said he saw Musk on Facebook and asked her to model, even though she had never done a New York show. 
Lesson here, ladies: dip a fashionable toe into Facebook and you never know where your next opportunity may arise. Also, these charismatic women prove again that true style is ageless.
The Trends For Spring and Summer 2016
Now, on to what is coming our way in the world of fashion.
Fashion week showed the long and short of dresses and skirts; they that appear bi-polar with different lengths. Or you could go totally maxi. Designer Tia Cibani who had a baby just days before showing her collection, said she was thinking about easy shapes during the pre-natal process and that inspired her collection. Many designers, like preeminent Korean sensation Lie Sang Bong, adapted a comfort-first attitude with architectural shapes.
If you don't have Michelle Obama arms, do not fret. The sleeve is back in all its glory.
From long embellished sleeves at Idan Cohen, to a shorter peek-a-boo-swing grass green sleeve that demurely covers your elbows to Tanya Taylor sweaters embellished with sweater jewelry (yes, it's a thing now), no one will notice any imperfections. The eye will be drawn to the new shape of things.
At Desigual, the shape of things includes impact spring coats; a perfect match for global warming's mercurial Mother Nature.  With longer lengths and comfortable silhouettes, the trend continues in brilliant hues of red at Tanya Taylor and pale shades of pink.
Universally flattering pink was present at nearly every runway, from a bridesmaid's blush to a hothouse orchid at classic designers such as Carolina Herrera. Oscar de La Renta rocked red. Marigold, red and green were combined at GenArt. There is also black and white, as evidenced at Kerigam in architectural shapes.  But the princess of prints, DvF married bold colors. Nothing is too busy for spring and summer 2016 fashions.
One collection must have channeled Nora Ephron's I Feel Bad About My Neck:  And Other Thoughts on Being a Woman as inspiration: Kerigam showed minimalist pieces in black and white with the tops touching the chin.

Shoes are dainty and/or sturdy, such as Cadet USA menswear looks for women with soles that savor your instep.
The athleisure trend is sticking this season, too, no longer the province of daytime and stilettos are no longer the sole silhouette for evening.  Alexander Wang showed flats that can carry you through the day without Dr. Scholl's or a podiatrist.
Bracelets are bolder. Bags are as well. Pick a vivid pink color pattern or a gold-inflected bucket bag by Eric Javits and your outfit will have a fashion facelift.
To top it all off, BCBG went all in for bucket hats and toppers of all types were donned at Desigual (some the mad hatter type, perfect for ladies who like to make an entrance), turbans from Tia Cibani, who had yoga in mind as she perfected head wraps for her collection.
If you prefer to adorn your hair, there is ample hair jewelry with glittering rhinestones which can be flattering to all ages and stages whether you are winning an award or just want to sport an award-winning look.
You won't need to be as slender as a swan to look graceful next spring or summer, you'll just need to trust your fashion sense, find flowy clothes, update key pieces in primaries and smile for your selfie.
1 of 12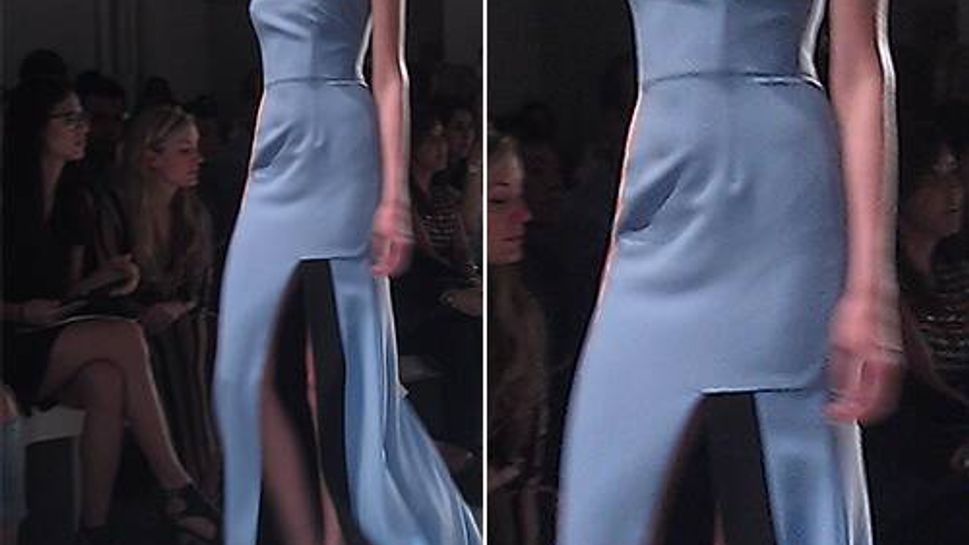 Skirts and dresses incorporate maxi, mini and midi, all in one.
Pink in shades from rosy to hot showed up in many show, including this top from Stella. It's the season's "it" color.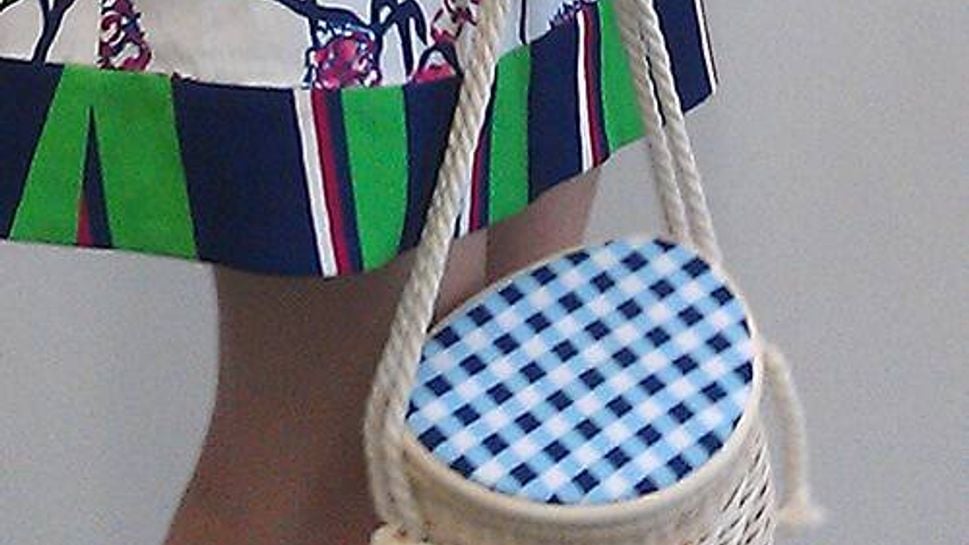 Tanya Taylor's way of mixing flowers, stripes and checks never looked so good. Creative and bold use of patterns was everywhere.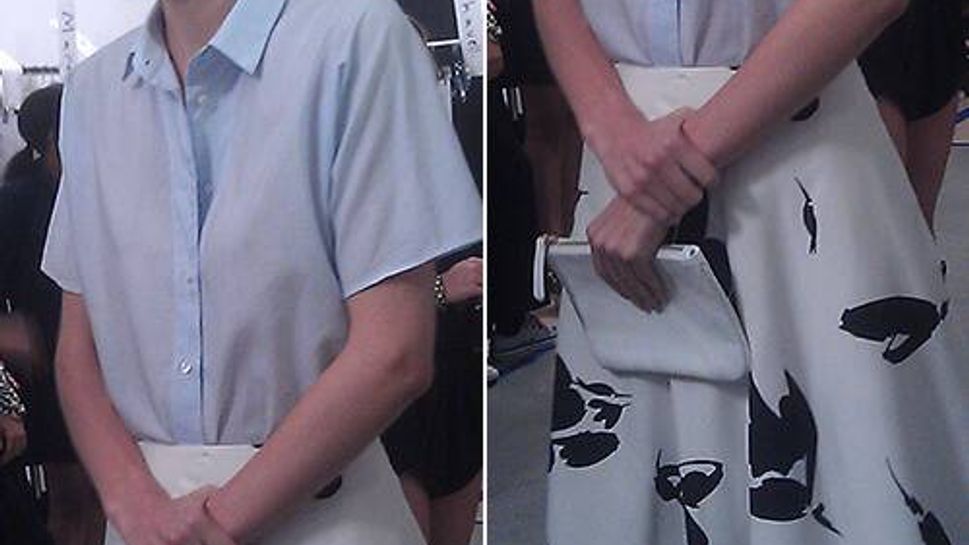 A chic skirt and pretty blouse are always in style.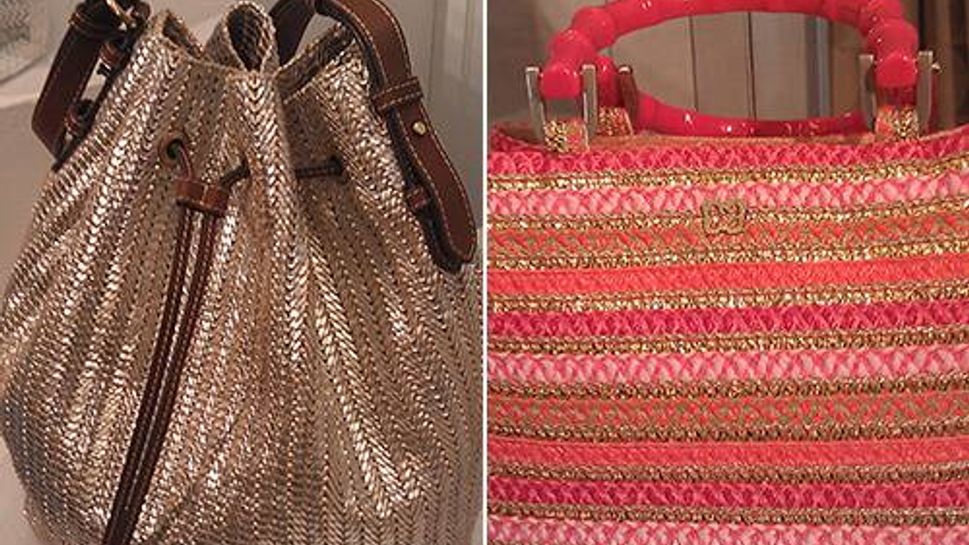 Eric Javits showed these two lustrous bags with new shapes and fresh colors.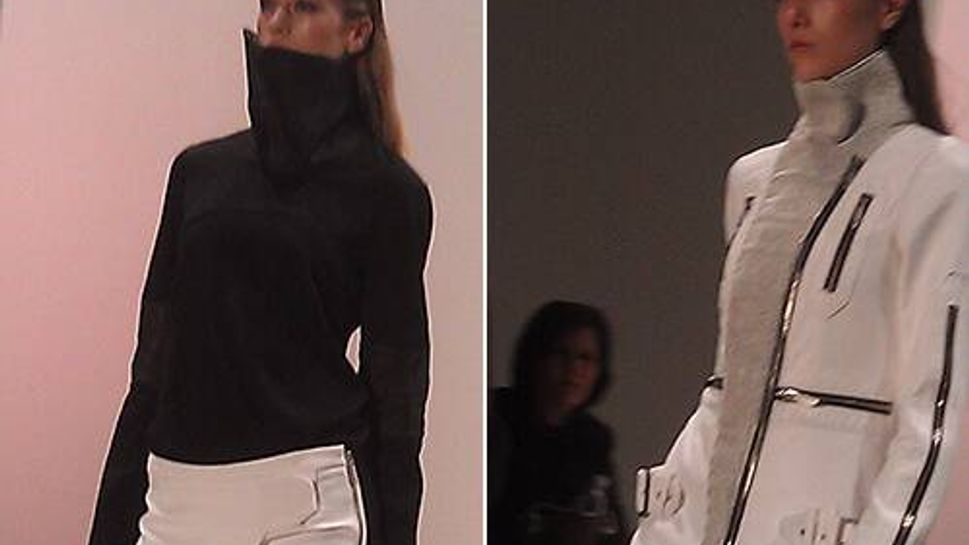 Karigam showed this exaggerated turtle neck, and chin-brushing jacket.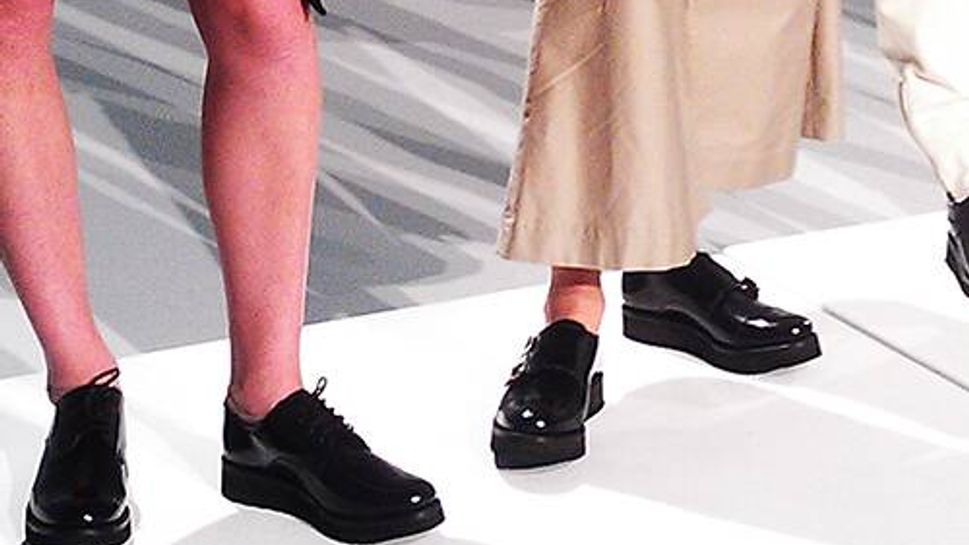 Cadet gave onlookers a flat attack.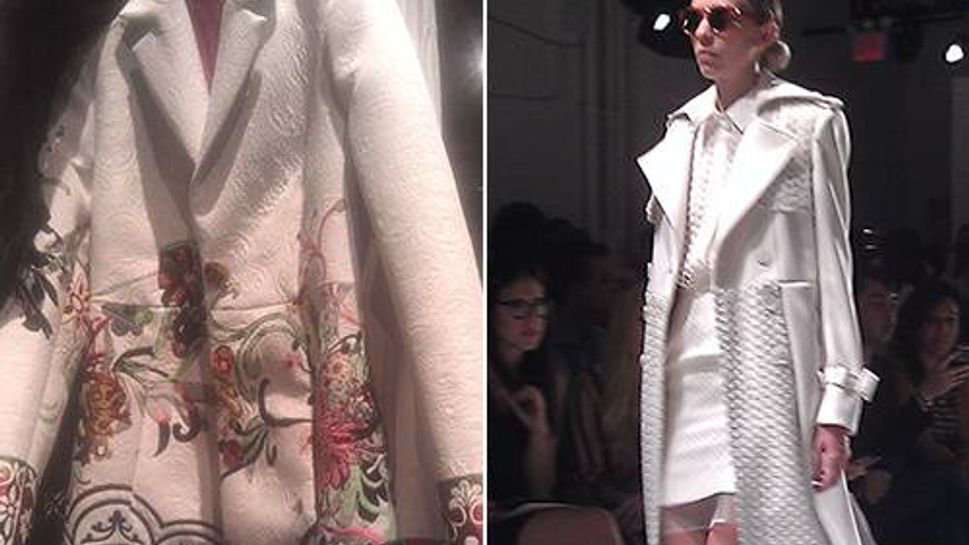 The must-have spring statement? Fun coats, whether patterned like this one by Desigual or on-trend like the all-white Bihbu.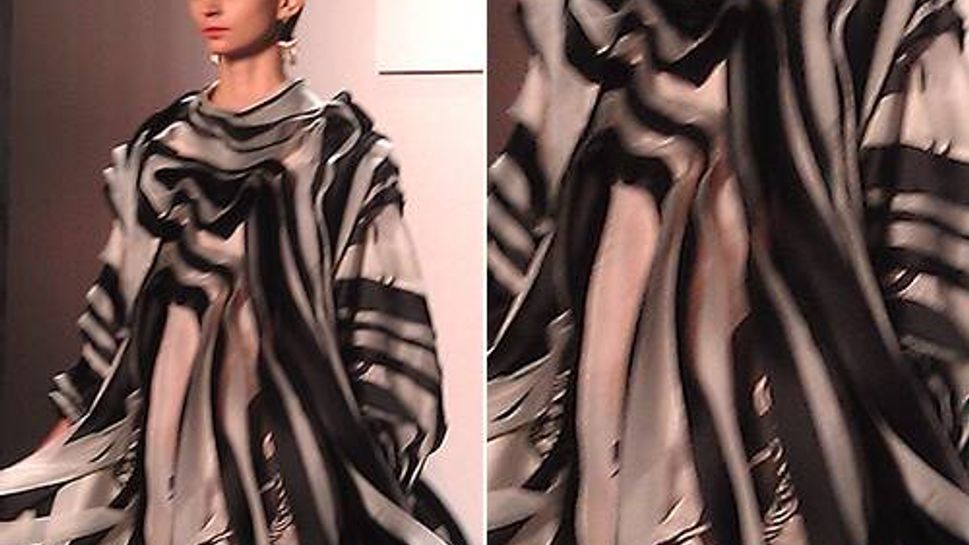 Long and flowy is one trend; black and white is another, both shown here by Shenzhen.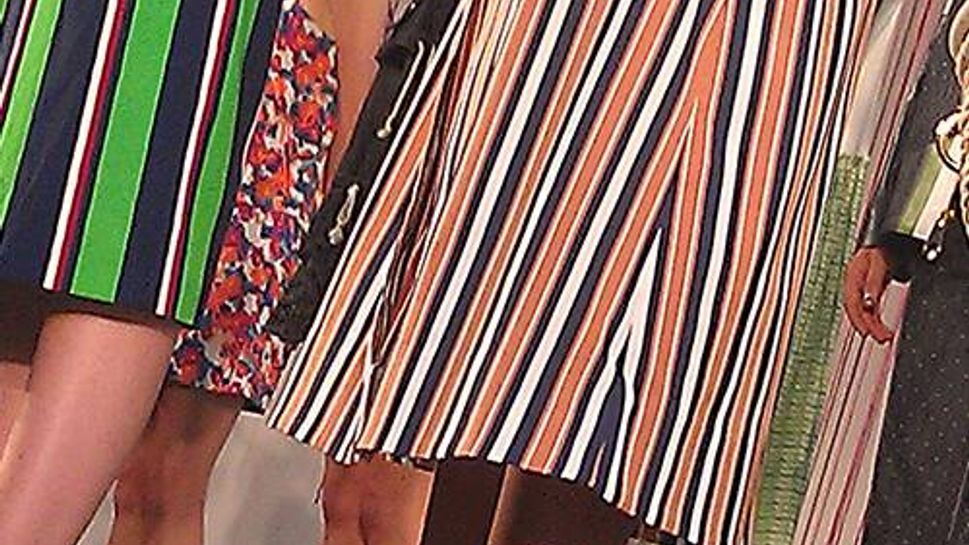 Bold, bright colors and prints paired with fun shoes make us want to skip winter and move straight to spring.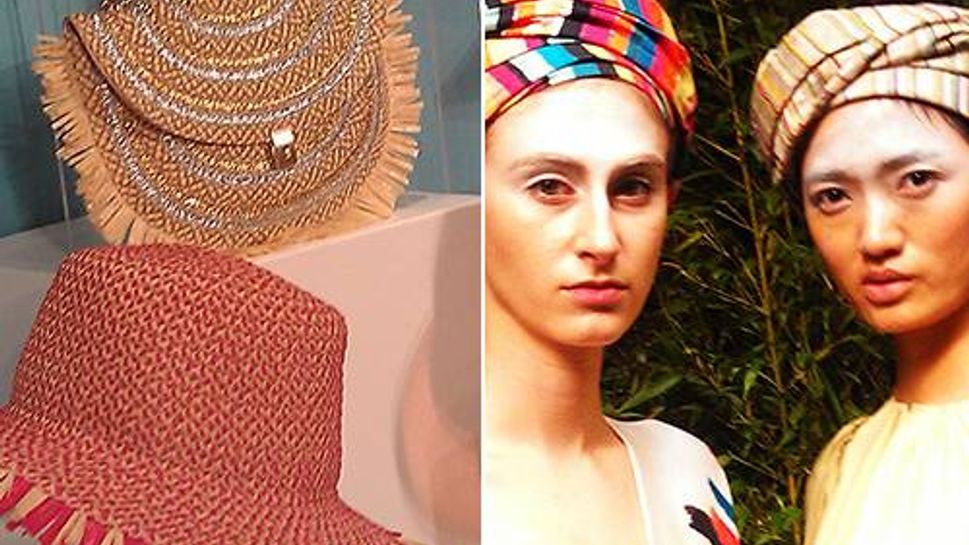 Tia Cibani showed head wraps, while BCBG and Eric Javits offered up bucket hats.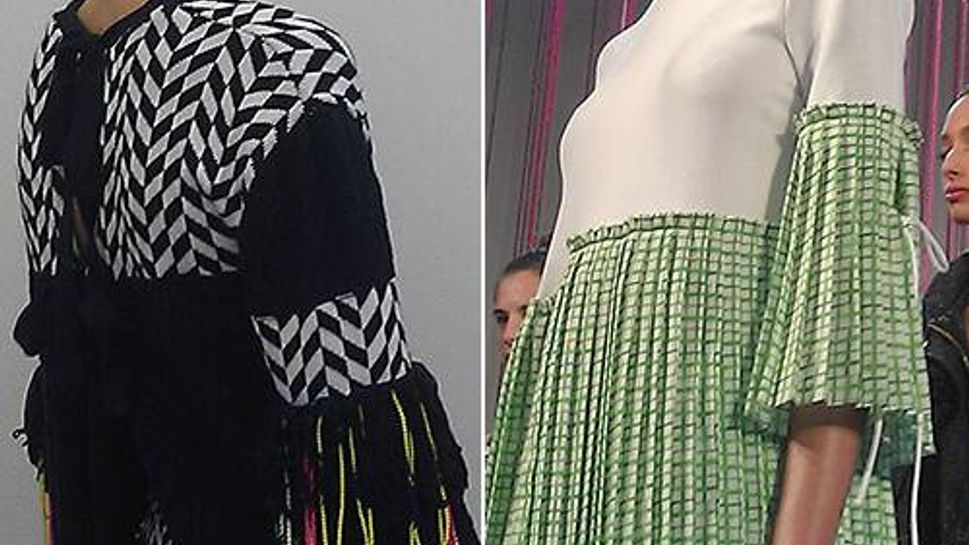 Tanya Taylor's sleeves took center stage, with fun cuts, lengths and trims.