No, Parents Aren't Sabotaging Kids' Job Searches
Some say that boomer moms and dads are preventing their children from getting hired. I disagree.
A new, buzzy study suggests that a key reason many college students struggle to find jobs after graduating is the advice they get from their parents. Riffing on the study, Forbes blogger J. Maureen Henderson asks Millennials: Are Your Parents Sabotaging Your Job Search? Her answer: Yes.
 
Speaking on behalf of parents in their 50s and 60s and as the editor of the Work & Purpose channel for Nextavenue.org, a new site for people 50+, I would like to respectfully disagree.
 
(MORE: When Parents Go Too Far to Help Their Kids Land Jobs)
 
What the Survey Says
 
The Student Career Development Study — from Millennial Branding, a Gen Y research and consulting firm, and StudentAdvisor.com, which bills itself as the leading free learning resource for students — concluded that college students are "generally mentored by their parents and ignore online experts."
 
More specifically, 37 percent of the more than 200 students surveyed said their parents were their mentors. Of those, just 32 percent say their parents provide good advice about job-seeking or career advancement; 13 percent said their parents "know something about their field so they can give professional advice."
 
Now I'm not willing to say that every parent of a college student offers wise career advice. But most parents are not out-of-touch idiots on the subject of job hunting, which seems to be the conclusion of both the study and Ms. Henderson.
 
In her Forbes blog, Henderson writes that mom and dad "simply aren't equipped to give you the guidance you need to launch or manage your career." 
 
How Generational Work Values Differ
 
I agree with Henderson on one point. It's true, as she says, that boomer parents "have different values and expectations around work" than their kids. We're more likely to cherish stable jobs with benefits and the ability to save for retirement through our employers.
 
But I take issue with the two other ways she says we're sabotaging our kids' job searches.
 
(MORE: Options for College Dropout Boomerang Kids)
One Career? Not Necessarily
"Your parents," Henderson says, "likely only had one career."
 
Actually, boomers are increasingly reinventing themselves with second and third careers — sometimes by choice, sometimes not. Forgive the shameless self-promotion, but Next Avenue is chockablock with Career Shift stories ranging from Jillian Foucré, a health care executive who became a gourmet retailer, to Fred Kirsch, a sportswriter-turned-physical trainer.
 
Nine million Americans age 44 to 70 are in encore careers, second-act jobs for the greater good, according to the latest research by Encore.org.
 
New Jobs for People Over 55
Henderson also maintains that parents of Millennials "are not familiar with the realities of job hunting in 2012." This just isn't true.
According to research by Challenger, Gray & Christmas, an outplacement consultant, job seekers age 55 and older account for nearly 70 percent of the employment gains since Jan. 1, 2010. An additional 3 million Americans 50 and older are unemployed and many of them are clamoring to find work.
 
Plenty of boomers are using social media to make themselves stronger job candidates, one of the realities of job hunting in 2012. Some 39 percent of LinkedIn users in North America are 35 to 54; an additional 10 percent are over 54.
 
(MORE: How to Use LinkedIn to Promote Your Personal Brand)
 
When Parents Go Too Far
 
Are we sometimes trying too hard to help our children get hired? Absolutely.
 
In my earlier Next Avenue post, When Parents Go Too Far to Help Their Kids Land Jobs, I recounted some outrageous tales along these lines. (Note to parents: Don't accompany your kids to job interviews.)
My son Aaron (Northwestern, '11) has a Web comedy series built around the conceit of parents whose career help is utterly useless: "Your Dad's Friends."
 
Are we sometimes clueless about fields our kids hope to enter? Yes.
 
Don't Blame Boomer Parents
But is our mentoring penalizing our adult children? I really don't think so.
 
The economy is tough for job seekers of all ages, including newly minted grads. And despite what the survey says, I believe we're doing a pretty good job teaching our kids about the working world. When our advice isn't helpful, our kids are smart enough to ignore it. Trust me.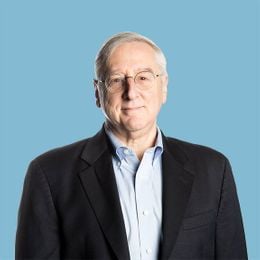 Richard Eisenberg
is the former Senior Web Editor of the Money & Security and Work & Purpose channels of Next Avenue and former Managing Editor for the site. He is the author of How to Avoid a Mid-Life Financial Crisis and has been a personal finance editor at Money, Yahoo, Good Housekeeping, and CBS MoneyWatch.
Read More