Nominate a Great Do-Gooder for The Purpose Prize
Help spread the word about someone 60+ who's making a difference
Too often, the inspiring people among us don't get the recognition they deserve. So here's your chance to do something about that: Nominate a worthy person you know for The Purpose Prize by January 15, 2015.
 
That's the deadline to submit names for the prestigious honor given each year by Encore.org (the nonprofit spearheading the encore career movement) to purpose-driven people over 60 valiantly doing innovative work to help solve tough problems in their communities and around the world. The application instructions are here.
(MORE: 2014 Purpose Prize Winners)
 
Not a Lifetime Achievement Award
But The Purpose Prize is not one of those lifetime achievement, aren't-they-great-still-going-at-this-age? kind of award.
 
"Part of what we're trying to do with The Purpose Prize is to show the power and impact of people bringing a lifetime of experience to bear in the second half of their lives," says Eunice Nichols, Director of The Purpose Prize. "It's not that their entire career isn't valuable or worthy, but other awards recognize that."
 
In fact, in order to win a Purpose Prize (there will be four or more winners in 2015 and at least two are expected to receive $100,000 each), a nominee cannot have started the work he or she is now doing any younger than age 50.
(MORE: Pivot to a Second Act With Purpose)
 
"Around age 50, we find, there are a lot of people who are taking stock of their lives, where they've been and what they want to do," says Nichols. "Some of them are willing to take a risk and shake things up. We need to honor those folks."
 
Why Nominees Must Be 60 Or Older
The reason Encore requires applicants be 60 or older is that they want to see results — with data — from the nominees' work. To win a Purpose Prize, it's not enough just to be driven and want to make a difference. "And we want to see that there's potential to make a difference over the long haul," says Nichols.
 
Demonstrating impact doesn't mean the applicant has had to change the world, though (not that there's anything wrong with that). Encore.org is just as interested in 60+ people who are changing the lives of the needy in their community. People like 2014 Purpose Prize winner Rev. Richard Joyner, whose Conetoe Family Life Center and its garden have improved the health and economic potential of his rural North Carolina Baptist congregation and led more than 20 churches to adopt his model.
 
Incidentally, if the person you'd like to nominate isn't famous, that's not a problem. In fact, it's a plus. Encore.org is looking for people who aren't household names.
 
"Our honorees are amazing, inspiring, normal regular people who saw something that needed to be done and had the courage to do something about it," says Nichols. "We want people where you could say: 'That's amazing, but I could do that!' Not 'I could never dream of doing that.'"
(MORE: Here's to 40 Women Over 40)
 
Candidates Excluded and Encouraged
Purpose Prize candidates cannot be elected officials or people whose projects are religious. But former elected officials who left their jobs for encore work and people doing faith-based work with a social impact would be considered.
And Encore.org is especially interested in Purpose Prize nominees who are doing intergenerational work (such as 2014 winner David Campbell, whose All Hands Volunteers workers are often in their 20s) or helping both the very old and the very young or innovating within a nonprofit (such as 2014 winner Kate Williams, who runs an employment program at Lighthouse for the Blind and Visually Impaired).
 
After you nominate someone, if Encore.org decides the person meets the qualifications, he or she must then fill out an application with details about the prize-worthy work to date and plans for expansion over the next five years. Semifinalists selected in Spring 2015 will be asked to submit supplementary materials and be interviewed by Encore.
 
You can read about, and watch videos featuring, previous Purpose Prize winners on Next Avenue and on the Encore.org site.
 
Everyday Encore Stories
When you're at Encore.org, I also recommend you spend a little time reading some of its new "Encore Stories" — 46 first-person articles about men and women over 50 and their encore careers.
 
"We're trying to get more broadly-based, achievable sounding encore stories," says Karen Sughrue, the Encore.org Innovation Fellow spearheading this project. "Having an encore career isn't necessarily about changing the world. You could be changing your block." (If you're in an encore career, you can share your story on the Encore.org site.)
 
Over the past few years, I've met, and written about, quite a few Purpose Prize winners and have always been impressed by their dedication and verve. For them, age isn't an obstacle — it's an obvious advantage that exploits their skills, life history and networks.
 
If you know someone who deserves to be among the next honorees, get an application in soon. Doing so might lead to shining a spotlight on one of the finest little-known actors on the world's stage.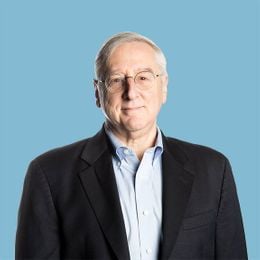 Richard Eisenberg
is the former Senior Web Editor of the Money & Security and Work & Purpose channels of Next Avenue and former Managing Editor for the site. He is the author of "How to Avoid a Mid-Life Financial Crisis" and has been a personal finance editor at Money, Yahoo, Good Housekeeping, and CBS MoneyWatch.
Read More