How Nursing Homes Are Adapting to Handle COVID-19
Issues include finding protective equipment and segregating sick residents
COVID-19 is sweeping through nursing homes all over the country, bringing death and chaos in its wake. "If you had told me six months ago that this was the situation we were going to find ourselves in, I would've said you're reading too much science fiction," says Carol Silver Elliott, CEO of the Jewish Home Family, a long-term care housing provider in Rockleigh, N.J. Some nursing homes are adapting to this new world, however, in a variety of ways.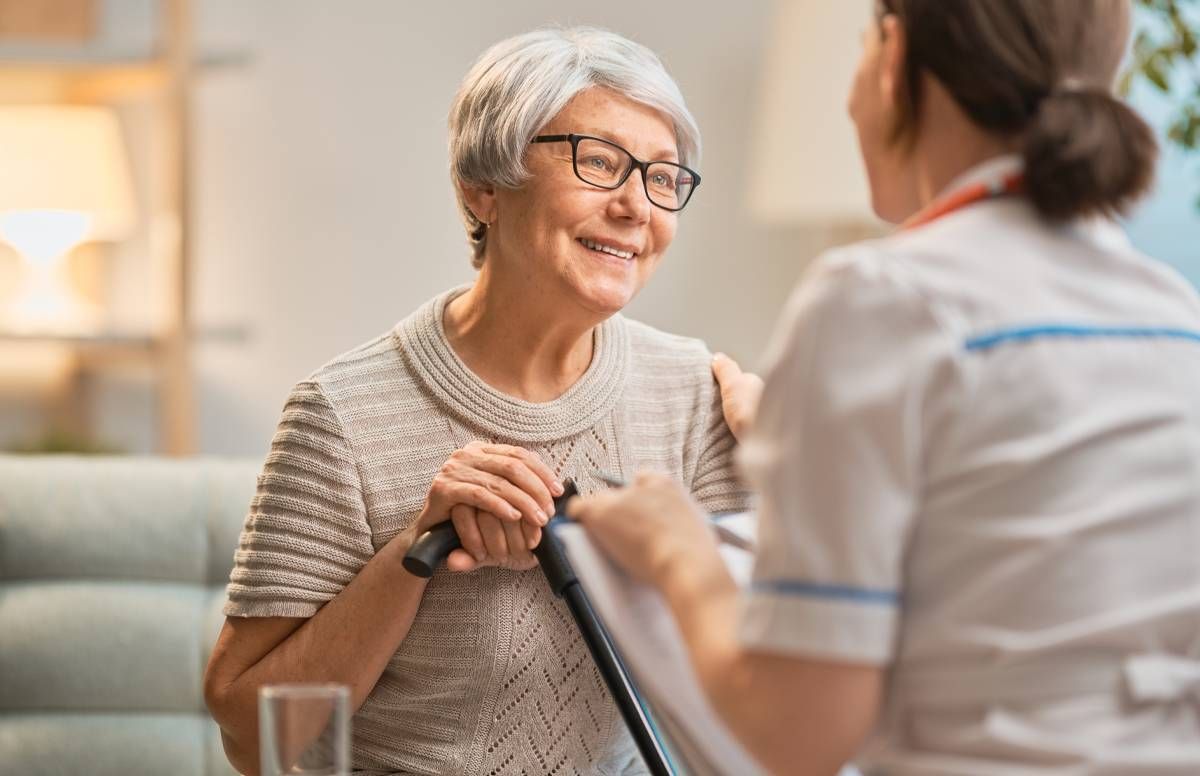 According to the Centers for Disease Control and Prevention (CDC), there were more than 400 long-term care facilities with a reported COVID-19 case as of April 10, 2020. However, in a broadcast on April 14, 2020, NBC Nightly News reported there had been 4,300 deaths across 27 states in long-term care facilities. The total number is likely much higher given that not all 50 states have been counted.
Nursing homes residents are highly vulnerable to the disease because of age and underlying health conditions, and the situation can be exacerbated by staff members who work more than one job, potentially carrying the virus from one facility to another.
Alzheimer's disease presents additional challenges: People living with dementia may have difficulty following instructions about handwashing, covering a cough or sneeze, refraining from putting things in their mouths and maintaining appropriate distance from others.
Inventing Solutions for PPE
Obtaining enough personal protective equipment (PPE) is uppermost on many long-term care administrators' minds. "We're on our own. We're not going to get rescued by anybody," says Dan Reingold, president and CEO of RiverSpring Health, a long-term care and rehabilitation housing provider in the New York City area. So, nursing homes are inventing solutions to cope with PPE shortages to keep their staff and residents safe during this pandemic.
"We're on our own. We're not going to get rescued by anybody."
Not only is PPE difficult to obtain, priority for this lifesaving gear is given to hospital workers. Much of this equipment comes from China, where manufacturing was shut down due to the pandemic, and it will take weeks to be shipped to the U.S.
To make matters worse, price gouging is rampant. "We cannot pay sixteen, eighteen dollars for a disposable gown that before COVID cost 34 cents each," says Molly Forrest, CEO and president of the Los Angeles Jewish Home for the Aging.
When Forrest couldn't purchase disposable gowns quickly, a staff member got the bright idea of attaching longer sleeves to reusable patient gowns. Here's a video about how they did it.
Forrest's colleagues also discovered that high-end yarmulkes, small round caps that religious Jews wear, could serve as the basis for facemasks; employees and residents just glued on elastic bands.
Some local groups and schools have donated handmade cloth masks and 3D-printed face shields to nursing homes.
Our Commitment to Covering the Coronavirus
We are committed to reliable reporting on the risks of the coronavirus and steps you can take to benefit you, your loved ones and others in your community. Read Next Avenue's Coronavirus Coverage.
Taking In Recovering COVID-19 Patients
Despite the difficulties, nursing homes have been mandated to accept recovering COVID-19 patients.
"When [New York State Gov.] Cuomo talks about how many people have been discharged from the hospital, he's not talking about how many of them go to nursing homes," Reingold says. "It's not like you get off the ventilator and you go home and you're fine. The ventilator causes an enormous amount of damage to the body. People that are coming here need really intensive rehabilitation before they go home."
To reduce the burden on a local hospital, RiverSpring's Hebrew Home at Riverdale — a 750-bed nursing home in the Bronx — created a 62-bed COVID-19 care unit. The nursing home has allocated a separate floor to segregate COVID-19-infected residents from the rest of its population. That way, staff doesn't have to go through as much PPE, because employees don't have to change coverings going from a well resident to a sick resident.
Dealing With Staff Shortages
Many nursing homes report that a substantial number of their employees are out sick. If exposed to the virus, the staff member must be quarantined for 14 days, adding to the burden of the already overtaxed employees who are working.
When COVID-19 appeared, Reingold immediately designated all Hebrew Home employees as essential workers. His prescience paid off. "Sure enough, people are out sick, and we've got people from the finance department who are helping feed our residents during mealtime," he says.
About 30% of his staff is out, but Reingold doesn't necessarily know why.
"People are scared. People have child care issues. People are sick," he ventures. But management is reaching out to them to ask what it can do to reassure employees so they will come to work. We're willing to try anything people think of," Reingold says.
The first thing he did was make all meals free. Employees don't have time to go shopping, and the food stock in the grocery stores is often decimated. Knowing they can come in have lunch and dinner here takes a lot of the pressure off, Reingold says.
The Jewish Home Family in Rockleigh, N.J., has procured hard-to-find staples like bread, milk, eggs and toilet paper and sells them at cost to its employees. "They're working long hours and to keep them safe and out of the [grocery] stores made a lot of sense to us," Elliott says.
Preventing the Spread of COVID-19
To prevent the spread of infection, many nursing homes have stopped communal dining, group activities and allowing visitors. They also screen health care personnel and residents for fever and respiratory symptoms.
At the Jewish Home Family facilities, staff vital signs are monitored for each shift three times a day. Everyone wears disposable coveralls; masks are available for people going into rooms with infected patients. The Jewish Home Family was very aggressive about stocking up on protective equipment early, Elliott says.
To help residents connect with family members and friends, many facilities are using technological solutions, such as computer tablets and video-chatting apps. This may have a silver lining: "We're finding that families are actually 'visiting' more frequently because it's not about driving to the Hebrew Home to visit mom on Sunday," Reingold says. "It is just popping open the iPad and checking on mom. And being able to do that five, six, seven times a week."
Many facilities are also beefing up their communications to keep families informed about their loved ones.
Cutbacks in Hospice Nurse Visits
Teresa Bradley, a nurse with Maggie's Hospice in Prescott, Ariz., says she thinks nursing homes are doing a pretty good job by taking staff temperatures and other preventive measures. But they have cut the number of visits hospice nurses can make. Bradley notes that while the professional caregivers in nursing homes do a great job, they are not nurses, who are trained to deal with wound care or symptom management.
"We're willing to try anything people think of."
"They check their pulses, but we can listen to their heart," Bradley says. "If a patient has a cancerous wound and is declining quickly, it would be nice to see them more often."
Bradley says it's sad that to prevent the spread of COVID-19, family members cannot visit dying patients. She recalls one dying woman whose family visited outside her window, unable to touch her physically. Because of the no-visitor rules, the family could not be with her physically when she was still able to converse.
"In the last twenty-four hours of a person's life, usually you don't have that verbal exchange," Bradley says.
Coping With Anxiety
COVID-19 has created a lot of anxiety among medical professionals who must interact with infected patients, so some nursing homes are providing therapeutic support.
Elliott reports that at Jewish Home Family usage of its employee assistance program — which entitles employees to confidential psychotherapy sessions — has gone up 3,000%. The long-term care housing provider also has a psychologist who offers virtual visits with any family member or employee who needs it.
Acknowledging the Heroes
Nursing home directors have been spreading the word about their gratitude to their staff, too.
Reingold took out an ad in The New York Times and other publications to salute the front-line employees at the Hebrew Home. Elliott had signs made for its campuses that say "Heroes Work Here," so the front-line workers see it as they enter the front doors.
Despite the dire situation, Elliott encourages employees to stay upbeat.
"You have to keep a positive attitude," she tells her management staff each morning. "Everyone is looking at you, you must have a positive attitude. They may not be able to see your smile [beneath the mask], but they can see it in your eyes. We have to set the standard."
Deborah Quilter
is an ergonomics expert, a certified Feldenkrais practitioner, a yoga therapist and the founder of the Balance Project at the Martha Stewart Center for Living at Mount Sinai Hospital in New York. She is also the author of Repetitive Strain Injury: A Computer User's Guide and The Repetitive Strain Injury Recovery Book.
Read More