What My Older Cat Taught Me About Aging
Staying active and savoring small moments are examples of a beloved pet's lessons
Yoshi is sitting on the table next to me with his head on my arm, which makes it challenging to type. He's all about proximity these days as he wants a steady stream of affection and warmth from his humans. I can't imagine that he's cold — it's 95 degrees in the house, but he is always trying to sleep on the computer or my chest.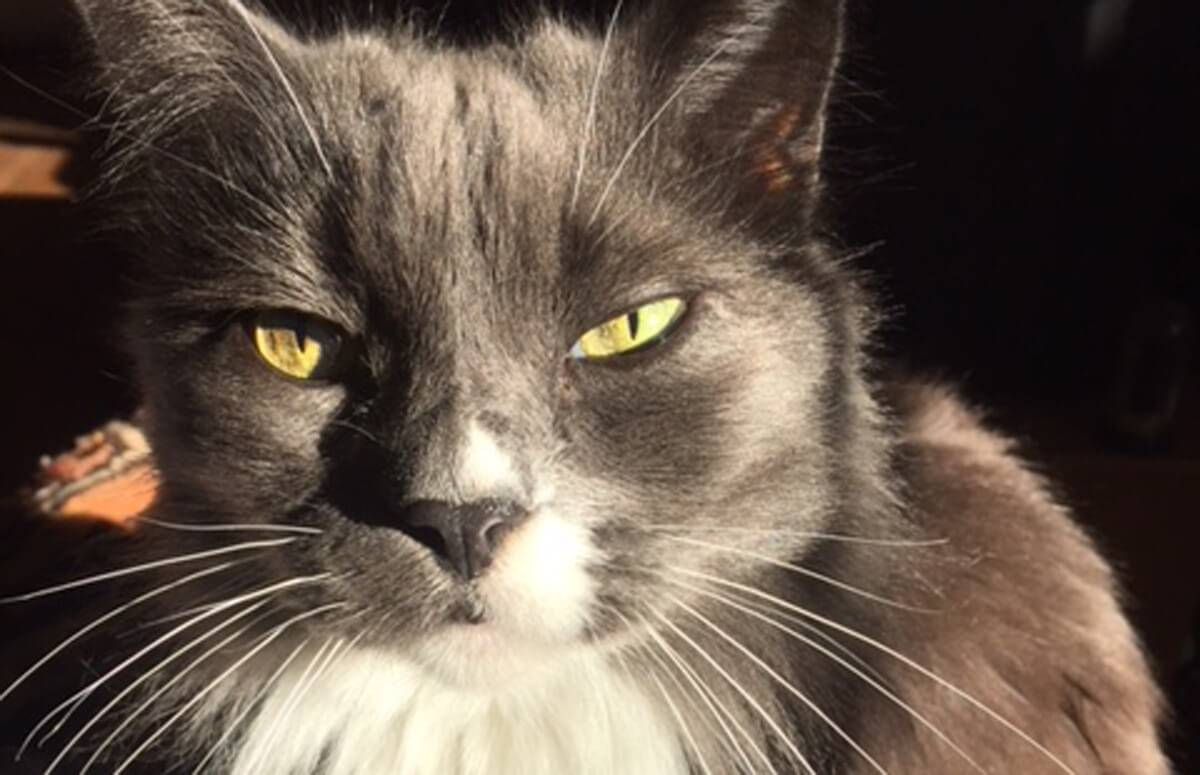 Yoshi is an old man, but he's still my baby. He has been my muse (this isn't the first piece he's inspired), my nurse (still not sure how therapeutic his jumping-on-my-stomach-after-surgery was) and my role model.
And now, in his golden years, he's giving me a glimpse into my own future as an older adult.
From Older Kitten to Old Cat
Although I don't know how old exactly Yoshi is (I prefer it that way), I suspect he's somewhere around 17 or so — and definitely a senior cat.
I met Yoshi as a kitten, but he didn't become my pet until a year or so later. My friend, who had rescued Yoshi and his brother, needed to downsize from a house to an apartment and could only keep one of her cats. I got Yoshi, and he was the best gift I ever got.
I would be remiss if I didn't give a description of my handsome guy: his fur is fluffy gray with white patches, he has beautiful green eyes and his distinctive markings include a white triangle on his nose, white-tipped paws and a fluffy white beard.
Yoshi seemed to transition from an older kitten to old cat in a very short time, but maybe I just refused to see the changes along the way. One day, he went from jumping from the highest perch to having a difficult time keeping his legs firmly on the ground. Since he has fur sticking out between his toes, I tried to pass off his sudden sliding to his fur growing so long he no longer had much traction. Another sudden change is how bowlegged he has become, which is a sign of arthritis, just like the kind I have in my knees.
Adjustments for Physical Limitations
I need to have a glass of water nearby when I work, but ever since a few years ago when Yoshi knocked over my glass and ruined my computer, I need to put the glass out of harm's way, so I place it on the breakfront next to the table.
Since drinking out of a human's glass is preferable to drinking out of the large ceramic bowl on the floor (where the water is changed at least once daily), Yoshi will lean over to the shelf that the glass is on, putting his paws on either side of the glass while his back legs and feet remain on the table. This action has much potential for disaster, so I will move the glass to the table. I hold onto it while trying to communicate to Yoshi that he should drink from the glass there. Because of Yoshi's physical limitations, the act of drinking water has become something that must be supervised and choreographed.
Yoshi hasn't adjusted or adapted to his physical limitations, and as I don't want Yoshi to get hurt, I've made some adjustments for him. There's always a chair pulled out away from the table, so he can use it as a way to get off and on the table. And I clean the litter box more frequently, as he has been known to sleep in it occasionally (it's a covered box, and he may forget what he went in there for). I've also placed stepping stools around other places he may need to get to, such as the top of the bed or the kitty condo, so he can do his cat activities for as long as possible.
8 Valuable Lessons About Aging
I know that Yoshi's time here on earth is limited, but I'm grateful for the things he continues to teach me every day and for the love he shows me. Here are eight of the lessons I've learned:
Be honest with yourself about your limitations. I took an aerobics class that killed my knees — my doctor had said I needed to work up to an hour of aerobics and to start out with smaller increments. He didn't say don't do it or avoid the challenge, just to be smart about what I could do, what I could work up to and what I probably would never be able to do, so it's likely I won't be able to be a Vegas show girl. While I don't think Yoshi recognizes his limitations in the least, I know I need to.
Keep active. I know we all should know this, but Yoshi brought it home. On days that he has energy to play a little with our other cat, Josie, Yoshi seems happier and less achy.
Have goals. Okay, so I said to be honest with yourself about what you can't do, but there's still a million things that you can do that you've probably never done. For instance, Yoshi is still determined to kill his catnip ladybug and his age hasn't dimmed that desire one bit.
Ask for, and accept, help. Sometimes we're too proud to ask for, or accept, help when it's offered — perhaps we think it makes us look weak. I don't want Yoshi to suffer, especially if he doesn't have to, so I'm going to do whatever I can to make things easier and better for him. I hope that whenever I need help, I'll take it when it's offered.
Be diligent. Don't ignore the little nagging things, praying that they'll go away instead of seeing a doctor. I want Yoshi to live a remarkably long life (I'm hoping for 20+ years), so I watch him closely for signs of any behavioral or health changes and then take him to the vet.
Never underestimate the power of a good stretch. A study in the Journal of Gerontology found that there were significant improvements with body pain and the quality of life for older adults when they engaged in a regular regimen of stretching and flexibility exercises. No matter how old and creaky Yoshi gets, he still enjoys stretching his whole body so that he's the length of a large bass.
Know the importance of love. Both humans and cats need to feel love and affection, so be like Yoshi and demand it. And be sure to give it in return.
Savor the small moments. Not to be crude, but if you could see Yoshi as he runs like a puma out of the bathroom after a successful visit to the litter box, you would see joy on his face. You don't have to win a million dollars or go skydiving to enjoy the little things in life; sometimes the perfect cup of tea or a gorgeous sky can make your day.
Christine Schoenwald
's personal essays have appeared in The Los Angeles Times, Salon, PurpleClover, and Woman's Day. In addition to writing personal essays, Christine also enjoys performing in spoken word shows around Southern California. More information is on her website, christineschoenwaldwriter.com
Read More