Ringo Starr and Other Rock Stars Reflect on Aging
Some haven't lost the thrill to perform, others take a mellow tone
At the Aging in America conference I just attended, the annual gathering of the American Society on Aging, most sessions dealt with heavy topics such as Alzheimer's, senior housing and family caregiving.
I'll blog about those in coming days, but today I want to share highlights of a fun panel from the San Diego confab: Elder Rock 'n' Roll Musicians Reflect on Aging.
While this one might not have had the gravity of the others, the standing-room-only crowd and I found it enlightening to hear what Ringo Starr, Keith Richards and the Grateful Dead's Phil Lesh — all still performing — said about growing older and staying creative plus musings about aging from Joni Mitchell and Grace Slick, who no longer are.
(MORE: A Second Chance to See My First Rock Idol)
To set the scene, as the three music-loving presenters — gerontological social worker Roy Earnest; Aging Better, Together's President Janice Blanchard and Bunker Hill Community College Professor of Human Services Pamela Braverman-Schmidt — prepared to begin, an audience member shouted: "Can we smoke?" Another replied: "At next year's conference in Denver!"
Old Age: 'Not an Endless Bummer'
Earnest trolled for video clips on YouTube in order to collect the performers' pearls. "Old age doesn't have to be an endless bummer," he said. "It can be a lot of fun, too." Braverman-Schmidt said the icons are "giving us many ways to look at aging in a positive way."
Here are some gems from a few stars she calls "resilient exemplars:"
Ringo Starr, 73: "As long as I can hold the sticks, it [making music] can go on forever; it's something you don't have to retire from."
Keith Richards, 70: "I'm still an apprentice. There's always stuff to learn. I wouldn't be surprised if were doing this in 10 years and Mick [age 70] will still be able to do amazing pirouettes."
Phil Lesh, 74, a founding member and bassist for Grateful Dead, who has been playing with the band Further, alongside Dead bandmate Bob Weir, 66. Lesh spoke about the joy he gets these days performing on stage with his sons, Grahame and Brian, calling their "Lesh genetic blend" musicmaking "magical" and "totally fulfilling." A liver transplant and prostate cancer survivor, Lesh finishes his concerts urging audience members to fill out organ donor cards.
(MORE: Glen Campbell's Farewell Tour, With Alzheimer's)
Joni Mitchell, 70, who has struggled with vocal nodules, a compressed larynx, lingering effects of childhood polio and Morgellons syndrome, said: "It's hard to tell what is age decline and what is disease." Mitchell often asks herself: 'What can I fight and what do I have to accept? That's my battle at this time."
She says she has "a lot of things I still want to accomplish and savor" but laments that her singing is "probably permanently gone," saying: "I don't have an instrument I can control."
Mitchell told an interviewer: "I've had a very challenging life with disease after disease after disease. I shouldn't be here, but I have a tremendous will to live; a joie de vivre alternating with debility."
(MORE: Carole King: Her Story)
Jefferson Airplane's Grace Slick, 74 (who says she's no longer the Acid Queen but does have an "acid tongue"), has a medical condition that prevents her from standing for more than 10 minutes at a time. A painter of white rabbits (naturally), Slick offered a darker view on aging: "We're decaying as we get old…Why don't you see people my age in bikinis in magazines? Because it would make you throw up!… I don't like to see old people flapping their wings around on stage."
Then, Slick quietly added: "It's kind of hard on the ego and the pride. I'll look in the mirror and say, 'Oh ____!' That's the way it is. What are you going to do? You might as well be ugly and happy; a lot of young people are ugly and happy."
'Still Playing' After All These Years
The seminar leaders decried those who criticize rockers for playing crowds while in their 60s and 70s and expressed irritation at those who use the word "still" before "playing." Said Braverman-Schmidt: "It's pathological. It implies you shouldn't be playing at that age."
She then asked rhetorically: "Classical musicians can age, but rock and rollers can't?"
There's a whole subset of people who are uncomfortable with performers performing when they're no longer young, she added. But "many of these musicians write new work and go in new directions, which speaks to their authenticity," said Braverman-Schmidt.
Blanchard mentioned a "huge backlash" by the media after the 12/12/12 concert featuring the Rolling Stones, Billy Joel and Bruce Springsteen.
"Rather than celebrating them and saying 'Wow, they can still shake it,'' she noted, "the press said things like: 'It's time for them to hang it up' and 'It's disgusting! It's gross! Roger Daltrey must have had pec implants. Who does he think he is?'"
Earnest told the crowd that he grew so angry at a 30-something San Francisco Chronicle pop music critic with "ageist" comments that he wrote letters to the editor for two years. He thinks that the letters had an effect on the critic. "I've noticed that his reviews have gotten a lot more respectful of older rock musicians," Earnest said. "I encourage you to do what I did if the spirit moves you."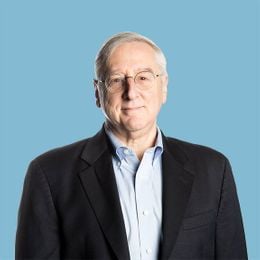 Richard Eisenberg
is the former Senior Web Editor of the Money & Security and Work & Purpose channels of Next Avenue and former Managing Editor for the site. He is the author of "How to Avoid a Mid-Life Financial Crisis" and has been a personal finance editor at Money, Yahoo, Good Housekeeping, and CBS MoneyWatch.
Read More