Overcoming Many Hurdles All for the Love of Macarons
A French immigrant learns English and educates Americans so she can sell a colorful and tasty confection
Editor's note: This first-person account of changing careers and starting a business is one in a series of eight stories shared by Next Avenue readers. The full collection is available here.
I was a human resources director in France for more than 15 years, and I eventually was asked to manage finances, loans and other areas of the business. This provided a solid foundation for me when in 2005, at 52 years old, I made a career pivot by leaving HR to become an entrepreneur in the food and beverage industry in the United States.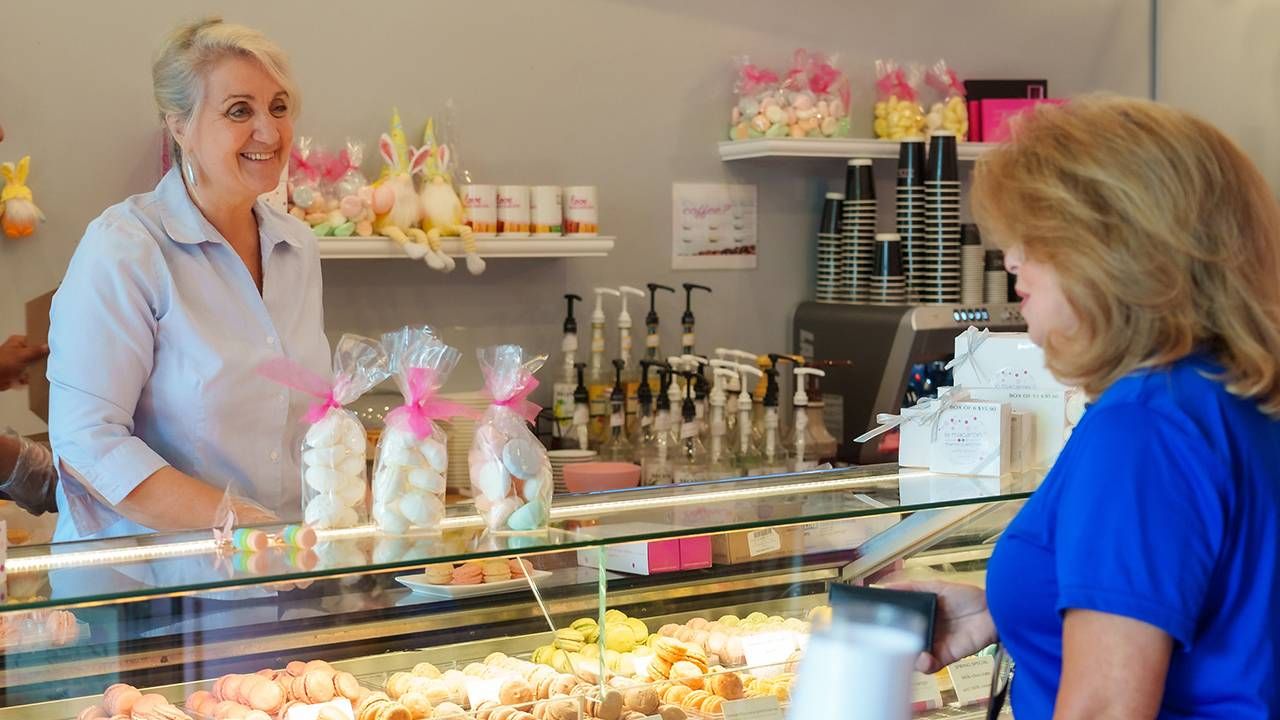 People always ask me what inspired me to start my business, and especially in my fifties when many are already contemplating retirement. For me, it was always about family. I'm very family-oriented, and everything I do is for my family.
My husband took a job offer here so he and I moved from France to Florida while my daughter, son and other family members remained in France. It was difficult to be unable to see my children and grandchildren as much as I wanted to, so I started thinking of ways to bring the family together.
It was almost impossible to find an American source of authentic French pastries, particularly macarons.
After my daughter visited us in Florida, she decided to move near us with her kids. We were thinking of a job or a good business for her, and we agreed that it was almost impossible to find an American source of authentic French pastries — particularly macarons, which are colorful, almond meal-and-meringue confections filled with buttercream, ganache or jam. This was what inspired us to start Le Macaron in Sarasota.
Beginning a business is not easy at any age, but it was even more complicated for me because I had to educate myself — I barely spoke English, so I enrolled in language classes — and I had to educate many of my customers who had never experienced a macaron.
Timing was also not in our favor, as there was a Great Recession in 2009. However, we knew we had an extraordinary product and a perfect location, so we forged ahead.
I consulted a friend in France who had studied at a school known for teaching the best macaron makers, and then hired him to come to the U.S. and supervise the installation of the kitchen and the ordering of all the equipment from France.
Of course we also had to apply for a lot of permits, a business license and pass many inspections. We had a few people tell us that what we were doing was impossible because macarons could only be found in Paris, but I was not discouraged. We started selling franchises in 2012 and now we have 63 locations in the United States.
What has surprised me the most about my business is the enthusiasm of our customers because many are unfamiliar with macarons. Some customers will enter the café, look at our colorful displays, and ask if macarons are mini hamburgers! This is an opportunity to educate customers about the history of macarons in France and let them taste test "a mouthful of heaven."
It has been a learning experience for my customers and me, but it is worth it when I see them return with their family and friends to treat them to the same experience.
Editor's note: This article is part of America's Entrepreneurs, a Next Avenue initiative made possible by the Richard M. Schulze Family Foundation and EIX, the Entrepreneur Innovation Exchange.