Packing After 50: It's a Whole New Trip
From clothing to necessary gear, gone are the days of 'traveling light'
Somewhere between 50 and way-past-50 is an invisible catapult that launches unsuspecting mid-lifers into the Land of Complex Travel and Colossal Luggage, when they're able to travel. We will never travel light again. We can't.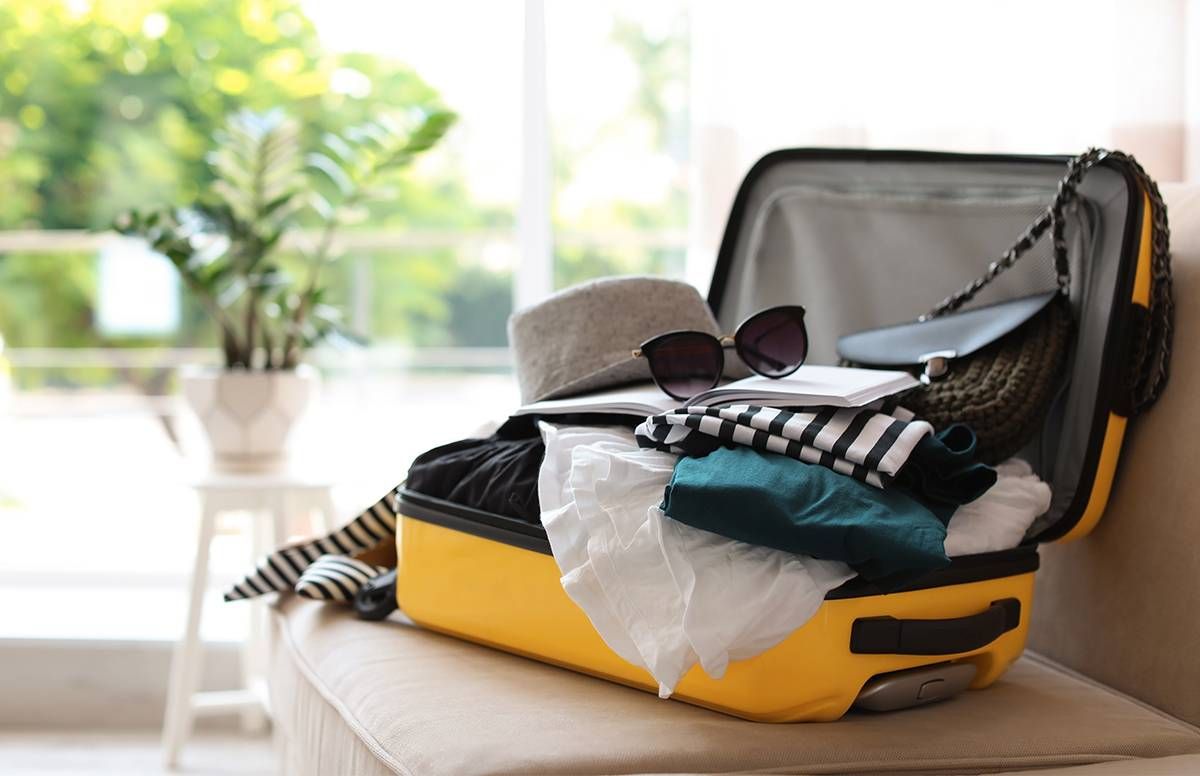 It wasn't always this way.
At 23, a friend and I went to Europe for three weeks carrying only metal-framed packs. Young, fit and spontaneous, we posed for photos back-to-back in our matching backpacks — our eyes filled with hope, our hearts bursting with adventure and our knees supple with cartilage. Boy, do I miss that cartilage.
With our passports, francs and travelers' checks stashed into money belts and rolled clothing in our nylon packs, we were Rick Steves before Rick Steves. Besides clothing, we packed my friend's German dictionary, my French phrasebook dog-eared to Où est la salle de bain? (Where is the bathroom?) and Fodor's Europe on $10 a Day. (It was 40 years ago; please don't do the math.) Our emergency kit was a roll of toilet paper.
A Longer List of Items to Pack
At my current age — which I know you calculated even though I begged you not to — my travel emergency kit contains knee braces, stretch bands, a heating pad, Ziploc bags for ice compresses and a copy of my living will.
My cosmetic case alone is bigger than the backpack that toured the Swiss Alps. Do you know what that means? The products I need now just to moisturize myself every day occupy more cubic footage than everything I needed then to stay alive for three weeks on another continent.
The pharmaceuticals needed to sustain me in my questionable condition have also multiplied: vitamins, allergy pills, antacids, muscle relaxants and enough ibuprofen to stun an elephant. I've upsized my daily pill-minder box several times, nearly to the size of a tackle box. Ditto for my husband's medications, which include a cooler full of eye drops.
The only consolation is knowing I'm not alone. A friend toured Italy and needed five different orthotics and a knee brace for all the walking.
At the behest of my arthritic joints, I pack a special leg pillow roughly the size of an airline carry-on. Also Ben-Gay, Aspercreme and the Blue Emu Super Strength I got suckered into buying because baseball legend Johnny Bench promised it "wouldn't make me stink." Quite the seductive marketing ploy, eh?
The only consolation is knowing I'm not alone.
A friend toured Italy and needed five different orthotics and a knee brace for all the walking. Two others packed toe separators and bunion protectors to soothe their ailing feet. Another's carry-on contained a back pillow, neck pillow, seatbelt extender, hand sanitizer and ear plugs. And that was just for the plane.
The clothing list for travel also changes with age.
Swimsuits are left at home because no one is buying tickets to that show. Compression socks are a must, especially for air travel, unless I'd like my ankles to blow up like air bags. A friend recommends a travel vest full of pockets but I'm too forgetful to risk that. I'd need a TSA pat-down to locate my own sunglasses.
Dress shoes and flip-flops have been replaced with one pair of something big, ugly, and functional — an expensive walking shoe that will accommodate my orthotics. But there's an upside to that. Remember the old travel tip about filling your footwear with socks and underwear to conserve space in a suitcase? Good news: One pair of good orthopedic shoes will accommodate most of what you'll wear on the trip.
Don't Forget to Take a Few Precautions
Travel at our age may not be as carefree as it once was (especially due to the new worries of COVID-19), but it's still fun as long as we take a few precautions:
1. Check your favorite online review site before booking accommodations. Are there plenty of elevators? Do you need a handicap-accessible bathroom or comfort-height toilets?
Don't forget to check for air conditioning, even in cooler climes. When my friend and I toured Europe all those years ago, none of our $10-a-day rooms had air conditioning. Now, we couldn't even consider such a thing. At this age, we women pack our own heat, and I don't mean firearms.
2. Speaking of amenities, if you'll be sleeping in a B&B, inquire about the restroom location. On a recent trip to Boston, my husband and I stayed in a lovely old home with one bathroom serving three upstairs bedrooms. The men with aging prostates spent the whole night standing in line. Someone really should invent "B&B&Bs" for older guests; we need a private bathroom with our bed and breakfast.
3. Examine your luggage before you pack. Test the zipper and extendable handle, inspect the stitched seams and yank on the wheels to insure they're firmly attached. I learned this the hard way when a wheel fell off my overstuffed roller bag in Boston's Logan International, taking the whole corner of my suitcase with it. Discovering that my luggage was inexplicably lighter at Gate 28, I had to slink back to Gate 12 to retrieve the variety of unmentionables that flew out the hole. Luckily, the heel of my clown-sized orthopedic shoe was just the right size to plug the gap, but I still had to deal with a one-wheeled suitcase and a lot of unwanted attention.
4. When traveling with friends, consider roommate selection carefully. In Europe 40 years ago, my companion woke me each morning singing "Camptown Races" while I fought the urge to commit a felony. Now, in our 60s, some of my friends snore, one requires an oxygen tank and another plays a white-noise app on her phone all night.
I'm no bargain, either: At night, I snatch every unattended pillow, plus the seat cushion of the side chair to build an elaborate nest for sleeping.
Meticulous planning and outsized luggage aside, I hope you'll relax, enjoy, and (safely) see the world. In the words of my 40-year old French phrase book: Bon voyage!
Mary Kay Jordan Fleming
is professor emerita of psychology and a multi-award-winning humor writer with publications at McSweeney's Internet Tendency, Next Tribe, and Brevity, among others, as well as personal essays in anthologies and America Magazine: The Jesuit Review. Read more here: https://authory.com/marykayfleming.


Read More