Purpose Prize Winners: Doing Great Work After 60
Six who are leading extraordinary encore careers and loving it
(The Purpose Prizes were awarded last night, Oct. 28, 2014, at The Purpose Prize 2014: Make Your Mark ceremony in Tempe, Ariz.)
In case you needed any proof that it's possible to do work that can really make a difference after you turn 60, allow me to introduce you to this year's six Purpose Prize winners.
These remarkable men and women, age 62 to 76, received the annual honor from the Encore.org nonprofit for "combining their life skills and talents for the social good."
Says Eunice Lin Nichols, Director of the Purpose Prize: "It's not a lifetime achievement award. The Purpose Prize is for things people are doing now in the second half of their lives. We hope giving these awards will inspire others."
(MORE: Pivot to a Second Act With Purpose)
Encore.org is a nonprofit that's building a movement of people 50+ improving their communities and the world. Two of the Purpose Prize winners will each receive $100,000; the other four will get $25,000 apiece.
The Eisner Prize for Intergenerational Excellence
The announcement comes on the heels of The Eisner Foundation naming the exceptional winners of its $100,000 Eisner Prize for Intergenerational Excellence: Bridge Meadows, of Portland, Ore. (a community of adoptive parents, foster children and low-income elders, run by Derenda Schubert) and the Intergenerational Schools of Cleveland, Ohio (which educates children while engaging older adults, including ones with dementia, and was launched by Dr. Peter and Catherine Whitehouse).
"We have to get out of our silos. If we don't have multigenerational solutions and invest in one group at the expense of another, we're not going to get anywhere," says Trent Stamp, Executive Director of The Eisner Foundation, which was created by former Disney CEO Michael Eisner and his wife, Jane.
The Purpose Prizes and the Eisner Prizes will be awarded officially at the Encore.org National Conference in Tempe, Ariz. next week.
(MORE: You Don't Need to Reinvent Yourself for a Second Act)
A Little Volunteering Can Lead to Something Big
What I found particularly intriguing about this year's Purpose Prize honorees is that both of the $100,000 winners — former business execs David Campbell, 72, co-founder of All Hands Volunteers (a Mattapoisett, Mass. nonprofit that sends volunteers to disaster zones) and Charles Fletcher, 76, of SpiritHorse International (a Corinth, Texas-based network of free therapeutic riding centers for kids with disabilities) — began their encore work as unpaid volunteers.
To me, this demonstrates that giving up a few hours of your time regularly to volunteer in midlife can ultimately turn into something that changes not only your life, but the lives of many, many others.
Here's more about Campbell, Fletcher and the other four Purpose Prize winners:
David Campbell, in 2005, had retired from his 40+ year career in technology, sat on three boards and was managing director of a boutique investment bank. Then, he flew to Thailand to volunteer, following the South East Asian tsunami. That led Campbell and a few friends to raise over $100,000 — what Campbell calls "engaged philanthropy" — and organize a group connecting others who wanted to help rebuild five fishing villages with locals who needed assistance.
Next, he ran a similar volunteer effort after Hurricane Katrina. "We learned in Thailand that if you have a good plan for attacking a major problem, you'll get financial support," says Campbell. His good plans led to the creation of All Hands Volunteers, which has dispatched 28,000 volunteers to 45 disaster zones around the world. Lately, it's been assisting victims of floods in Detroit and Colorado and Typhoon Haiyan in The Philippines, among others.
"The most powerful effect is on the volunteers, most of whom are under 30. What they do with All Hands Volunteers has a real impact on the way they will live their lives. It's a very powerful force," says Campbell, winner of The Purpose Prize for Future Promise, sponsored by Symetra.
Charles Fletcher, a former telecom veteran and lifetime horse aficionado, started his encore career in 1998 volunteering at a local therapeutic equine center for kids with disabilities. "They were basically recreational pony rides. I thought more could be done and should be done. So I used my background from my first career — engineering — to do a lot of scientific research, particularly related to the human brain," says Fletcher.
In 2001, at age 63, he opened SpiritHorse on his ranch in Corinth, Texas. "I'd always wanted to help people and when I saw an opportunity to do this and help someone, I did. It was a natural thing for me," says Fletcher.
Twenty SpiritHorse instructors offer hour-long therapy riding sessions to 400 riders weekly — the youngest child was nine months old and had Down Syndrome. The childrens' parents are required to walk alongside the horses as volunteers. "We couldn't possibly serve all these kids if I had to find 400 volunteers," says Fletcher.
Now the largest research-based therapeutic riding center in the world, SpiritHorse has launched a global network of 91 centers serving 5,000 children around the world. The horses, Fletcher jokes, are having encore careers, too. They're donated show horses who are too old for competition.

Dr. Pamela Cantor, 66, is a child psychiatrist and trauma specialist who founded and runs Turnaround for Children in New York, N.Y., which has partnered with 86 public schools to assist tens of thousands of kids suffering from the stress of poverty. She's the winner of the Purpose Prize for Intergenerational Impact, sponsored by The Eisner Foundation.
(MORE: Here's to 40 Women Over 40)
Rev. Richard Joyner, 62, created Conetoe Family Life Center (CFLC) in Conetoe, N.C., a 25-acre garden and family center dedicated to improving the health and economic potential of his rural congregation, as well as raising its students' high-school graduation rates. At CFLC, Joyner — the pastor of a 300-member Baptist church — provides after-school and summer camp programs for kids who plant, harvest and sell the garden's produce. That's not the only thing Joyner has sprouted: 21 churches have adopted his community garden model.
Mauricio Lim Miller, 68, is the winner of The Purpose Prize for Financial Inclusion (sponsored by MetLife Foundation) and he has also aimed his efforts at ending poverty. The social worker, whose Mexican immigrant mother saved enough to send him to college, came up with the creative notion for Family Independence Initiative (FII) in Oakland, Calif. FII enrolls families in groups with friends who offer advice and direction to each other.
Currently, it's partnering with about 1,000 families in Oakland, San Francisco, Fresno, Boston, Detroit and New Orleans. Miller's idea works: The families have doubled their savings and boosted earnings by 24 percent, on average.
Kate Williams, 72, lost her vision due to a rare degenerative eye disease and by 2007, the San Francisco HR recruiter was nearly blind. With a passion to help others like her find work, Williams devised an employment training program for the blind, aided by tools from Adaptive Technology Services.
She now runs the Lighthouse for the Blind and Visually Impaired's Employment Immersion Program, which has trained more than 100 blind job-seekers. So far, 40 percent of its grads have been hired.
The Purpose Prize winners have had very different career paths, encore and otherwise. But they currently have one thing in common: "They do this work because they can't help it and they've found themselves propelled into the best chapter of their lives," says Nichols.
Thank goodness for that.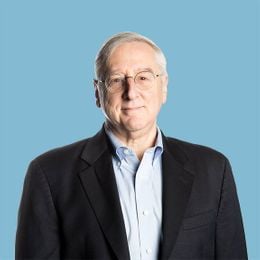 Richard Eisenberg
is the former Senior Web Editor of the Money & Security and Work & Purpose channels of Next Avenue and former Managing Editor for the site. He is the author of "How to Avoid a Mid-Life Financial Crisis" and has been a personal finance editor at Money, Yahoo, Good Housekeeping, and CBS MoneyWatch.
Read More