Retail Clinics Adapt Care to Older Patients
CVS MinuteClinic, Walgreens and Kroger's Little Clinic are all making efforts
(Editor's note: This story is part of a series for The John A. Hartford Foundation.)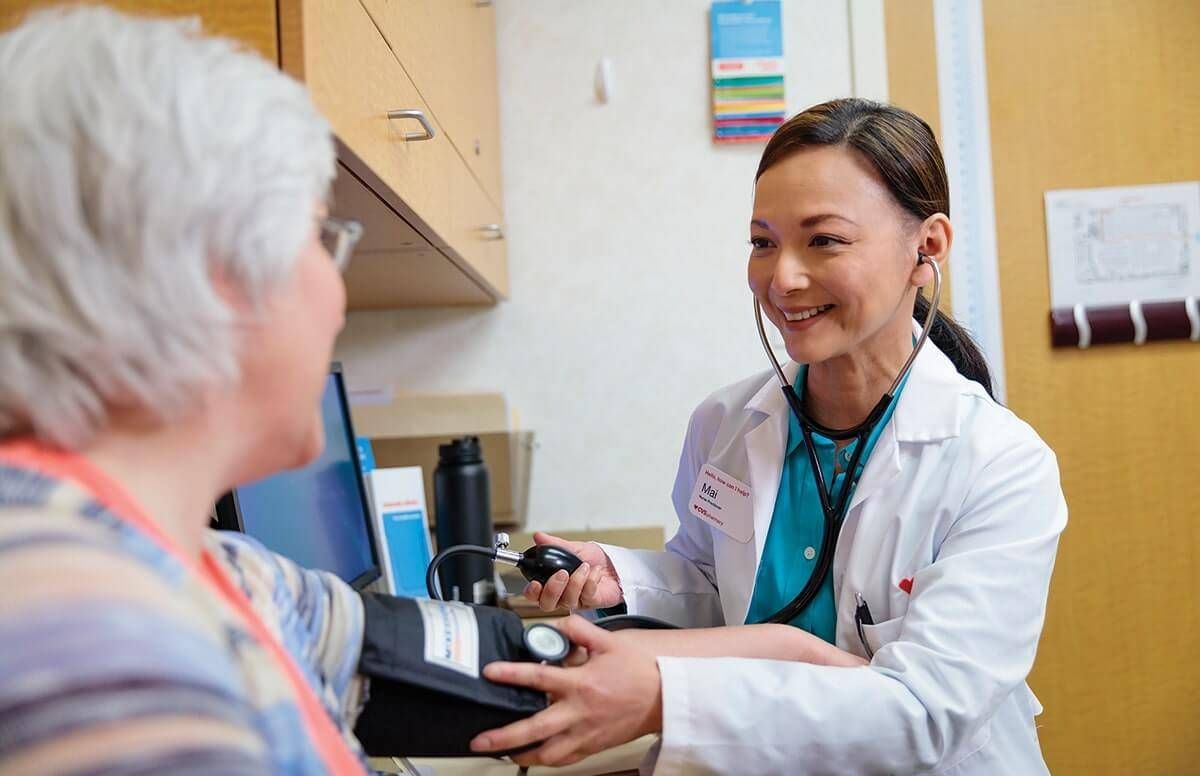 Retail health clinics, first launched in 2000, are a burgeoning part of the health care universe. Found in pharmacies, supermarkets and discount giants like Walmart and Target, the nation's 2,800 retail clinics help meet the demand for non-emergency, off-hours treatment at a reasonable cost and relatively short time in the waiting room. The clinics treat common ailments such as sore throats and urinary tract infections, and also offer vaccinations, physicals and preventive health screenings.
Most patients going to the clinics are younger people who lack a primary care physician. But the last three years has seen a doubling of clinics' older patients, rising from around 8% to 15%. That percentage is expected to grow as the U.S. population ages.
Now there are efforts to improve how these retail health clinics deliver care to older patients. "Health care in our country generally is not age-friendly," says Mary Dolansky, associate professor at Case Western Reserve University's Frances Payne Bolton School of Nursing. Dolansky is leading a pilot project (funded in part by The John A. Hartford Foundation, a Next Avenue funder) to help improve care at the 1,100 CVS MinuteClinic sites nationwide.
Clinics are moving beyond just treating strep throats and giving vaccinations to identifying and helping patients manage chronic conditions, such as diabetes and heart disease.
"We need to be talking more about health promotion in every encounter with older adults so they understand it's not just about taking medications, but it's about healthy aging," says Dolansky.
The Age-Friendly Template for Retail Clinics
To address these deficits, Dolansky's team is training MinuteClinic staff to enhance care through use of the "4Ms" — a set of four essential elements of caring for older adults developed by the Institute for Healthcare Improvement in collaboration with The John A. Hartford Foundation. The practices include a focus on patient mobility, medication reduction, mentation (mental and cognitive health) and what matters to the patient.
Each of the four is key, says Dolansky.
Take "mentation." Cognitive impairment affects 25% to 85% of patients with heart failure. Yet heart failure patients are not typically screened for dementia.
"Patients may have terrible memory and executive function problems," she says. "We keep teaching them and teaching them, but they can't manage their chronic conditions. We send them home from the hospital with complex treatment plans they cannot follow."
Through the training module developed by Dolansky's team, CVS MinuteClinic staffers in the pilot program in Maine, Florida and Ohio now routinely assess their older patients' cognition.
Ann Lovegren, a family nurse practitioner at the CVS MinuteClinic in South Portland, Maine, says the training "asks us to be more conscious in our assessment around [the 4Ms] and to create a bridge between our level of care and primary care."
Retail Clinics Vs. Doctor's Offices
Unlike doctor's offices where the patient goes from the receptionist to the medical assistant, nurse or doctor, Lovegren is with her patients from start to finish. "I'm asking a lot of detailed questions, and I'm assessing how articulate someone is about their medical history and if they can remember their medications," she says.
Recently, Lovegren saw a patient in her 70s accompanied by a family member. The patient was having memory challenges. "This was something they hadn't talked about with her primary care provider and she and the family member were nervous about bringing it up," says Lovegren. Her training encouraged Lovegren to screen for dementia and, with her patient's permission, let the patient's primary care provider know.
In another case, a patient of Lovegren's in her 80s felt strongly that she never wanted to impose on her children by moving in with them. She wanted to stay independent as long as possible and then move to assisted living if needed. Lovegren documented these wishes in the electronic health record that went to the patient's primary care provider. As part of Dolansky's pilot project, the electronic health record now has prompts to make sure MinuteClinic staff is checking the 4Ms — in this case, what matters to the patient — as a routine part of the clinic visit.
Dolansky says new fields will be added to the CVS MinuteClinic record, including the name of the patient's advocate and a warning if the patient has been prescribed a medication that older people should avoid. One of the 4Ms is the reduction of medications.
CVS MinuteClinic, the nation's largest operator of retail clinics, plans to roll out the age-friendly program to all its 1,100 clinics. "The beauty of the age-friendly health system approach is that it can be used at all levels in health care," says Anne Pohnert, director of clinical quality for CVS MinuteClinic.
A Retail Clinic Trend: Serving Older Patients Better
Other retail health clinics are also trying to better serve older patients, too.
"This is an industry that has adapted continuously to the needs of the community," says Tine Hansen-Turton, executive director of the trade group Convenient Care Association that represents the nation's retail clinics. "We have added on services based on what consumers have shared with us."
For example, clinics are moving beyond just treating strep throats and giving vaccinations to identifying and helping patients manage chronic conditions, such as diabetes and heart disease.
Hansen-Turton says clinics tend to see more boomers than frail elders. A growing number of traveling retirees find their way to retail clinics. "You can go to a clinic wherever you travel in the country," she says. "The records will be shared with your primary care provider."
Most clinics take Medicare, Medicaid and supplemental insurance. For those without insurance, a visit costs roughly $60 to $130. Costs and insurance information are often posted on clinic websites. Clinics are open longer than most physician offices, including on weekends.
Competing for Primary Care
Another emerging model turns retail clinics into primary care providers.
In Kansas City, Mo., insurance giant Humana partnered with Walgreens to launch two older adult-focused primary care centers in 2018 in neighborhoods with a high concentration of older people. It's part of Humana's strategy to increase the company's share of Medicare Advantage patients.
The clinics "focus on developing long-term relationships with patients," says Humana spokesperson Mark Mathis. "Patients receive longer visits to allow more time to ask their questions and gain a clearer understanding of care plans." The centers are staffed by physicians and a care team specially trained to treat older adults.
Services include behavioral and social health support and activity centers that offer education, yoga, fitness and social programs to help tackle loneliness and isolation. "The model is designed to be a game-changer for primary care for seniors," says Mathis.
Retail Clinics Can't Be Everything
According to the Harvard Health Letter, although retail clinics offer many advantages, older people might not always be best served if the staff is not trained in geriatrics.
For example, treating a urinary tract infection can be more complicated in older women, who may experience confusion, dehydration and falls from the infection. The chances for medication interactions also rise when patients are treated by someone unfamiliar with their medical history. So, bringing a complete list of medications to the clinic is important.
Another potential problem with retail clinics for older patients: lack of follow-up and communication with the patients' regular providers.
"The most important part is to connect these folks back to their primary care providers so we can avoid unnecessary [hospital] admissions," says Dr. Marc Watkins, chief medical officer of Kroger Health's Little Clinics.
But that may not happen unless you request it.
A 2017 survey by Harris Poll found that of U.S. adults who have a primary care provider and have visited a retail clinic, nearly two-thirds assumed the retail clinic sent the record to their doctor. But that often was not the case.
Patients also usually ignored instructions that they follow up with their primary care providers. Only 36% who went to urgent care followed up with their doctor, and only 25% who went to a retail clinic followed up with their doctor.
Closing the communication gap is one thing the MinuteClinic pilot project is focused on. "We always ask, 'Who is the primary care provider?,'" says Lovegren. "Then we put [the provider] in our system, and we ask the patient if we can send a summary of the visit. I would encourage people to keep all your information in one place."