Retirement Advice: Getting Better, But Still Deficient
9 takeaways from a new study of financial firms and tools
You probably just heard that 36 percent of Americans haven't saved a penny for retirement, according to a new Bankrate.com survey. (And 26 percent of 50- to 64-year-olds haven't put away any money for it either.)
 
I suspect that they — and, frankly, most of the rest of us — could use some advice to get our retirement planning on track. The question is: Where should we get it and how good would it be?
 
A fascinating new study has some answers to those questions.
 
For Inside Retirement Income Advice 2014: At Retirement Focus, the Rye, N.Y. financial research firm Hearts & Wallets analyzed advice from 29 financial advisory firms, online calculators and employee retirement plans. The point wasn't to select particular companies or tools as best, but to see how helpful their brands were during their "experiences" offering advice.
(MORE: Retirement Calculators Can Be Bad for Your Wealth)
 
"When we ask people in focus groups where they think financial firms are on service quality and product quality, many draw question marks," said Laura Varas, co-founder of Hearts & Wallets. "They have no perception."
 
For part of the study, its fifth, Hearts & Wallets created the hypothetical pre-retiree couple George and Nina Banks, 64 and 56 (the names of the parents of the bride in the film, Father of the Bride) and then sought advice for them. "We wanted to see if a couple was getting advice, what kind of advice would they get," said Varas, a former Fidelity exec.
 
The study's results were eye-opening and can be quite useful for people in their 50s and 60s deciding where to get retirement-planning advice.
 
Hearts & Wallet broke into four categories the firms and tools it reviewed: Prelude to a Sale (typically calculators designed to get you to hire the firm behind them); Self-Directed /Media (calculators for DIY'ers); In-Plan (for participants in 401(k)-type plans) and Full-Service (firms that offer access to financial professionals, including the new "robo-advisers").
(MORE: You Can Retire Sooner Than You Think — Maybe)
 
9 Takeaways From the Study
Here are my nine takeaways:
 
1. Overall, the quality of the retirement-planning advice and the ease of using the tools has improved. In the past, the advisers and tools focused on "The Number" and whether you'd have enough money in retirement. Now, they've moved to outlining actions to improve your overall chance of success. Two years ago, only 4 percent of the firms helped pre-retirees optimize their retirement income; this year, 21 percent did (still not all that impressive, though). And more firms now help people make decisions about when to stop working than in previous surveys.
 
2. Many firms are doing a better job offering retirement advice to couples rather than just to one individual in a couple. An impressive 83 percent of the experiences Hearts & Wallets analyzed were for couples, up from 61 percent in 2012.
 
3. The range of the results was all over the map. While 32 percent predicted the Banks would fail to achieve their goals based on their retirement income sources ($1.6 million of investable assets, a pension and Social Security; no mortgage), 60 percent forcasted success and 8 percent had no prediction.
(MORE: Finding Financial Advice You Can Trust)
 
Investment recommendations varied greatly, too. One adviser told the Banks they should have 60 percent in equities; another said 12 percent. The average: 45 percent. The Social Security estimates for the first year George Banks could claim benefits ranged from $22,236 to $41,405.
 
4. There was also a wide variety in the amount of information pre-retirees could provide and the number of "what if" questions they could ask. Full-service firms were the most comprehensive and 401(k) plans [so-called In-Plan] the least. Full-service firms, on average, took in 14 pieces of information, but the 401(k) plans amassed only eight. What-ifs "were a particular area of weakness for In-Plan," the report said.
5. Many advisers and retirement calculators won't factor your real estate into your plans. Just 34 percent of the firms and tools asked people about the eventual sale of their home or potential rental income. Only one in six experiences for the Banks was set up to realize that the couple planned to sell their primary home.  
 
"Some of the full-service firms [questionnaires] and all of the In-Plan tools we looked at couldn't take real estate assets into account," said Varas. "But mass-affluent retirees often have quite a lot of assets in real estate and could be overspending on them."
 
6. Some retirement-planning calculators had more depth than others. "Firms like Fidelity and T. Rowe Price have invested more in their online tools than places like Vanguard or AARP," said Varas. "I'm not saying Vanguard or AARP aren't good; they just have a different strategy. Anybody looking at these sites would see that."
 
7. The scope and quality of the advice offered by 401(k) plans has improved dramatically. Hearts and Wallets said "a stunning development" in this year's study was that the 401(k) experiences "can parallel Full Service in their capabilities."
 
Said Varas: "One of the big findings is that compared to our study in 2013, some of the advice behind the log-in plan providers [where employees must log in for access] is pretty good. It's in a simple format and shows you tradeoffs."
 
Problem is, very few people with access to 401(k) advice take it. A just-released survey of 1,000 401(k) participants, commissioned by Schwab Retirement Plan Services, found that only 23 percent of those with access to professional 401(k) advice say they've used it.
 
8. It was so difficult to find out how much the firms would charge, Hearts & Wallets gave up trying. "There is little consistent information on price — for that matter, on any transparent mechanism for determining who gets access or how much it costs them," said the study. A small consolation: 46 percent of firms said their policy regarding pricing is to "proactively discuss with clients," up from a mere 11 percent in 2010.
 
9. The firms and tools often aren't addressing some real-world concerns. Only 10 percent let people include information about their health considerations; just 48 percent let them put in their tax bracket; a mere 7 percent offered the "what-if" scenario of one spouse dying before the other and 10 percent gave people the opportunity to ask "What if I'd need long-term care?"
 
Advice From the Study's Creator
I asked Varas what advice she'd offer a pre-retiree who wanted to get retirement-income advice. Her suggestions:
 
"First, try to get a sense of the scope of the questions you're considering and which 'what-if's you want answered. Then see if the firm has the capabilities to handle them.
 
"Second, know how much the advice costs."
 
(As a rule, you can expect to pay a minimum of about $200 to $300 an hour to meet with a financial planner; some charge 1 percent or more of your assets. Robo-advisers' fees vary enormously. In a Next Avenue article, investor advocate Jack Waymire (of Paladin Registry) said a pure Robo with an automated investment process and limited human contact might charge you 0.10 percent to 0.35 percent of your assets under management; others charge $10 a month and many offer free services.)
 
"And third, shop around at three to five advisory firms or services."
(Bear in mind that some firms won't even let you in the front door if you don't have enough money. A Principal Financial Group survey of 614 financial advisers found that 30 percent prefer clients to have at least $500,000 to invest and 57 percent want at least $250,000.)
 
Do you really need to work with a human?
 
Varas said "that depends on your financial skills and the time you have to devote to this." Hearts & Wallets focus group participants who said they had the best experiences met with their financial advisers every year and had periodic check-ins — "like going to the doctor," said Varas.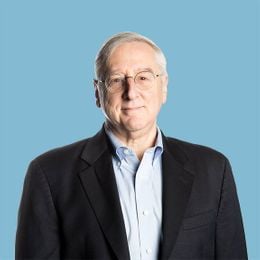 Richard Eisenberg
is the former Senior Web Editor of the Money & Security and Work & Purpose channels of Next Avenue and former Managing Editor for the site. He is the author of "How to Avoid a Mid-Life Financial Crisis" and has been a personal finance editor at Money, Yahoo, Good Housekeeping, and CBS MoneyWatch.
Read More