How Social Robots Could Help Older Patients Help Themselves
The machines could assist with caregiving and coaching needs
Designers of social and assistive robots clearly have figured out how to make their creations lovable, including giving them cute names. There's Paro, Aibo and Buddy,  to name a few. But while experts still expect social robots to find a niche in the consumer market — most likely as companions for older boomers — they haven't caught on in the U.S. yet.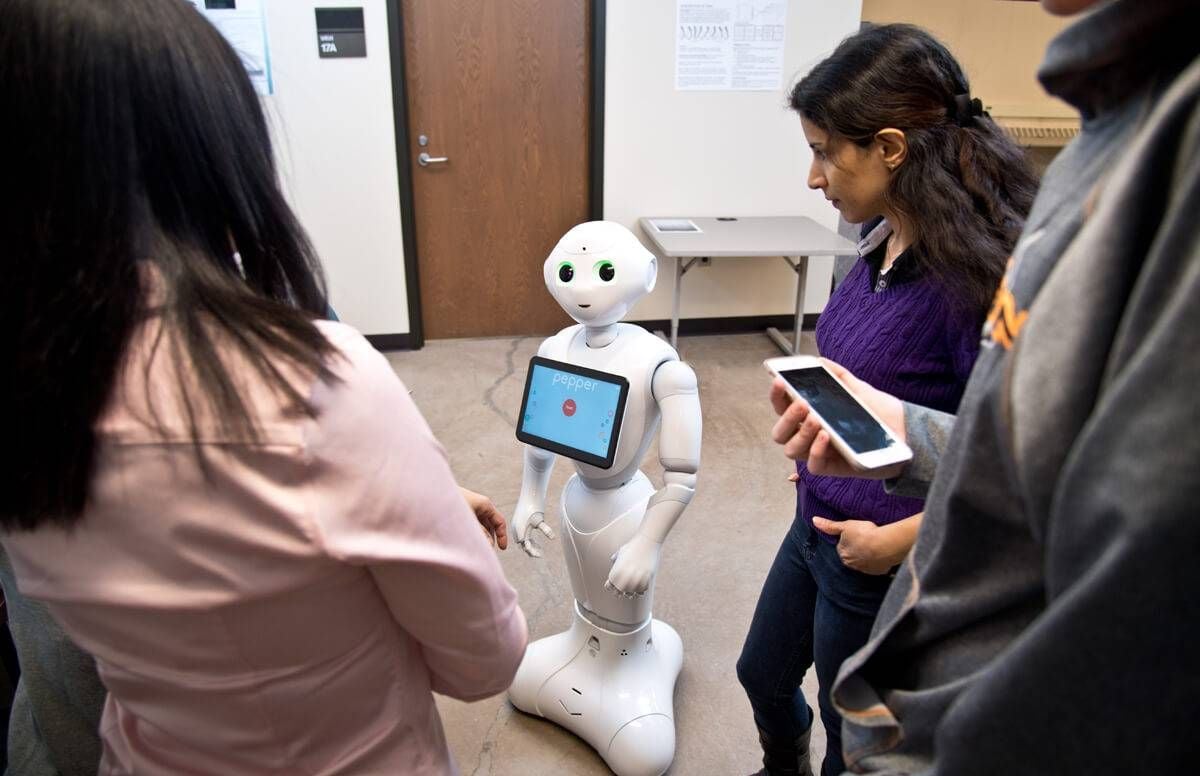 Instead, smart speakers, such as Amazon Echo and Google Home, have taken off as in-home tech assistants. The cost, no doubt, is a big factor why smart speakers are outselling robots. You can buy an Echo for $100.; social robots typically go for at least 10 times as much.
Some social robot companies, however, have zeroed in more sharply on older adults, hoping their devices will become their sidekick of choice. One such company, Intuition Robotics, is about to put its tabletop assistive robot, known as ElliQ, on the market after a year of beta testing in Bay Area homes.
The company says people responded most positively to ElliQ's coaching — reminders not just to take their meds, but also to go for walks and stay hydrated — and often ended up interacting with it throughout the day. Intuition Robotics will soon find out if people will pay $1,500, plus a monthly subscription fee, for the pleasure of ElliQ's company.
But scientists are also focusing on how robots can go far beyond providing companionship. Some think the devices can play a critical role in helping people deal with debilitating medical issues, such as a stroke or the onset of dementia.
Robots to Help People With Dementia
Arshia Khan, an associate professor of computer science at the University of Minnesota Duluth, is developing a robot she believes will allow someone with dementia to maintain quality of life at home and delay a move to assisted living. Specifically, she and her graduate assistant, Yumna Anwar, are creating software that will give Pepper, a social robot manufactured by Softbank Robotics, the ability to help a person cope with a loss in cognitive function.
Khan is actually researching two aspects of dementia. She's been working with people who have a history of dementia in their families, with the goal of developing a better model for diagnosing the condition earlier.
"Researchers have mostly focused on dementia as a cognition disorder," she says. "But there are a lot of other things that happen to the human body before the cognition is affected."
For instance, Khan notes, a change in a person's gait can be an early sign. Steps can get smaller and slower. Once a diagnosis of early stage dementia has been made, the idea would be to pair the person with one of the specially designed Pepper robots, the other facet of Khan's research.
Pepper begins tracking a person's health data, such as body temperature and pulse rate, through a watch the user wears. Pepper then transmits the data to family members and a care facility. But just as importantly, the robot would use its sensors and cameras to closely follow and learn the person's patterns and activities. It would be aware of changes in his or her routine and know, for instance, if the user was out wandering, a common concern of family members.
Khan explained how the machine could respond if a person deviated from a normal pattern, such as no longer making a daily omelet. It wouldn't just remind the person about that, but also might offer to show on its screen an omelet recipe or a video about making omelets.
The Technology Raises Privacy Issues
Khan acknowledged that this level of surveillance raises privacy issues, which is why an ethicist is part of the research team.
"Say a person falls," she says. "Should the robot report that to the clinician? The person's family will say, 'Yes, of course it should be reported.' But the patient may be afraid that if people see that, they'll be moved into assisted living. They're scared of that. And they may tell the robot not to report the fall.
"So, the question becomes how much control should a patient have about when behaviors or incidents are reported," Khan continues. "We have to take the patient's perspective into consideration."
She emphasizes that she doesn't see the robots replacing human caregivers. "We see this as augmented caregiving, more as a way for robots to help people maintain their life," she says.
There are people who don't like the idea of using robots with patients though, Khan says. "People ask if we're deceiving people or if we're giving them false hope. But if you weigh the pros and cons, would you rather people sit by themselves in a room and get depressed?" she says.
Helping People Achieve Rehab Goals
Maja Mataric also sees great potential in the role robots can play in helping patients help themselves. She's a professor of computer science and neuroscience at the University of Southern California (USC), and founding director of the USC Robotics and Autonomous Systems Center. She's also founder of a field of research involving what are known as "socially assistive robots."
These are devices that add a social and motivational component to working with patients who need to achieve certain goals, such as rehabilitation after a stroke. That can be a repetitive, demanding and even depressing process. But Mataric believes a socially assistive robot that knows a patient and understands how to motivate him or her can make a big difference in recovery.
"When a person is trying to rehabilitate and get better, feeling positive is crucial," she says. "But often this is not considered important because human psychology is not taken into account. It's considered icing on the cake."
The Human Side to Robot Design
Mataric thinks it's become essential for developers of assistive technology to have a more diverse background, one that includes training not just in engineering, but in the social sciences. "Otherwise, how can you build things for people without understanding people?" Mataric says. "You just can't slap that part on at the end. It has to permeate the process."
Research has shown that people respond better to the physical presence of a robot in a room with them than to someone trying to encourage them through a computer screen. In short, assistive robots can be more effective coaches than other technology for patients needing to push themselves through a difficult rehabilitation.
"I've talked to a lot of stroke therapists," Mataric says. "It's not that people don't know how to exercise or how often to exercise. The challenge is having the motivation. It's having the gumption and the grit to keep going when it's incredibly hard and demoralizing.
"What excites me," she adds, "is that we can maybe create machines that can bridge the gap when there isn't a human caregiver there. Someone has to be there to help these people help themselves."
Randy Rieland
often writes about aging and technology for the Innovations blog on Smithsonian.com. Previously, he was in charge of digital media for the Discovery Channel.  He is based in Washington, D.C.
Read More