Rural Volunteers Connect Communities With Better Health
Older adults provide needed services — and reap benefits of their own
By Deb Hipp and

The John A. Hartford Foundation
(Editor's note: This story is part of a special report for The John A. Hartford Foundation.)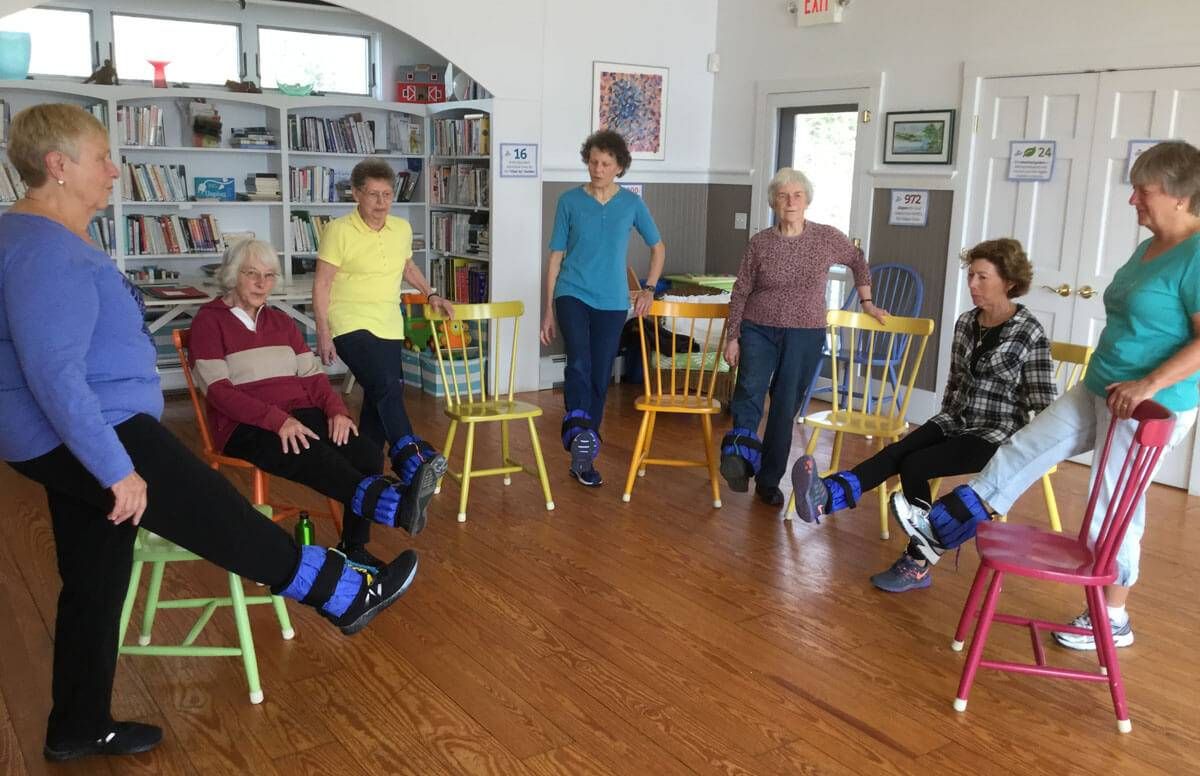 In a meeting room at the Women's Health Resource Library in Milbridge, Maine, a coastal town of around 1,400 residents, volunteer Sheila Daley, 63, leads a group of women in a series of leg-lifting exercises. Class participants range in age from mid-50s to well into their 80s, and they're here to build stronger bones.
Participants meet twice a week, for at least six months, to practice the Bone Builders Osteoporosis Prevention and Reversal Program offered by the University of Maine Center on Aging. Bone Builder exercises are designed to increase bone density and reverse the effects of osteoporosis. Bone Builders is part of the Retired and Senior Volunteer Program (RSVP), one of the largest volunteer networks in the U.S. for people 55 and over.
"Taking the class gave me a level of confidence that was beginning to deteriorate with age," says Daley, who began as a Bone Builder class participant in 2012 and volunteered to lead the Milbridge class two years ago. "The program had given me so much that I wanted to give back," says Daley, who drives 20 minutes from Gouldsboro, a town of 2,000 people, to teach the class.
Making Rural Communities Healthier
Across America's rural regions, older adult volunteers are stepping up to help their community members enjoy healthier and happier lives. However, the volunteers also reap their own health benefits.
According to a 2015 study by the Corporation for National & Community Service's (CNCS) Senior Corps, after one year of service, nearly half of Senior Corps volunteers (46 percent) reported improved health and well-being. Senior Corps mobilizes about 245,000 volunteers over 55 for its Foster Grandparent, Senior Companion and RSVP programs.
Other findings from the study:
Almost two-thirds (63 percent) of volunteers surveyed reported a decrease in feelings of isolation.
Around 67 percent who often lacked companionship reported improved social connections.
Of volunteers who initially reported symptoms of depression, 70 percent reported fewer depressive symptoms.
"It's inspiring to offer something that an older person wants to benefit from," says Daley of the Bone Builders classes. She's gained in physical strength, too. "I can lift pots and pans off the stove easier, and I feel more energy."
Karol McLaren, 66, of El Dorado, a southeastern Kansas town of around 13,000 people, finds that volunteering to grocery shop for older adults through Butler County's RSVP program enhances her mental health.
"I struggle with depression at times," says McLaren. "This program gets me out of the house and helps me focus on something besides myself." McLaren began volunteering in 2014 after retiring from her career as a special education paraprofessional.
McLaren calls her clients weekly to get their grocery list, browses the aisles of the local Dillons and delivers to their homes. She spends time visiting, too. A few of McLaren's clients' husbands were WWII veterans. "Listening to them gives me a different look historically," she says.
Prolonging Independence
Butler County RSVP engages around 124 volunteers to serve residents within the county's 1,400 square miles, says Melody Gault, RSVP program manager for the Butler County Department of Aging.
"Our programs help people stay more independent for a longer period of time," says Gault. One volunteer grocery shopper was a 92-year-old widow, looking to help older adults. Butler County RSVP found one for her: a 97-year-old client who could no longer navigate the food aisles herself.
Rural volunteers also serve as one more set of eyes. Recently, one of McLaren's 92-year-old clients had fallen just prior to her grocery delivery. McLaren worked with the apartment manager to find a more suitable fall alert system. Grocery shopping gets McLaren out walking and helps her feel better about her own life, McLaren says.
"I see people that either don't have family or family doesn't visit them," says McLaren. "It makes me feel good because I know I'm helping someone else."
Staying Healthy Together
Lou Lopez, 78, started volunteering for the Cheyenne, Wyo., Senior Companion Program eight years ago, after his wife, Margaret, died from early onset Alzheimer's at age 59. While she was ill, Lou and Margaret benefited from the Senior Companion Program themselves.
"That's what got me started. I could see what the senior companions were doing for my wife," says Lopez. Now he has three blind clients that he reads to, takes shopping, goes for walks with and assists at home. One of Lopez's clients, a 100-year-old woman, still tends her flower garden but needs help with the yard.
"I mow her lawn and pull weeds," says Lopez. "She gets out there herself and tries to help."
Wyoming's entire Senior Corps program has 970 volunteers and serves more than 550 homebound older adults. Cheyenne, with a population of around 59,000, is Wyoming's largest city, but it's still a long drive across prairies between Cheyenne and smaller towns. All of Wyoming is basically rural, since the entire state has only about 585,000 residents.
That doesn't stop volunteers like Lopez from spending about 28 hours a week volunteering. He's helped more than 20 clients in eight years, he says. And his work on their behalf, whether it's reading health-related articles to blind clients, walking or mowing their lawns, comes back to him.
"Everything that I do with my clients also helps me stay healthy," he says.
Deb Hipp
is a Kansas City, Mo.-based freelance writer who covers elder and caregiving issues, personal finance and popular culture. Her work can be found at www.debhipp.com.
Read More

By

The John A. Hartford Foundation
The John A. Hartford Foundation is a private, nonpartisan, national philanthropy dedicated to improving the care of older adults. The leader in the field of aging and health, the Foundation has three priority areas: creating age-friendly health systems, supporting family caregivers, and improving serious illness and end-of-life care.