Secrets of Claiming a Home-Office Deduction
You may be able to write off far more than you think on your 2012 tax return — with less reason to fear an IRS audit
Now that tax season has officially opened (well, unless you'll be filing any of the 31 forms the IRS won't accept until mid-February through early March), it's time to get serious about lowering your 2012 tax bill. One way to do it: writing off a home office.
Funny thing, though: Although an estimated 26 million Americans have home offices, just 3.4 million taxpayers claim home-office deductions.
The Biggest Home-Office Tax Goof
"The first mistake people make when it comes to home-office deductions is they fail to claim them," says Bob Meighan of San Diego, lead CPA for the American Tax and Financial Center at TurboTax.
I suspect many people with home offices forgo the tax breaks because they fear the write-offs will trigger a tax audit. Get over it. Tax sharpies I've spoken to say they believe home offices no longer set off alarms at the Internal Revenue Service.
(MORE: Working From Home: The Good, the Bad and the Bottom Line)
"That's my sense, and I say sense because the IRS doesn't publish the criteria they use for auditing returns," Meighan says. "But based on anecdotal evidence, I don't think the IRS is looking as closely at home-office deductions anymore. Just look at the way we work today: the requirement that people go to a 'real office' for their jobs has diminished.'"
Barbara Weltman, contributing editor to J.K Lasser's Your Income Tax 2013, agrees. "A home office isn't an automatic red flag, in my opinion," she says. "As long as you meet the rules, there's no reason not to claim the deductions."
Qualifying for Home Office Write-Offs
Now to the rules and, more important, the overlooked write-offs you can claim if you meet the IRS' home-office tests.
Remember: a legitimate home office can let you turn many nondeductible personal expenses into tax savers and may ultimately reduce the amount of your taxable business income, though you can't write off more than the amount of your home-based business income. Just be sure to file the (gulp) 43-line Form 8829, Expenses for Business Use of Your Home. You can read all the home office rules in IRS Publication 587.
The Two Words That Matter Most
To deduct home-office expenses, you must use the area exclusively and on a regular basis, either as your principal place of business or a setting to meet or deal with patients, clients or customers.
Let me break that down for you. "Exclusively" means the space is used just for work. It doesn't need to be an entire room, but your work area needs clear boundaries.
(MORE: Can You Write Off Your Hobby on Your Taxes?)
"If you work at a table in your living room, I'd discourage claiming a home office," Meighan says. "It probably doesn't qualify."
But you don't need to use the office all day every day to meet the "regular" use test. "If you have a part-time business from home and work on it one day a week, that's OK," Weltman says. "The key is that you use the office on a constant basis, not necessarily daily."
When You Also Work Elsewhere
And the office doesn't need to be where you do most of your work.
If you're, say, a plumber or an interior decorator and spend most of your time in other people's homes, Weltman says, you can still write off a home office if you use it for administrative purposes — to invoice clients, keep the business' books, order supplies, that sort of thing.
What if you're an employee but do some work from home? In that case, you can claim the write-offs only if you're working at home for the convenience of your employer.
In other words, you won't qualify if you can't get all your work done at the office and end up bringing some home, Weltman says. But you will qualify if you're an employee for a business that doesn't have an office for you.
If you plan to write off a home office, Meighan says, take a photo of it, just in case the IRS ever does audit you. The picture can be especially useful if you've moved by the time of the audit. "What better documentation is there than a picture?" Meighan says.
The Expenses You Can Claim
So what's deductible? Here's where things get interesting.
There are two types of deductible expenses:
The first kind ("direct" expenses) lets you write off 100 percent of costs associated specifically with your home office, everything from hiring someone to paint the room to buying a work computer, office supplies or cell phone used just for the home-based business.
(MORE: Make Your Home Office Work for You)
You can even write off landscaping, if you use your home office to meet with patients, clients or customers, Meighan says. "In that case, the appearance of your house is important to the success of your business," he says.
The other kind of deductible home-office expenses are "indirect" ones that are pro-rated, based on the size of your home office. These are things like your property insurance, mortgage, utility bills (even the water bill) and a home alarm system.
If the square footage of your home office equals 10 percent of your home's, you can claim 10 percent of these expenses.
Some people figure home-office write-offs based on the number of rooms in their home — nine rooms, for example, works out to one-ninth of pro-rated expenses. Meighan advises against that. "Go with the actual measurement to be accurate," he says.
One tip about pro-rated expenses: You can't deduct the standard monthly charge for the first phone line into your home (your landline, if you have one), though you can claim charges for long-distance calls for work, call waiting and call forwarding. And if you have only a cell phone, which you use partly for work and partly for pleasure? That's a gray area. "Talk to your tax adviser," Weltman says.
Big News for Claiming a Home Office Next Year
In addition, the IRS just announced good news that could make claiming a home office on your 2013 tax return less of a hassle. The IRS predicts it will reduce the annual paperwork and recordkeeping burden on small businesses by roughly 1.6 million hours.
Instead of going through all the home-office calculations and keeping receipts for your 2013 return, the new home-office rules will let you simply claim $5 per square foot of your home office, with a maximum write-off of $1,500 (based on a maximum of 300 square feet). You won't be able to depreciate the part of your home used for business, though, if you go this route.
Michael Chamberlain, a financial planner in Santa Cruz, Calif., calls it the EZ option for home-office deductions. "For most people with home offices, I think this will be a really great break," Weltman says.
If you prefer the old-fashioned method, you'll still be able to claim your home-office deductions based on actual expenses and depreciate your workspace next year. You may want to, if you think your write-offs would vastly exceed $1,500 or your home office is much larger than 300 square feet.
To be on the safe side, I'd suggest holding onto your 2013 home office receipts. If you wind up taking the simplified route, enjoy shredding them in 2014.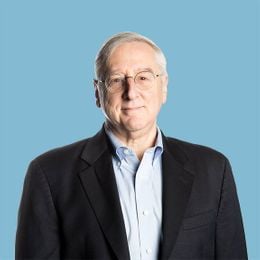 Richard Eisenberg
is the former Senior Web Editor of the Money & Security and Work & Purpose channels of Next Avenue and former Managing Editor for the site. He is the author of "How to Avoid a Mid-Life Financial Crisis" and has been a personal finance editor at Money, Yahoo, Good Housekeeping, and CBS MoneyWatch.
Read More