You and Your Sewing Machine Can Help Fight COVID-19
Volunteering to make masks can have a tremendous impact now
You may have seen news reports or social media posts calling for people to sew medical masks to help protect health care professionals from contracting COVID-19.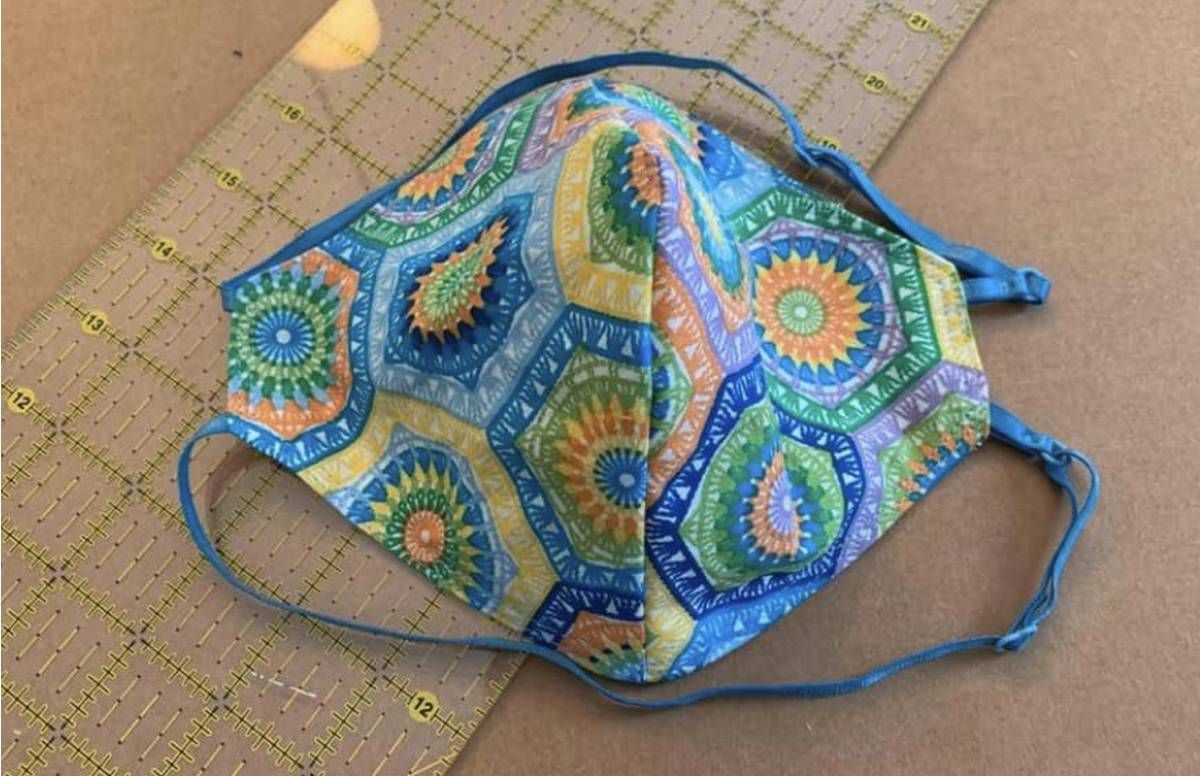 If you've been thinking of joining the sewing brigade or organizing a mask collection effort, there are some things you should know before cutting your fabric or threading your machine.
Helping makes us feel good, but if we don't help in a way that is needed, our hard work and efforts can be for nothing.
Who Is Asking for Homemade Masks?
People on the front lines or who directly work with COVID-19-positive patients require special masks called N95 respirators. These are firm, rounded masks that offer a higher level of protection than the standard paper or fabric surgical masks most people are familiar with. People who are at lower risk of exposure to the virus but who still need or want protection use the surgical masks.
But there's a shortage of personal protective equipment (PPE), including masks, in various parts of the country. This is why there have been appeals for homemade masks. Others asking for homemade masks are those who work at long-term care facilities or stores, as well as people who must interact with the public. And as of April 3, the CDC has made the recommendation that all individuals wear cloth masks when they go out.
Regardless of where the masks are to be used, it's important to verify what type of mask the receiving facility or organization needs.
"The CDC [Centers for Disease Control] has said basically if you [a health care professional] don't have anything, wear a thin bandana," said Kathryn A. Boling, a family physician with Mercy Medical Center in Baltimore. "So for people in areas where they have shortages to the point where they're considering wearing a bandana, a hand-sewn mask that fits a little bit more snugly would be a godsend to them."
For health care providers who must wear an N95, which really should only be used once, a home-sewn mask can be used over the top of the N95 and then taken home and washed. This allows the N95 respirator to be used for an extended period.
Boling emphasized, however, that these masks are only a stopgap measure until proper supplies arrive. "At that point, no one will need the homemade masks because they just aren't going to protect you as well as those that are specifically made to protect you," she noted.
Our Commitment to Covering the Coronavirus
We are committed to reliable reporting on the risks of the coronavirus and steps you can take to benefit you, your loved ones and others in your community. Read Next Avenue's Coronavirus Coverage.
Following Guidelines From Experts
Regardless of where the masks are to be used, it's important to verify what type of mask the receiving facility or organization needs. There are many patterns available online, but not all are appropriate or even comfortable to use. Here in Minnesota where Next Avenue is based, these are suggested patterns from Allina Health: mask pattern for beginner sewers and mask pattern for advanced sewers.
Some patterns call for using hair elastics as earpieces, but these may be too tight for some people. Other patterns suggest inserting vacuum bag filters between the fabric, which could be bulky and uncomfortable.
"If [the masks] are not comfortable, people aren't going to wear them," said Mary Beth West, a public health nurse in Nashville. "And you put all this effort into something, and then we can't use it."
West started collecting masks for her colleagues when she heard about the shortages from friends across the country. "If people aren't sure about a pattern, I encourage them to go to a medical website for a tutorial, like this one from Vanderbilt Medical Center. I know they have a pattern and a lot of other ones do," said West. "Don't go to Pinterest. Go to the medical websites and read what they are specifically asking for."
Sewing Masks Gives Us a Feeling of Helping Out
Quilting guilds often participate in community projects, and the call for masks has spread quickly among them.
Jane Laughlin Sweeney, a small business owner in Seabrook, Texas, is a member of the Lakeview Quilters Guild, which responded to a personal request for masks for their local hospital. A former member of the guild works in the women and baby unit there, but the hospital didn't have any masks for its workers in that department since they aren't considered high risk.
The pattern the quilters received uses two layers of tightly woven cotton with a pocket so staff can insert their hospital masks inside. This would allow them to reuse the hospital mask and launder the sewn one.
"It's just snowballed since then," Laughlin Sweeney said. "Adolescent homes and nursing homes have asked for masks. They know the masks don't offer one hundred percent protection, but they do make the residents feel a little better, and it will protect them to some degree."
Laura Laing, a writer in Baltimore, began sewing masks for her community because she felt helpless.
"Several hospitals in my area, including Johns Hopkins, are collecting homemade masks. I'm not certain what they're being used for, but they have asked for the masks," she said. "I like to sew, and I need to feel like I'm doing something. I know that my little masks are not adequate protection. But if they can be used in some settings, freeing up N95 masks for really critical situations, then I've done something worthwhile."
"I like to sew, and I need to feel like I'm doing something."
Other Needs That Can Be Sewn

Masks aren't the only thing medical professionals need during the pandemic. Some facilities are asking people who sew to make gowns to be worn over clothing; others are asking for surgical caps and cotton drawstring bags. At the end of their shift, nurses and others can strip off their uniforms and place them directly into the bag — all to be thrown into the wash separate from other laundry.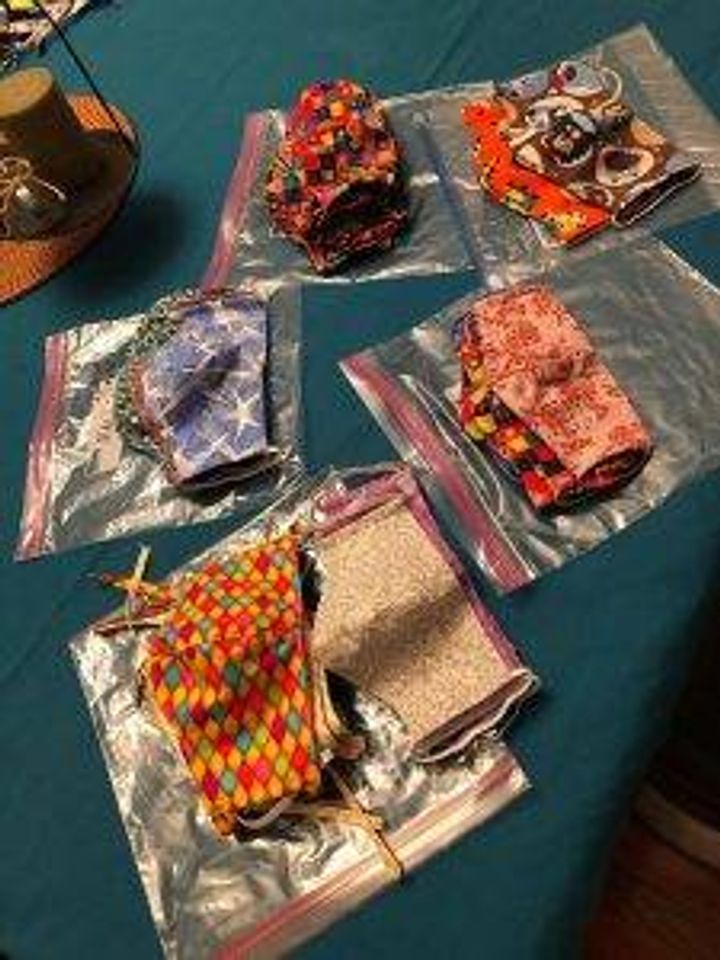 Some nurses have also asked for headbands with a large button sewn on each side at ear height. They can then put the mask-ear elastics around the buttons instead behind of their ears, which are starting to get raw and sore from wearing the masks for such long periods.
If You Want to Help
Here are some tips if you want to use your sewing or organizational skills to help out during the COVID-19 pandemic:
If you get an appeal to make masks, make sure the facility named in the appeal really wants/needs them.
Check to see if the facility has other needs, like the gowns or headbands.
Use a recommended pattern and requested materials. This is particularly important because not all fabrics are equal. If the facility doesn't have a recommended pattern, search for patterns that other facilities are using.
If you're organizing the drive, find out the best place for a drop off. In some communities, it may be the local fire hall or police station; in others, it may be the hospital itself.
If you try the items on yourself to check for fit, wash them before donating.
Check to see if your local fabric stores are offering fabric and elastic for making masks. They may have discounts or donations.
The late Fred Rogers famously said his mother told him to watch for the helpers when something bad happened. Helpers can be anyone. They can be they first responders, firefighters, doctors or nurses, but they can also be grocery store cashiers, truck drivers and even volunteers who want to sew masks for those who need them.
Marijke Vroomen Durning
is a Montreal-based writer and RN who writes about health, medicine, and life in general. She recently cofounded DecipherYourHealth.com to help people understand the healthcare system and be more confident acting as their patient advocate.
Marijke's work has appeared in Costco Connection, CURE Magazine, Forbes.com, Oncology Live, and many other publications. She also runs a quilting website, MyCreativeQuilts.com.
Read More