Is Small the Next Big Idea for Empty Nesters?
As the cost of buying a house or renting an apartment climbs out of reach for many, more developers aim for the middle with micro and co-living units
For singles and couples in their 50s and 60s, affordable housing is increasingly difficult to find in many areas. Yes, they are in their prime earning years — but few have enough saved for retirement, and those grappling with layoffs, health problems or simply low earnings may find themselves facing down high rents, high interest rates and more.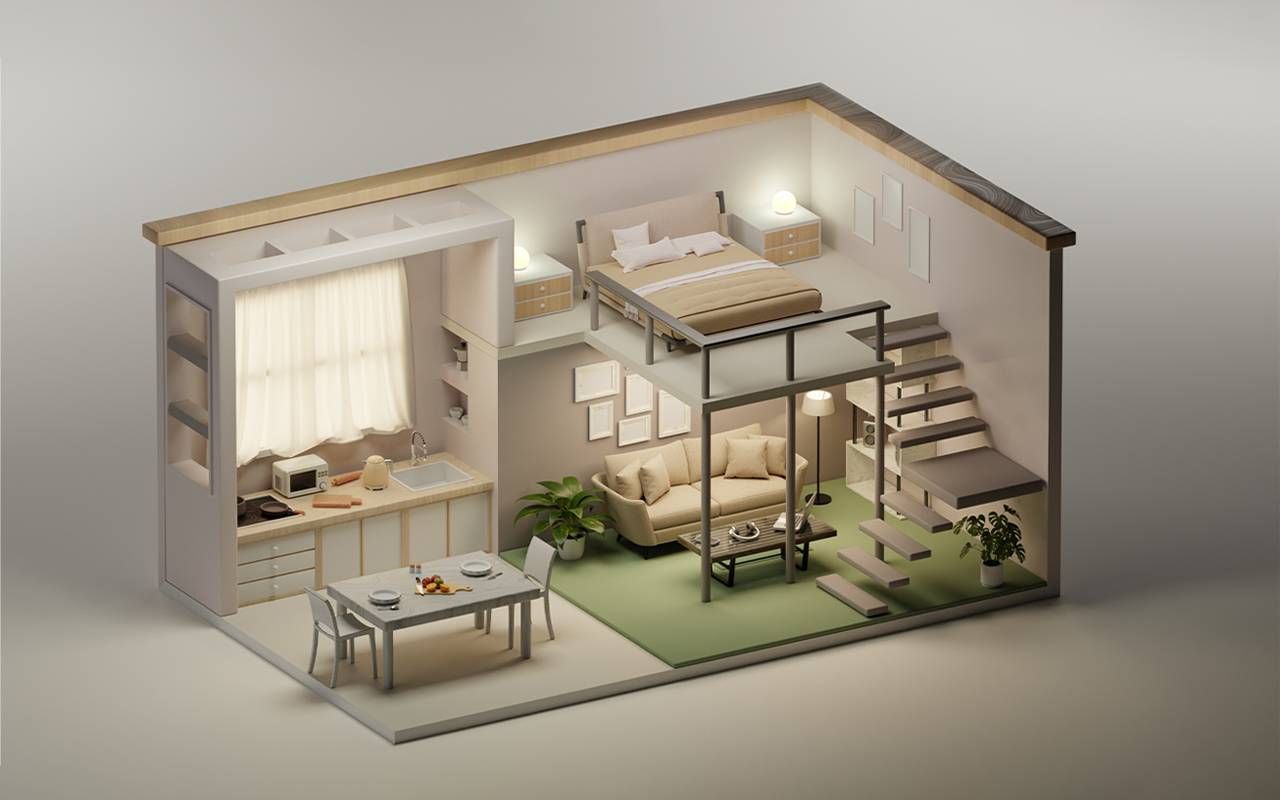 Living alone in a single-family house is challenging — financially and logistically — and apartments are increasingly pricey as well. From 2000 to 2022, median home prices increased 156% nationwide, while median rent prices increased 90%, according to Real Estate Witch. Are there other options?
Think Small, or Shared
Two alternatives to single-family houses and apartments are becoming better known: microunits and co-living. Both address housing affordability problems with major tradeoffs; in return for lower costs, you give up space or privacy.
But there are benefits, too. Residents of these trendy experiments — largely a young crowd but increasingly a mix of generations — are finding wider social outlets and opportunities for expression beyond their own walls. And did we mention lower expenses?
"There's no maintenance, no yardwork. The gym is in the building and no car is needed to get to shopping."
To balance the lack of personal space, buildings with both microunits and co-living arrangements generally have a common room with TV, a fitness room, a rooftop deck, and/or a "makerspace" for hobbies. These types of housing units are most often built in center cities and active suburbs, so shopping, services and transit should be close.
"For older tenants who have downsized, the benefits are affordability and adjacency," says Keith Schwebel, founder and CEO of KSNY, a developer and builder.
"In these units, there's no maintenance, no yardwork," he adds. "The gym is in the building and no car is needed to get to shopping and attractions right in the neighborhood."
Here's a look at good points and drawbacks of each type of unit.
Microunits: Defining "Cozy"
As you might expect from the name, microunits are small, typically between 280 and 450 square feet, including a fully functioning and accessible bath and kitchen. The Urban Land Institute has memorably described microunits as something "slightly larger than a one-car garage but considerably smaller than a two-car garage."
To make up a bit for the squeeze, developers create high ceilings and oversize windows for lots of natural light. Furniture is often included and largely built in (standard furniture rarely fits, after all). Many, but not all, units include utilities. Rent tends to run 20% to 30% less than conventional units.
Most would-be tenants consider the rent figure, location and neighborhood, amenities and distance to work and friends, says Schwebel. In deciding on a microunit as opposed to a traditional apartment, he says, the calculation is, "I'm sacrificing square footage, but it's a rent I can afford."
His example of microunit savings: In Jersey City, New Jersey, directly across the Hudson River from Manhattan, his furnished 122 Nest Micro Apartments rent for $1,500 to $1,600 a month plus a "Club Nest" fee for Wi-Fi, utilities, gym and tenant events (the rent and amenities fee combined average $1,750 a month). Comparable standard units nearby, including extras, average $2,160.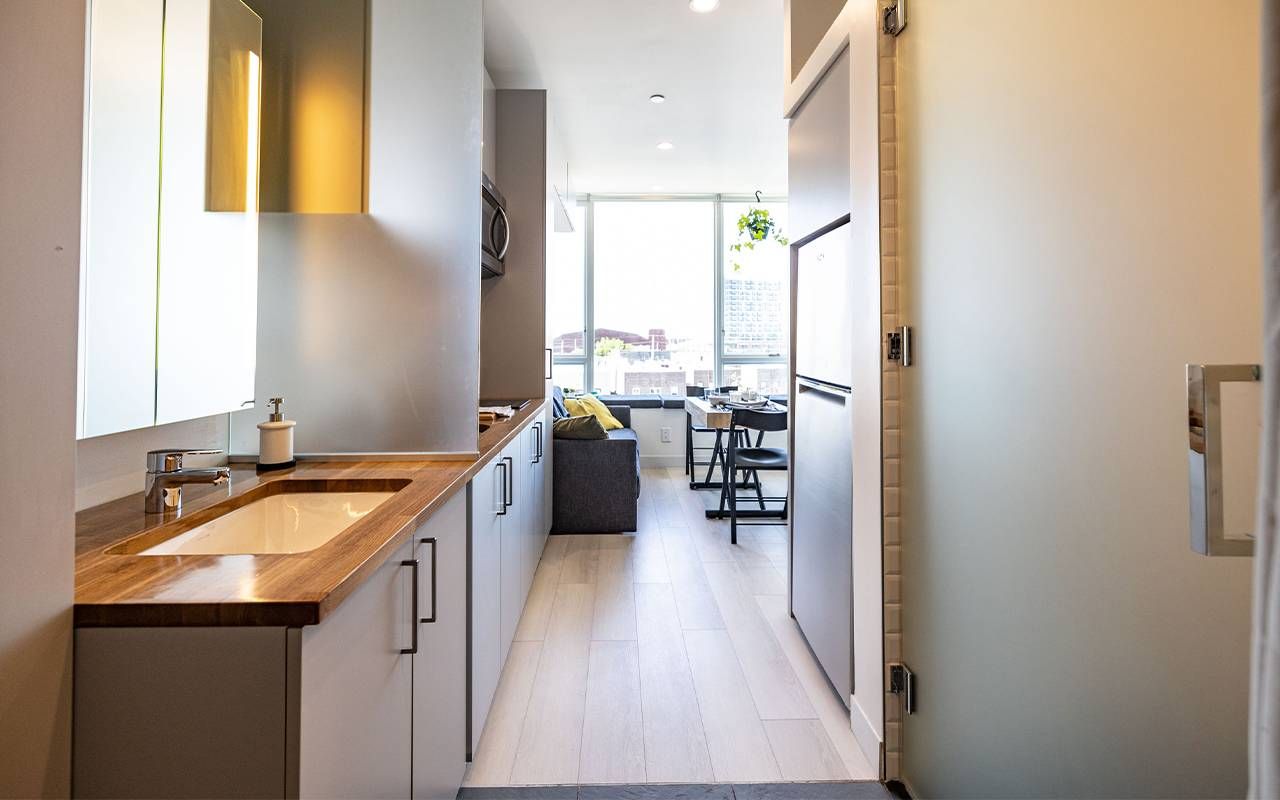 City View, No Parking
In Seattle's Crown Hill, the rent for a new, 299-square-foot unfurnished Cubix Apartments studio is $1,395, plus utilities. The unit includes hardwood floors, large windows, internet, sound-minimizing materials, closets, on-site storage, gated courtyard, rooftop deck with grilling area and a small, glassed-in deck with a city view.
One floor down, a 466-square foot, one-bedroom Cubix unit with a deck rents for $1,450 a month. Both are across the street from public transportation and a grocery and within walking distance of pharmacies, specialty shops, restaurants and cafés, movies and a community college. In the same neighborhood, standard studios rent for about $1,650 to $2,400.
"Smaller homes use fewer materials, minimize construction waste, require less energy to heat and cool and reduce urban spread, which decreases the need for cars."
With a microunit, older adults who prefer privacy can have an efficient, affordable urban home, convenient to services, pet-friendly and suited for someone in transition, says Matthew Micksin, managing director of real estate at Common USA, which offers such units nationwide.
Parking is far more common in suburban facilities than in cities. A tradeoff that developers, particularly of microunits, make in cities is to give up vehicle space for other amenities or for permission to build at all in a crowded neighborhood. Rent rises considerably when parking is included for tenants, a leasing agent explains.
And that's just one benefit not just for tenants but for the environment. "Micro apartments are the best thing to happen to the planet," declared Architectural Digest earlier this year. "Smaller homes use fewer materials, minimize construction waste, require less energy to heat and cool and reduce urban spread, which decreases the need for cars."
Co-living: the Suite Life
Maybe you've seen this in a college dormitory: a few single rooms built as a suite around a common kitchen/living space. Yes, you're sharing that space with strangers unless you bring friends or relatives into the deal.
With co-living, though, you rent one of two to four single rooms with your own lease, not connected to anyone else's lease. Also unlike college suites, 90% of rooms have private baths.
Furniture, utilities and some cleaning materials are generally supplied. Rents are often one-third the typical studio to one bedroom, says Susan Tjarksen, managing director of Cushman & Wakefield, whose company has financed or sold co-living deals totaling well over than $1 billion.
There's generally a full kitchen, Tjarksen says, but tilted more toward prepared food and storage than toward serious cooking. And the center suite is "sized for professionals," with room for a dining table, sofa and TV.
Know Your A, B, Cs
In "Class A" buildings (the newer, more luxurious ones), amenities are often included, according to a 2022 article on the co-living trend published on BiggerPockets.com, a website for real estate investors.
Class B buildings (not as up to date or showy) have "limited amenities and [are] geared toward people with tighter budgets. The units are smaller . . . and may have shared bathrooms," according to BiggerPockets.
Here's how Common, a major company in this space, describes co-living life as having a private room in a friendly home. You can engage as much as you want with suitemates, says Micksin, while enjoying the convenience and flexibility in both the suite and the building as a whole.
"You're trading away living by yourself in a small studio for living with roommates and actually getting a better kitchen and paying one-third less."
On its website, Common uses its property in Berkeley, California, as an example. The monthly rent there is $2,310; the comparison rent is $2,031. But Common says its unit is furnished and includes utilities, pots and pans, dishes and soap, washer/dryer and high-speed Wi-Fi. Common contends these extras drive the comparison unit up to $2,542 a month.
Of course, location makes a huge difference. The Common rent in, say, Philadelphia or Salt Lake City is far less than in major coastal cities.
Wherever you go, if you choose co-living "you're trading away living by yourself in a small studio for living with roommates and actually getting a better kitchen and paying one-third less. That's significant," says Tjarksen.
For empty nesters moving to another city, co-living and microunits offer attractive housing options, Micksin says. Affordability, convenience and new connections are among the highlights. "I really like the idea of serving every demographic," he sums up. "These are a terrific value for the rent dollar."
Ellen Ryan
is an award-winning writer and editor. She is the former managing editor of The Washingtonian.
Read More