The Marine Mammal Center Rescues, Treats and Releases Injured Animals
Volunteers at this California site educate beachgoers, visitors about sea creatures and ocean conservation
Food shortages. Entanglement in plastic debris or discarded fishing nets. Habitat destruction. Pollution. Wounds from predators' attacks. Toxic chemicals present in the sea. Ship strikes. Harassment by humans. Marine mammals face all these threats, but dedicated volunteers ranging in age from 15 to 92 work for The Marine Mammal Center on teams that rescue and rehabilitate injured animals.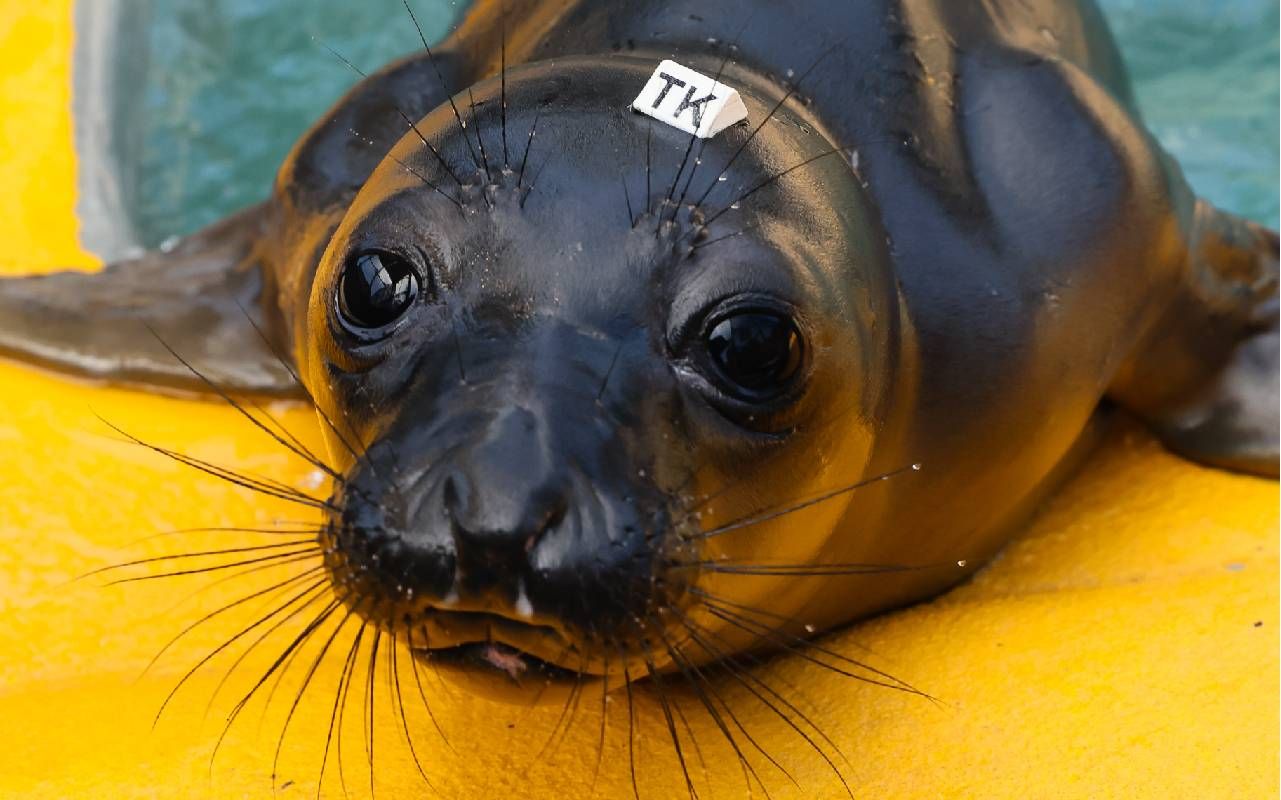 "At the moment of release, you realize that all the effort was worth it."
One of Francisco Garcia Currielche's favorite things about his volunteer job is clapping and cheering for the fur seals, sea lions and elephant seals as they are released back into the sea after regaining their health. "At the moment of release, you realize that all the effort was worth it," said Currielche, 72, "and that gives you great satisfaction."
Shelly Barbanica, 65, especially enjoys conversations with visitors that start with questions about an undernourished seal and lead to questions about how individuals can help decrease some of the threats to the marine ecosystem. Ann Humphrey, 66, is delighted when beachgoers join her to help protect the critically endangered monk seals that live in the warm water off Hawaii.
"Just a few weeks ago, after I had put up signs alerting the public that a monk seal was resting there, the seal went back into the water, made an abrupt left turn and headed to a different patch of sand," Humphrey said. "People nearby asked if they could help, and then ran a quarter of a mile with me to set up signs and rope barriers there. That was super rewarding."
Currielche, Barbanica and Humphrey are three of the 1,300 volunteers who work at the Center, which is based in Sausalito. The Center also maintains animal triage centers in Moss Landing and Morro Bay, both south of the San Francisco Bay Area. And the Center's Ke Kai Ola, the only monk seal hospital in the world, is in Kona, on the Big Island of Hawaii. [Ke Kai Ola was not affected by the recent fires in Hawaii.]
Focus on Animal Welfare, Veterinary Research and Education
Founded in 1975, since then the Center has rescued more than 24,000 sick or injured marine mammals along 600 miles of California coastline and on Hawaii and Maui. The  state-of-the-art veterinary facility in Sausalito, which invites the public to visit for free, is said to be the largest marine mammal hospital in existence. During the height of the busy season — from late March into June — the hospital may be caring for 100 to 150 injured or sick animals.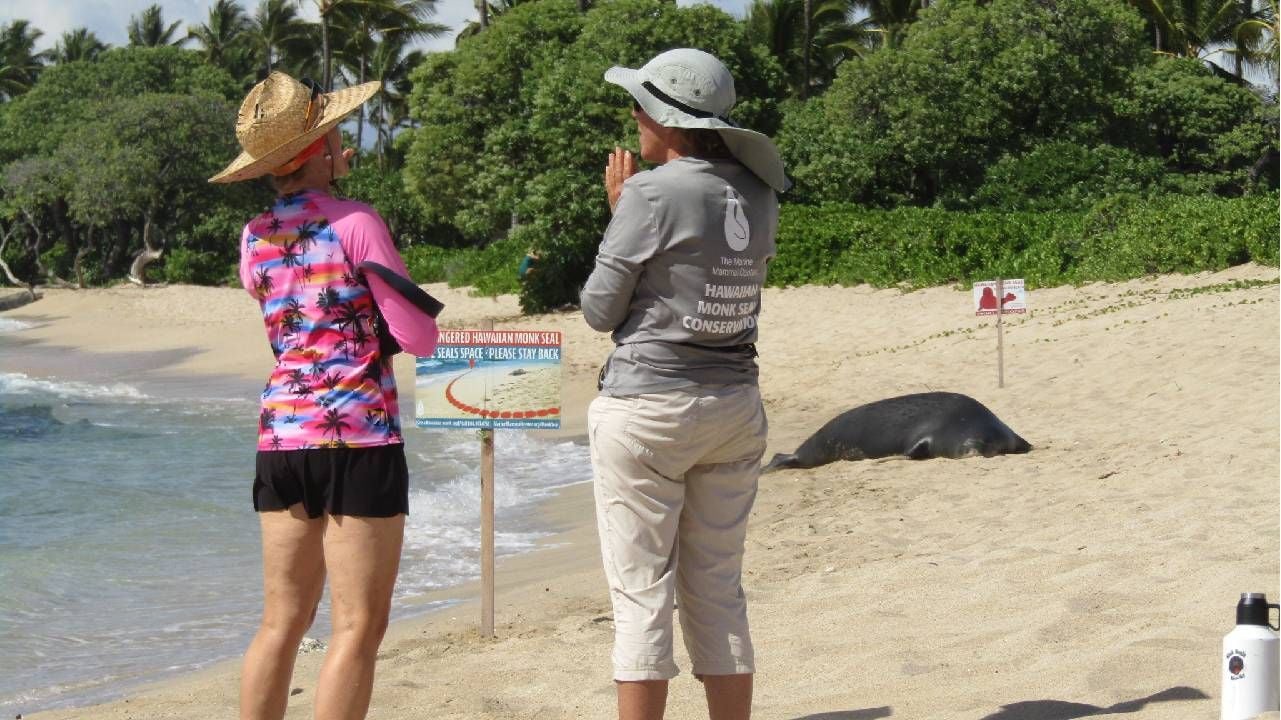 Research conducted by the Center's veterinary experts and scientists is an important part of the private nonprofit's mission, as is education. School programs and programs for the public that emphasize the health of the ocean and the environment reportedly reach more than 100,000 children and adults each year.
As at many animal welfare agencies across the country, a range of volunteer opportunities are available. (Check with agencies in your community.) "Our volunteers, who work one or two days a week, do three main types of jobs," said Bob Figlock, volunteer engagement manager. "Some serve as docents, individuals who help people connect the animals to the bigger picture by explaining that saving one animal is great, but stopping hundreds of others from being endangered is even bigger."
Some volunteers are members of search and rescue squads, standing by in 13 California counties and also in Hawaii, responding to calls from the public about animals on the coasts that appear to be in trouble. "We send volunteers to check on the animals and report to our dispatchers or veterinarians, who then decide which animals should be transported for care," Figlock said.
'This is Rewarding and Soul-Fulfilling Work'
About half the Center's volunteers work in animal care, the third category. That care is regulated by the National Oceanic and Atmospheric Administration (NOAA), the California Department of Wildlife and the Hawaii Department of Land and Natural Resources, which all are under the auspices of the 1972 Marine Mammal Protection Act. "These volunteers are under the supervision of a veterinarian or veterinary technician," Figlock said, "to make sure the animals stay safe while they are our patients."
"If we find a seal, we put up signs to create a resting area so the animal won't be disturbed, and we answer questions from the public."
Currielche works in animal care, and he also serves on a response team out of Monterey Bay. "Every day is different," said the retired chemist, who has been with the Center for two years. "Some days I'm preparing food or feeding animals, some days I'm transporting animals to the hospitals and some days I am cleaning the facility or attending a training. All my tasks are done as part of a team, and I enjoy every job. This is rewarding and soul-filling work — this is my place." 
Barbanica started as part of a rescue squad, and now works primarily as a docent at the hospital in Sausalito. Growing up in the Bay Area, while in high school she volunteered at an animal welfare agency that conducted wildlife rescue. "One day, two injured elephant seals were transported first to our center and then on to The Marine Mammal Center, and I remember thinking that must be a really cool place," Barbanica said. "I always thought I would volunteer here."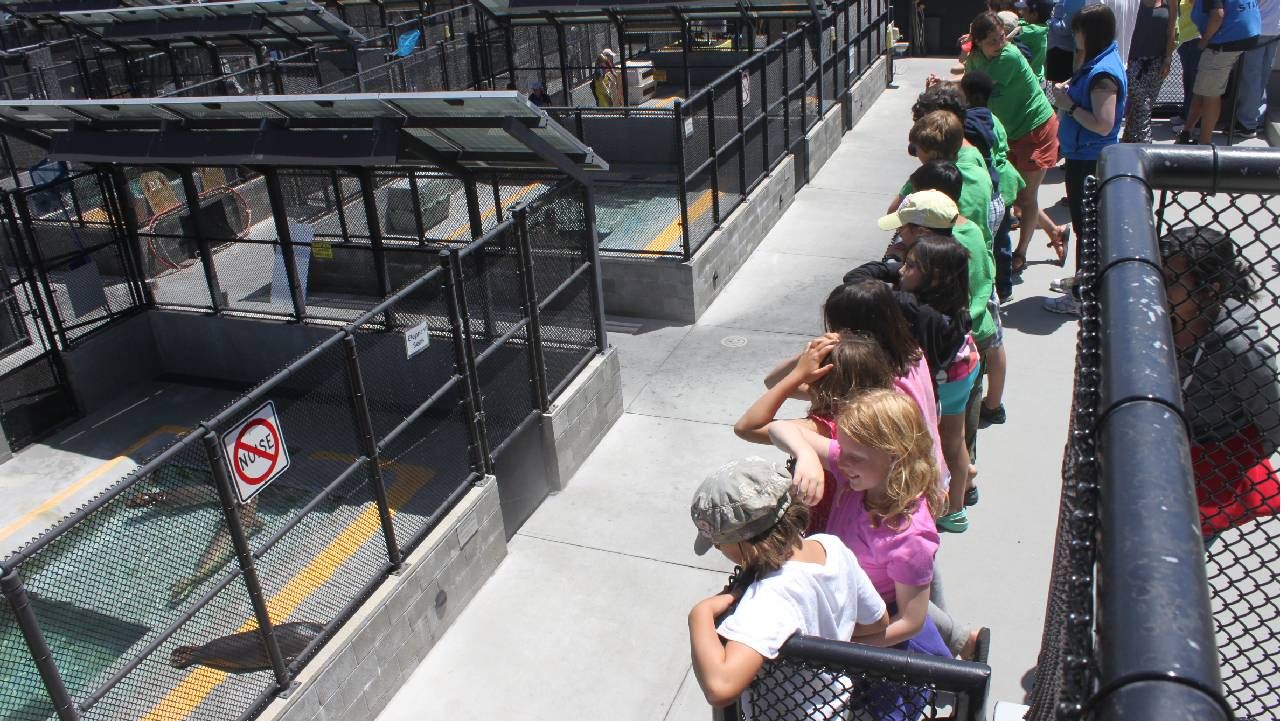 Barbanica, a longtime supporter of the Center who spent her career in biotech and pharmaceuticals, signed on two years ago. In her training, she learned to impress upon visitors that the Center's primary mission is ocean conservation. "Protecting the planet is such a huge message," she said. "We provide information about that while we answer questions about our patients and their care."
When Barbanica takes part in a rescue, she also makes a point of talking with bystanders at the beach about the Center and invites them to tour the hospital. "Some folks I speak with do come to visit, and that's great — it's so important to us and also to them," she said. Barbanica also appreciates "the unlimited opportunities to continue learning" at the Center, with advance training and access to research papers on animal husbandry, wildlife conservation and the ocean ecosystem.
'Monk Seals Are Adorable'
Based in Kona, Humphrey spends her twice-weekly volunteer shifts walking on remote beaches, looking for monk seals, which come to shore to sleep, to molt their fur or to give birth and nurse their pups. "If we find a seal, we put up signs to create a resting area so the animal won't be disturbed, and we answer questions from the public," she said. Humphrey also takes photos of the seals for identification purposes and reports her findings to Ke Kai Ola.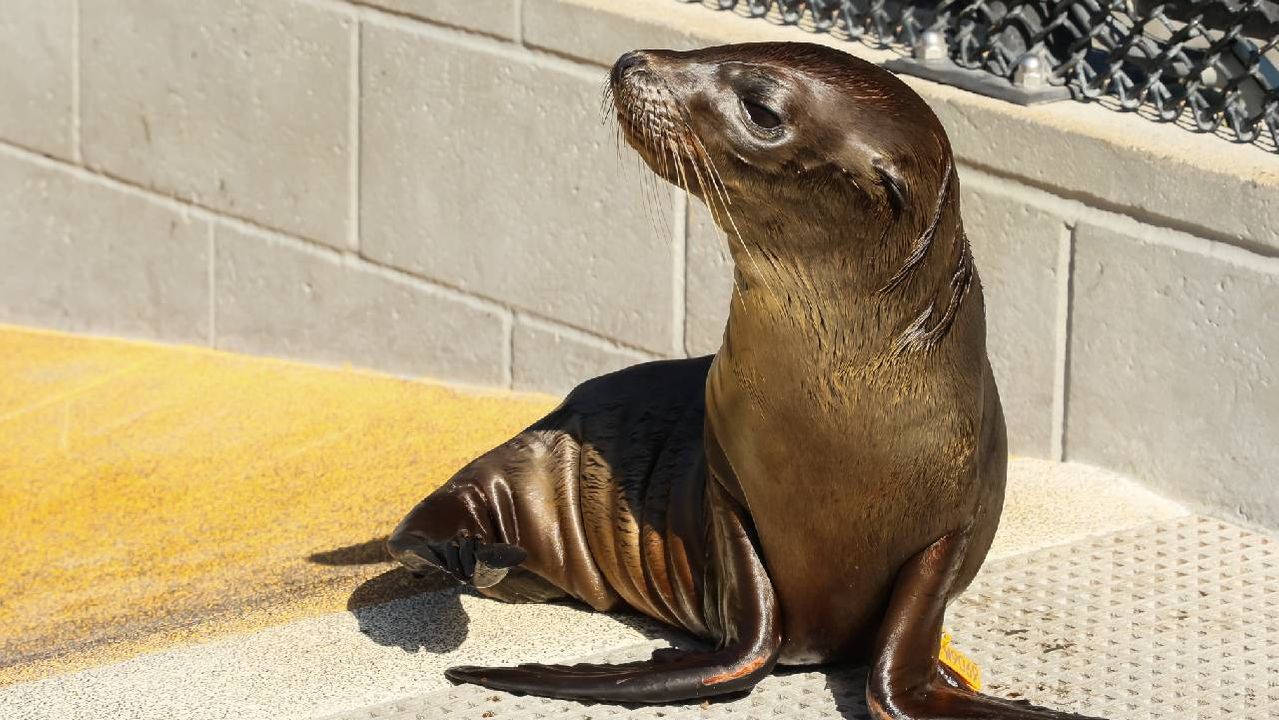 Only two species of the seals remain; one in the Mediterranean and one off Hawaiian shores, but Humphrey noted, "The good news is that the latest count shows an increase in the population, up to 1,600 animals." A retired biologist who has volunteered with the Center for four years, Humphrey previously worked for U.S. Fish and Wildlife Service in the northwestern Hawaiian Islands and also volunteered with NOAA, surveying monk seals.
"My volunteer work for the Center is very rewarding, because the mission of outreach is so important," Humphrey said. "I especially love the rescue portion, because I am helping the animals — and monk seals are adorable."
Patricia Corrigan
is a professional journalist, with decades of experience as a reporter and columnist at a metropolitan daily newspaper, and also a book author. She has written for Next Avenue since February 2015. Read more from Patricia at latetothehaight.blogspot.com.
Read More