Making It Easier to Get Transportation to Rural Health Care
Older adults are among those most in need of services
(Editor's note: This story is part of a special report for The John A. Hartford Foundation.)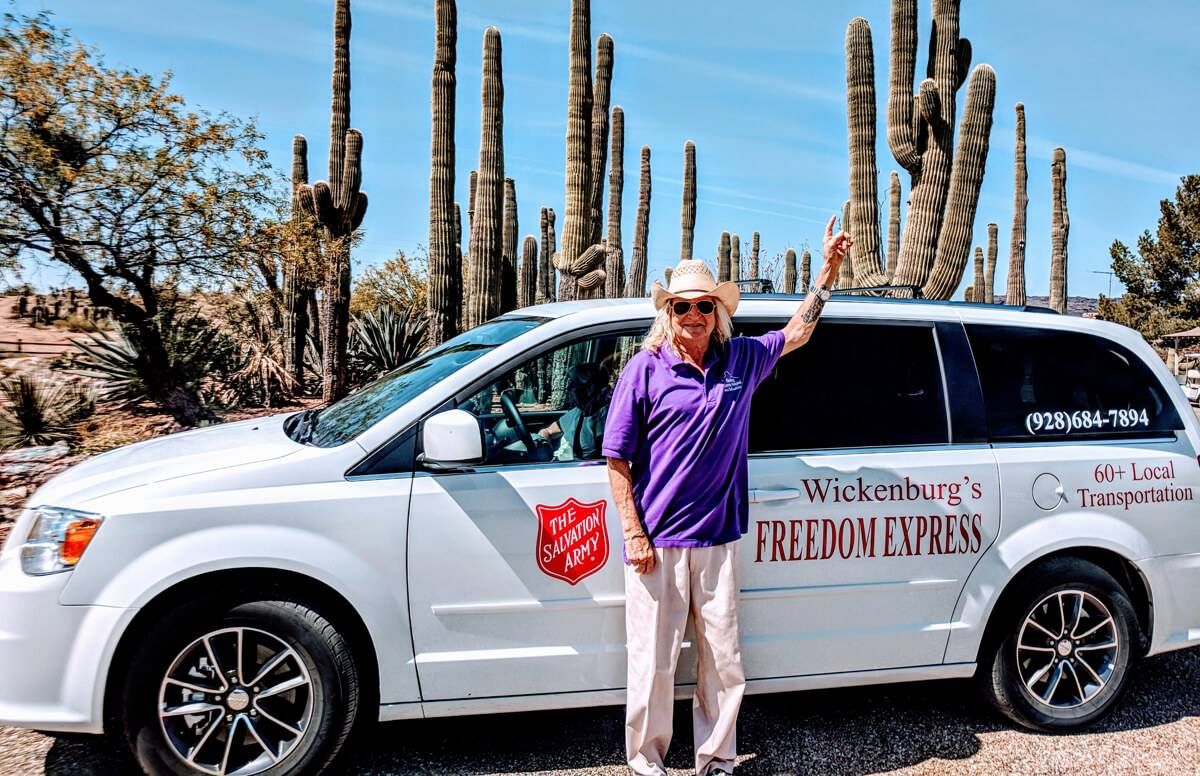 If you're 60 or older, need a ride and happen to live in the small sunbelt town of Wickenburg, Ariz., you can call the Freedom Express. A van driven by an older adult volunteer will pick you up, for, what the name implies, free.
The town of about 6,000, 60 miles outside Phoenix, has what many rural areas don't — affordable transportation for older adults. The idea was born at a town hall meeting where Charles Petersen, a program director and manager at the Foundation for Senior Living, asked people what they needed most. The resounding reply: transportation.
"A high proportion of our seniors live alone," he said, at a recent conference at the University of California-Berkeley called Beyond Here and There: Transforming Mobility in Rural America Through New Technology. "There is isolation, which is worse than smoking."
Petersen consulted with community groups, town officials and the Salvation Army, which had been raising money for his organization, and cobbled together a service that costs $91,000 a year to operate. In three years, it has provided 21,000 rides.
Technology to Help Get Rural Health Care
It is one of a number of innovations aimed at helping older adults in rural America maintain their health. Some are using available technology for ride hailing, car sharing, recruiting volunteers and educating riders. Others are hoping to harness new technology that will allow older motorists to drive safely for more years or will guide drones and driverless vehicles.
"How can all this creative disruption be applied to an older population?" asked John Feather, CEO of Grantmakers in Aging, which co-hosted the conference, attended by researchers, policymakers and philanthropists. (Feather was named a 2016 Next Avenue Influencer in Aging.)
Health risks to those without transportation are well-documented. Missing treatment for kidney disease, wound care, heart disease or cancer can be life-threatening and costly. One analysis, included in a report prepared for the conference, estimated that improving transportation to medical appointments for people with disabilities would save $19 billion a year.
Why the Lack of Access to Transportation?
Why is it, Feather asked, that Amazon can deliver a case of toilet paper overnight to a person in the Adirondacks in upstate New York, but it takes that same person three days to arrange transportation to a doctor's appointment?
The reasons are complex. They lie partly in transportation planning and funding and also in how most of us think of rural America which, though it comprises 97 percent of our land mass, is home to 15 percent of our population — down from 50 percent a century ago.
Rural communities are poorer and less likely to have reliable broadband service, which allows access to information on transportation options on the Internet and connections to telemedicine providers. And increasingly, rural residents are older. Almost a quarter of all Americans 65+ live in rural communities, only 80 percent of which have public transportation. And each of those systems is different, based on geography and demographics.
"When you've seen one rural system you've seen one rural system," said Carol Wright Kenderdine, assistant vice president of transportation and mobility at Easterseals, who grew up in rural North Dakota and has run transportation systems in three counties in the state. "You have to figure out what works where." Kenderdine also serves as co-director of the National Aging and Disability Transportation Center.
It's Difficult, But It's Home
In her hometown, for example, there was no rural transit system. People who needed rides had to rely on family and friends. Aging residents were terrified of losing their drivers licenses, as 600,000 across the country do every year, or worse — having to move.
Why would someone who is frail at 75 or 80 even want to live in the middle of nowhere? "It's home," said Kenderdine. "It's where they grew up… And yes, it's a struggle, but it's not about how easy it is. No one should be able to tell you to move."
In some towns, transportation might involve hours of driving.
Residents of Needles, Calif., with a population of 5,000 and no local court, medical specialists or shopping center, can rent a car at a subsidized rate from Enterprise Rent-A-Car, said Kevin Kane, head of Victor Valley Transit Authority in southern California's San Bernardino County. Using apps on their phones or signing up at a bank kiosk, residents can book a car for $5 an hour. Split by several families, the fee is affordable and allows people to pool their resources for trips that are up to 200 miles away.
New Options on the Horizon
Ride hailing apps like Lyft and Uber are largely absent in such far-flung towns, but some researchers believe the technology will prove useful, drawing paid and volunteer drivers.
One start-up, Feonix: Mobility Rising, is operating in rural Missouri with a tech platform that lets older adults look for volunteer drivers in their area via cell phone. Riders currently pay 54 cents per mile and drivers are reimbursed for fuel costs.
Older adults up to age 85 have been comfortable using the app, said executive director Valerie Lefler, though the company provides coaching and instruction.
Then there is SilverRide, operating mostly in the urban San Francisco Bay Area, but looking at ways to expand to rural areas. Like Uber and Lyft, SilverRide drivers own their cars. But they themselves are older adults trained to help customers get to where they need to go — with assistance in getting inside once they arrive, if needed.
The company is looking for "third-party payers" to bring down the bill for riders, but believes, overall, the cost is lower than other available handicapped accessible transit, said CEO Jeff Maltz.
In the future, said conference participants, expect more websites that do "travel training" to educate and help riders locate and use available transportation. There will also be more ride hailing and carpooling apps and advanced safety features built into cars, which may help boost what's called "driving expectancy" — the years an older adult can safely drive. Technology already assists parking, braking, changing lanes and giving directions.
Looking Toward Self-Driving Cars
Self-driving cars are coming, although no one is sure when they will be available and legal. Some analysts believe that driverless cars will face fewer hurdles in rural communities, than in big cities, with less traffic and fewer streets. They say older adults may initially be wary, but believe they will adapt to these autos. Driverless cars and medical supply-carrying drones are already being tested and used in other countries.
David Lindeman, health director of the Center for Information Technology Research in the Interest of Society (CITRIS) at UC-Berkeley, a co-host of the conference (and another Next Avenue Influencer in Aging), said he expects data analytics, artificial intelligence and blockchain technology to play roles in transforming transportation. But researchers and entrepreneurs will have to navigate the tension between new laws, regulations and guidelines, he said.
"Technology and innovation are bubbling up," said Daniel Sperling, founding director of the Institute of Transportation Studies at the University of California-Davis. "Technology is ahead of the policy world."
Katherine Seligman
is a journalist and author in San Francisco. A former staff writer at the San Francisco Chronicle Magazine, her work has appeared in Redbook, Life, Money, Time and California Magazine.
Read More

By

The John A. Hartford Foundation
The John A. Hartford Foundation is a private, nonpartisan, national philanthropy dedicated to improving the care of older adults. The leader in the field of aging and health, the Foundation has three priority areas: creating age-friendly health systems, supporting family caregivers, and improving serious illness and end-of-life care.