Tying Up Loose Ends
A nonprofit unites loved ones with crafters who can finish those projects left behind
Among the many sadnesses after a loved one becomes incapacitated or dies is going through their belongings. If they are a crafter, those unfinished projects seem especially cruel because the creator's gesture of love is left incomplete.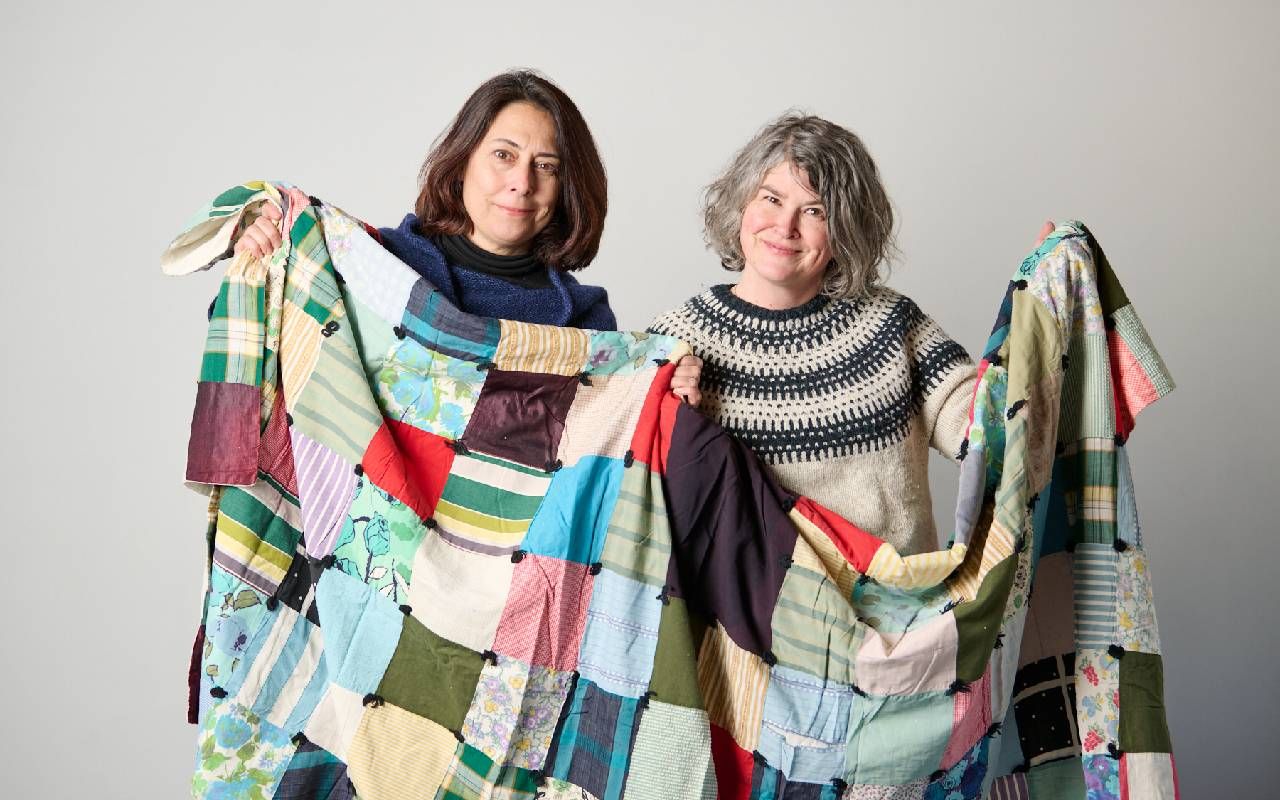 The Loose Ends Project is here to help ease that pain and tie up those loose ends. A nonprofit led by two avid knitters on either side of the United States, the organization matches volunteer finishers with projects submitted by loved ones. Projects can range from sweaters and coats to blankets, pillows, and anything in between. They can involve knitting, crocheting, cross-stitching, embroidery, quilting and weaving.
"It was so intricate, I wouldn't have known where to begin."
To date, the nonprofit, which has developed a roster of 17,000 volunteer finishers in 60 countries in just one year, has overseen the completion of over 1,000 projects.
Sylvia Reid of Maryland knows firsthand the joy of receiving a finished project started by a loved one who has passed. Verona Gill, Reid's best friend of 50-plus years, was an avid knitter before she died last year. Her daughter, Reid's goddaughter, gave Reid her mother's yarn, asking her to distribute it to people who might enjoy using it. 
"I was sitting home one night going through it, and I found this incredible piece that was just about finished," Reid says of the long kimono-like sweater she found amid the yarn. "It was so intricate, I wouldn't have known where to begin."
Finishing a Project
That same night, Reid saw a television story about the Loose Ends Project. "And I thought, This is it!" she says. "For me, that was divine intervention." Reid submitted the project. Nevertheless, the challenge of this particular project went far beyond simply finding a finisher with the appropriate skills and time. While Reid had most of the yarn needed to complete the project, she did not have the pattern.
The organization matches volunteer finishers with projects submitted by loved ones. 
Loose Ends Project co-founder Masey Kaplan described in an email what happened next. "Members of Loose Ends Project's private finisher Facebook group worked together to locate the pattern on Ravelry," she says. "Then, by some miracle, another finisher could locate the actual project that Verona had been logging, including all of her notes."
Ravelry is a free knitting and crocheting website where crafters buy patterns, get advice, and keep track of their projects, sharing notes that other knitters and crocheters can read as they tackle the same project.
Once they found the project and Gill's notes, Kaplan, who lives in Portland, Maine, offered the project to finisher Laura Steinberg, who lives near Reid in Takoma Park, Maryland.
Steinberg had traded her knitting needles for a loom when she retired a few years ago, so she initially wasn't sure she could do this project. "I hadn't knitted in quite a while," she says, "so I did a sample [of the pattern] to see if I felt comfortable. I bought some yarn and needles and thought, 'Okay, I can do this.'"
"I left my loom behind and didn't touch it for six weeks," Steinberg says, noting she had made a personal commitment to finish the kimono before a planned trip to Ireland. When she was finished, Steinberg met Reid and her goddaughter, Chieyen Meachem, at a Panera Bread restaurant halfway between their homes.
A Priceless Gift
"I had wrapped it and put it back in the box [it came in]," Steinberg says. "Chieyen opened it, and the smile on her face was so beautiful. She was just over the moon."
With all of the amendments Gill had made to the pattern, Steinberg, 72, admits she was worried about how it would fit. "I kept thinking this is so big," she recalls. "I was crossing my fingers. The moment she walked up to the table, I thought this would be glorious on her."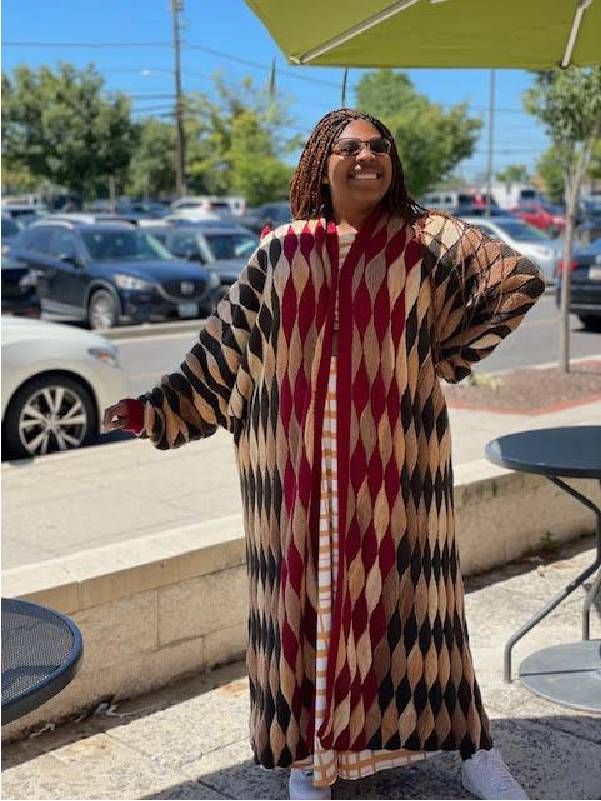 "For me, I felt like my girlfriend's spirit was rising out of the box," Reid says when Steinberg presented the finished kimono to her and her goddaughter. "It was like she was with us in the form of that sweater. My whole goal was to have it completed for her daughter. We let her put it on, and her face lit up."
That kind of happy ending is precisely what Kaplan, 54, and co-founder Jen Simonic of Seattle, Washington, had in mind when they finally took the Loose Ends Project from an idea to a nonprofit organization.
Friends since their husbands were in architectural school together and lifelong fiber arts fans — they each are knitting during our online interview — had been finishing projects for friends for years. "It's something that crafters do," says Simonic, who is 53. "We finish each other's stuff."
"We had finished things for friends who had lost their moms in the past. We both realized that it felt really great," Kaplan adds. "We had been thinking about it for a few years but not acting on it, and we began thinking what would it be like to connect people everywhere in order to get this done."
Their moment for taking their dream to reality occurred last summer when they were together on the West Coast, helping a mutual friend go through her mother's craft supplies and projects. "We found two unfinished blankets her mom had started for her brothers," Kaplan says.
'We'll Do It for You'
However, the blankets were crocheted rather than knit, and neither Simonic nor Kaplan enjoyed crocheting. "We would have done it for her, but we didn't want to," Simonic says. "Just looking at it made my wrist hurt."
"I remember the moment you said, 'We'll do it for you,' and I was like ohhhhh…," Kaplan says. "I was like this is going to be the next year of my life," Simonic says. They started the Loose Ends Project instead. "We had two projects to kick us off," Kaplan says, "and at the same time I had our friend's stuff from her mom sitting in my living room to get other things finished."
Finding finishers is the easiest part of the project, the women say. They created a website so people could sign up to volunteer and a flyer — Kaplan is a graphic designer — that could be shared at local yarn shops and other crafting venues. They contacted stores and used online forums and Facebook groups to spread the word.
At the group's first anniversary in September, the project included 17,000 finishers in 60 countries. And projects come in every week. When we talked, Simonic had about 245 projects for which she was finding finishers, while Kaplan had about 320. To date, Kaplan says volunteers have logged nearly 8400 hours on projects, which she and Simonic feel is low.
"It was like she was with us in the form of that sweater."
"That's only reported from those finishers who filled out the survey at the end of a project," Kaplan says. "And not hours of anyone still making things and some people didn't put their numbers in." Nor does that volunteer number include Simonic's or Kaplan's time. They estimate they have worked over 4600 unpaid hours in the last year, getting the Loose Ends Project up and running.
They are looking for sponsorship and grants to help expand the program further. Matching projects starts with looking for people who live relatively near each other. Then, it's a question of looking at the type of fiber art a project requires and matching the skill level of a potential finisher with the pattern itself. If they don't know how, giving a knitter something that requires brioche stitching is pointless.
From there, they look at finisher preferences. "Some people say I never want to do this [kind of project] ever again," Kaplan says. After narrowing down the list of potential finishers, it's first come, first served in terms of who they contact.
"When I see the [finishing] people's approach to the people with the crafts, they are so gentle."
Thanks to their luxury in numbers, the Loose Ends Project can take on complicated projects. Simonic tells the story of a cross-stitch wall hanging. The original creator had been documenting her life and had 18 unique squares created before her death.
"We were able to match this with six people who wanted to design it and found one person who wanted to be the project manager for this, so the other finishers will work under her design," she says. While the high number of finishers might make it seem like getting assigned a project is unlikely, Simonic describes it this way.
"You may not get a project, but it's like being on the Red Cross. You may not have a tornado in your neighborhood, but if you do, you're ready."
Simonic and Kaplan are both surprised and unsurprised by the wild enthusiasm with which the crafting community has embraced the Loose Ends Project.
"We have people signing up right and left," Simonic says, noting their finishing ranks grow weekly. "I think it's because they want to do something and feel good."
"There's no particular demographic that has signed up to be finishers," Kaplan adds. "There are more female-identifying than male-identifying, but besides that we have every walk of life, every ethnicity, socio-economic groups, different religions, different political parties."
Simonic believes the unifying emotion of grief helps explain the concept's popularity. "We've all lost so many people, have lost so much," Simonic says. "This is the one thing we have in common. We're all going to die and lose somebody. When I see the [finishing] people's approach to the people with the crafts, they are so gentle. I'm honored — honored is a word they use a lot."
Janet Reynolds
is an award-winning journalist, editor and content strategist based in Connecticut with deep roots in alternative journalism and magazines. Janet's work has appeared in print and online in local, regional and national publications. Her website is www.janetfreynolds.com
Read More