Video Chat Services, From A to Zoom
The best ways to stay connected during the pandemic — and how to get started
If you never used video conferencing or "video chat" services before the COVID-19 pandemic, you probably are doing so now, trying to teach yourself how, or at least thinking about it. After all, video chats are a safe way to interact face-to-face with those you love.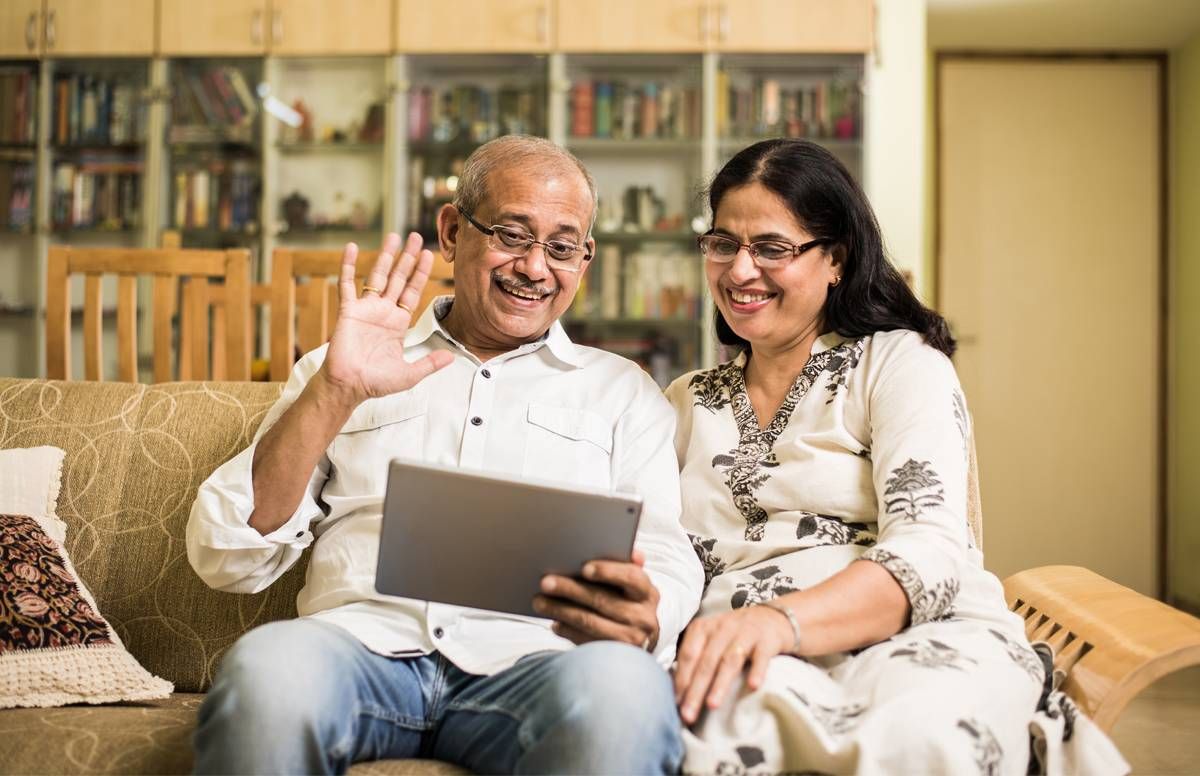 I used to hate video chatting, and avoided it if I could. But isolation prompted by the pandemic has changed my outlook. I'm still not crazy about communicating this way, though it's become necessary. In fact, I've been reaching out to friends and family I haven't seen in ages (hi, Aunt Angie).
In the process, I've become more familiar with video-chat services — and, gosh, there are a lot of those. Nearly all are free.
You've probably heard about Zoom because that service has become the default pandemic option. But there are reasons to be cautious about it (see below).
If you're confused about which one to use, we're here to help.
Other consumer-friendly options include Apple FaceTime, Facebook Messenger, Google Duo, Google Hangouts, Houseparty, Instagram, Snapchat, Skype, WhatsApp and WeChat. I have used them all to varying degrees, in personal and professional capacities.
Our Commitment to Covering the Coronavirus
We are committed to reliable reporting on the risks of the coronavirus and steps you can take to benefit you, your loved ones and others in your community. Read Next Avenue's Coronavirus Coverage.
I suggest you definitely look at Houseparty, which my sister (who lives in Paris) and I love, and have embraced as our standard video chat service.
Video Chat Services (in alphabetical order):
If you're confused about which one to use, we're here to help. The right service for you is based on a host of factors, such as; device compatibility, ease of use, cool features, least annoying features, how many people can get on a chat at once, and which services your friends already use (or want to use). More information about each is available on their sites. And read on for some step-by-step tutorials to set you up for successful video chatting.
Apple FaceTime
If you and your friends and family are Apple-centric, this is for you.
Works on: Apple Macintosh computers and iOS devices, including iPhone smartphones, iPad tablets and the iPod touch. Heck, you can chat on the Apple Watch (but that's audio only).
Simultaneous users: 32
The good: A FaceTime app is preloaded on Macs and iOS devices, and using it is easy since you're already logged into your Apple account. The service's interface, with face bubbles expanding and contracting as folks take turns speaking, is trippy. You can turn your head into a cartoon "Animoji," too, and add filters and stickers.
The bad: Excluding non-Apple users is a big problem Apple doesn't seem eager to fix. It doesn't offer a desktop-web option for using FaceTime in a browser, as it does for many of its other services. The Animojis and other effects only work on iOS devices. Some may find the face-bubble shifting to be dizzying or nausea-inducing.
Facebook Messenger
Yes, the app you probably already use for text chat also does video.
Works on: Android, iOS, Mac, Windows, desktop web
Simultaneous users: 50
The good: Just about everyone uses Facebook. Getting started is easy: Pick one or more friends, and then tap the little camera icon.
The bad: You can also video-chat on Mac and Windows, but Messenger there only allows two-way conversations — forget about group chats. Facebook has a history of privacy and security problems, so some of your friends may politely decline to join you.
Google Duo
This is the closest Google equivalent to Apple's FaceTime.
Works on: Android, iOS, desktop web
Simultaneous users: 12 (up from 8 just a few weeks ago in response to the pandemic).
The good: Because Duo is preinstalled on many Android phones, and is a snap to install on iPhones, it's good for families and friends using a blend of mobile devices. It's very easy to use. A cool "Knock Knock" feature lets the person you're calling see you before he or she picks up.
The bad: Though Duo works in browsers on PCs and Macs, it only allows two-way conversations — forget about group chats.
Google Hangouts
If you think Duo's desktop limits are a drag, this may be your option.
Works on: Android, iOS, desktop web.
Simultaneous users: 25
The good: Because it works everywhere, it's popular in Google-centric crowds (I rely on it often for personal and work-related chats). A handy Chrome extension opens it in its own app-like browser window. If you use Gmail, Hangouts is conveniently built into your mail-window sidebar.
The bad: Hangouts is a famously disorganized, complex and sometimes unfathomable service. Its usability and reliability is iffy at times.
Houseparty
You've probably never heard of this service, but it's worth a look.
Works on: Mobile apps for Android and iOS, and a desktop app for Mac. A Chrome extension turns the browser into a video-chat window.
Simultaneous users: 8
The good: Because this service works just about everywhere, no one's left out. It has an elegant, playful design (the Mac app is especially nice). Chats are easy to set up. Games are built in for fun with friends and family.
The bad: Why no Windows app? The sounds alerting you to chat requests might drive you batty. Because Houseparty is a bit obscure, you'll have to persuade friends and family to join. The games are mobile only.
Instagram
Facebook owns this photo service, which (surprise!) has video chat.
Works on: Android and iOS
Simultaneous users: 6
The good: Because Instagram is so popular, embracing it is a no-brainer. And, like the rest of Instagram, it's pleasingly designed and fun to use.
The bad: Only six simultaneous users? Lack of official desktop support is a problem (and video chat isn't supported on third-party Mac and Windows apps like Grids). Video chats do work on Apple's iPad, but look terrible (the iOS phone app doesn't properly adapt to the larger tablet screen).
Skype
This Microsoft-owned service is an old standby worth a look.
Works on: Android, iOS, PC, Mac, Linux computers, Xbox gaming consoles and Amazon Alexa devices. It also works in a desktop browser.
Simultaneous users: 50
The good: Full-featured desktop software, but installing it is optional. With a blurred-background feature, you won't be judged for your mess. A new Meet Now feature makes chats a snap, and participants don't even need Skype accounts. You can call landline and mobile phones.
The bad: The desktop software can be a bit baffling to use. Skype gets a bit temperamental at times. Calls to landline and mobile phones are not free, and vary in cost depending on the country you're calling.
Snapchat
An app famed for ephemeral photo and video posts also has video chat.
Works on: Android and iOS
Simultaneous users: 16
The good: Playfulness (You can use "face lenses" to transform yourself into a puppy, or modify your environs by making the Eiffel Tower puke rainbows, among other wacky features).
The bad: Anyone older than about 13 might find this app baffling, and be irritated by the puppy faces and tower hurling. The lack of desktop apps is a problem (not that teenagers care). You also can't use it in a browser (teenagers still don't care).
WeChat
If you want to chat with people in other countries, this may be for you.
Works on: Android, iOS, Mac, Windows, desktop web
Simultaneous users: 9
The good: Popular overseas, it's a good option for multi-continent groups.
The bad: Setting up this app is a pain in the posterior. So is having to scan codes with phones in order to use the desktop apps. Some users appear to be permanently locked out of desktop-web access (I am).
WhatsApp
Also owned by Facebook, this app has a huge following.
Works on: Android, iOS, Mac, Windows, desktop web
Simultaneous users: 4
The good: This app is elegant and easy to use. Like WeChat, it's popular overseas, so it's handy for chats with foreign friends.
The bad: The four-user limit is ludicrous. Scanning codes with phones for desktop access is a pain. Video chat is mobile-only, in any case.
Zoom
You'll likely be using this service at some point. Just about everyone is.
Works on: Android, iOS, Mac, Windows. As with HouseParty, it offers a handy Chrome extension.
Simultaneous users: 100
The good: Zoom has the virtue of ubiquity; it's everywhere. It's reasonably easy to set up and use. A "touch up your appearance" takes years off your face. A "use virtual background" lets you pick any picture as a background (great if your house is messy). Virtual happy hours!
The bad: Free chats are capped at 40 minutes; there's a paid service with no time limit. Zoom was designed as a business tool, so the service has a utilitarian look and feel you might not like. It has had a number of well-publicized privacy and security issues, so learn how to protect yourself (or, if you're extra-cautious, just steer clear).
3 Tutorials to Show You How It's Done
If you are new to video chats, there are tutorials available to help walk you through the process and have you connecting with family and friends in no time.
1. Senior Planet offers an easy-to-follow guide on chatting with Zoom. This technology-based educational center for older adults is also offering a variety of online resources during the pandemic including tech tips, scam alert information and virtual events.
2. CBS Sunday Morning correspondent David Pogue recently did a segment called 'How to Live AND Work at Home Without Going Stir Crazy' which featured pro tips for successful video chats — including ample doses of humor along the way.
3. This guide from the BBC offers tips for using WhatsApp and FaceTime as well as suggestions for how to make a video call by simply using your computer's web browser.