Virtual Connections Have Never Been More Popular
As people shelter in place, more are using smart devices to reach loved ones
Rich and Kirsten Meneghello and their daughter Lucy have dinner with Rich's mom Margaret "Marge" Meneghello, 75, every Sunday, trading off between gathering at their house in southwest Portland, Ore., and Marge's apartment a few miles away.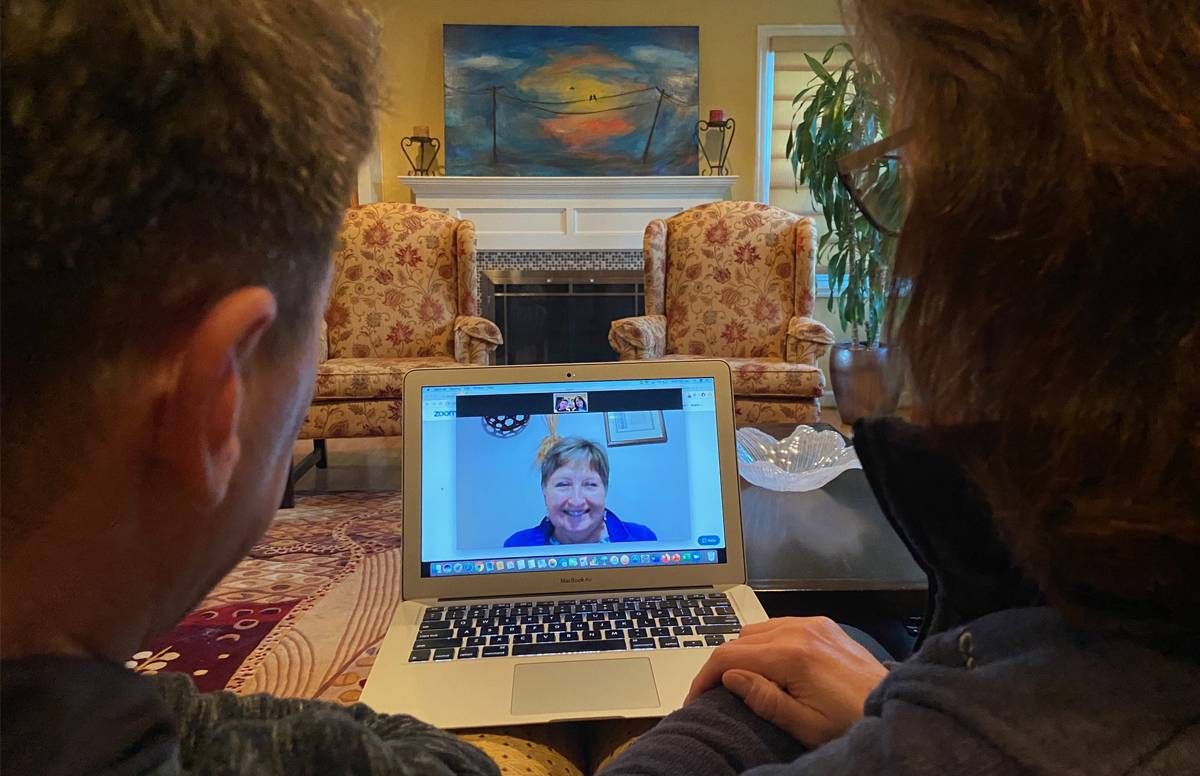 But they've been hunkered down in their respective residences since mid-March because of the COVID-19 pandemic. So, they had to figure out a different way to commune. Now they have a standing Zoom call every night at 7 p.m; Zoom is a popular videoconference service.
Some nights they talk for a few minutes. Other nights they dial into Zoom to play Yahtzee, using separate sets of dice and adjusting their laptops so the built-in webcams show what they rolled.
"I've been using Zoom for work for a while, so for me it was a natural suggestion," Kirsten Meneghello said. "It's been lovely. Video is so much more valuable than the phone. You can see the person's energy and mood."
As people practice physical distancing in the wake of the pandemic, connecting virtually has become the next best thing to being there for staying in touch with older family members, whether they're a few miles away or across the country.
"It's been a lifesaver on both ends during this quarantine," Elizabeth Vowles said. "She loves being able to see us and  interact with us."
Video-calling services, connected tablets, smart-home assistants and other online devices have become lifelines for older people whose regular routines have been disrupted and for whom social isolation can lead to physical and mental health problems.
"The virus has been a way to prove that connecting virtually can decrease social isolation," said Liz Hamburg, founder of Candoo Tech, a company that provides tech support to older adults. "It has been a testing ground to prove that this can be done."
Activating the 'Granny Cam'
Some families were connected long before the outbreak, of course. Last year, Marian Dolan was stuck in the Philippines for a month after her mom was hospitalized unexpectedly while the two women were there to visit family. Her mom, Luz Reyes, 81, recovered, but needs kidney dialysis three times a week.
Dolan set up in her parents' house in San Francisco a connected video camera she got at Costco for $69 that she calls "the granny cam"  — to keep an electronic eye on them from her own home in Portland, 600 miles away. A mobile app connected to the device streams real-time video to Dolan's phone.
Since the outbreak, she checks in on her mom and dad, Vicente Reyes, 83, every day. "Sometimes in the middle of the night, I look at it to make sure they're okay," Dolan said.
Our Commitment to Covering the Coronavirus
We are committed to reliable reporting on the risks of the coronavirus and steps you can take to benefit you, your loved ones and others in your community. Read Next Avenue's Coronavirus Coverage.
The camera's audio channel lets her pop in to talk instead of calling on the phone, which her folks find more intrusive. "When I call, they want to get off the phone because they're in the middle of a Filipino soap opera," Dolan said.
When Brett and Elizabeth Vowles moved his 86-year-old mother into an assisted living apartment in the Seattle area last year, Brett set her up with an Amazon smart-home device with a small screen and an Alexa digital assistant so they could make video calls.
The virus outbreak has hit Seattle especially hard — 2,580 cases and 132 deaths as of March 25 — and people have been sheltering in place there longer than almost anywhere else in the country. "It's[the video calling] been a lifesaver on both ends through this quarantine," Elizabeth Vowles said. "She loves being able to see us and interact with us."
Getting Tech Support
Other families saw the coronavirus outbreak as a sign to get connected. Hamburg deals with a lot of them. Candoo Tech, which is New York-based, teaches older adults how to use smartphones, tablets, computers and safety devices such as fall detection devices and home sensors. It also provides subscription-based in-person and remote tech support.
Normally, the two-year-old company's concierges make house calls across the tri-state area. That stopped in mid-March because of the outbreak. Since then, Candoo Tech ramped up online support for people who need help and created free online tutorials for FaceTime and Zoom and online shopping apps for using Amazon and Seamless.
The company is fielding a lot of calls from people who now need help getting tech things set up. One woman wanted assistance learning WhatsApp, the Facebook-owned messaging service, so she could use it to talk to a son living in Europe.
Candoo also assists its partner organizations helping their members stay connected. One is a New York City synagogue that switched all its in-person adult classes to online learning. "One of our last in-person sessions was at one of their classes to teach them how to get on Zoom," Hamburg said.
Stumbling Blocks
Despite the best intentions, however, this kind of technology doesn't always cooperate, as I can attest from personal experience.
Close to 20 family members dialed into a Zoom party I hosted for my dad's 84 birthday on a recent Saturday night. One of my siblings gave my father and mother a quick lesson before the big day. My parents used the assigned link and access code to call in at the appointed time. But a bad Wi-Fi connection in their condo made it hard for other partygoers to see or hear them.
And establishing a solid virtual connection isn't always about the technology. Some older adults need a little coaxing — not because they're technophobes, a tired stereotype.
Carri Bugbee bought a tablet as a birthday present for her mom Connie, who turned 75 on March 22 and lives in Eugene, Ore., a two-hour drive from her daughter's home in Portland. But her mom is not convinced she needs a tablet. "She wasn't happy because she doesn't like people buying her things," Carri Bugbee said.
With church services and volunteering canceled, family get-togethers are more important than ever.
Connie Bugbee lives alone, doesn't have a computer and cut the cord on cable TV after retiring last year. Because of the state's shelter-in-place order, she can't see her significant other. She thinks she should be able to get by with a phone, but Carri Bugbee thought it would be easier for her mother to video-chat, read e-books and watch her favorite British murder mysteries on something bigger than a smartphone screen.
So, Carri bought a Samsung tablet, added it to her own T-Mobile account and spent hours downloading apps and setting up accounts in her mother's name. Then she mailed her the device. Despite the initial misgivings, by the second day, Connie had downloaded a few more apps. "She seems more interested and receptive," Carri said. "I've realized I have to break her in slowly."
Now Adept at Zoom
When Oregon's shelter-in-place order took effect, it curtailed an active social life for Marge Meneghello revolving around church, volunteering at a local library and after-school program, as well as seeing friends and family. With church services and volunteering now canceled, family get-togethers have become more important than ever.
Thanks to the nightly calls, Meneghello has become so adept at Zoom, she uses it to chat with church friends, Kirsten Meneghello said.
The stay-home order canceled an early April trip to Alabama that Marge had planned to see a sister whose husband died recently (not of the virus) and another sister who lives there.
Instead, the three sisters connected — how else? — through Zoom.
Michelle V. Rafter
is a Portland, Oregon, business reporter and long-time chronicler of the intersection of technology and work.
Read More