Goodbyes to the Volkswagen Beetle and Bus
News of the end of the Beetle brought back memories of this VW bus story 
(Next Avenue was sad to read in Fortune  that Volkswagen will soon stop making the VW Beetle, an iconic car that's been around since 1938 — albeit, on and off. The news reminded us one of our favorite Next Avenue stories from a few years ago, by Donna Sapolin, about the end of the VW bus. It appears below.)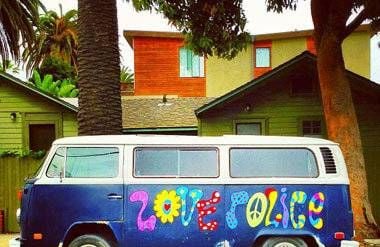 I've had a week or so to digest the news that, come December, Volkswagen will stop producing a true cultural icon: the VW bus. The company will shutter its last remaining factory, in Sao Paulo, Brazil. There, just like here in the United States, the workhorse vehicle is a symbol of freedom, adventure, the open road and camaraderie.
"Say it ain't so!" was my first reaction — and not because I drive a VW bus or traveled around in one as a kid. I'm Texan. Trucks were the preferred vehicle for hauling gear while I was growing up. Station wagons shuttled families to and fro and by the time my friends and I reached high school, the infamous Pinto had become our car of choice.
Still, as a child of the 1960s and '70s, I was caught up in the allure of the VW bus. Even if you didn't own or ride in one, you saw them featured prominently in movies (check out The Internet Movie Cars Database or IMCDB), television shows and news reports from the frontlines of the counter culture. You or someone you knew probably owned an album or two that showcased the bus on a sorta psychedelic cover. The Beach Boys' The Sound of Summer and The Freewheelin' Bob Dylan come to mind.
Most boomers identify the "Age of Aquarius" with long, flowing hair and skirts; bulbous lettering; brilliantly colored flowers and peace signs; bold "Make love, not war" signs; and grooving, cruising and toking anti-establishment gatherings.
Having served as home to every one of these period emblems and events, the VW bus captures the era's let-it-all-hang-out, what-you-see-is-what-you-get essence like no other vehicle can.
It also represents a cool anti-tech quality at a time when no one but engineers and highly trained mechanics can fathom what lurks beneath the hood of a car. Today, the vintage buses are cherished as much for their uncomplicated innards, frequent breakdowns and the unquiet chug of their motors as their bold paint jobs.
The VW bus punches boomer nostalgia buttons hard, but it seems that the obsessive love we have for it has also spread to the next generation. A new documentary, Circle the Wagen, captures the ongoing fixation through an adult kid named Dave and an entire subculture of like-minded aficionados.
Clubs and societies centered on the affection VW bus owners have for their rides as well as their repair and spare-part needs are rampant; this film gets to the heart of the quirky community of devotees.
Another recent documentary, The Bus, speaks to the vehicle's anthropomorphic qualities and the close bonds owners forge with their rides. They even give names to their VWs.
"They have a little face — a little nose and eyes, a smile bumper, kind of an innate character that's almost human," an avid owner points out in the movie trailer. But he's quick to add that failure is also one of the VW bus' human-like characteristics.
Writer Brendan Busse describes the vehicle as a spiritual touchstone. "I have to say that the stubborn inefficiencies and minor mechanical failures of that simple machine delivered more moments of insight and soul searching than I can here recount," he says. "In a VW bus you learn a lot of patience; you learn about the relativity of time; you learn to sit still and enjoy the ride."
Los Angeles-based photographer Kwaku Alston has been shooting the vehicle for many years and has assembled his compelling images in Volkslivin', a 96-page, large-format book. The full catalogue of VW bus images can also be seen on his website.
As with Busse, potent childhood memories fuel Alston's present-day passion:
"Some of my earliest memories are of my father, a Vietnam era vet, in his deep green 1971 VW bug rolling on the streets of Philly," Alston says. "I remember this beautiful bug as the family car for our small growing family, perfect for road trips. Through the years, it acquired many miles and embedded itself in my mind as a car for the people: an affordable utilitarian vehicle — with character. This van was replaced 10 years later when my parents got divorced by my stepfather's frosted blue VW bus. While living in New York City, Volkswagens took a hiatus in my life. But after moving to Venice, Calif., the resurgence of these multicolored boxy beauties was overpowering — I saw them everywhere … these adventure wagons have a characteristic unique beauty that I am constantly inspired to capture."
Though I've never given up on road trips, I did give up on car ownership when I moved to Manhattan five years ago. If I'm ever tempted to reconsider that decision and again invest in a vehicle, a vintage VW bus will be at the top of my list of options.
I like the idea of tooting around in a rolling repository of boomer memories.