What I Learned Corresponding With Anne Frank's Dad
In these times, Otto Frank's unwavering message of hope still resonates
Otto Frank, the father of Anne Frank, was my beloved friend and mentor for nearly 20 years. We began writing to each other when I was 12 years old, after I'd auditioned for the role of Anne in the 1959 movie version of The Diary of Anne Frank. Otto Frank lived in Basel, Switzerland, and his gentle guidance of my life was transformative.
During the Sixties, when our country was broiling with the unfathomable —the Kennedy and King assassinations; the Vietnam War; horrific race riots; Native American occupation at Alcatraz and so on — I wrote to my dear Otto and declared that I would never bring a child into a world this cruel. His answer to me was profound: "Even if you believe the end of the world would be imminent, you still must plant a tree today."
Never give up hope, he told me. This man who lost his entire family in the Holocaust was encouraging me to believe in tomorrow. He had two trees planted in Israel in my name to punctuate this message of endurance and life.
Trees of Hope
"Though the situation is far from satisfactory, you must not be desperate," he wrote to me in a letter dated June 16, 1968. "Never give up!
"I remember to have once read a sentence , 'If the end of the world would be imminent, I still would plant a tree today.' When we lived in the secret annex we had the advice 'Fac et spera' which means: 'Work and hope.' I do not know if I ever wrote this to you.
"So you should not ask if you should bring a child into this world. Life goes on and perhaps your child will bring the world one step further. Anne who died as a victim of injustice and hatred, achieved something for mankind in her short life. Perhaps the new generation will live under quite different circumstances than we can imagine now and will have a quite different feeling of happiness.
"You are right that at certain periods  of my existence the world around me collapsed. When most of the people of my country, Germany, turned into hordes of nationalistic, cruel anti-Semitic criminals, I had to face the consequences and though this did hurt me deeply I realized that Germany was no the world and I left forever.
"When I returned from the concentration camp alone, I saw that a tragedy of inexpressible extent had hit the Jews, my people, and I was spared as one of them to testify, one of those who had lost his dear ones.
"It was not in my nature to sit down and mourn. I had good people around me and Anne's diary helped me a great deal to gain again a positive outlook on life. I hoped by publishing it to help many people in the same way and this turned out to be true."
Troubled Times
After 20 years of exchanging letters, I traveled to Europe in 1977 to meet Otto Frank, who was 88 by then. During the visit, I witnessed a troubling discussion that he and his family had about the rise of the neo-Nazi movement, which is very much a replica of the hate and fear being stirred up today.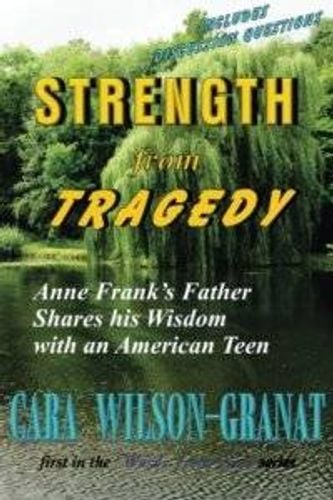 These days, I talk to audiences about how Otto Frank tried desperately from 1940 to 1941 to escape to Switzerland, Cuba and the United States. He had tremendous and influential connections in America who were doing all they could to get the Franks into the country, since he had worked for the co-owners of Macy's, the Strauss family, when he was a young man living in America. The Strausses begged our government to help get them here, but to no avail.
He had relatives here, too. The family of his wife, Edith, already lived in the States and they, too, did everything they could to pull strings. But President Roosevelt and Ambassador Joseph Kennedy turned them away. Anne Frank would probably be alive today and thriving in America if she and her family weren't considered refugees not to be permitted entry here.
If Otto Frank were still alive, I know that he would be devastated over the growing waves of anti-Semitism happening in America. But I also know that he would still believe in love and hope and unity among all people. And he would say that together — no matter what our races or religions or sexual identities or political perspectives — we must plant trees of hope for a far more loving tomorrow.
Next Avenue Editors Also Recommend: