What Pizza Taught Me About Love and Friendship
Competitive cooking for friends is in the past. The goal now is to just spend time together enjoying a simple meal.
When my husband and I bought our long-awaited country house after 35 plus years as executives in business (him) and publishing (me), I had this idea that on weekends and longer stays I could pick up socially and culinarily where I had left off, now that our kids were grown and our careers had wound down to some part-time side hustles.
And we had a whole new very cool lake house to show off. Surely new friends would be available to sit at our ten-foot-long, zinc-topped table and enjoy the recipes that I'd perfected over the years with Julia Child and Marcella Hazan by my side.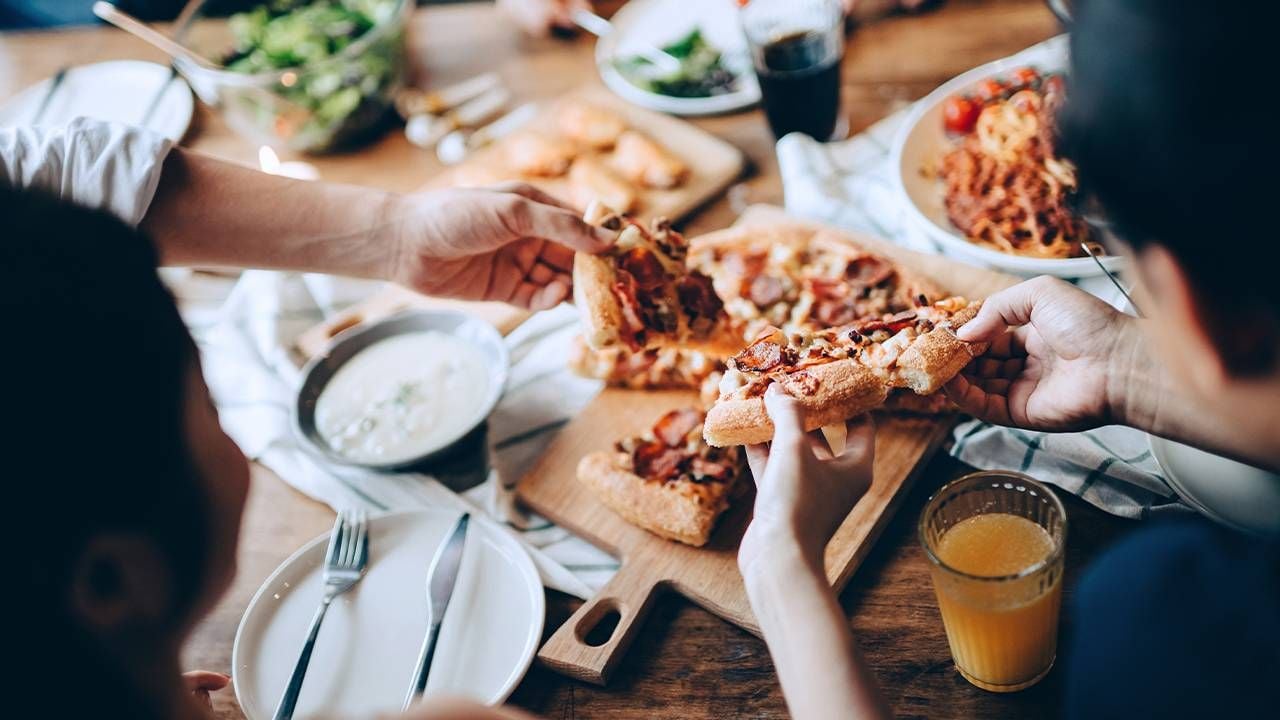 But whenever I tried to set up dinners in advance, new neighbors would say, "I'm not sure we'll be around" or "We're going to the Cape that week" or simply, "I can't plan that far in advance." 
I know. You're thinking it must be me or my husband causing the negative RSVPs. But I swear it wasn't us. It seemed, at least for boomers, that ghastly term, "entertaining," as we knew it, had gone out of style.
Our country neighbors, who after a suburban stint raising kids, had moved to this beautiful rural area a long time ago, would be able to gather friends at what seemed like the drop of a party hat. We'd arrive on a Friday night or a Saturday morning and get a call, "Come for potluck tonight." 
What to Bring to the Potluck
As an obsessed foodie, I would ask what I could bring, or, at least what course? The answer would be "Whatever you want. It always works out." At this point my social and culinary anxiety would kick in and I'd dig deep for a transportable dish from my repertoire, but also cynically prep myself and my husband for a meal of five different potato salads served beside lasagna and corn on the cob. 
As an obsessed foodie, I would ask what I could bring, or at least what course?
But inevitably we'd arrive to an old pine table covered with a random but very appealing selection of tabouli and curried couscous fried chicken cutlets one night, and hearty chili, nachos and/or Asian coleslaw the next time. Okay, and maybe sometimes there would also be a platter of hot dogs or a vegetarian lasagna.
The avowed terrible or reluctant cooks brought wine or beer or a store-bought dessert. Dinner. Done. The element of surprise and sharing created instant warmth and left plenty of time for long sit-downs full of rural gossip and real estate intel.
I need to make it clear that I started my career as a food writer, editor and stylist. I wrote for every major food and women's magazine and had pretty memorable dinner parties. I still cook all the time, and especially did during COVID when restaurant dining was limited or not an option. So this is not a call to culinary inaction. It's more a psycho-social call to action.
Once we'd been invited to enough of these potlucks to realize there was more on the table than salads and mains, I asked my now new friend why potluck had overtaken the formal or not-so-formal, but planned, dinner party. I wondered why no one seemed to cook whole menus for friends anymore or plan anything in advance. Like what we did in the suburbs when we were young and aspiring.   
"Everyone knows we can cook," she said, explaining that by removing the performance and competition, not to mention the time suck from traditional entertaining, we actually got together for the essential element: friendship minus the anxiety.
It was a "Duh" moment, of which I find there are more and more as I look back on my life lately. 
Flash forward a few years as friends aged, moved around and COVID drove us out of the city. We actually had sold that country house lock, stock and ten-foot dining table. But COVID brought us back to the country as a place to isolate.
Hungry to Mingle Again
Now my neighbor had become a dear friend and she and her husband were dealing with his dementia diagnosis. We rented a house next door, but only waved and power-walked wearing masks for several months pre-vaccines. Entertaining — even potlucks — had come to a standstill. 
However, once we were all vaxxed and boosted, depending on the surges, we were hungry to mingle again. But a table full of dishes seemed unnecessary and, frankly, too much work when companionship and connection was really the goal. Call it a rare positive COVID side effect.     
Enter the modern day pizza party. Almost every Sunday the call would come to gather at our friend's lakeside house where her husband was now most comfortable. We took turns picking up the pies and as with potlucks, figured out everyone's preferences down to the last slice. 
We all know we can cook. We have the memory of that incredible paella or two-day beef barbecue to prove it.
The only addition was, as "Seinfeld's" Elaine Benes would say, "a big salad." While we waited for the pizza to re-heat, we'd toast the host and ourselves for pulling off these gatherings which we now realized contained the real menu essentials: love and friendship. 
In the fifties when pizza was new to the U.S. suburbs, after a very few bites my mom once said, "It's the perfect food." With due respect to New York Times food editor Sam Sifton and Ina Garten, whose recipe ideas, cookbooks and comfort cooking I adore, I happily reserve them mostly for when our grown kids and grandkids come to visit. Cooking for the kids is a way for me to express love and build a legacy, especially during our limited time together.
But it's taken me way too long to realize that the habit of competitive cooking for friends, no matter how dear, can be limiting, especially if the goal is to see each other more than every two years. We all know we can cook. We have the memory of that incredible paella or two-day beef barbecue to prove it.
And who doesn't love pizza? I'm not suggesting company be cancelled, just re-thought. If a full menu, shopping, cooking and clean-up stands between getting together and isolation, I say,  "Make that two Margheritas and one Pepperoni to go."  
Dessert: No-Cook, One-Bite Wonder
In my former life I would have baked a pie or cookies since there was so little else to do during these potlucks or pizza parties. But after fifty years or so, I'm warming up to letting go of the entertaining "shoulds."  
In that spirit, to end the meal — in addition to, or in lieu of, a bowl of Clementine oranges or cherries or ripe peaches (whatever is in season) — I sometimes gather a bunch of mini doughnuts. Warmed up and rolled in cinnamon sugar, they are one-bite wonders. And who doesn't love doughnuts?
Freddi Greenberg


Freddi Greenberg is the former editor in chief of Child Magazine and Nick Jr. Family among others.  Although her career began as a food editor she now specializes in Itsy Bitsy Spider singing, Ninjago genealogy and anything Spider Man.  In addition to meatball production, she is also the founder of purplepenessays.com, a college application essay advisory. 
Read More