Why You Might Want to Get Your Medical Checkup in Thailand
An expat's rave review of his easy, efficient experience
For the first half-century of my life, I had my yearly medical checkups with doctors in clinics in the United States. But, this year, since I am an expat living in Southeast Asia, I opted to try a little "medical tourism" and have my yearly checkup at the world famous Bumrungrad Hospital in Bangkok, Thailand. I'm glad I did.
You commonly hear stories of Americans traveling abroad for medical care due to the high cost in the United States, but that wasn't my case. I am fortunate to have a "Cadillac" insurance policy with a major U.S. provider and am well covered for medical treatment anywhere in the world. Luckily, my only concerns regarding medical care have been about convenience, treatment and quality of care. Still, I have been conditioned to believe that the American health care system is the best anywhere and was hesitant to "experiment" with any medical care outside of our borders.
A New Perspective
Over the years, however, my opinion has changed.
My experience with Bumrungrad Hospital, and other foreign health care providers, has convinced me that, if you do your homework, there is good medical care worldwide. What's more, I've discovered, there's little correlation between price and the quality of the service.
My partner Sarah and I live on the Mekong River in Vientiane, Laos. There are many wonderful aspects to living in Laos, but it is not exactly famous for quality health care. Since we were planning a getaway to Bangkok and since it was time for our annual checkups, we decided to make our trip more productive and fit our physicals in with our weekend away. After a little research, we determined that Bumrungrad Hospital, with its special health checkup packages, would be the best choice for what we wanted to get done. Surprisingly, we found that they have a full staff available to do health checks on weekends. It sounded ideal.
Booking Online
A few weeks before we were scheduled to leave, we booked our health screening appointments online. The hospital actually has a "Health Check-up: Package Comparison" webpage, where you can pick from a menu of packages based on your age and sex. If you would like something more customized, you can choose specifically which options or extras you want on the "Check-up Package Personalization Page."
To keep things simple, Sarah and I both opted for the "Comprehensive (Over 40)" medical checkup package. From the webpage, we could see it included everything we wanted and more.
Not a Typical Hospital
When we arrived at the 10th floor "Sky Lobby Patient Registration Center," it quickly became obvious that this was going to be no ordinary doctor visit.
Instead of being confronted with the usual antiseptic odors, harsh lighting and utilitarian furnishings commonly associated with hospitals, this place was actually pleasant. At first glance, it looked more like we had wandered into a five-star hotel than a medical treatment facility. There were floor-to-ceiling windows overlooking the city, art on the walls, water gardens, coffee shops and a bookstore. The lobby had great, useful signage, in multiple languages and divided into different areas based on the language you spoke. We started looking around, but before we could find the English section, we were approached by a concierge who guided us to the proper area.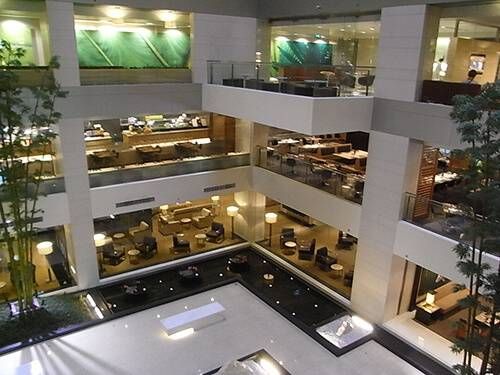 We were greeted by a receptionist who confirmed our appointment, made sure we hadn't eaten or drunk anything that would interfere with the tests, fitted us with plastic bracelets that had our names and a barcode on them, took our pictures and issued us each ID cards — all within 15 minutes of arrival. We were then told to go up one floor to see the cashier and everything could get started.
Transparency of Pricing
While we waited in the cashier's office, we were given some medical history forms to fill out. This took maybe 10 minutes. I met with the cashier, who again confirmed all of our information, showed us an itemized list of all the planned tests and examinations and gave us the total price. She also said the itemized list of charges would be emailed to me so I could make a claim with my insurance company. Then she took my credit card for payment.
From there, Sarah and I were directed to separate areas to get our vitals taken and blood withdrawn. Here a registered nurse — dressed in the traditional white uniform with white hat — drew my blood, took my blood pressure and directed me to a waiting area. Nearby was a buffet where, if I wasn't still on my pre-physical fast, I could have had an espresso, desserts, hummus, tomato salad or just about any variety of international food. I was tempted to sneak something, but luckily before I suffered too much, I was called in to see the doctor.
Well-Trained Staff
He was a friendly, white-coated Thai man about my age who spoke good English and, while businesslike, seemed unhurried and interested in his work. He had graduated from one of Thailand's top medical schools with a specialty in aviation medicine and had done fellowships at Brooks Air Force Base in San Antonio and in Australia. He asked me if I had any special issues that needed addressing and we went over my medical and family history. Then a different nurse came in and assisted him while he did the normal ear, nose and throat examinations. After he finished, he walked me out and said he'd see me again in a few hours.
Next came a blur of different doctors, nurses and various other tests. I was escorted a few doors away where I was given an eye examination and a new prescription for contacts.(I remember being told I have "beautiful corneas.") I was then taken across the building where I was outfitted into a pair of quite smart-looking tan yoga pants and a loose top and directed to the place to get my "exercise stress test." After having patches of my chest shaved and wired with electrodes, I was put on a treadmill where my heart rate could be monitored.
More Tests
After that, I was taken for a chest X-ray and delivered to a long hallway filled with other patients, all wearing the same yoga outfit I was, to wait for my abdominal ultrasound. I got a little bored and wandered down the hall, where I found Sarah waiting for her time at the ultrasound as well.
As we sat and looked around, we were both struck by the United Nations feel of the place. Here were people from all over the world, people who could probably be treated anywhere they wanted, choosing to come to Bumrungrad for their treatment. Not that I had any doubts before, but this was still very reassuring.
Because everything so far had been one test after another, it seemed like a long wait. But after 20 minutes, I was finally called for my turn at the ultrasound machine. I had never had an ultrasound before, and with my full bladder and all the pressing and prodding, it was the most unpleasant part of the whole experience. Finally, it was over. I was directed to give another urine sample and change back to my street clothes. I could then enjoy some food and coffee at the buffet, while the staff finished up the testing.
I ended up being called to meet with the doctor before I could even savor my second espresso and plate of falafel. We went over the numbers. The doctor said overall I was in great condition, but he had a few concerns. Even though I was getting plenty of exercise, I needed to watch my cholesterol, cut back on purine-rich foods (like meat and seafood) and drink more water, he said. Other than that, I should just keep doing what I was doing.
How Bumrungrad Compares
Bumrungrad was the first hospital in Asia to be accredited by the Joint Commission International (JCI). That means that, although the hospital is in Thailand, it meets all American medical and building safety standards. Over 1.1 million patients are treated each year at Bumrungrad Hospital, with over 520,000 of them from outside of Thailand. The hospital is staffed by more than 1,200 physicians and dentists, most of which have international certification. In addition, they have over 900 nurses and a total of over 4,800 employees.
It was nice to discover that Bumrungrad Hospital does not participate in a "dual-pricing" structure based on whether you have insurance. The price is the price. I don't know what the actual cost of getting all of these tests performed in the United States would be, but in 2013, CBS News' 60 minutes did a piece on Bumrungrad where they estimated that the cost of treatment there was one-eighth of what it would be in the U.S. I am not sure about that, but I do know the cost of my very complete physical, after currency conversion, was about $575.
My visit to Bumrungrad was was one of the best experiences I have had with doctors and the medical community anywhere on the planet. Sarah said she was also very impressed with the treatment she received. I have also used other medical facilities in Thailand, including Bangkok Hospital in Chiang Mai, which was excellent. It is reassuring and a great relief to know that if anything major were to go wrong with my health, I can get world-class treatment relatively close to my own backyard.
Jonathan Look
At age 50, Jonathan Look Jr., sold everything he owned, took early retirement and began exploring the world. He believed the best of life comes from being true to yourself and pushing against the edges of your comfort zone. Unfortunately, Jonathan passed away in March of 2021. He shared his unique philosophy and stories of his adventures on his website, LifePart2.com.
Read More