What You Should Know About the 50+ Job Market
It's become sunnier, say labor experts, but the future is cloudy
As Labor Day nears, this is an ideal time to size up the labor market for America's 50+ population and speculate on what it might look like in the future. By 2020, workers 55+ will account for 25 percent of the labor force, up from 13 percent in 2000, according to the Stanford Center on Longevity.
 
To cover the waterfront, I spoke with five authorities:
Improving Job Market for 50+
Based on my interviews, I'd say the state of the 50+ labor market has improved lately, but the long-term outlook is iffy.
 
"Today's labor market for older workers is a lot better than it was 10 or 20 years ago," says Rix. "More of us are sticking around and being productive to help the economy grow." Fears of job loss have eased, overall, too. In a recent Gallup Poll, only 13 percent of U.S. workers 55 and older said they worried that they'd be laid off.
(MORE: Why Boomers Are a Boon to the Economy)
 
Rix points out that the unemployment rate for Americans 55+ dropped from 5.0 percent a year ago to 4.5 percent in July (it's up a tad from June's 4.4 percent). And the current 4.5 percent rate is dramatically lower than the overall U.S. unemployment rate of 6.2 percent.
 
In addition, out-of-work people 55+ are finding jobs slightly more quickly than a year ago. They're also less likely to be among the long-term unemployed (those who haven't worked for six months or more). In July, the average duration of unemployment for those 55+ was 47.6 weeks; it took 49 weeks in July 2013. While 43 percent of today's long-term unemployed are 55 or older, 47 percent were a year ago.
 
"I'm hoping things are beginning to improve," says Rix.
 
Long-Term Unemployment Woes
But let's not bring out the confetti quite yet. It still takes people 55+ nearly twice as long to find work than those who are younger, whose average duration of unemployment is about 28 weeks. "If you're an older worker and are out of work for any period of time, you become tainted," says Rix. "It's a pretty good time to be an older worker if you've got a job, but it's still tough if you don't have one."
 
And how's work going for older workers? Could be better, according to Pitt-Catsouphes.
 
As I noted in my Next Avenue blog post, "What Older Workers Want, But Aren't Getting," she's concerned that the jobs older workers have don't always match their priorities. In addition, Pitt-Catsouphes says, employees whose firms have shrunk through layoffs are often stressed, with punishing workloads.
 
Some are crushed by not two, but three jobs: Roughly 115,000 people over 55 now work three jobs, according to a recent CNNMoney article, up 60 percent from 2006.
 
"People are feeling a level of fatigue," Pitt-Catsouphes says. "Maybe we can take a deep breath and the older workers who stay at their jobs can find everyday meaningful experiences at work."
 
Age Discrimination Lingers
Rix, Freedman and Irving offered concerns about the scourge of age discrimination in the workplace, which is preventing some 50+ job applicants from getting hired and forcing out some older employees whose managers think they're too expensive, too lethargic, or both.
 
"There's still the persistence of outmoded notions of the capability of older workers, but that's changing steadily as we see more examples of prominent people working much longer," says Freedman.
(MORE: Targeted for Layoff Due to Age?)
 
Irving agrees: "I see some progress, but nowhere near enough and it's not moving fast enough." He says mandatory retirement provisions "are outdated, outmoded and make absolutely no sense." Older workers and applicants shouldn't get a free ride, of course, "but they should have the same opportunities and open doors as others," says Irving.
 
It's Easier to Start an Encore Career
The brightening economy, however, seems to be making it easier for Americans over 50 to move into encore careers that serve the greater good and provide paychecks. "People are more optimistic that there's a sense that opportunities are opening up in the human service and social sector side of the job market," says Freedman.
 
A recent Encore.org survey found that interest in encore careers among those age 50 to 70 rose from 24 percent in 2011 to 28 percent in 2014.
 
What's more, people feel that the improving economy has reduced financial barriers to launch an encore career. In the survey, only 12 percent of those interested in encore work said they were worried about earning enough income to do it; in 2011, a striking 30 percent felt that way.
 
"I think people are cautiously optimistic about the length of time and cost of making transitions to a new stage in their working lives," says Freedman.
(MORE: Second Look at Second Acts)
Rise In Midlife Business Start-Ups 
Entrepreneurship has been booming for older Americans, too. The Kaufmann Foundation, which tracks such things, says businesses started by people 55 to 64 accounted for nearly a quarter of startups in 2013 — up from 14 percent in 1996. "Many of the most successful entrepreneurs today are middle-age and older," says Irving.
 
But, Rix cautions, entrepreneurship at an older age can be risky. "If the business goes belly up, you don't have the time to recover that a younger person would," she says.
 
What the Future Holds for 50+ Workers
The older-worker mavens I spoke to seemed guardedly optimistic about the future for the 50+ labor market.
 
Some worry, however, that technology will make jobs of some seasoned workers obsolete. Freedman shares the fear voiced by former Treasury Secretary Larry Summers in The Wall Street Journal that the software revolution means the economic challenge of the future "will be providing enough good jobs." Wrote Summers: "If current trends continue, it could well be that a generation from now a quarter of middle-aged men will be out of work at any given moment."
 
Echoing this concern, the recent Pew Research Center's AI, Robotics, and the Future of Jobs study predicted that automation and intelligent digital agents would permeate "vast areas of our work lives" by 2025. Experts Pew interviewed were split about whether tech will displace more jobs than it creates, though.
 
Those most in danger: people whose occupations have high "routine-task intensity" such as proofreaders, movie projectionists, butchers, stenographers, payroll clerks, bank tellers and meter readers, according to Joe Weisenthal of Business Insider.
 
Employers Will Need Older Workers
Technology aside, the analysts I spoke to put their faith in the humans running America's employers — who'll see the financial advantages of holding onto workers who are 50+ and hiring others like them.
 
Over the next 20 years, there'll be no growth in the number of 45- to 65-year-olds in America, notes Hayutin. "So if you're looking for mature workers with judgment and experience, you'll have difficulty finding them unless you keep your older workers," she says.
 
"Employers are not stupid," says Rix. "They'll need these workers because they know they're not easy to replace." But, she adds, "I don't want to sound too Pollyanish. It's important for older workers to keep their skills up to date and keep up with the latest technology."
 
Freedman and Irving believe managers will also wise up to the usefulness of hiring and keeping men and women who are 50+.
 
"I think in the future, there'll be a great appreciation of the unique contributions of people in the latter phases of their career," says Freedman.
 
Irving agrees: "The aging brain has wonderful characteristics and the smartest managers and forward-thinking leaders recognize in the companies of the future the opportunity to marshal the best of aging and youth for competitiveness and high performance."
 
I'd like to believe that, especially since, as Hayutin notes, "with longer life spans, people will need to work longer in order to support their retirement years."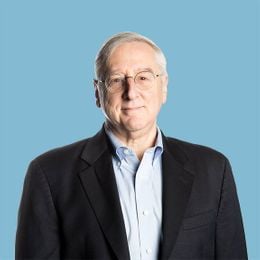 Richard Eisenberg
is the former Senior Web Editor of the Money & Security and Work & Purpose channels of Next Avenue and former Managing Editor for the site. He is the author of "How to Avoid a Mid-Life Financial Crisis" and has been a personal finance editor at Money, Yahoo, Good Housekeeping, and CBS MoneyWatch.
Read More