1,600 Reasons to Celebrate
The National Day Calendar founder Marlo Anderson promotes looking at 'the bright side' every day
On National Amelia Earhart Day, National Cousins Day, National Drive-Thru Day, National Tequila Day, National Thermal Engineer Day and International Self Care Day — all these fall on July 24 — the founder of the National Day Calendar® declared he has always been optimistic, and that's a key reason why he believes in celebrating every day to the fullest.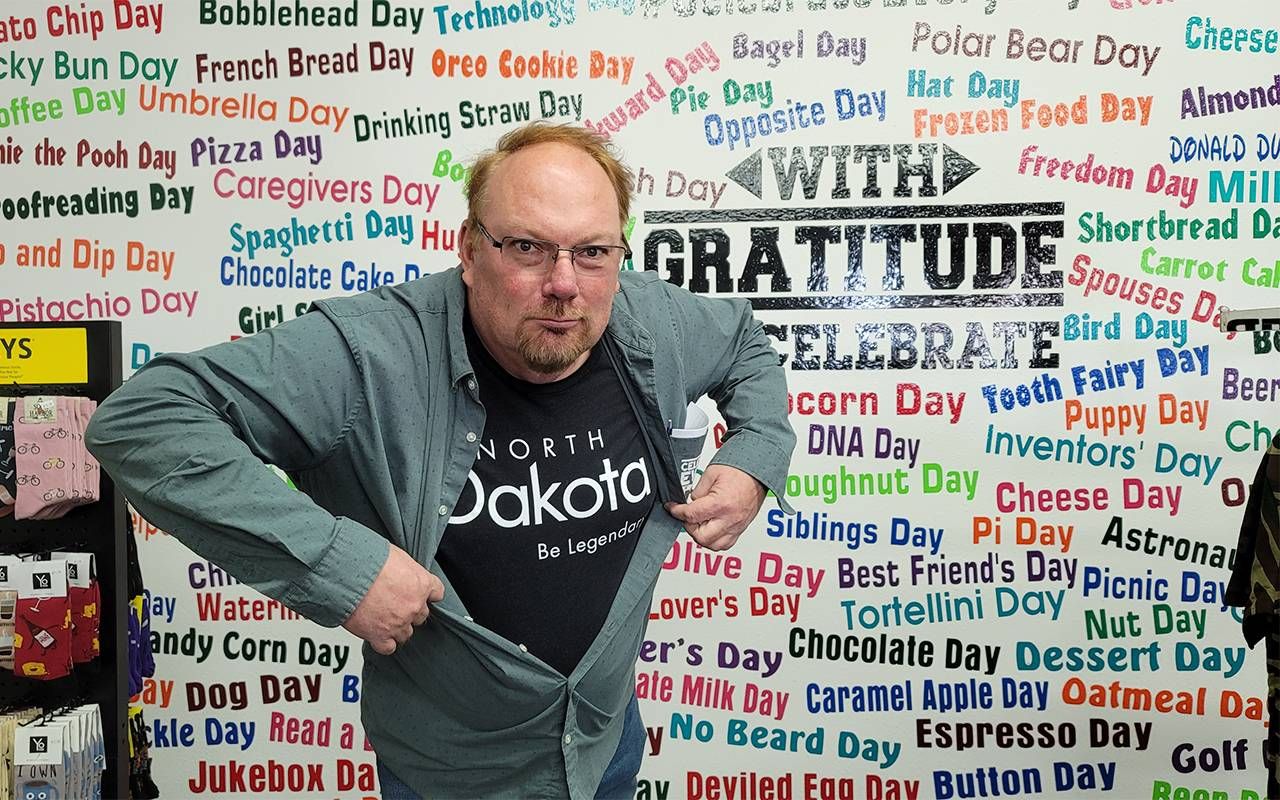 "I'd rather look at the bright side than the dark side," said Marlo Anderson, "because I believe humanity will always prevail." Anderson, 60, was speaking from his office in Mandan, North Dakota, a city of just under 25,000 situated three miles west of Bismarck.
"I'd rather look at the bright side than the dark side."
A self-described "tech guy, business entrepreneur and active proponent of autonomous vehicles," Anderson founded the festive calendar website a decade ago. Today, followers find there just over 1,600 occasions to observe and celebrate each year, including national, world, historic, pop culture and health awareness days and months. Though August offers the U.S. no federal holidays, Anderson's site suggests an eclectic mix of alternatives.  
Among them are days saluting girlfriends (Aug. 1), veterans and first responders (Aug. 5), root beer floats (Aug. 6), Connecticut (Aug. 10), vinyl records (Aug. 12), left-handed people (Aug. 13), Navajo code talkers (Aug. 15), black cats (Aug. 17), pinot noir (Aug. 18), potatoes (Aug. 19), senior citizens (Aug. 21), the Tooth Fairy (Aug. 22), National Park Service founders (Aug. 25), women's equality (Aug. 26), whale sharks (Aug. 30) and trail mix (Aug. 31).  
Expect Some History, Celebration Tips, Even Recipes
Since 2015, ideas for many of these special occasions have come from fans. The site receives some 20,000 submissions a year, Anderson said, and he and his staff — about a dozen people, spread across the country — accept only between 20-25.
"We try to weed out submissions for personal days," he said. "Say somebody proposes we set up a National Bob Day for 'the greatest guy in the world.' Often, by the time we send a rejection letter four to six weeks later, the relationship has ended, so it's just as well."
The proposal for Sneak Some Zucchini Into Your Neighbor's Porch Day (Aug. 8) did make the cut. "That's a popular day," Anderson said. "When people decide to grow zucchini for the first time, sometimes they buy three plants, and by August, everyone is trying to give away zucchini."
The page includes fun food facts and recipes, but don't confuse it with National Zucchini Bread Day (April 25). There, readers will find this tip: "Dip into your freezer stash from last year's bumper crop and bake the day away." Anderson's wife, Alice, is behind many of the holidays celebrating food, and she also serves as co-founder and chief financial officer.
The proposal for Sneak Some Zucchini Into Your Neighbor's Porch Day (Aug.8) did make the cut. "That's a popular day."
Some of the historic observances date back to official pronouncements from former presidents or Congressional legislators and some have come from yellowed newspaper clippings submitted by fans. "About four years ago, we started designating dates to honor the states, based on when they entered the union," Anderson said.
Some days have uncertain origins. That's true of National Popcorn Day, which shares January 19 with World Quark Day. (That's a European superfood.) "Back in 2012, when there were about 40 or 50 national 'days,' I tried to find out how National Popcorn Day began," Anderson recalled. "I wrote a blog about that."
At the time, Anderson was busy building websites and digitizing video tape and film and putting them online. "I'd go home from work, switch invisible hats, do some research and write another post. Eventually, that led to the launch of the National Day Calendar  in 2013 — but I never did find out how National Popcorn Day started."
Anderson added that he has no information on the origins of about 400 other days listed on his site, though it has become a source for that kind of information. The National Day Calendar is said to reach "hundreds of millions" through social media and more than 20,000 media outlets check in so they can report to their audiences what to celebrate on any given day.
First Just a Hobby; Now an Inspiration
Interested in technology since he grew up in Des Lacs (near Minot), Anderson has created several start-ups and been directly involved in the creation of Pakkage, Talking Trail, Zoovio, Awesome 2 Products and Q1 Network. For a while, busy with tech companies, he considered his side gig listing celebration days as trivial, something just for fun. As the following grew, he changed his mind.
"This was just my hobby at first. Then people started telling us what the list of days meant to them."
"This was just my hobby at first," Anderson said. "Then people started telling us what the list of days meant to them. I still have the first letter I got, and if I'm having a down day, I pull it out of my wallet and read it. That makes me realize once again that something so simple can have an important impact on a lot of people."
Anderson serves as the host for several radio shows, including "The Tech Ranch" and the award-winning "Celebrate Every Day." He produces a one-minute video vignette each day for lifestyle and morning news shows. And he also is working with a major cable company on "Destination Celebration," a show he will co-host with entrepreneur Latoya Johnson that will explore holiday observances around the country.
"I met Latoya at an event in Las Vegas, where I learned about her work with Village of Becoming, an organization that helps mentor young people aging out of foster care," Anderson said. "She's my polar opposite when it comes to personality. My idea of celebrating National Pizza Party Day is low key — maybe I'll go out and eat pizza — but Latoya takes everything to another level, and 'Destination Celebration' will be a great show."
So what did Anderson do on July 24 to celebrate National Drive-Thru Day? "After I got a haircut, I drove through Culver's to pick up lunch," he said.
And what about National Tequila Day? Anderson laughed and said, "Maybe later — we do try to celebrate at least one occasion every day."
Patricia Corrigan
is a professional journalist, with decades of experience as a reporter and columnist at a metropolitan daily newspaper, and also a book author. She has written for Next Avenue since February 2015. Read more from Patricia at latetothehaight.blogspot.com.
Read More