8 Tips for Finding a Home for Your Elderly Parents
A recent FTC action underscores the need to do your homework before letting your parents move to a facility
Grrr … I hate it when companies deliberately mislead people. And I especially hate it when that deception comes at a vulnerable time in your life — or, even worse, in your  parents' lives.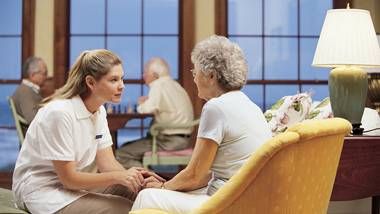 That's why I am particularly disturbed by a recent Federal Trade Commission (FTC)complaint against two firms that recommend assisted-living facilities to consumers: CarePatrol, based in Gilbert, Ariz., and ABCSP (which also operates under the name Always Best Care), based in Roseville, Calif.
Misleading Claims of Eldercare Consultants
The websites of these companies claimed their employees had detailed, personal knowledge about the assisted-living homes. But the FTC says they didn't and, as a result, misled consumers about their expertise and knowledge. While not admitting wrongdoing, both businesses have settled the FTC's charges, promising not to make false or unsubstantiated claims for the next 20 years. 

According to the FTC complaint, CarePatrol claimed on its site that it graded "each and every facility" from A to F, based on the latest state survey. The company also said that its local senior care consultants "pre-screen every home we recommend," looking "beyond the chandeliers and fancy lobbies to monitor each community's care history and state violations so we can recommend the safest options for your loved ones." In truth, the FTC said, the company didn't monitor or grade any facilities in most states and didn't have senior care consultants in every state it operates in.  
 
 
Similarly, ABCSP said it "visits or evaluates most every facility" in the markets it operates to match the person in need of care "with the top three or four most appropriate living options based upon individual needs, custom screening and available budgets." But the FTC said ABSCP's placements aren't based on its employees' personal knowledge of all the facilities "or a substantial majority" in a given area. Since there are at least 39,000 assisted-living facilities in the United States and thousands more smaller, residential care homes, claiming to know all the senior facilities in the country would be nearly impossible.

Two Lessons From the FTC

If you need to weigh living and care options for your parents, the FTC action offers two lessons.
 
First, in the words of Ronald Reagan, "Trust but verify." You should be leery of all promotional claims made by eldercare consultants and check them out. Don't believe any promise of a quick and easy solution to finding the right facility for your parents.
 
The second lesson: Don't rely on a single source when selecting a facility.
 
"Lots of consumers want a quick solution for finding the right place for their parents," says David Spiegel, an FTC attorney who was the lead attorney in the CarePatrol and ABCSP cases. "Unfortunately, you have to use more than one tool if you want to be in a real comfort zone when you place your loved one in any eldercare facility."

Free Tools to Find an Eldercare Facility
Fortunately, there are plenty of helpful tools, as eldercare consultant Carolyn Rosenblatt pointed out in her Forbes blog, "Free Resource for Your Aging Parents and You."
A few sites worth checking out:
 
 
8 Tips to Help You and Your Parents

I also have eight tips of my own to help you find the right eldercare facility for your parents:
 
1. Figure out what type of place your parents need and what your family can afford. The most common options include adult day care for socialization and some daily-living supervision; an assisted living facility that provides help with dressing, bathing and eating, but not intensive medical care; a nursing home with 24/7 health care as well as daily living assistance and an independent living facility. The monthly average cost ranges from $1,600 for adult day care to roughly $4,300 for assisted living to more than $8,800 for a nursing home, according to Genworth's cost of care survey.
 
2. Involve your parents in the decision, if they're up to it. You'll want to talk to them about, for example, whether it's important that the facility be faith-based. The Next Avenue article, "Matching the Right Services With a Person's Needs" can help you figure out what to discuss.
 
3. Before hiring an eldercare consultant, ask how he or she gets paid. Does the consultant's company receive a referral fee from the facility where your parents ultimately move? There may be nothing wrong with such a placement fee if your consultant is legit; it's kind of like using a reputable independent insurance agent to find the right policy. Ask for references.

 
4. Make sure a facility is a good fit for your parents socially. "If your father was a master sergeant, for example, you probably won't want to place him in a facility filled with retired officers, since they'll probably look down on him," says Byron Cordes, president of San Antonio's Sage Care management and also president of the National Association of Professional Geriatric Care Managers.
 
5. Conduct your own onsite inspection of any facility before signing up your parents. Visit several times and try to do it without the marketing person around, since his or her enthusiasm can color your perspective. Next Avenue has an article with advice on how to conduct the inspection: "What to Look for When Touring a Nursing Home."
 
Use your six senses. Cordes says: "Smell it, literally feel the surfaces, taste the food and listen to the sounds. Are there screamers? Then, use your sixth sense — your gut reaction. Does it seem the right place for your parents?"
 
6. Research the Medicare and state evaluations for the facilities you're considering. Start at Medicare's Nursing Home Compare site or ask the home for a copy of its evaluation. Don't just look for the sheer number of deficiencies; read the details about them. Some deficiencies, like no doctors available and incorrect dosages of medicine, are more serious than ones like a lack of paper towels.
 
7. Read the facility's contract carefully. It's a good idea to go through it several times, to keep future financial-obligation surprises to a minimum. You may want to ask your attorney, accountant or financial planner to review it, too.
 
8. Above all, plan ahead.  "Make sure you start looking at your options and opportunities before you're in a crisis," says Sandy Markwood, chief executive of the National Association of Area Agencies on Aging. "If you're in a crisis, there's no time to do the research."
Caroline Mayer
is a consumer reporter who spent 25 years working for The Washington Post, covering such issues as product safety, scams, and credit cards. Mayer has received several awards, including the Betty Furness Consumer Media Service Award. She has written for Consumer Reports, CBS MoneyWatch, Ladies Home Journal, Kaiser Health News and others. Follow her on Twitter @consumermayer
Read More