Assisted Living Now Topping $5,000 a Month In Some Places
A new survey, from A Place for Mom, shows costs outpacing inflation
Costs for rent and care at senior living communities across the country are going up, with southern and western states seeing the biggest percentage increases, a national housing referral service said Wednesday.
From 2014 to 2015, the median cost of rent and care at communities for older adults — independent living, assisted living and memory care centers — rose by $99 a month, according to newly released data from A Place for Mom. That's 1.5 times greater than inflation.
The organization has created an interactive tool that families can search to compare prices of care in various geographical areas and see trends. For example, the tool shows the median monthly cost for memory care in Chicago is $5,134. In Tallahassee, Fla., it's significantly cheaper: $4,091.
Wide Range of Costs
The chart below, of median monthly senior living costs, shows the most and least expensive cities for older adults in the 15 top market areas in the U.S.: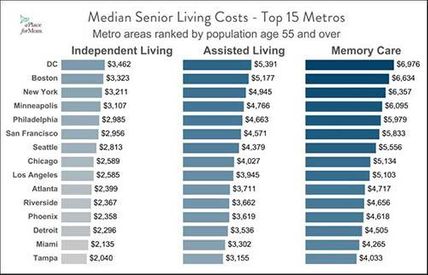 "What we're trying to do is put this information in consumers' hands so that they can better plan for the future," said Charlie Severn, vice president of brand marketing for A Place for Mom. "This is such a highly emotional subject for families, and when they have the ability to do the research up front and plan, ultimately it's a better outcome for families."
The tool might help an older adult determine whether to stay in his or her hometown or move to a more affordable area closer to grandchildren, for instance.
The chart here shows median costs per month by region:

Other Highlights
The analysis, called the National Senior Living Cost Index, revealed the following (the data pertain to the three primary types of housing: independent living, assisted living and memory care):
The median monthly price hike between 2014 and 2015 was much higher (7 percent) in the overall housing market, according to Redfin, although senior communities are, on average, far more expensive. That could bode well for older adults who sell their homes to finance a move to a senior community, Severn said.
Communities for older adults in southern and western states saw larger increases in monthly rates: 4 percent in the south and 2.7 percent in the west.
The recession "hit independent living communities the hardest," perhaps because older adults delayed selling their homes, the analysis said.
Older adults are waiting longer to move into senior living communities.
Washington, D.C., Boston and New York are the top three priciest metropolitan areas for older adult living.
Where the Numbers Came From
The index was developed in partnership with Matthew Harris, an assistant professor of economics at the University of Tennessee. It tracks data from 2012 to 2015 based on a representative sample of 100,000 move-ins to more than 10,000 senior living communities.
Those may include 55+ retirement communities, but Severn said the vast majority of residents in the three categories of housing they studied are 65 or older.
A Place for Mom describes itself as the nation's largest senior living referral service. Local advisers in its network refer more than 200,000 families each year to older adult living communities in their area. The facilities then pay A Place for Mom a portion of the first month's rent. (The index presented Wednesday was created with data calculated from those payments.)
"In the conversations we have with families every day, many of them are unprepared for this transition," Severn said. "They don't understand the costs, they don't understand the care types available to them, and they don't understand what's available in their own geography."
That certainly corresponds with other research Next Avenue has seen. The new index appears to be a potentially valuable tool to help families get more of that vital knowledge.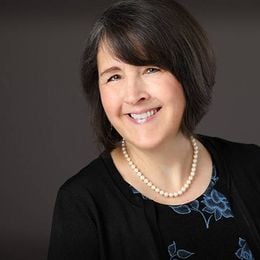 Emily Gurnon
is the former Senior Content Editor covering health and caregiving for Next Avenue. Her stories include a series of articles on guardianship abuse that was funded by the Journalists in Aging Fellows Program. She previously spent 20 years as an award-winning newspaper reporter in the San Francisco Bay Area and St. Paul. Reach her through her website.
Read More