Confessions of a Lifelong Sports Fan
Why have I wasted so much of my life rooting for teams of players I've never even met?
I must be an idiot.
Anyone who spends so much of his or her life, like me, sitting in front of a television set, watching complete strangers dribble a basketball, shoot a puck, score a touchdown or swat a home run must have some, uh, issues.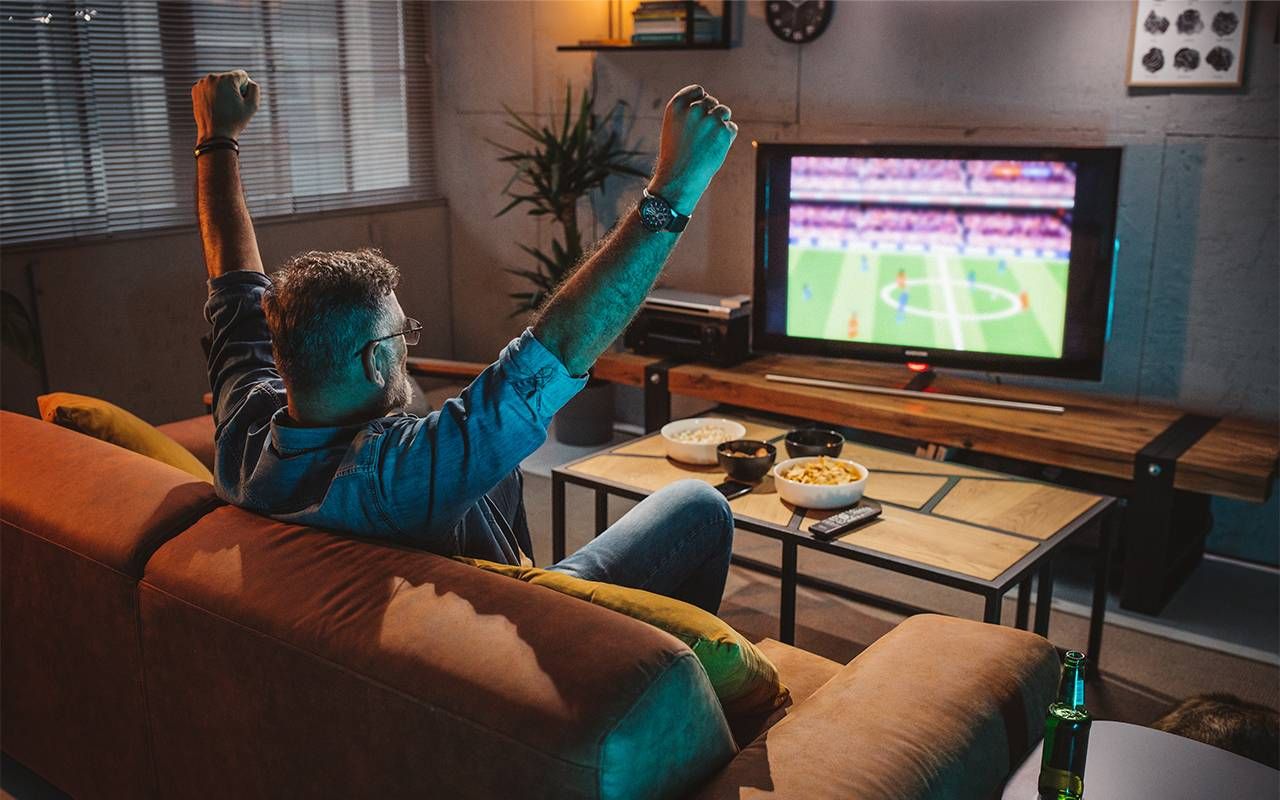 Not to mention the thousands and thousands of dollars that I have forked over to watch sports teams in person.
As far as having emotional connections to sports, I don't know anyone who runs a team or plays for one.
After all, it is not like I benefit from this pastime in any tangible manner, either. Regarding any potential financial gains, fuhgeddaboutit! I don't gamble on the games, so I won't make any money from my interest. As far as having emotional connections to sports, I don't know anyone who runs a team or plays for one.
How Else I Could Spend My Time
Think about it. I could be improving my life in so many life-affirming ways. I could finally finish writing my Mediocre American Novel, a passion project of mine for many years. I could volunteer for important non-profit organizations. I could raise money for essential societal causes. I could canvass for politicians I believed in.
I could binge-watch all of those groovy TV series on Netflix and Amazon Prime and Hulu and Apple TV, the programs that the "cool" kids on social media prattle on about.
I could catch up on "Game of Thrones" and "Mad Men" and "The Walking Dead," all of the great Bob Odenkirk's series and the rest of the wildly popular shows that I somehow missed following because I was — you guessed it — watching some sports event instead.
I could go on day trips to the country.
Heck, I could dribble a basketball now and then and stay in better physical shape! When all else fails, I could do something I loved to do when I was young and carefree — namely, I could sit down and read a book.
But nooooo, as John Belushi used to bleat on "Saturday Night Live." I'm watching sports.
One View: Sports Give You Joy
Jennifer B. Naidich, a clinical psychologist in New York City, takes a different tack about why people love to root for sports teams: "Being a sports fan gives you joy and happiness."
Naidich, who specializes in cognitive-behavioral therapy and has treated people with addictive personalities, cited four reasons why we root for teams:
It gives us a sense of community, just as in other group activities, such as going to a concert.
It gives us a sense of belonging to something, which we're all searching for.
Sports events are exciting. They give us a rush of adrenaline because we don't know how each play, each game and each season will end.
We admire greatness — and athletes possess abilities that most of us will never achieve in our lifetimes.
She is right on the mark, in my experience. Each of these reasons rings a loud bell with me.
Fans = Fanatics
You can't have a "fanatic" without a "fan."
The logical outgrowth of rooting for teams is to want to be a part of the action. So, we engage in fantasy-sports leagues of our own. Yesterday's fan becomes today's mock-owner.
"For some reason, (fans) will go to games year after year and feel they have an effect on the outcome."
But why root for a team that disappoints us year after year? For example, the New York Jets, an organization that last won a Super Bowl game on Jan. 12, 1969, traded for Aaron Rodgers, one of the greatest quarterbacks in National Football League, before the start of the upcoming season.
Naturally, ecstatic Jets fans have visions of a championship dancing in their heads, even though the perennially woeful franchise remains a big underdog to win the next Super Bowl.
"Why do we root for an underdog?" Naidich asked rhetorically. "Because fans want to have an us-against-them mentality. They are eternal optimists, and they always see the glass as half-full. For some reason, they will go to games year after year and feel they have an effect on the outcome."
Naidich is amused by the tragicomic plight of diehard sports fans who go so far as to attend games while wearing replicas of their teams' uniforms.
Rooting for Laundry
To top it off — confirming my status as an idiot and a sports fan — I really do care, way too much, about the athletes, teams and scores. Jerry Seinfeld, a Long Island native and lifelong New York Mets fan, once sagely pointed out that we sports fans mostly care about "the laundry."
By that, Seinfeld referred to the uniforms of our heroes. He observed that players routinely come and go — a team's heroes one year often jump to rival teams the next year. Coaches, managers and even team owners rarely outlast hardcore fans. The only constant is the team uniform, which is why Seinfeld jokes that fans really root for laundry.
Of course, Jerry is correct. And where did I hear him express this profound sentiment, by the way? It was when he appeared on WFAN, the all-sports radio station in my hometown of New York City.
And how does following sports enrich my understanding of society or culture or economics or politics? It's hard to say, which may be why the bombastic broadcaster Howard Cosell used to call the sports section of a newspaper "the toy department."
In the most bitter irony I have ever experienced, I was watching an utterly irrelevant Monday Night Football game between the New England Patriots and Miami Dolphins on Dec. 8, 1980, when I learned that John Lennon, my pop culture hero, had been shot and killed in Manhattan. Cosell broke the still-unthinkable news.
New Season, New Hope
Meanwhile, here I am, in the thick of blissfully cheering for my hometown New York Yankees and Mets, two baseball teams having very disappointing 2023 seasons. The Giants, my favorite NFL team, and the Jets, which I tolerate, are about to go to training camp. Sports bookmakers in Las Vegas do not love their chances of winning a championship this season.
The New York Rangers of the National Hockey League and New York Knicks of the National Basketball Association are gearing up for new seasons, although neither resembles a championship favorite.
Woe is me.
Say, can anyone recommend a book that I should be reading?
Jon Friedman

Jon Friedman, who teaches The Beatles: Their Music, Influence and Legacy at Stony Brook University, is the author of the Miniver Press ebook "Goo Goo Ga Joob: Why I Am the Walrus Is The Beatles' Greatest Song."
Read More