Connecting the Generations
Trish Lopez, founder of Teeniors, and Joy Zhang and Madeline Dangerfield-Cha, co-founders of Mon Ami, have developed essential resources for bringing older and younger people together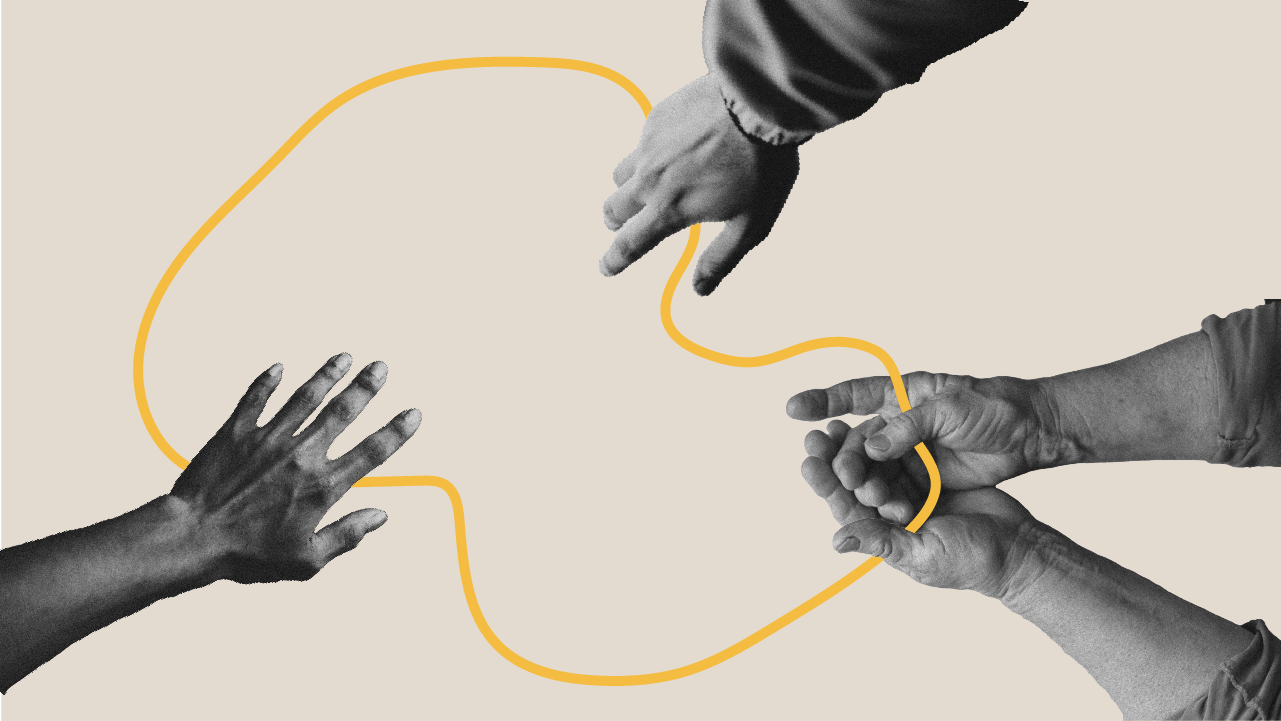 Name a few words to describe the characteristics of older adults. How about wise, compassionate, knowledgeable, appreciative and resourceful?
To describe the characteristics of younger people, what words would you use?
For Trish Lopez, 43, founder of Teeniors, and Joy Zhang and Madeline Dangerfield-Cha, both in their early 30s and co-founders of Mon Ami, the words would likely be the very same ones.
These two organizations, Teeniors and Mon Ami, were both founded on the premise that in today's world, older and younger people have a strong need to care for each other, learn from and understand one another and build communities where a person's age doesn't matter. Only the person matters.
As the COVID-19 pandemic demonstrated, people have a need and desire to be together. Across the generations, feelings of loneliness and isolation challenged many.
As Zhang and Dangerfield-Cha wrote in a May 2021 report for the Stanford Social Innovation Review: "In the U.S., more than ¼ of people over age 60 live alone, according to a Pew Research Study, and more than 43% reported feeling lonely even before the COVID-19 pandemic…Younger people suffer from loneliness, too. In fact, those aged 18 to 22 have the highest loneliness scores, a recent survey found that being a student correlates heavily with scoring high on the Cigna US Loneliness Index."
According to the results of a study done by Generations United in 2021, "92% of Americans believe intergenerational activities can help reduce loneliness across all ages." Nearly 8 of 10 adults want to spend time with people outside their own age group, the study showed.
Generation United's research demonstrates the benefits to each group are multi-faceted and overlapping: skill building, improved quality of life, increased confidence, civic engagement and leadership, and a stronger sense of purpose, just to name a few.
Trish Lopez and Joy Zhang and Madeline Dangerfield-Cha have recognized and studied all of these valuable precepts, and successfully put them into action. The impact of their organizations on the communities they serve is truly transforming connections — and they are growing all the time.
Meet Lopez, Zhang and Dangerfield-Cha here and learn more about their valuable work.
Trish Lopez, Founder of Teeniors
Trish Lopez remembers the moment she realized that the reward of launching her startup, Teeniors, where teenagers and young adults offer technology lessons to older adults, was worth far more than the risk.
It was in 2015, at a senior center in Albuquerque, N.M., where the organization is based, six months into the start of Lopez's business. It was also a time when she wondered how Teeniors would succeed, as she was still paying student coaches out of her own pocket (more on them later).
Lopez was there to meet with a group of older adults who had participated in a Teeniors technology workshop and survey them about their experience.
"I'm very big on measuring what matters. And what matters to me most is people."
"I'm very big on measuring what matters," she said. "And what matters to me most is people."
Lopez approached a woman and asked her what Teeniors could do to improve their service to older adults; how could the young coaches better teach the older adults how to use their smartphones, iPads and computers?
"She just started crying," Lopez recalled. "Her Teenior, Katie, was a first-time coach, and she was standing there and crying, too. 'I can't tell you what this experience has been like for me,' the woman told me. 'You welcomed me from the moment I walked in and you didn't make me feel stupid or condescended to.' And then she said, 'Someone will actually help us and not yell at us. I hope you realize the impact of what you're doing here for people like me.'"
Lopez smiled. "To this day, I'll always remember that. Not only was it such a personal and vulnerable moment for me to see, it inspired me to keep going," she noted.
The Idea for Teeniors Rose to the Top
Earlier that year, Lopez, who previously worked in the film industry in New Mexico and on the West Coast, attended the first-ever Startup Weekend Women's Edition in Albuquerque with no agenda and no idea about a business.
"I heard everyone pitching ideas, but they were mostly about apps. Everything I saw was an app. Because I'm so big on human connection, I didn't understand that," she said. "I said I would love to see more youth working with elders and I can think of a million ways they could do that."
Of the 25 ideas pitched that day, eight rose to the top; those in attendance worked together over the weekend to fine-tune the ideas and Lopez credits "an amazing group of strangers, younger and older" with helping her proposal for an in-person instructional tech program ultimately emerge the winner.
After that, she was approached by a local business accelerator (an organization providing support to startups), offering encouragement to apply for funding. She did, and that $20,000 helped launch Teeniors.
There is a charge for the services Teeniors provides: private one-on one coaching sessions are $49.95 per hour; $39.95 for virtual sessions. In 2017, working with Blue Cross Blue Shield as its fiscal sponsor, Teeniors also developed a nonprofit arm, allowing it to provide the service free to low-income adults.
Teens See Real World Implications of Their Work
Topics covered by Teeniors address a wide range of needs that older adults have: how to use a cell phone or computer; how to order groceries online, pay bills or refill prescriptions; how to send emails, texts and photos; how to use social media or Zoom and even how to make a podcast.
On the Teeniors YouTube channel, there are several free instructional videos on everything from mastering Instagram and Twitter to learning about LinkedIn.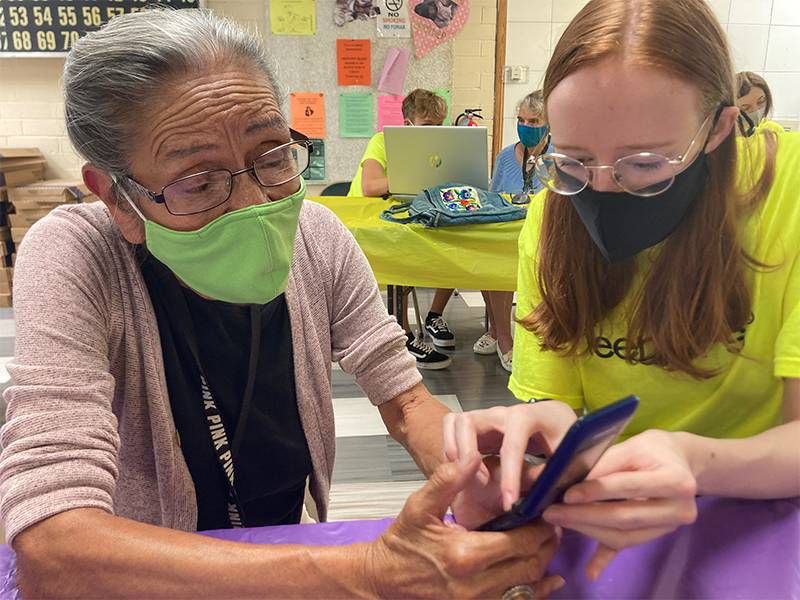 The digital natives teaching these skills make up a diverse team, said Lopez, hailing from public, private and charter schools, as well as home-schooled students. The majority of the Teeniors who work in these part-time, paid positions are 16 to 19, and there are also young adults, ranging in age from 20 to 24.
The common denominator is how being a Teeniors coach makes them feel.
"They love the work because they go from being underestimated to being the most valued person in the room. They are the teachers," Lopez said.
This is where Lopez's surveys tell the tale. As she has discovered, the Teeniors "see the real-world implications of what they are doing" in their role:
90% of Teeniors report feeling "absolutely valued at work
84% of Teeniors feel that "hardships in [their] life (i.e. depression, low self-esteem, low self- confidence or family/relationship issues) have been improved by virtue of their work as a Teeniors coach
And 100% of Teeniors feel they have "better economic opportunities on their horizon now than before they started working for Teeniors (i.e. stronger resumé, ability to apply for jobs / internships, potential for recommendation letter(s), earning more money and better job prospects)"
Teeniors coach either in person, at the client's home (only coaches over 18), the Teeniors' office or online – which is what they were doing exclusively during the pandemic, Lopez said. 
A key element to the program is the level of engagement between the young coach and the older adult. "Our job is not to do the work for them; it's to empower them to learn," Lopez explained.
The first step: the Teenior never holds the device – the client always does — and it's important for the Teenior to show the older adult they are mastering the skills.
"For example, if they are working on texting, the Teenior will text their phone number to the client and say, 'I'm going to the other side of the room. I'm going to wait for your text,'" said Lopez, adding it's always stressed to clients that they can take all the time they need.
Powerful Stories Have Emerged
Learning how the technology works is just a means to a much more important end, as Lopez has discovered, saying she has "countless stories" from older adults whose lives have been changed by what the young people teach them, including an especially poignant anecdote from an African woman who learned to use What's App (a voice and texting platform).
"Our job is not to do the work for them; it's to empower them to learn."
"Shortly after she and her husband moved here, he died suddenly. She was alone, knew no one, and didn't know how to reach her family in Africa," Lopez said.
The woman contacted Lopez not long after her Teeniors session, in tears. "She told me, 'I don't have to take pills for depression anymore. I can communicate.' It was so powerful," Lopez said.
Lopez's goal is to continue to see Teeniors grow across the country. During the pandemic, the organization was able to extend its online reach, but as Lopez has discovered, most people benefit from in-person coaching.
Actually, just from being in-person altogether.
"So many of our older adults have never even met a teenager before. We tend to think that people have kids and grandkids around them, but there are many who don't," Lopez said. "And a lot of our kids here have never met anyone over sixty."
"There's a lot of impact in ways we can't measure," she added.
Two Questions About Aging for Trish Lopez
If you could change one thing about aging in America, what would it be?
I would ask people to open their eyes to the isolation and loneliness that older adults experience every day in our society, and then create a more inclusive culture. Ageism has been an accepted prejudice up to this point — we can change that and set the example for younger generations.

How has the COVID-19 pandemic changed your perspective on aging?
COVID helped me to better understand the general public's lack of awareness around not only aging, but also poverty and isolation. I was encouraged by the public reaction to how many schoolkids lacked access to broadband, while also disheartened by how many seniors remain invisible. Conversations around diversity and inclusion can encompass their underrepresentation as well.
Joy Zhang and Madeline Dangerfield-Cha, Co-founders of Mon Ami
Joy Zhang and Madeline Dangerfield-Cha, co-founders of Mon Ami ("my friend" in French) began their professional partnership as friends. The pair first met as students at the Stanford Graduate School of Business on a pre-orientation trip, around a campfire at Lake Tahoe.
"We connected as friends first and as we got to know one another, we found we had a sense of shared values," said Zhang.
One of those essential values is the importance of connecting the generations. And through Mon Ami, Zhang (an Encore Public Voices Fellow who was part of the Innovation for Aging team with the World Health Organization) and Dangerfield-Cha (who has a background in marketing and education with the media services firm Essence Digital), are doing just that.
Along with Steve Fram, they created Mon Ami in 2018. Initially, the program offered a tech platform limited to their nearby community, matching older adults with Stanford students who would spend time together in activities such as daily walks, board games and memoir writing.
Finding willing participants wasn't difficult.
"We did focus groups and surveys with students and sent emails to an undergraduate mailing list," said Zhang. "We asked if they would like to spend time with an older person, and by the way, we said, it would be really helpful to families. We got an overwhelming response from students who wanted to be involved."
"Spending time with older people is a reminder that human connection in its purest form is all you need."
Families paid $25 per hour, and in turn received a caregiving respite, taking comfort in knowing their loved one was forming a connection with a caring and committed student (vetted by Mon Ami).
Zhang said she and Dangerfield-Cha heard many stories from the young people about how they had really "fallen in love" with the older adult they were serving.
"One story was from a college student, who was studying art. She visited a woman in a retirement community who had the beginnings of dementia. Over the course of two or three years, her dementia worsened, but what they connected over was painting – the woman had been painting her whole life," said Zhang, adding that the two did paintings and portraits of one another, even when the woman lost her communication skills.
The woman died during the pandemic and her family invited the student to speak at a memorial service. "They had a really beautiful relationship," said Zhang.
Targeting Loneliness and Isolation
Connections like that can have a positive effect on younger and older people alike.
In the article about Mon Ami that Zhang and Dangerfield-Cha wrote for the Stanford Social Innovation Review, called "Solving the Loneliness Epidemic, Two Generations at a Time," they addressed the prevalence of loneliness in our society today.
According to Dangerfield-Cha, finding a way to bring these two groups together is mutually beneficial.
"When I think of the isolation and loneliness of the pandemic, and the time before that, it is so easy for young people to get caught up in achieving certain goals or feeling pressure from comparing themselves to their peers, and being on social media – it all creates an echo chamber of not being enough," she said. "Spending time with older people is a reminder that human connection in its purest form is all you need."
More Friends for Mon Ami
Recognizing broader needs when it comes to connecting the generations, in October 2019, Mon Ami raised $3.4 million from two venture capital groups to expand the company – more staff was hired, and the tech platform expanded.
In March 2020, Mon Ami reached a milestone – Bay Area college students had "provided more than 10,000 hours of companionship to older adults in their homes and assisted living facilities," they wrote in the Stanford Journal piece.
"For me, when I go through something challenging, the best mentor is my seventy-year-old self."
This coincided with the start of the pandemic: At the time, Mon Ami began forming partnerships with nonprofits and local governments that implemented Mon Ami's platform to better serve populations facing greater need due to lockdown.
And later that year, Mon Ami licensed its technology, along with its staff expertise, so the intergenerational program could be more widely replicated. To date, Mon Ami is in 12 states, including California, Oregon and Utah.
"Our technology is being used by nonprofits and public offices serving seniors across the country," said Dangerfield-Cha. "They've implemented direct-service delivery of prescriptions, groceries and emergency assistance when it's been needed most during the pandemic. It's allowed them to work more efficiently and add a lot of outcomes focused on the way they track and record their services."
"It has been an incredible privilege to make a difference in a time of need," she added.
How They See Aging Now
When asked if their work in this field has changed their perspectives on aging, both Zhang and Dangerfield-Cha (a new mother) agreed that it has.
Zhang began volunteering in care communities as a high-schooler, and calls her time as a hospice volunteer "really the most rewarding experience I've ever had."
Working with older people from a young age has shifted her perspective on her own life.
"The thing that's always struck me was when I'd have conversations with older adults and the memories of what had been good in their lives stood out, and the stresses seemed insignificant to them," Zhang said. "For me, when I go through something challenging, the best mentor is my seventy-year-old self."
She continued, "I ask myself, 'What would my seventy-year-old self do?' and the answer is usually 'What a privilege that you're getting to experience what you're experiencing at the age of thirty-three. You're never going to have that again. If it's tough, treasure it, because it's part of life."
Dangerfield-Cha's view on aging has been informed by the woman she calls her best friend: her grandmother, whom she calls "Gaga," as well as her new role as a mom.
"I am feeling in new ways just how crucial it is to be connected to the generations before me," she said. "I know that is shared among mine and younger generations, especially in activism and social justice, looking to the elders in their communities to point a way forward with their wisdom."
Human Connections Matter
Zhang and Dangerfield-Cha agree with Teeniors' Lopez – technology is an amazing tool and a fantastic resource, but it can't replace the strength of human connection across the generations.
"We have a complicated view on the role technology plays for older adults," said Zhang. "From our vantage point, we see a lot of ways in which technology leaves people behind…people who lack the familiarity, and especially people with cognitive impairments." The need for a human element, she added, will always be there.
While Dangerfield-Cha is grateful for the technology that allowed her to talk to her Gaga every day during the pandemic (on the video-calling app Google Duo), she is wary of how the push toward technology could have other impacts on communities.
"I really worry that [technology costs] will eat up resources that might be spent on building those one-on-one personal connections that we know are so crucial to our health and well-being," Dangerfield-Cha said.
Two Questions About Aging for Joy Zhang and Madeline Dangerfield-Cha
If you could change one thing about aging in America, what would it be?
We've volunteered in hospice and dementia care. We've interviewed hundreds of caregivers. We've cared for caregivers. We are forever changed by bearing witness to the severe pain and isolation that Alzheimer's and other dementias create. If we could wave a magic wand, we would of course wish for a cure. In the meantime, though, these families deserve all the support, both emotional and practical, that our society can muster.

How has the COVID-19 pandemic changed your perspective on aging?
Even though we started a technology company, COVID-19 has reinforced the exclusionary nature of today's apps and devices to people with cognitive impairments. The switch to virtual did not bring everyone along. We must not leave them behind when it comes to new programs and services developed in the next decade.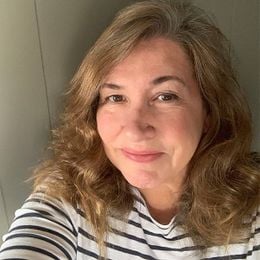 Julie Pfitzinger
is the managing editor for Next Avenue and senior editor for lifestyle coverage. Her journalism career has included feature writing for the Star-Tribune, as well as several local parenting and lifestyle publications, all in the Twin Cities area. Julie also served as managing editor for nine local community lifestyle magazines. She joined Next Avenue in October 2017. Reach her by email at [email protected].
Read More