'Being Yourself at Any Age Is Priceless'
Silver Disobedience influencer Dian Griesel on aging, priorities and surprise selfies
If you are on Instagram, chances are good that you've come across Silver Disobedience (@SilverDisobedience) blog posts featuring model and 50+ influencer Dian Griesel. In fact, you may be one of her 167,000 followers. In images shot in multiple locations around New York City, where she lives, Griesel, 59, always looks casually chic, wearing a confident smile telegraphing the impression that her moment is now.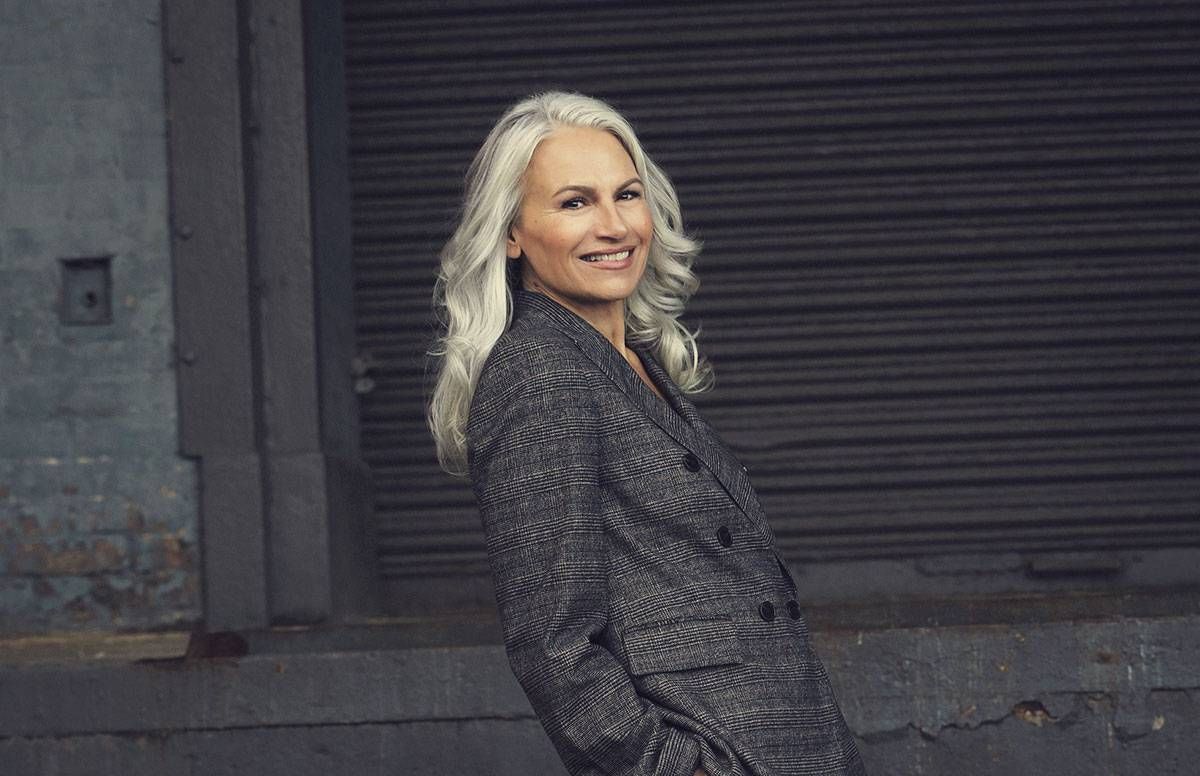 And that's true: beginning this month, Griesel, a Wilhelmina Icon model, will be featured in a new Lancôme campaign. Last year, she released The Silver Disobedience Playbook: 365 Inspirations for Living and Loving Agelessly. And her website, launched in 2017, offers her personal insights on creativity, health, philosophy, spirituality and more, in addition to featuring her daily blog post, read by more than 2 million followers.
Griesel, who is married with two teenagers, is also a certified counselor, president of DGI Companies, and serves as a consultant to multiple companies as a perception analyst, offering  expertise on marketing to an older demographic. She's been a panelist at SxSW (South by SouthWest), and was selected by AARP as one of its Age Disruptors.
"Everything you've done at every stage of life adds up to your total big picture."
In a recent phone conversation, Griesel, whose friendly voice brims with enthusiasm, talked about life both behind and in front of the camera. And she's quick to note that it's not just her moment, but a moment for all women over 50, because perceptions are slowly changing about what an older woman "looks like."
At the same time, Griesel prefers to call herself "a guide, not a guru" when it comes to embracing aging. "We're all going through the same emotions," she says. "We all have the same insecurities. It's universal."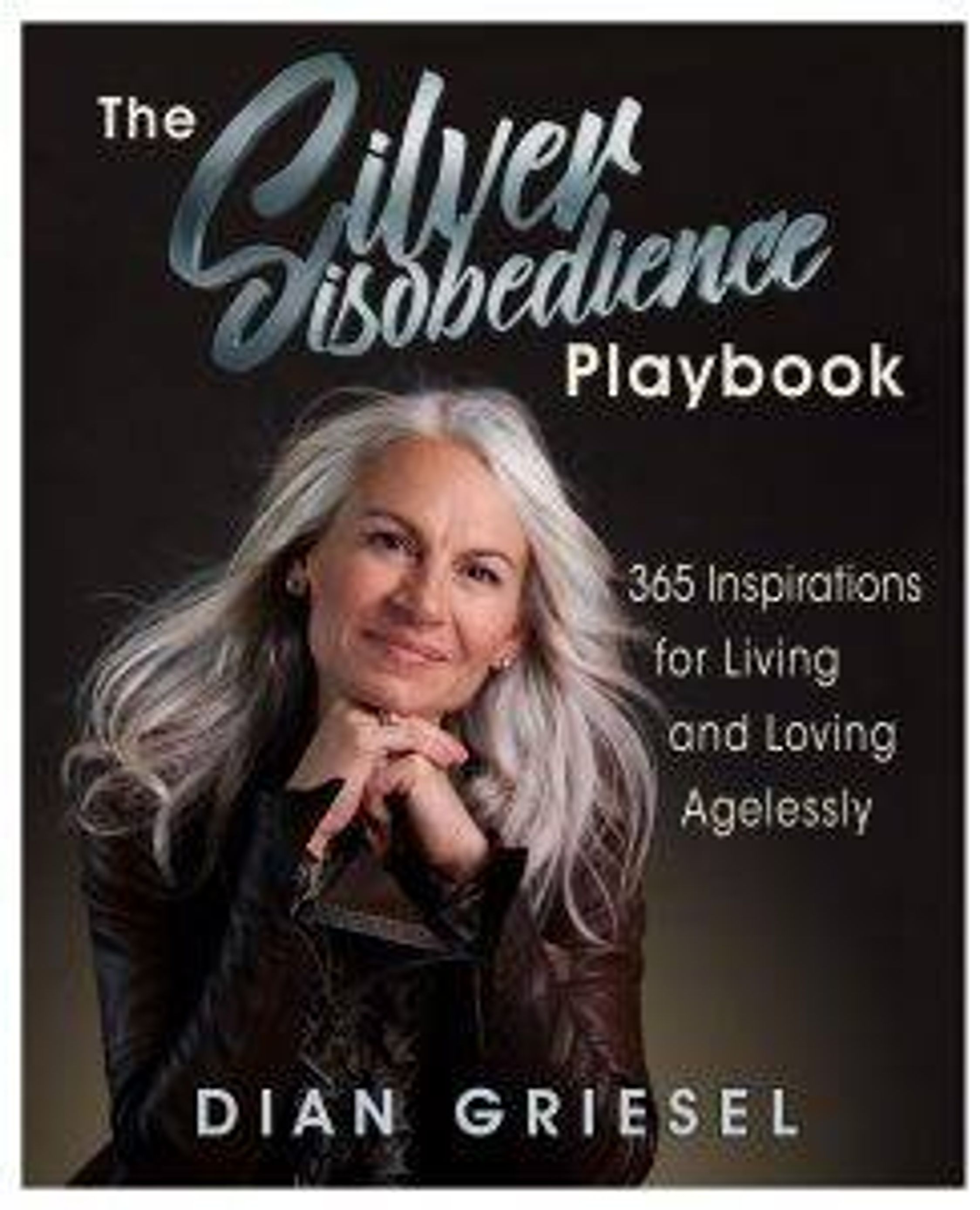 Julie Pfitzinger: How did you arrive at the moniker Silver Disobedience?
Dian Griesel: I love double entendres and wordplay. I have silvery white hair, of course, but I also wanted the name to represent a philosophical rebellion. Or a peaceful movement that would refuse the notion that anyone becomes irrelevant or obsolete.
Adults worry about becoming irrelevant in the workplace and in the larger world, but I have two teenagers, and they say that the worst insult teens can use against each other is to accuse someone of being irrelevant. Nobody wants that, and it doesn't matter what age you are.
You've had many successful careers so far, and something you believe is of primary importance is challenging ourselves and staying engaged. In what ways?
We have to prioritize our health because we need strong, healthy bodies. This means eating well, managing our stress, staying hydrated. We need to stay social and spend time with others — that's also a priority.
I also want people to challenge themselves to find out what really makes them happy. What do you do that you enjoy so much that you lose track of time while you're doing it? Is it knitting? Writing? Painting? I believe it's something you discover that you have such a great passion for that you really go into your own world while you're doing it.
A line from one of your blog posts reads: 'Being young is great. Being yourself at any age is priceless.' Tell me more about this.

From the moment we were born, our physical being has been aging. And we need to honor it all the way through and not be afraid to be ourselves, exactly as we are.
Everything you've done at every stage of life adds up to your total big picture. We're never 'just' anything; it's part of a whole. We don't give ourselves credit for what we have learned. We've all collected so many different skills and experiences.
As a working model and an Instagram influencer, your days must be very busy. Can you talk a little about your workflow?
I'm an early riser and up way ahead of everyone in the house; it's a really peaceful time to get a lot of work done. I send emails to my staff, and then I write my blog for the day. I choose the photo, post on Facebook and Pinterest and then post to Instagram. By that time, everyone in my house is awake!
Modeling puts a big twist in the day. Typically, you don't get your schedule for the next day until 5:30 or 6 p.m. the night before — and then I might find out I have to be on set by 6 a.m. the next morning.
With a daily Instagram presence, it would seem like you have to participate in a lot of photo shoots. How do those work? And where do you get the clothes?
Many of those photos are taken by professional photographers I've worked with, but I'll often have young photographers reach out and ask to work with me because they are trying to diversify their portfolios. I never thought a fifty-nine-year-old woman with silver hair could be a face of diversity! (Laughs)
So, I tell them: 'I'll give you my iPhone and we can shoot for two hours.' I bring a bunch of different outfits, we find a location and go. I pay everyone for their work, and I retain ownership of the photos. In a day, we might shoot eight hundred pictures, so I rotate a lot of clothes.
People might think I have a huge closet, but it's just the opposite. This is pretty much what I have: jeans, black leather pants, white blouse and a black leather jacket. I've had the same dress suit for twenty years. I do a lot of shopping at Goodwill, the Salvation Army and local thrift shops. I'm always on the lookout for cool jackets and scarves.
Are you frequently recognized in public?

It does happen. I walk for exercise all over the streets of New York City, and invariably somebody will say something to me. Sometimes I'll get tagged in someone else's Instagram post.
Not long ago, I was tagged in a selfie that was taken at a thrift shop; I was concentrating on something on a rack, and I was in the background of the photo. The young girl had drawn a heart around my head and the caption read, 'I hate myself, but my mom will love me forever!' (Laughs)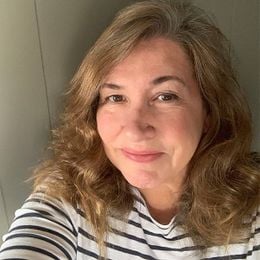 Julie Pfitzinger
is the managing editor for Next Avenue and senior editor for lifestyle coverage. Her journalism career has included feature writing for the Star-Tribune, as well as several local parenting and lifestyle publications, all in the Twin Cities area. Julie also served as managing editor for nine local community lifestyle magazines. She joined Next Avenue in October 2017. Reach her by email at [email protected].
Read More