How Musicians Are Bringing Joy During the Pandemic
Across the country, virtual concerts are helping people connect with music
Pueblo, Colo. guitarist and singer Tom Munch has performed everywhere from restaurants to dude ranches to the Royal Gorge Bridge, but nursing home concerts take up much of his time, accounting for 50 gigs a month.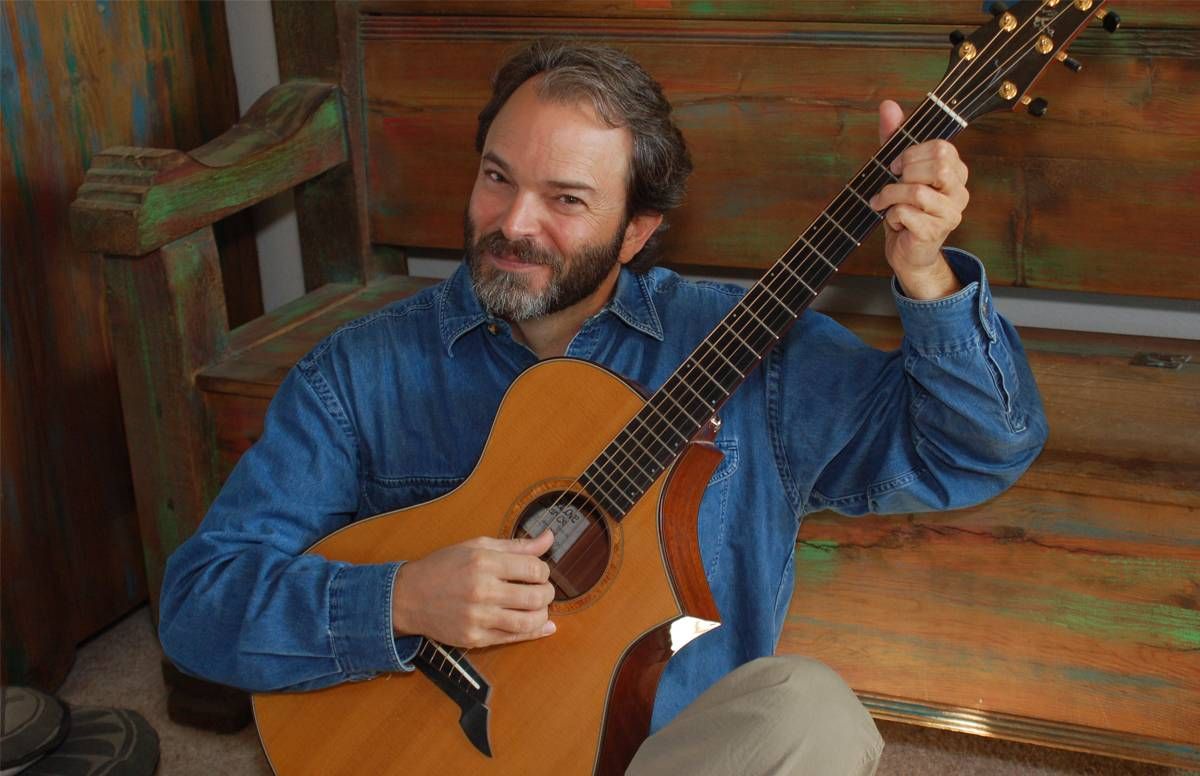 That all changed in March, as COVID-19 forced senior living facilities across the country to take ever more stringent steps to keep their residents safe. So Munch adapted, offering livestreamed concerts via Facebook Live. (It helped that he was already offering his fans living-room concerts on Facebook.)
Munch's most successful virtual concert to date served several dozen residents of the Spanish Peaks Veterans Community Living Center in Walsenburg, Colo. According to activities director Sophia Perez, the staff rotated residents through a common area (while maintaining social distancing) so they could watch the concert on a big-screen TV. Munch was even able to take requests via text.
"The residents loved it," Perez says. "They were clapping, they were happy, they were excited that they were remembered, that somebody took time out of their day to go above and beyond to bring that to them."
The concert also gave residents — and Munch himself — a break from increasingly dire headlines. "It's a real escape," Munch says. "For me, I totally forget what's going on once I'm in the flow of a song. It's kind of a dream that you dive into and you wake up on the other side of it."
Our Commitment to Covering the Coronavirus
We are committed to reliable reporting on the risks of the coronavirus and steps you can take to benefit you, your loved ones and others in your community. Read Next Avenue's Coronavirus Coverage.
Until the world wakes up on the other side of the COVID-19 pandemic, Munch is doing what he can to serve, even offering one-on-one virtual concerts for residents who are confined to their rooms.
He's not the only musician scrambling to continue supporting older adults during the pandemic. Here are other examples from around the country:
Tidewater Arts Outreach
Like most facilities, Cedar Manor Assisted Living in Chesapeake, Va., is in lockdown mode. But that didn't stop clarinetist Kate Powell and her cellist husband, Marc, from performing there on Friday, March 20. They didn't enter the facility, however.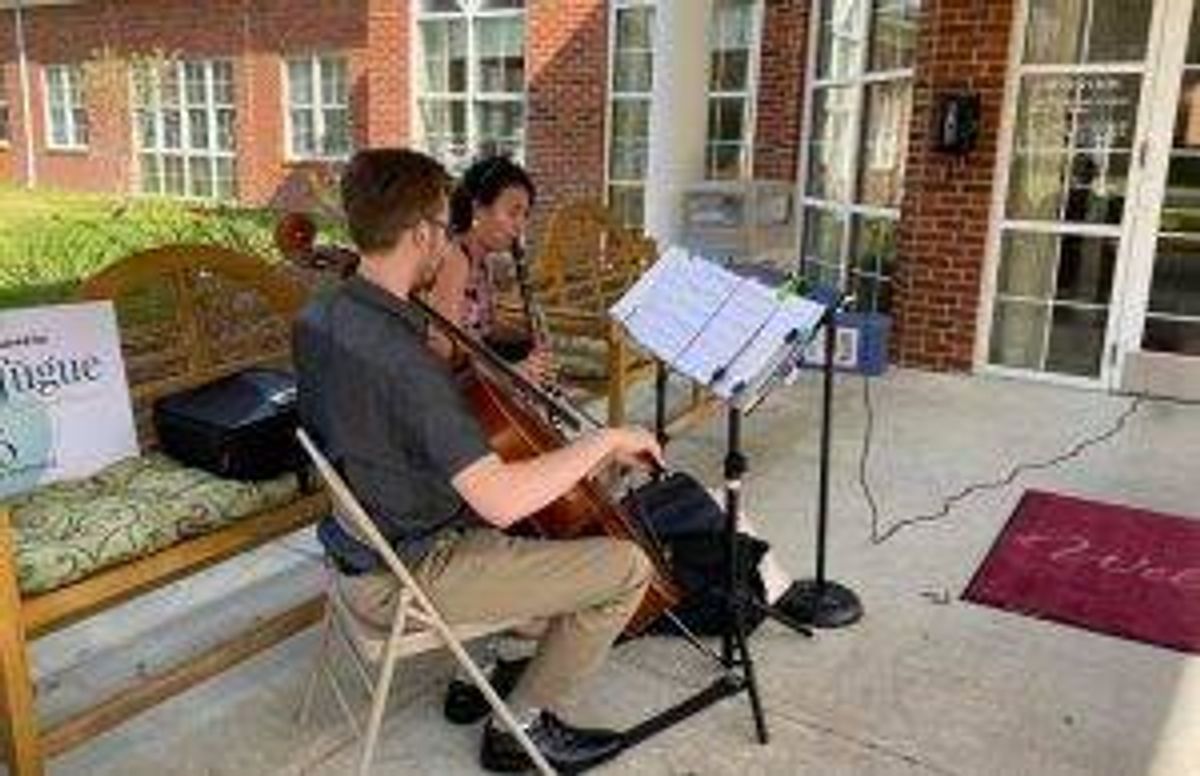 Instead, they played about 20 feet outside the front door, while residents sat in the foyer and listened through a makeshift sound system. "Playing to an audience that you can kind of barely see was very strange at first," Kate Powell says. "It ended up being super great. The administration said the residents were so excited that day."
So, too, were the Powells. "We keep saying that it was so good for both sides of the glass," Kate Powell says. "Musicians and artists, we have no audience right now."
The Powells' concert was a trial run for Tidewater Arts Outreach, where Kate Powell serves as director of development. The nonprofit sends a wide array of artists — including drama teams, dance troupes, poets and origami teachers — into dozens of senior living facilities each year.
"We keep saying that is was so good for both sides of the glass," Kate Powell says. "Musicians and artists, we have no audience right now."
Now, they're trying to figure out how to continue their programming in the COVID-19 era. "Obviously this works really well for music, but for some of our other artistic types, maybe not so much," Kate Powell says. "We're still looking at what that would look like for a visual artist."
But the group is committed to remaining engaged with people who are socially isolated even at the best of times.
"Being able to bring in artistic engagement is such an important part of helping people connect with each other and our artists and people outside the community," Kate Powell says. "During this time, of course, that tendency toward isolation is tenfold or however you want to quantify that."
Music for Seniors in Nashville

Another nonprofit trying to figure out a way forward is Nashville-based Music for Seniors, which offers live performances in senior living facilities and free monthly public concerts. Each year, the group's 250+ musician partners reach more than 34,000 older adults in Nashville and Knoxville, Tenn.
Not this year, of course.
"One hundred percent of our programming has canceled," says founder and executive director Sarah Martin McConnell. "There's a stay-safe-at-home order from the Metro Health Department and the mayor, so nobody's going out."
Once musicians can venture out and the weather improves, however, the group plans to offer "courtyard concerts" that older adults in care communities can enjoy from their windows.
In the meantime, McConnell and program director Matt Bridges have landed on a more high-tech approach: recruiting musicians (all of whom will receive stipends) to record in-home concerts to share online.
"They are preparing thirty- to thirty-five-minute programs based on the model that we use when we engage seniors live," McConnell says. "As soon as we have the content uploaded and ready to go, we'll do an e-blast about it and try to be sure that everybody who normally is served through our programming has access to the online programs."
As for the group's monthly concerts, McConnell is hoping to livestream the next concert, currently set for April 14. She has asked the Metro Nashville Arts Commission for funding and is working with Nashville Public Television (where her group's office is located) to secure studio space. If that works, they'll do the same thing in Knoxville and in other cities as new chapters form.
Even before the pandemic, McConnell's group was exploring ways to make its live programming available online. "This is really challenging us to move forward with that, because now's the time," McConnell says. "I mean, this is a wake-up call."
Ansonia Music Outreach
In 2019, Ansonia Music Outreach served older adults across New York City with more than 50 concerts and 400 hours of specialized classes and workshop.
Workshops, led by program director Simón Saad, primarily reach five senior centers in Manhattan, from the Center on the Square in Greenwich Village to the Sirovich Center on the Lower East Side.
"We started with seven people attending our first lesson, and now we have more than 400 people on the mailing list, people that tend to be very active," Saad says. In fact, many people have attended his workshops for years, and some travel from center to center to participate in multiple sessions.
Not surprisingly, building community is as important as building musical knowledge. Over the years, participants have gotten together to watch broadcasts of operas at local movie theaters, entered the Metropolitan Opera's ticket lottery as a group and even arranged outings to Chicago to catch Wagner's Ring Cycle.
"The moment the conversation started about the possibility of social distancing and isolation and all of that stuff, we started noticing a lot of anxiety in the members," Saad says. "We started scrambling for ideas on how to deal with social distancing and keep things going."
To keep his programming happening, Saad decided to use the Zoom videoconferencing platform, something he'd never used before (although he's familiar with similar platforms like Skype and Discord). He tested Zoom with small groups of volunteers, then held his first official session (which focused on Verdi's opera Un Ballo in Maschera) on Friday, March 20. It was a great success.
"We started scrambling for ideas on how to deal with social distancing and keep things going."
"We were expecting about thirty people, but fifty-three people showed up and the whole thing went smoothly," he says. "I could see their faces on the little screens. They were so happy. It was so humbling to see these people getting together and trying to retain their social interactions and then planning on breakaway groups to talk and to chat using Zoom."
Now Saad is trying to figure out how to adapt the immersive workshops he's been planning to help older adults explore two operas from the Met's 2020-2021 season. He's not sure what those will look like, but one thing is clear: the show must go on.
Other Virtual Places to Find Music Now
NPR Music is maintaining a list of virtual concerts from around the world. Most are free, although some feature digital tip jars and other ways to support the artists.
Verizon has launched a weekly streaming entertainment series, Pay It Forward Live, to support local businesses.
Several performers have featured Facebook or Instagram concerts including Yo-Yo Ma (under the #SongsofComfort hashtag) Sir Andrew Lloyd Webber and Mary Chapin Carpenter.