Two Wooded Isles Off Maine's Craggy Coasts Beckon Artists and Makers
Mount Desert Island harbors an arts center; Deer Isle is home to a respected crafts school
Rope art. Blacksmithing. Felted art. Ceramics. Stained glass. Workshops and classes in these and numerous other creative disciplines are among the many offerings on Mount Desert Island — home to much of Acadia National Park — and Deer Isle,  two scenic islands about 50 miles apart off the rugged coast of Maine.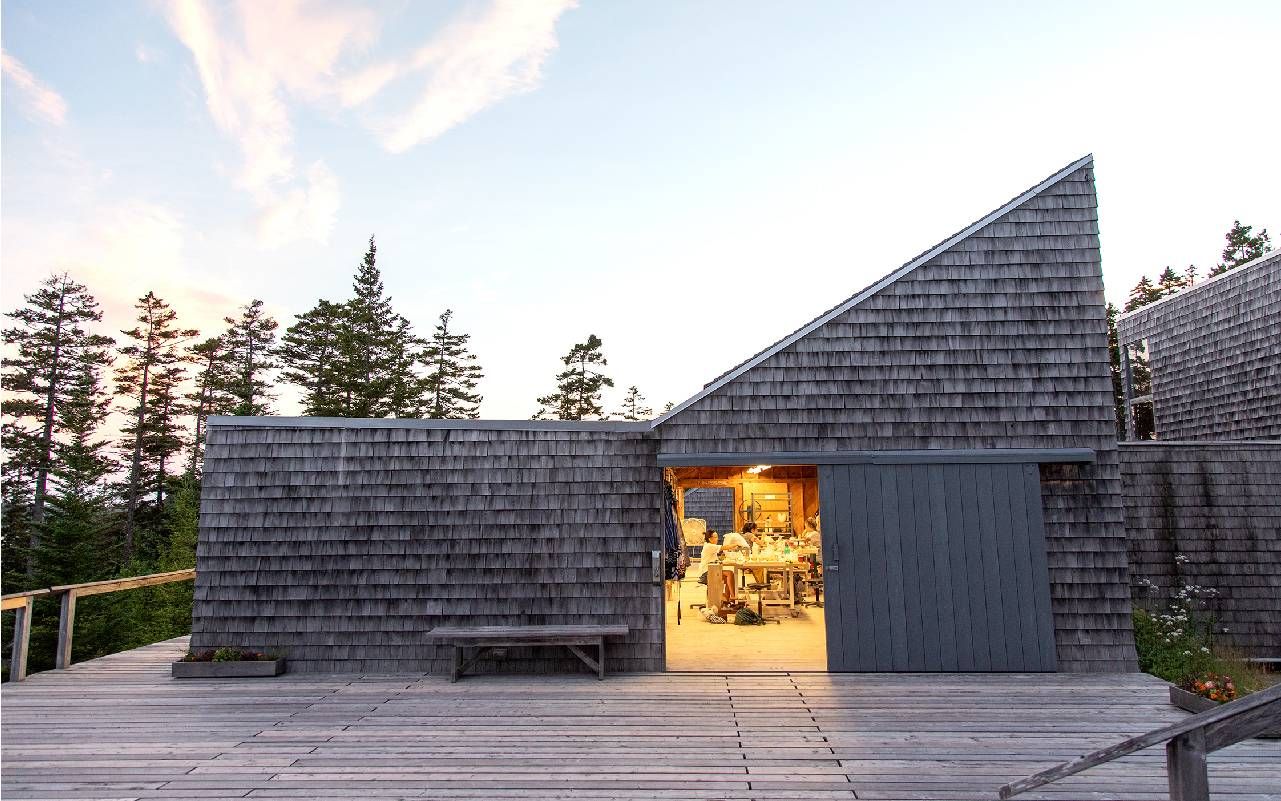 Eager to learn something new or improve existing skills, students and working artists from around the country enroll at the Haystack Mountain School of Crafts, 6.5 miles southeast of the town of Deer Isle, and at ArtWaves, a community arts center 8 miles west of Bar Harbor. 
Artist Liz Cutler, 65, founded ArtWaves in 2013 at her studio in downtown Bar Harbor. In 2017, the center became a nonprofit, and two years later, it moved to Mount Desert Island to a two-acre campus that boasts three art studios and a dance studio. "ArtWaves is a place to connect," Cutler said. "There is something magical about creating art in community." 
"There is something magical about creating art in community."
Cutler teaches some of the classes, including printmaking with natural botanicals, stained glass mosaics, pysanky (Cutler calls it "batik on an egg"), figure drawing and felting. (Check out her felted barnacles here.) ArtWaves also brings in artists-in-residence and guest instructors. "We have phenomenal instructors," Cutler said, "individuals who teach traditional stained glass, batik based on photographs, fiber arts, block printing, paper crafts and pyrography, which is decorating wood or leather by burning a design on the surface." 
Recycling Worn Climbing Rope Into Art
In October, students in Mischa Ostberg's three-hour class at ArtWaves designed and crafted art pieces using recycled plastic climbing rope. The current Artist in Residence at Acadia National Park, Ostberg, 31, helped participants reduce their desired images to line drawings and then taught them to cut and lay the rope to best show texture and depth. Ostberg then provided used frames, most of them measuring about 9 inches by 11 or 12 inches, purchased at resale shops. 
"Rope art designs have to be readable, with some main lines and simple images, unless you're working on a larger piece," said Ostberg, who crafts large wall hangings. A longtime rock climber and environmentalist, Ostberg, who is nonbinary, has completed 50 commissioned works for clients across the country. Their work helps keep retired climbing rope out of landfills, but has another purpose as well.
"I design my pieces to pay homage to fantastic outdoor spaces, but also to bring awareness to Native spaces, which is everywhere we recreate as Americans," they said. "In my commissions, like one I did for Zion National Park, I do research about Native people who lived there, to learn what that place meant to them. It's important to mention, as Indigenous people have been restricted from their own ancestral lands."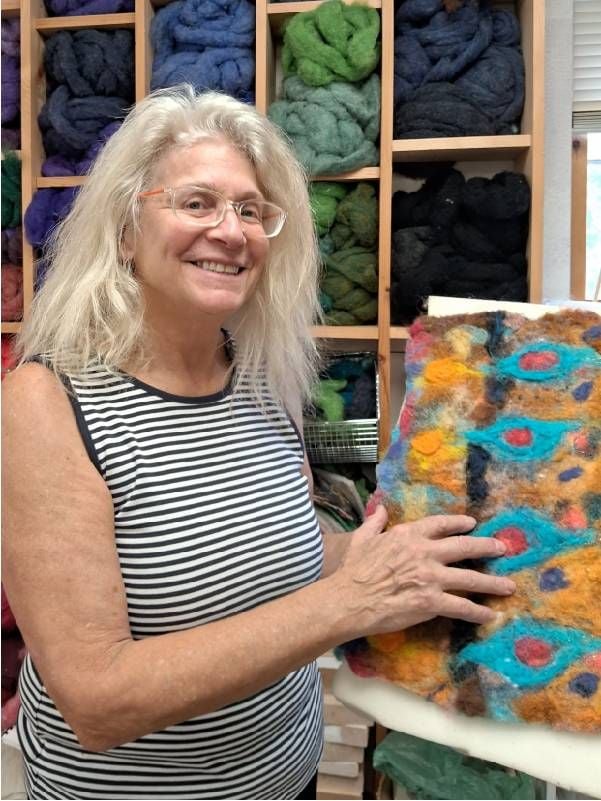 Mary Martin, a retired nurse who lives in Orrington, Maine, attended Ostberg's class. She said she enjoyed it, though she was humbled by her instructor's level of expertise. "Mischa has done beautiful work, and is an excellent instructor," said Martin, 61. "Still, I found the class challenging because climbing rope can be unwieldy. It's not as forgiving as fishing rope." She signed up at ArtWaves with her friends Linda Stanley and Robin Caulfield.
"Now that we're not working, we like to keep busy taking classes and helping support local artists," Martin said. The three friends, who previously have attended felting classes, just signed up for another one where they will make pumpkins. Martin added that she and Linda now are interested in taking a stained glass class. "I've been a crafter for a long time, back to my kindergarten days," she said, "and I'm starting to enjoy it again."
Crafts School Encourages Play
The joy of exploring art, craft and design has drawn more than 15,000 individuals to Haystack Mountain School of Crafts since its founding in 1950. The campus, which is on the National Register of Historic Places, includes six workshop studios, a digital fabrication lab, a visiting artist studio, a dining hall, an auditorium and a library, all nestled on 40 wooded acres with ocean views. 
Visiting artists from across the country contribute to the school's internationally respected, self-described "experiment in education and community." Summer workshops are available in blacksmithing, ceramics, fiber art, glass, graphics, metalwork, mixed media, wood and writing. At summer's end, Haystack welcomes Maine residents 18 and older of all skill levels to Open Door, a three-day program that keeps the studios available for 24 hours a day.  
Graphics and glass artist Nancy Nicholson, 60, was at Open Door last month to teach "Drawing Beyond Boundaries." The concept of the class, she said, "was to get people away from fear — from what something is supposed to look like — and help them find out what it means to them to make a drawing." She added that the students embraced the idea that drawing can be "not so much a means to an end, but the means itself."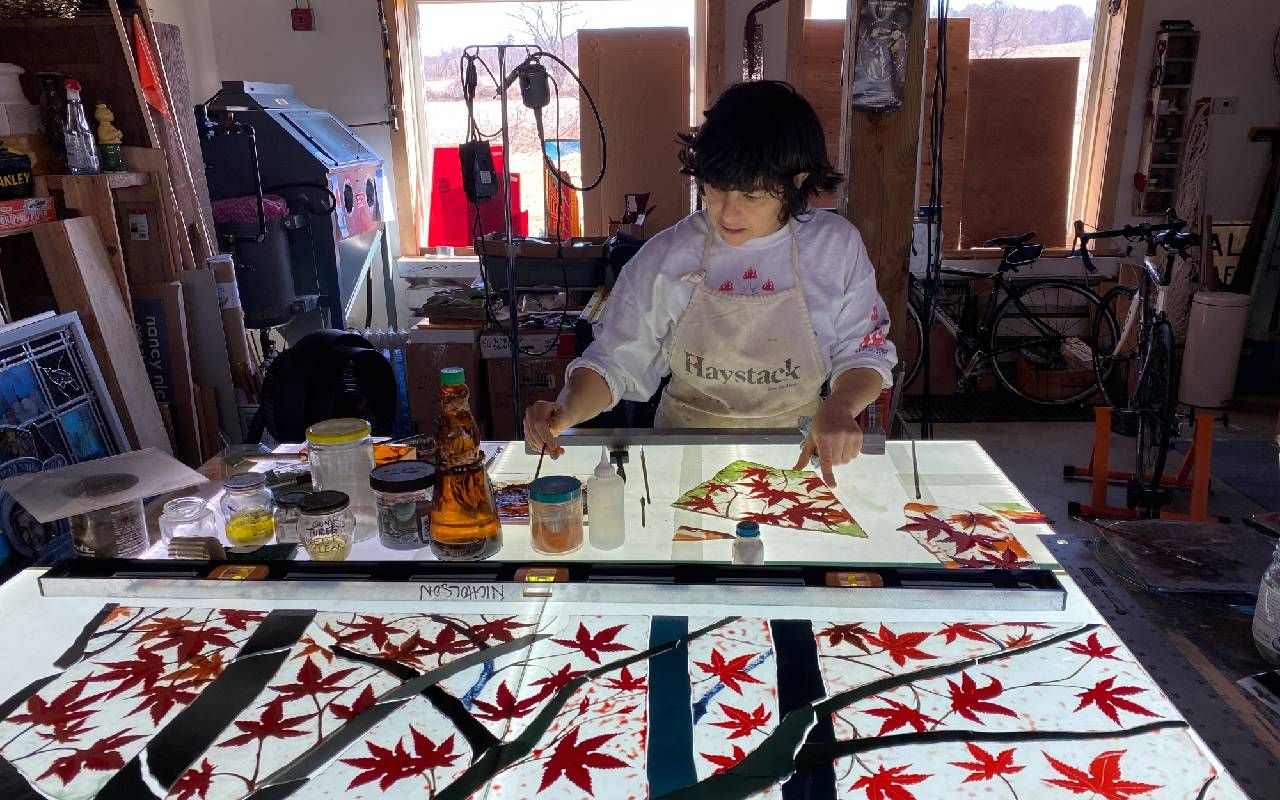 Nicholson, who manages exhibition installations at the Museum of the City of New York in Harlem, emphasized that Haystack is not an art school or a place only for  working artists. "I'm a maker. The stigma of being an 'artist' can be heavy," she said. "Anyone who wants to experience craft can go there to have an immersive experience in a studio. It's a safe environment to learn a technique using a particular material, to experiment and also to play." That especially suits her, "as I have a fixed age of 10," she said, laughing. 
'Haystack Fosters ... An Amazing Sense of Community'
Julie Jo Fehrle, 56, attended Nicholson's drawing class at Open Door. "Our class was amazing, with artists from all different genres, and we bonded," she said. "You worked at your own pace, and the flexible classes gave you a launching pad that supported you."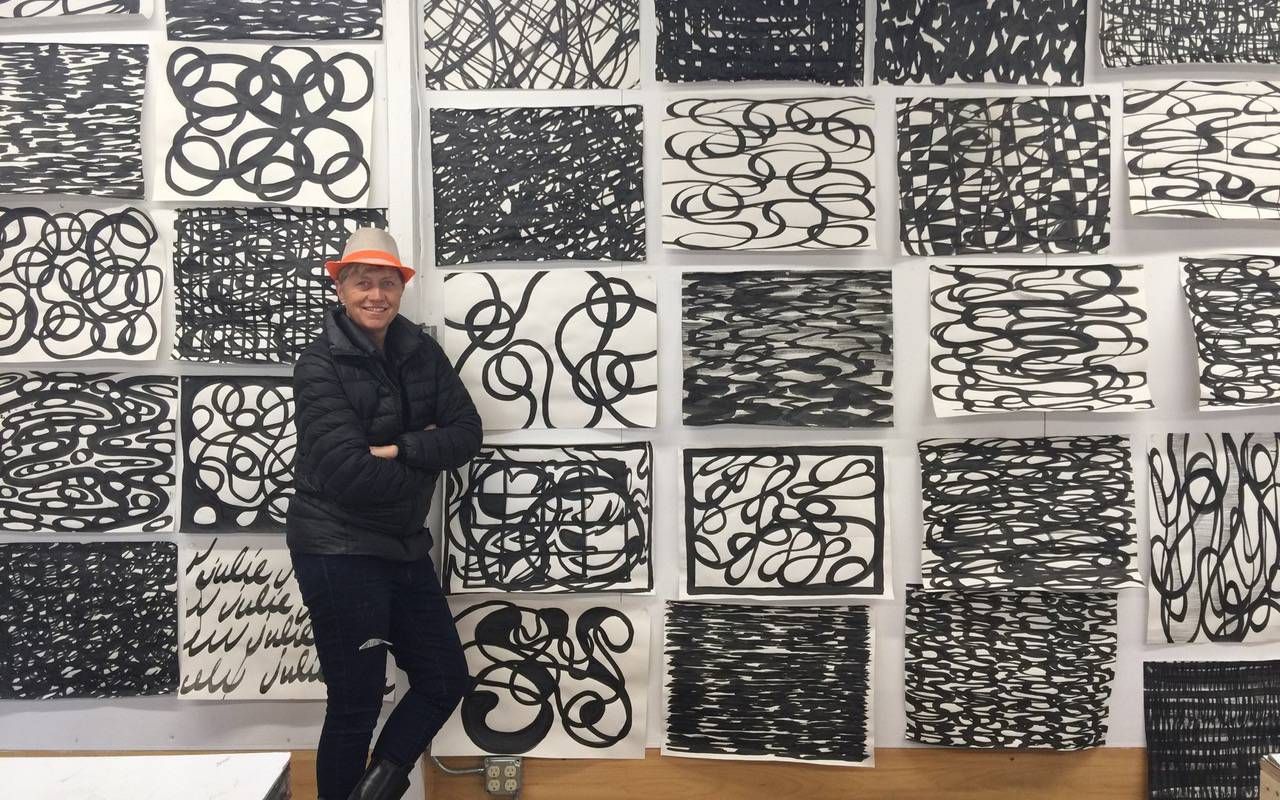 A resident of Blue Hill, Maine, Fehrle has worked in set design, production design, art direction and interior design. Currently she is completing a single-line mural intended to run the full length of a new indoor walking track at the local YMCA. From time to time, she collaborates on works with Ara Starck, an artist based in Paris. Fehrle attended the recent opening of Starck's show at the Made in Cloister Foundation in Naples, Italy, an exhibit of stained glass and paintings Starck produced with Italian glass and wood artisans.
Fehrle is a loyal veteran of Haystack's classes. "When I took blacksmithing, I made a letter opener, and in a drawing with wire class, I made a wire basket. In one of my favorite classes, I built a ukulele out of a cigar box," she said.
In Haystack's Fab Lab — an educational outreach component of the Massachusetts Institute of Technology's Center for Bits and Atoms — Fehrle and her classmates designed a chair and table that fit in a bag, and she also worked on a group project, building whimsical table legs. 
"At Haystack, you're in an incredibly beautiful location that fosters an amazing sense of community," Fehrle said. "Plus, you see how all the crafts support each other."  
Patricia Corrigan
is a professional journalist, with decades of experience as a reporter and columnist at a metropolitan daily newspaper, and also a book author. She has written for Next Avenue since February 2015. Read more from Patricia at latetothehaight.blogspot.com.
Read More