Medicare vs. Medicare Advantage
With the annual open enrollment period underway, it's time again to research which is better for you
It's that season again. No, not for planning holiday meals or hauling decorations out of the basement. Medicare's 2024 open enrollment period is in full swing until December 7.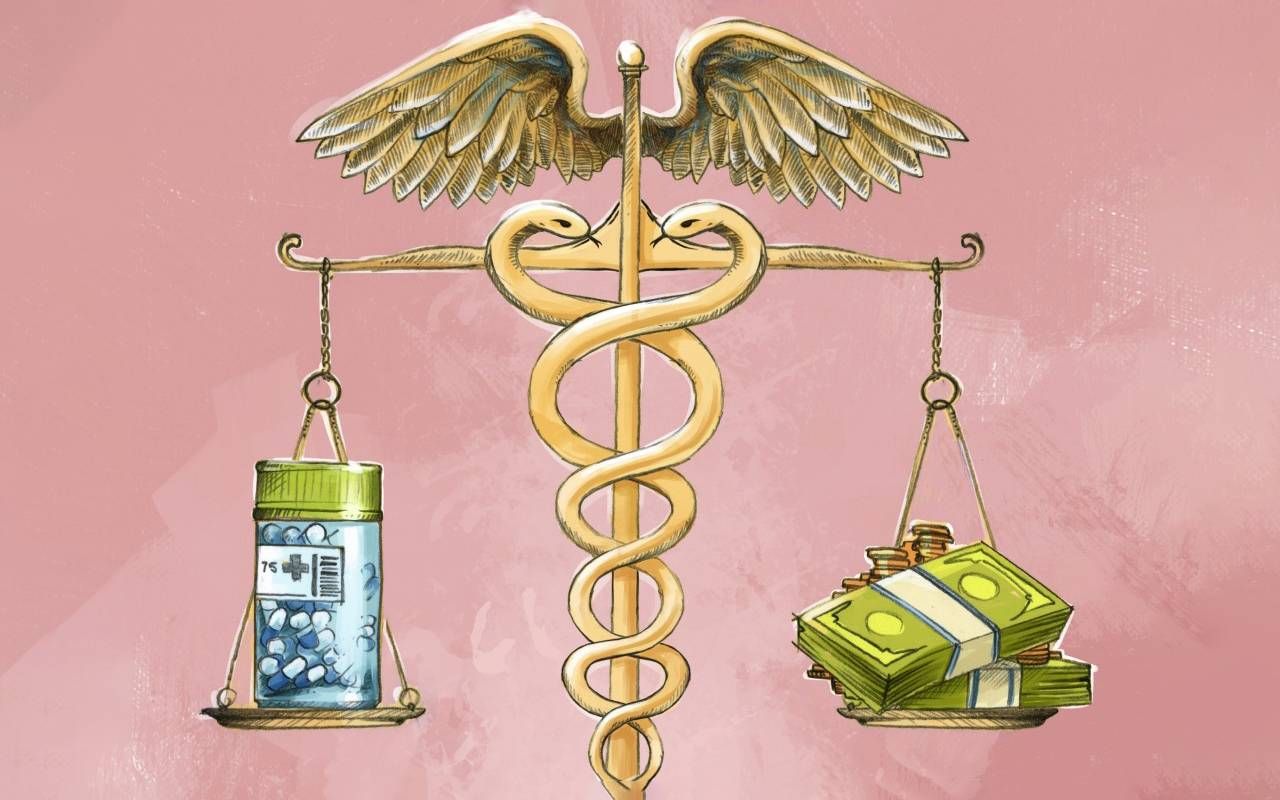 If you are currently enrolled in any Medicare plan, this is your opportunity to update portions of your coverage or totally change it for the coming year.
While that may not seem as exciting as upcoming holiday festivities, taking the time to review your existing coverage and shop around for a better fit for your needs can pay off with lower costs and improved coverage.
Purpose of Open Enrollment
Here is a simple review of what you can and cannot do during the annual Medicare open enrollment period.
If you are currently enrolled in Original Medicare, you can change your Part D coverage or switch to a Medicare Advantage plan.
If you are in a Medicare Advantage plan, you can move to a different plan or switch to Original Medicare.
You cannot enroll in Medicare at this time. There is a 7-month window before and after your 65th birthday for initial enrollment.
Trying to evaluate all the particulars of the many different plans being touted in the annual advertising blitz by insurers can seem so overwhelming that it is easy to throw your hands up and say, "I will just stick with what I have."
That may in fact be your best choice, but make sure by first understanding the basic differences between Original Medicare and Medicare Advantage.
Choice, Cost and Caps
The federal government has offered Original Medicare to people 65 and older since 1965. It consists of two mandatory parts: Part A for inpatient hospital care and Part B for doctors' visits, outpatient care and other medical services not included in Part A.
Private companies sell Part D policies to pay some of the costs of prescription drugs and Medigap policies to pay some or all of your out-of-pocket costs — such as deductibles, co-payments and co-insurance — that are not covered by Original Medicare.
Medicare Advantage plans, also known as Medicare Part C, became available in 2003. These plans offered by private insurers combine Parts A, B, and D. Some of them also include dental, hearing and vision care, which are not covered by Original Medicare.
The advantage — hence the name — is that all of the separate parts are bundled into one package and managed by a private health insurance company. There is no charge for Part A and D coverage, and some even provide a give-back benefit that covers all or a portion of the Part B premium you are responsible for.
Medigap is not offered (or needed) because these plans cap annual out-of-pocket expenses. In one suburb of New York City, the caps on out-of-pocket expenses range from $3,400 to $8,850 for 2024, according to Medicare Wire, a private news and information site. The average is $7,243.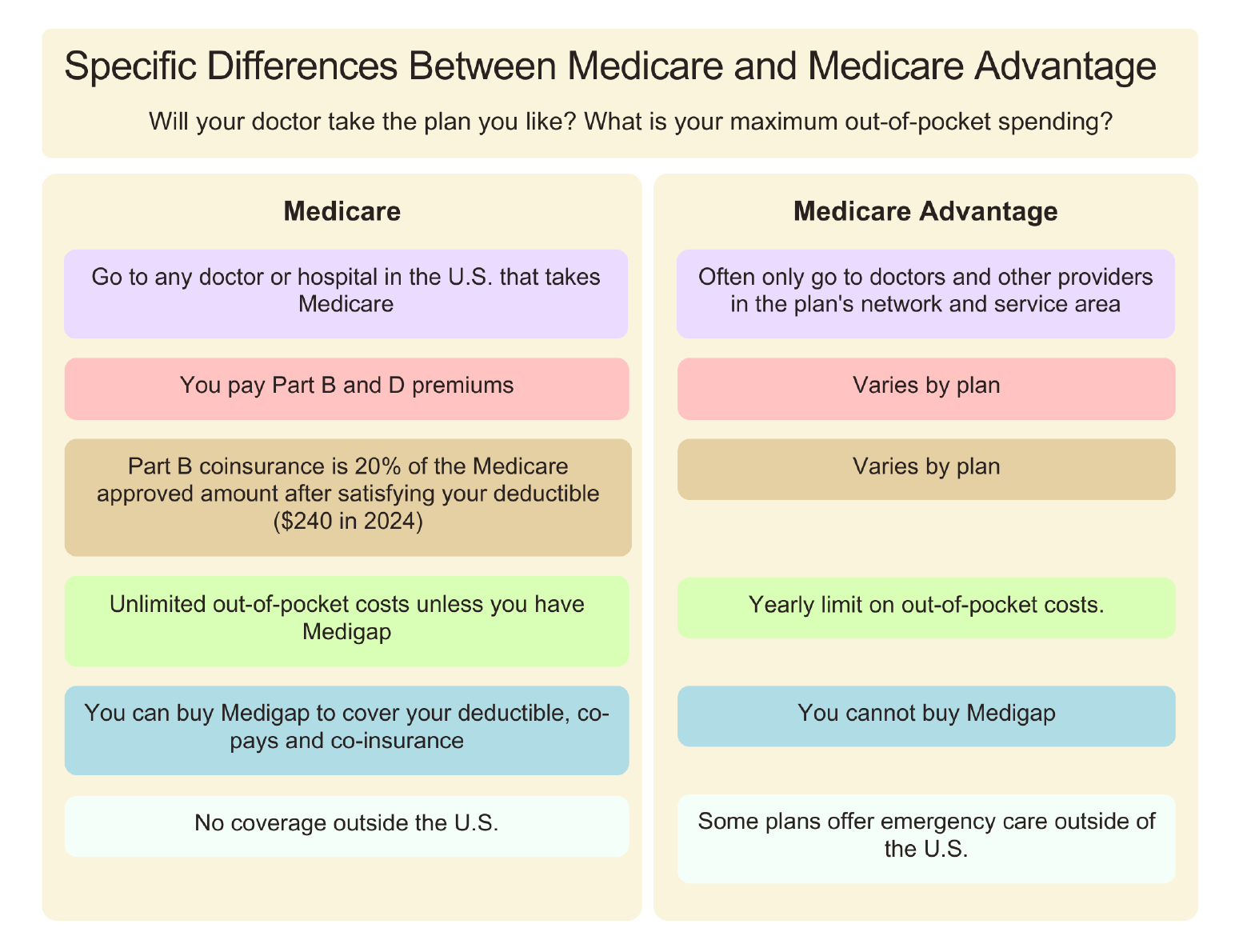 Pros and Cons of Original Medicare
Original Medicare costs and coverage are pretty straightforward. If you are seeking expanded coverage beyond basic Parts A and B, it is important to compare plans for privately issued Part D prescription drug coverage based on the number and price of medications you currently take.
Note: If you need a Medigap plan, it is best to sign up during your Medicare initial enrollment period, as you will be charged higher premiums or denied enrollment altogether later.
Pros
Coverage with any doctor and hospital in the U.S. that accepts Medicare
No referrals needed to see a specialist
Cons
Maximum coverage requires enrolling in four different plans: Part A, B, D, and Medigap
Without Medigap you are responsible for 20% of all charges beyond your annual deductible
Coverage is limited to the U.S.
Medigap premiums increase each year
No coverage for vision, hearing and dental
No extra benefits like over-the-counter purchases and gym memberships
Pros and Cons of Medicare Advantage
By offering lower costs (members report spending nearly $2,000 less on out-of-pocket costs and premiums annually) and increased benefits while focusing on preventative health, these plans have attracted almost 50% of all Medicare recipients.
The details of Medicare Advantage plans can differ considerably, so taking the time to analyze specifics is the key to choosing the optimal match for your health care needs. Start with an online search of plans available in your state, then compare provider networks, costs and benefits.
Pros
Zero premium plans may be available in your area
Copays are generally lower than the 20% coinsurance charged with Original Medicare
Maximum annual out-of-pocket amount
Coverage for vision, hearing and dental
Worldwide emergency care often available
Quarterly allowance for over-the-counter items such as vitamins, teeth whitening kits, sunscreen and even foam rollers
Free gym memberships and online fitness classes, although some gym chains limit the number of hours Medicare Advantage clients can use
Cons
Generally limited to doctors and hospitals within the network (some plans now allow coverage outside of network at no additional cost)
May require referrals to see a specialist
Which Plan Is Better for You?
Beyond the comparisons of premiums, coverage and copays, the most important factor in choosing a Medicare plan is you: your health, your budget, your satisfaction with coverage you have now, and your willingness to research options. Being honest with yourself is the essential first step toward determining if this is the time to make a change during the open enrollment period.
In summary,
Original Medicare is for those who:
Want maximum flexibility
Need specialist care not available through Advantage plans in your area
Have chronic health problems and are comfortable paying the monthly premiums for Parts A, B, D, and Medigap
Medicare Advantage is a good choice for those who:
Are generally healthy
Are willing to accept fewer choices and possible delays in coverage approval in exchange for lower premiums and extra benefits
Have chronic health problems and cannot afford the monthly premiums for Parts A, B, D, and Medigap
Do not worry if you want to change coverage but don't feel capable of navigating all the details. Certified independent insurance brokers are widely available to provide unbiased assistance.
Even if you are presently satisfied with your health insurance, remember that Medicare open enrollment is an annual event. Should your circumstances change, you will have an opportunity each year to adjust your coverage.