Mad for Midcentury
Step back in time to explore the architecture and energy of a different era
Arguably, midcentury modern's biggest fans are the second cohort of boomers, those Americans born between 1956 and 1964. There's more to our obsession with midcentury modern style, however, than a love of sleek, simple design. The allure is nostalgia.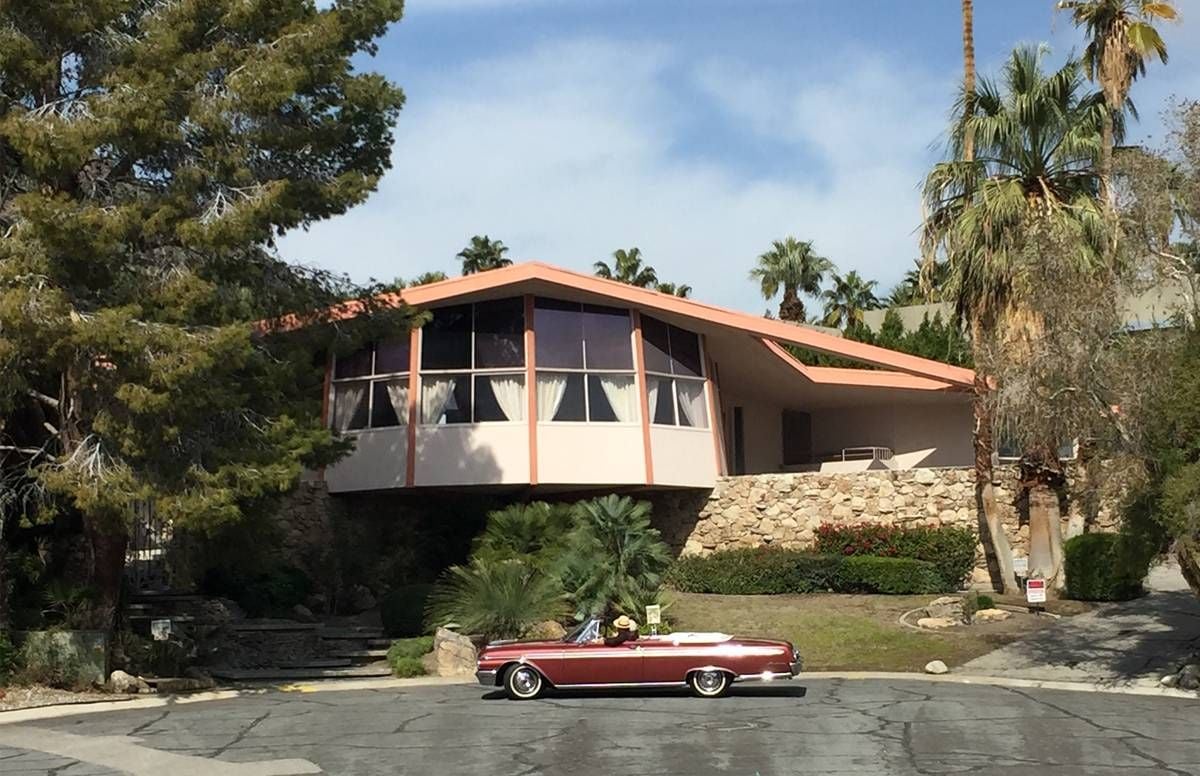 Those of us who grew up in homes with midcentury modern furnishings or who remember admiring them; loved the bold clean graphics, signage and packaging of the era; reminisce over space-age décor or pink, black, and yellow colorways and patterns or yearn for the indoor-outdoor lifestyle that open-plan modern houses brought into existence.
If this describes your passion, then Modernism Week, which takes place every February in Palm Springs, Calif. (Feb. 12 to 23 in 2020), is for you. Thousands converge here for an annual celebration of all things midcentury.
Midcentury modern design holds many of us in thrall, crossing generations from Gen Z to Millennials to Boomers.
For me, Modernism Week has long been a bucket-list trip, a chance to immerse myself in the city's midcentury modern architecture and design. I've loved the style since noticing, as a youngster, how aesthetically restful, sleek and warm my Aunt Betsy's Scandinavian teak furniture was — especially in comparison to my mom's overstuffed, heavy, oak antique furnishings.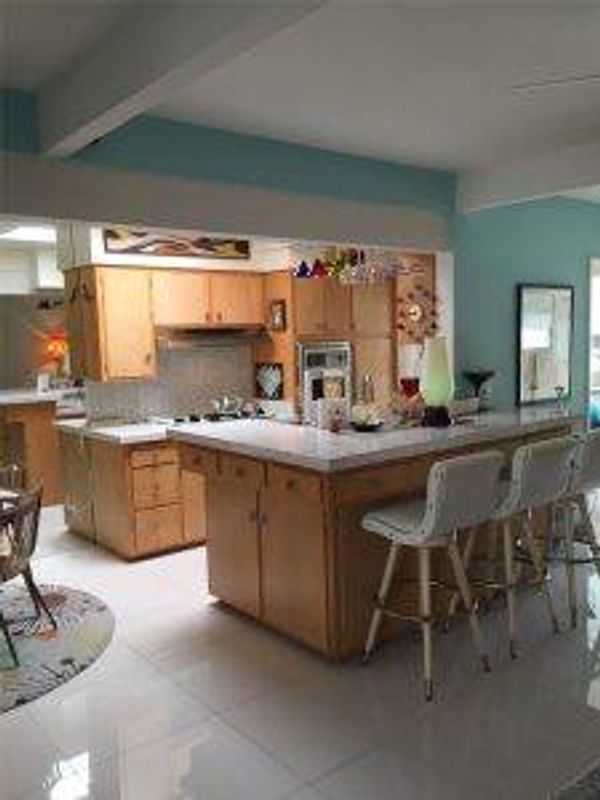 Midcentury modern design holds many of us in thrall, crossing generations from Gen Z to millennials to boomers. But what is it really? California Ranch, postwar ranch, split-level, Swiss Miss, Atomic Ranch? Large windows, open floor plans, vaulted or exposed-beam ceilings? Sleek teak furniture and built-in cabinetry with simple lines? Kidney-shaped swimming pools? Chrome detailing, Formica countertops and sunburst clocks? Space-age décor a la The Jetsons? All can be found, and explored, during Modernism Week.
Modernism's Growth in Palm Springs
Midcentury modern usually refers to the postwar era, from 1945 to 1965, when much of the world was depleted from two World Wars. But there was also a fresh sense of hope and possibility, especially among young Americans. Servicemen returned ready to start families. Houses needed to be built. A lack of funding and materials, along with an accelerated need for buildings, resulted in new ideas for designing with minimal resources.
The Modernist movement of the 1920s and 30s — with such notable architects as Frank Lloyd Wright, and Walter Gropius, Ludwig Mies van der Rohe and Marcel Breuer, who fled Nazi Germany for the U.S. — set the stage. Those architects believed less is more. They eschewed ornamentation. They designed homes with simple forms, blurring the distinction between inside and outside with large expanses of plate glass. Built-ins kept interiors uncluttered. A simple fireplace of concrete or brick was often the focal point in the open plan living, kitchen and dining spaces.
The style lent itself to the mass production of new housing, much of it now grouped under the catch-all "midcentury modern." California led the boom. Stars of stage and screen found respite in Palm Springs, then a dusty desert locale, where architects designed for them homes "discreet to the street."
That now well-known descriptor means the houses had fronts of (often windowless) walls of concrete or adobe, with the rooms opening out at the back via sliding glass doors, or along the side via breezeways, onto palm-tree-filled courtyards with private dining areas, swimming pools and lounge seating.
Meanwhile, those same architects also designed banks, department stores, restaurants, motels and other buildings to accommodate and serve those part-time visitors — as well as snowbirds flocking to the burgeoning desert oasis.
Modernism Week by Bus and Bicycle
My week began with the must-do Premiere Double Decker Architectural Bus Tour: A terrific way to become familiar with the outstanding examples of midcentury modernism throughout downtown and in the neighborhoods.
The tour went past several E. Stewart Williams bank buildings as well as his Twin Palms (Frank Sinatra) Estate. We enjoyed bird's-eye views of the famous Richard Neutra-designed Kaufmann House and Donald Wexler's Dinah Shore Residence. We saw Palm Springs end to end, from Rudi Baumfeld's Bank of America, to the Frey and Chambers' Enco/Tramway Gas Station.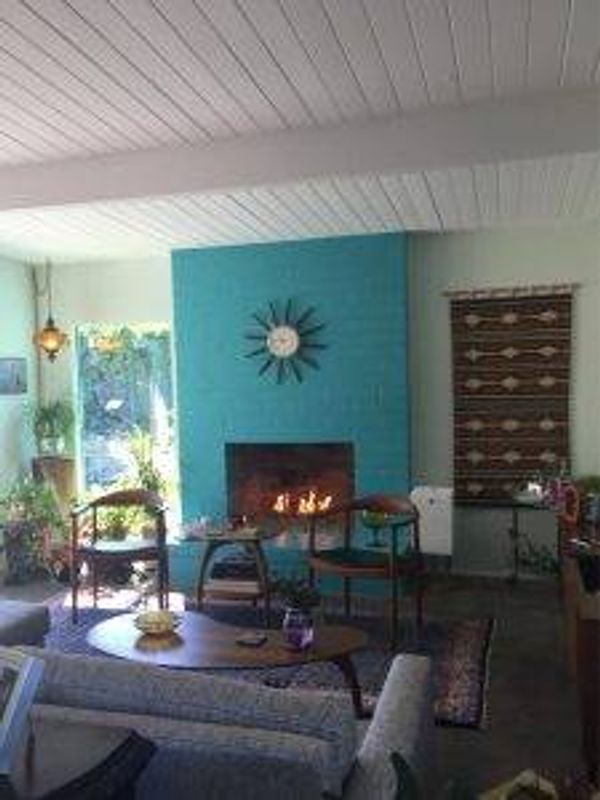 On a bicycle provided by my Herbert Burns-designed motel called Desert Hills, I pedaled over to the Las Palmas neighborhood to tour Sunrise Lanai, a development of apartments (now condos) positioned around a communal pool and lawn. Designed by Charles DuBois, who introduced a style known as "Swiss Miss" to Palm Springs, the fantastic project features a variety of units, many with several private walled outdoor "sun dens," original kitchens and appliances, and two grand A-framed condos.
"Lanais (a porch or veranda) were in vogue during the 1950s and 1960s — not just for shade but also as a focus for socializing around the pool," according to the website. "It was all about sun and fun, so the lanai fit the bill perfectly."
Back on the bike the next day, I traversed the Little Beverly Hills, Sunmor, Sunrise Park and Racquet Club neighborhoods to tour six houses designed by Jack Meiselman. Lovingly restored and maintained, with décor perfect to the period, each home featured a unique mid-century stucco pattern — diamonds, abstracts, lines or rectangles — as well as indoor/outdoor living spaces, a variety of rooflines (including butterfly), clerestory windows, and tongue-and-groove wood ceilings.
An added bonus for auto aficionados: during Modernism Week, vintage cars are parked in nearly every drive of every house on tour. Modernism Week also offers poolside cocktail hours at notable modernist hotels; happy hours at art galleries; and marvelous graphics that take visitors back to that iconic period in architecture and design.
Celebrity History in Palm Springs
Another day, I took a tour that started at the Palm Springs Art Museum Architecture and Design Center; a former bank designed by E. Stewart Williams, a classic work of modern architecture that was hosting an exhibition on Hugh Kaptur, best known for designing William Holden and Steve McQueen's homes.
From there, we strolled by many other Herbert Burns-designed motels. Legend has it that the owner of Gloria Swanson's former residence, now Amin Casa, walked through his hotel and into the screen star's notorious boudoir.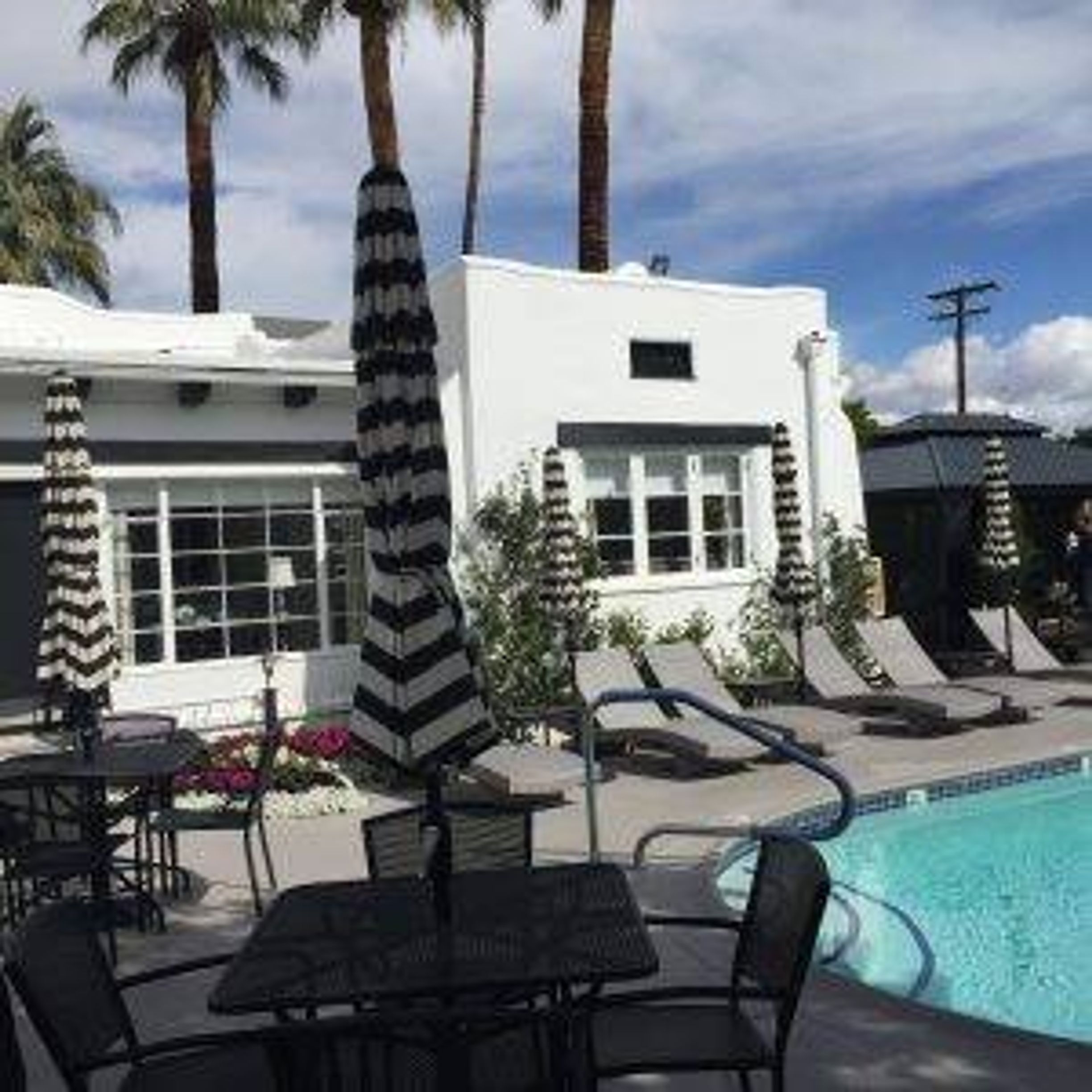 Our Celebrity Haven Tennis Club Neighborhood walking tour, led by a lively and opinionated member of the Palm Springs Historical Society, brought us to a beloved landmark in the famed desert resort city: the Palm Springs Tennis Club.
Designed in 1947 next to the San Jacinto Mountains, by architects A. Quincy Jones and Paul R. Williams (the latter was the first African American member of the American Institute of Architects), the club features a storied history that includes stays by Errol Flynn, Lucille Ball, Doris Day, Gloria Swanson and Frank Sinatra, with tennis tournaments showcasing Dinah Shore.
Our group gathered at a cabana-encircled pool, which our guide claims "is the most-photographed swimming pool in the world." We're debating whether to lunch at Spencer's, with its indoor/outdoor seating and celebrity cache — a fitting endcap to our morning.
"I finally realized that the homes I grew up with in the 50s and 60s were cool and normal – and beautiful."
Now for an evening adventure, your Modernism Week must include drinks and dessert in Melvyn's bar, where the waiters wear tuxes and the waitresses short black cocktail dresses and heels. A former Rat Pack den of iniquity (their photos are on the wall), the piano bar includes a singer who delights his audience with karaoke-style crooning befitting the locale.
Don't forget to visit the Palm Springs Historical Society for the skinny on the city's show biz legends, stars and "starchitects," Desi and Lucy stories, Hollywood homes, architecturally significant neighborhoods, and downtown history.
'We Love to Go Back to That Time'
"Why do you come to Modernism Week?" I ask Debra Peterson, who has traveled here from Portland, Ore. for the fifth time.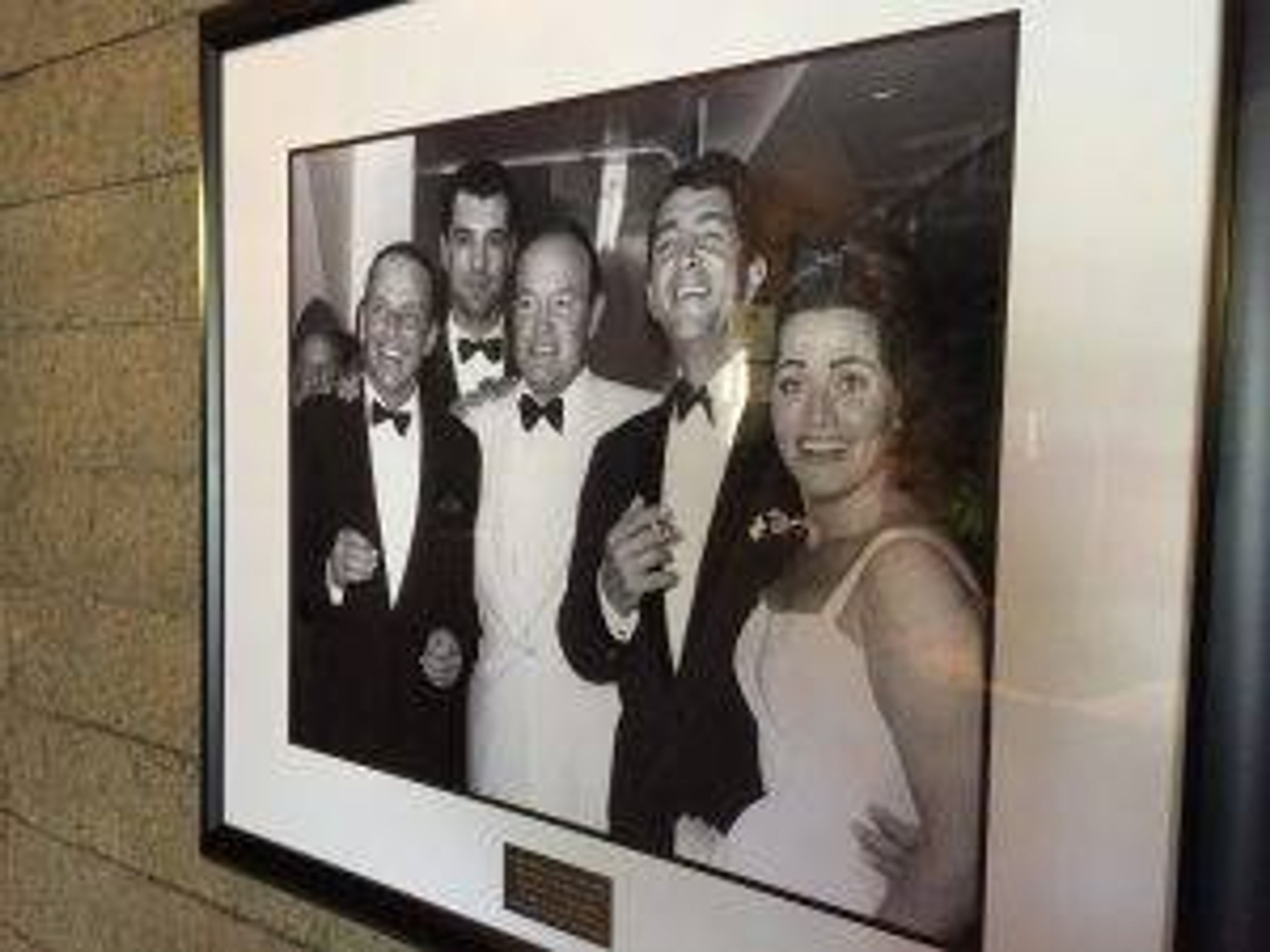 She says the houses, the furnishings, the décor, "take me back to my childhood, the glamor of the Rat Pack era, the formality of my parents' lifestyle, the laughter and freedom at their parties."
"We love to go back to that time and fantasize, don't we? People had one coffee pot, one set of everyday dishes. Now we have way too much," Peterson adds. "Midcentury modern reflects that. There's a simplicity, and openness and honesty about materials and design. There's also a feeling of wonder. Step into one of these restored motels or homes and you can put yourself back into that time and place, feel the energy they had, see their vision."
"The Rat Pack and celebrity draw is a really fun side of Palm Springs' history," says Mike, who is attending Modernism Week for the second time with his wife, Stephanie. They live in Highland Park, Ill. "But for us, it's really the architecture. A modern house that's fifty, sixty, seventy years old inspires awe in me. That time in American history was when the country was in its ascendency. It produced architecture that's timeless."
And Brad Harms, who lives in Houston and has visited Modernism Week several times, has come to a greater appreciation for the modern style. "I finally realized that the homes I grew up with in the fifties and sixties were cool and normal — and beautiful," he says. "Now I realize what jewels they are."
As for next year? My dates are set, my motel booked. See you in Palm Springs!
Camille LeFevre
Camille LeFevre is a professional freelance writer and Balanced Body® certified Pilates mat instructor.
Read More