A Milwaukee Apartment Complex Where Multiple Generations Thrive
At Trinity Woods, residents of all ages, including retired School Sisters of Notre Dame, are creating a community with 'purpose and meaning'
Home to 198 residents, ranging from wee tots to elders 100-plus, Trinity Woods is an intergenerational community in Milwaukee. Situated on the 80-acre campus of Mount Mary University, a private school for women founded in 1913 by the School Sisters of Notre Dame, the apartment complex opened late in 2021.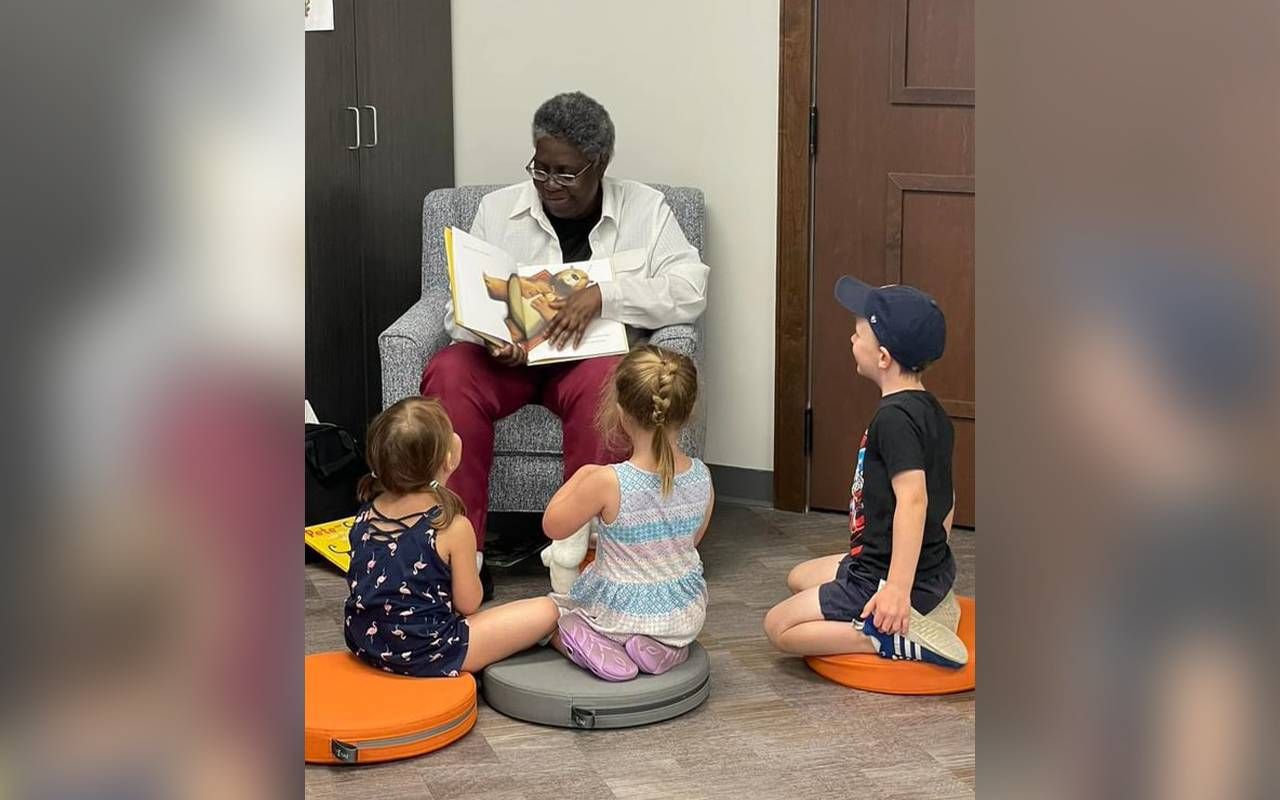 Ninety-four retired Sisters live on the premises; 52 of them in assisted living units. Independent living apartments, open to individuals 55 and older of any religion, house 79 residents. Three graduate students and a resident assistant live in Madonna Hall, a dormitory within the complex that also is home to nine Mount Mary students and the 12 children who call those students "Mom."
Trinity Woods is a partnership among the university, the School Sisters of Notre Dame Central Pacific Province and the Milwaukee Catholic Home, a retirement community that operates Trinity Woods. The idea for the innovative living arrangement originated with the Sisters, said David Fulcher, chief operating officer at the Milwaukee Catholic Home.  
"It was just happenstance that these three groups connected. That we pulled it off is just short of a miracle." 
Sister Debra Marie Sciano, Provincial Leader for the Central Pacific Province and the board chair at Trinity Woods, was on the board at the Milwaukee Catholic Home when the idea first arose. "Around 2018, we in our province made a decision to divest ourselves of four main properties so we could set ourselves into the future," Sciano said. "We needed a place where our Sisters could live in community, have their health care needs met and continue to live out our mission."  
Fulcher was interested in working with the Sisters, as was Christine Pharr, then president of Mount Mary University. Pharr told Sciano she would enjoy having the Sisters back on campus, and that one of her dreams was to provide a place where single mothers enrolled at the school could live with their children. "It was just happenstance that these three groups connected," Sciano said. "That we pulled it off is just short of a miracle." 
'I'm Not Done with ... Being of Service'
When the decision was made to add apartments for older adults interested in independent living, finding other communities to serve as models was difficult early on, Sciano said, and that remains true today. "My biggest hope," she said, "has always been that everyone there will learn from one another as the Sisters live their mission, which is about education…but also about unity, recognizing and honoring diversity in its many forms and promoting justice, peace and integrity." 
The $45 million complex includes a community dining hall, a library, a chapel, a fitness center, an art studio, a childcare center, a hair salon and an outdoor courtyard.
The intergenerational component especially appealed to residents Katie Lisa, 77, and Marguerite Guy, 78. Lisa, a retired social worker who was recently widowed, moved to Trinity Woods from Maine in July 2022. "I'm not done with living or with being of service," she said. "I wanted to live in a community where I would find purpose and meaning."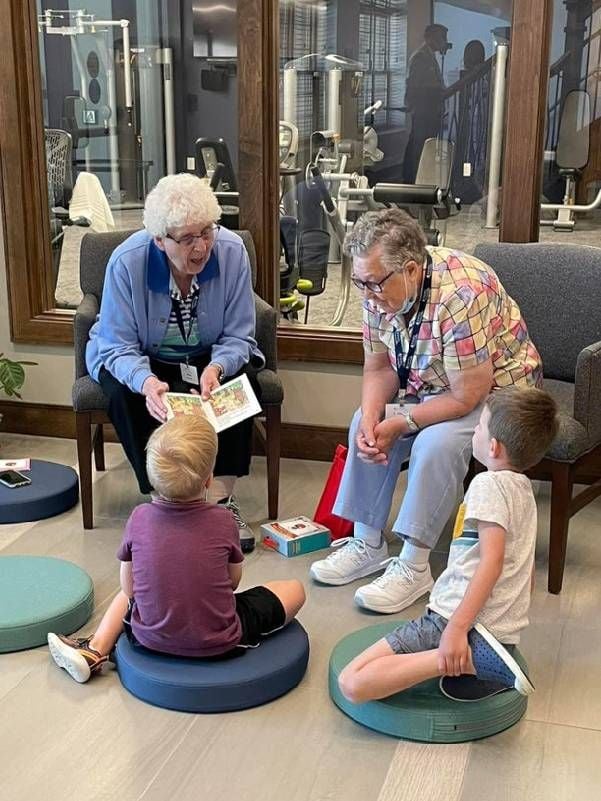 Guy, a longtime Milwaukee resident who settled into her apartment in March 2022, said, "Trinity Woods is perfect for me — I wasn't ready for a plain senior building. I'm already a 'grandma' in the lives of some other moms, and I also work with young adults at my church."
Along with residents June Carter-McClain and Carrol Fibich, Lisa and Guy have formed The Helping Hands, a committee that plans events and activities for the single moms and their children.
Recently, the group looked into providing passes to the Milwaukee County Zoo and tickets to The Big Back Yard, a large indoor playground. "We thought these would make nice outings for the families," said Guy, a retired teacher and high school principal. "We're also asking the moms what else they might like to do, because we know that as students and mothers, some of them with part-time jobs, they have little free time."
The Helping Hands also will provide "welcome baskets" for new students as they move in. "We'll fill a laundry basket with detergent, kitchen towels and other items they can use," Guy said. "A lot of the Sisters have donated hand-knitted items, and one provides books for the children." In April, the group scheduled an Easter egg hunt, and at Christmas, they distributed handmade quilts, knitted scarves and hats and other gifts for the young families.
Residents Invited to Audit University Classes
Lisa also looks for opportunities to spend time with the older Sisters. "My late sister, Miriam Cooney, spent 75 years as a Sister of the Holy Cross," Lisa said. "She was 20 years older, so she was out of the house before I was born. When she retired, we developed a loving and playful relationship, and now I'm doing that with some of the Sisters in the building."
"The sense of unity and women empowerment helps to make my life as a single mother more manageable."
All residents at Trinity Woods are encouraged to mingle at coffee hours, happy hours and holiday celebrations. Group activities include a book club and creative writing group. Art classes and movie nights are scheduled for the youngsters. Outdoor music concerts, where residents of all ages can mix and mingle, are scheduled in summer.
Resident Joan Mead, 78, a retired high school teacher, also mixes with students at Mount Mary University. Twice a week, she audits a class on the literature of diversity. "It's a wonderful experience to go back to school through this arrangement that Trinity Woods has with the university," she said. "We're given a list of classes available to audit, and the topics run the gamut. I'm really enjoying talking with the young women in the class, and I know I will sign up for more."
What do the single moms at Trinity Woods think of intergenerational living?
'This Collaboration Will Be a Blessing'
"The sense of unity and women empowerment helps to make my life as a single mother more manageable," said Diana Fontanez, 28. A junior studying communications at Mount Mary, Fontanez and her young daughter moved in last summer. "I enjoy the feeling of being in a safe environment and an encouraging community, and even in brief interactions, the seniors make sure to greet us and make conversation with the children."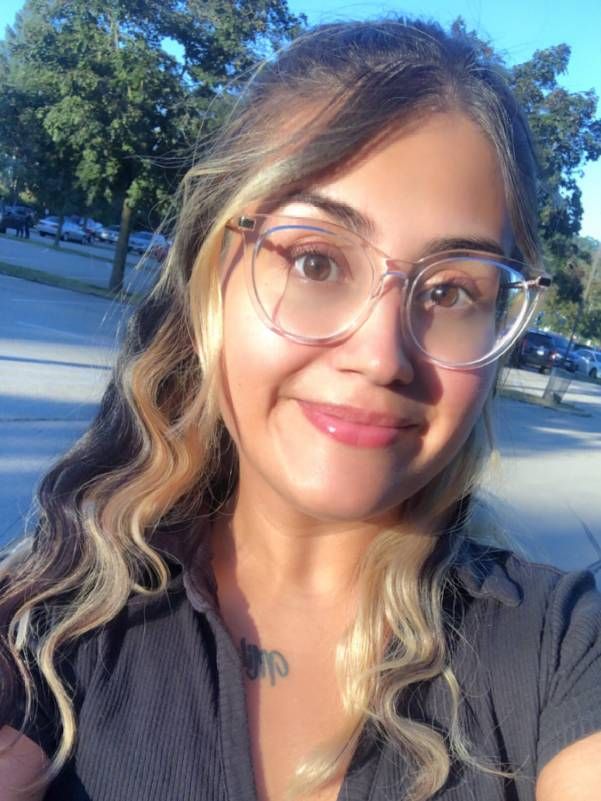 Fontanez declared that the past semester was the most successful she has had as a student. "I believe that is because my needs as a student and mother were met through the Trinity Woods and Mount Mary University communities," she said. "This collaboration will be a blessing to many moms who would like to complete their journey in obtaining their degree."
Miya D. Rogers, 35, a doctoral student at Mount Mary, said she considers living at Trinity Woods "a blessing." She moved in with her two sons in January 2022. A licensed professional counselor who also teaches part time at the university, Rogers expressed appreciation for the older adults in the community.
That should please Guy, who makes a practice of waving to the young families when she sees them in the parking lot adjacent to her apartment. "I look forward to more opportunities here for interaction with all the young ladies," she said. "We are here for them."
Patricia Corrigan
is a professional journalist, with decades of experience as a reporter and columnist at a metropolitan daily newspaper, and also a book author. She has written for Next Avenue since February 2015. Read more from Patricia at latetothehaight.blogspot.com.
Read More