Are Nurses Ready (and Willing) to Treat an Aging Population?
Facing the geriatrician shortage, caring for older people will fall to nurses
(Editor's note: This story is part of a series for The John A. Hartford Foundation.)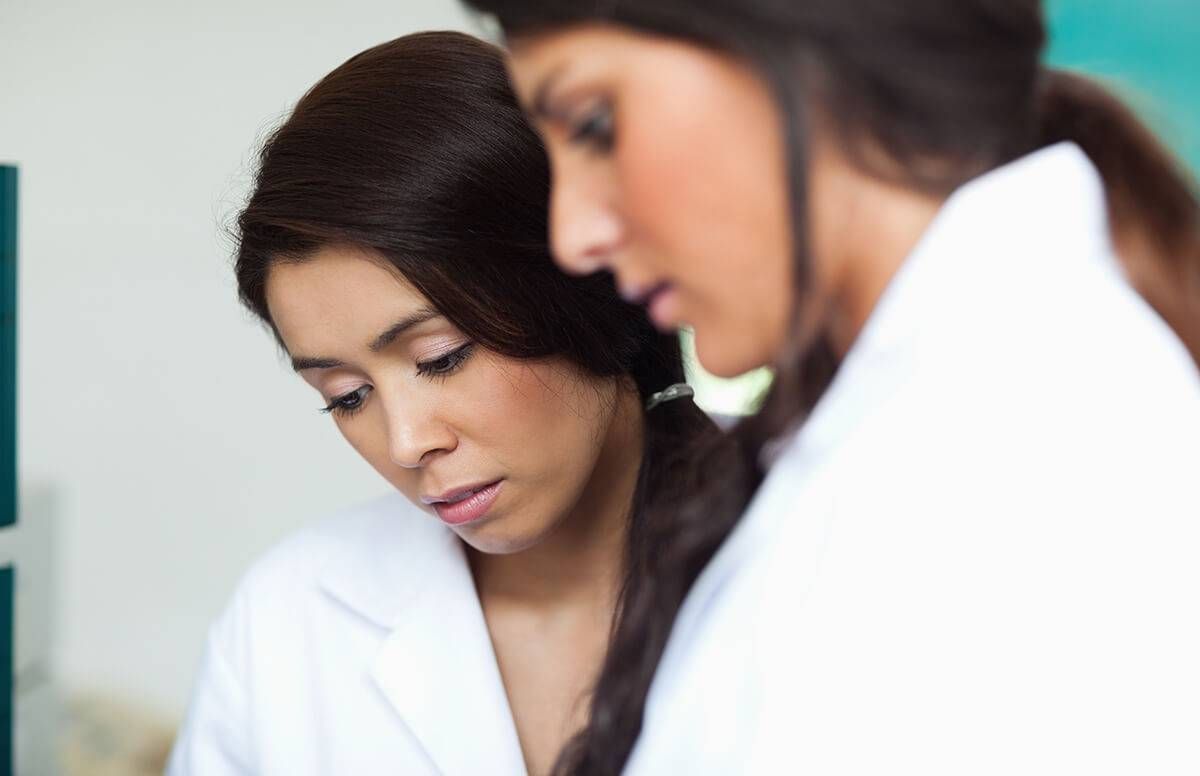 By 2030, one in every five Americans will be of retirement age, marking the first time that older people will outnumber children. But will health care be prepared for this demographic shift?
A shortage of geriatricians means that care of older patients will likely fall to other medical care professionals, especially nurses, who work closely with patients across health care settings.
But according to a 2016 discussion paper in the National Academy of Medicine, fewer than one percent of registered nurses and three percent of advanced practice registered nurses are certified in geriatrics.
"I had people look me in the eye and say, 'You seem like smart girl. Don't you think this is demeaning?' when I was caring for their loved ones," she says.
That doesn't mean nurses lack training for caring for older patients. Nurses often receive some type of training in working with older patients, then take other career paths.
What's important, says Laura Wagner, associate professor at the University of California San Francisco School of Nursing and director of the school's Adult-Gerontology Primary Care Nurse Practitioner program, is for educators to make sure nurses understand that geriatric work is as important as it rewarding.
Geriatrics: Just One of Many of Specializations
Alexandra Mariani, a nursing student at Seattle University College of Nursing, says there isn't enough nurse training in the skills needed to care for older patients. During her Certified Nursing Assistant (CNA) schooling, Mariani says, there was no specific emphasis on older people, even though CNAs will commonly work in long-term care facilities.
CNAs — who are supervised by registered nurses (RN) or licensed practice nurses (LPN) — get only the basic training for that kind of work: how to check vital signs and help patients with activities day-to-day living, like teeth brushing, shaving and getting dressed.
Unlike CNAs, licensed practice nurses coming out of community college programs and registered nurses who get an associate's or bachelor's degree do receive some type of geriatric care training, typically as part of the curriculum.
At her school, Mariani found that there was an entire quarter dedicated to geriatrics. But, after working as CNA for several years at an elder care facility, it was training she had already learned on the job.
Nursing training in geriatrics doesn't seem to translate to geriatric certifications, however. One reason few nurses have advanced training in geriatrics, says Wagner, is that there are so many specializations and opportunities within nursing — neonatal, critical care and pain management, to name just a few.
LPNs and RNs have the opportunity to take advanced training in geriatric care, and certifications exist at the RN level or at advanced practice level. But by then, geriatrics is competing with other specializations. "There's so many opportunities in nursing," Wagner says. "You can specialize in so many ways."
Geriatrics Training On the Job
One way nurses can learn about geriatrics on the job is through training provided by some health care systems.
The John A. Hartford Foundation (a Next Avenue funder) has funded a program for health care systems called Nurses Improving Care for Healthsystem Elders (NICHE) designed to improve geriatric care. The program offers nurses "just-in-time education," which focuses on making training available at the time of need.
A 2008 survey of nurses working in hospitals where NICHE was implemented found that nurse perceptions of the geriatric nursing practice environment and the quality of geriatric care improved as a result of the program. The study also showed some limitations, though. Geriatric nursing knowledge didn't improve.
Perceptions May Be Getting in the Way
Negative perceptions in the field of geriatric care persist, and that might be another reason few nurses have geriatric certifications.
A 2007 study suggests nursing students have negative attitudes toward working with older adults. "Part of that plays into myths and misperceptions we as a society have about older adults," Wagner says. "It's not seen as a glamorous job. There's so much emphasis on pediatric care versus geriatric care."
But those negative perceptions also sometimes come from outside the field. People associate working with older people as a degrading job, Mariani says.
"I had people look me in the eye and say, 'You seem like smart girl. Don't you think this is demeaning?' when I was caring for their loved ones," she says.
Geriatric Nursing in Demand
There's already a demand for geriatric nurses, and as health care systems try to meet that need, it will be the educators' job, Wagner says, to frame a career in geriatrics in a positive way.
"It's very rewarding [to work with older patients]," Wagner says. "You're dealing with the some of the most complicated cases."
For example, older patients are likely to have multiple chronic conditions like diabetes, high blood pressure and arthritis, and research shows that the presence of three or more conditions like these puts this demographic at seven times more likely of being a frequent emergency room patient.
People 65 and older represent about 40 percent of hospitalized adults, though "the [emergency department] environment is not always optimal for older patients," according to the nonprofit Joanna Briggs Institute.
For some nurses, the challenging nature of that work can be a draw.
For her part, Mariani doesn't think she will go into geriatrics after graduating from nursing school in August. Despite the connections she's made with elderly patients, she says the work is incredibly taxing and the field has lower pay compared to other areas.
Julissa Treviño
is a Texas-based freelance journalist covering science and health. Her work has been published in Popular Science, Medium, Vice, Smithsonian and BBC.
Read More

By

The John A. Hartford Foundation
The John A. Hartford Foundation is a private, nonpartisan, national philanthropy dedicated to improving the care of older adults. The leader in the field of aging and health, the Foundation has three priority areas: creating age-friendly health systems, supporting family caregivers, and improving serious illness and end-of-life care.