More Mini-Parks Mean Better Mental Health
In Philadelphia, the greening of former vacant lots is changing neighborhoods
There's a distinctive four-foot-high wooden fence popping up around vacant lots in low-income Philadelphia neighborhoods. For people who live nearby, it's a sign things are looking up. It means they're about to get a mini-park.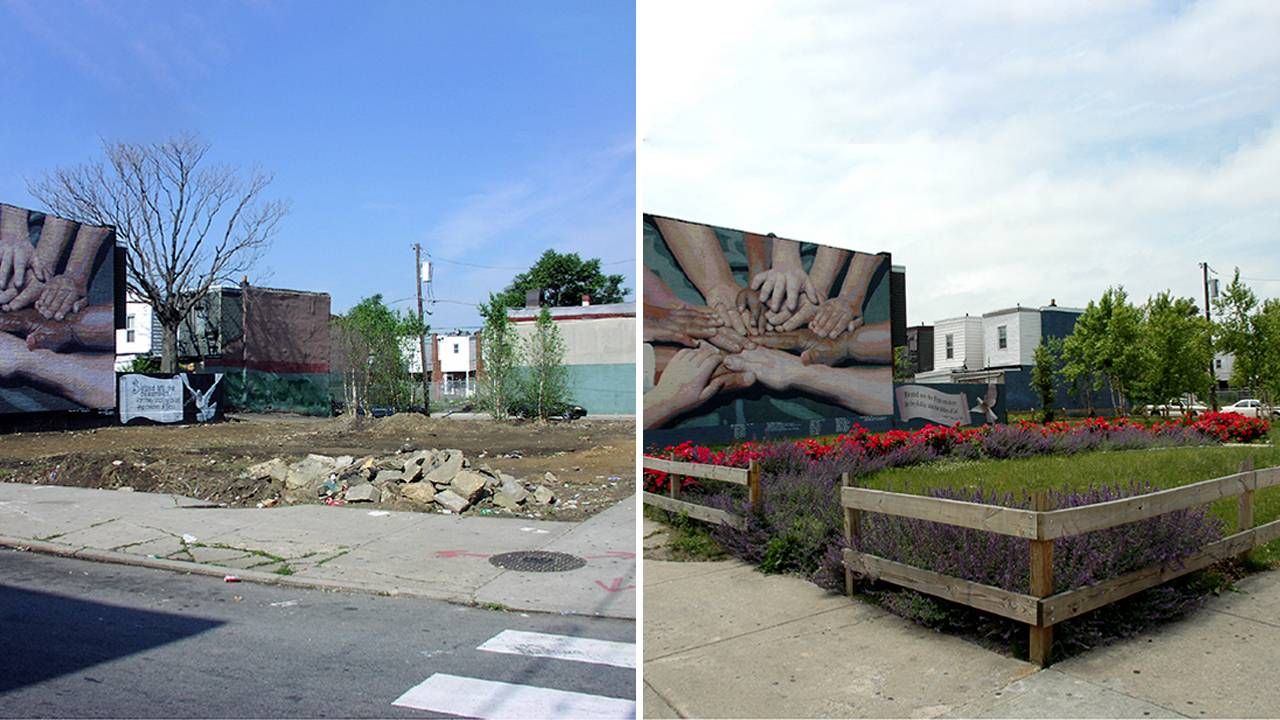 "That fence is like a staple," said Keith Green, director of PHS LandCare, the Pennsylvania Horticultural Society program that develops the lots in partnership with the city. "People know when they see that fence it's one of those clean and green vacant lots."
The fence is also a sign that rates of depression, stress and loneliness are likely to go down in the neighborhood. Research has shown that small improvements can have far-reaching effects on mental health and crime in blighted areas.
Opportunities to Address Mental Health
Programs like PHS LandCare are a relatively simple way to address mental health issues in challenged neighborhoods in the U.S., said Charles Branas, chair of the epidemiology department at Columbia University's Mailman School of Public Health.
"A lot of these place-based changes have real opportunity," he said in an interview during Columbia's Age Boom Academy.
A 2018 study found that people living near LandCare lots reported a more than 40% decrease in feelings of depression and a nearly 63% reduction in feelings of poor mental health.
"Folks might be living in close proximity to each other, but the spaces have been so forgotten, and the city has just left them over decades," Branas said. Just putting in "the most basic amenities" — these little parks — gets people out of their houses, onto their front porches and beyond, he added.
"These are not luxury installations," said Branas. "They're really inexpensive opportunities. Some wealthy donor or some corporation could green all of Philadelphia with one major investment."
A 2018 study found that people living near LandCare lots reported a more than 40% decrease in feelings of depression and a nearly 63% reduction in feelings of poor mental health. Studies have also shown notable decreases in gun violence in neighborhoods when vacant lots are cleaned and greened.
"People really now want solutions to gun violence that do not involve police," and greening spaces is not only "apolitical," but it's effective, Branas said.
According to Branas, abandoned lots across the country add up to an area the size of Switzerland. Philadelphia alone has "tens of thousands of abandoned properties," he noted.
The Impact of Greened-Up Spaces
"Dallas just put a lot of money into vacant lot greening, as did Chicago, because they do see this as an inexpensive and sustainable approach creating all kinds of benefits," Branas said.
Cleaning and greening vacant land is easier than some cities than in others. Philadelphia has PHS and other partners to smooth the way, but others lack the legal structure to allow access to vacant properties, Branas said.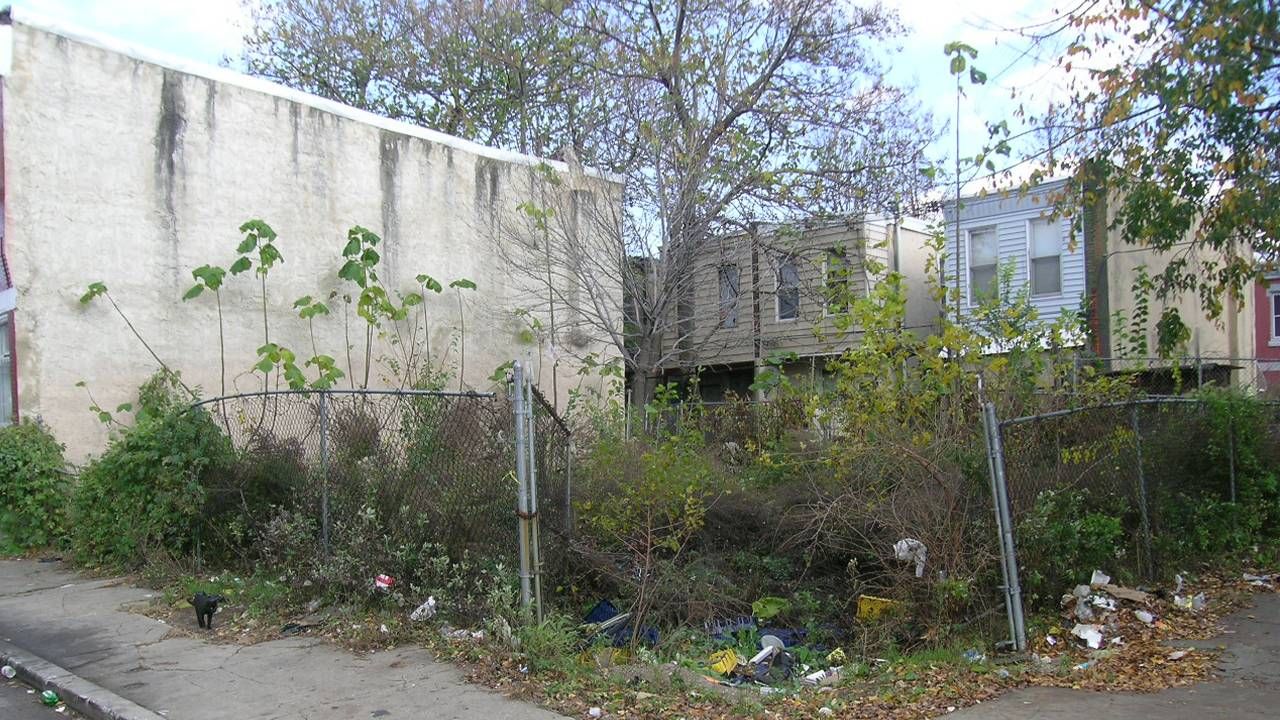 The city's involvement is crucial to the Philadelphia program's success, Green said. "Our city council backs this program year after year, because they see the impact of what we're doing," he said.
The city provides funds for contractors to maintain the greened-up spaces from April through October. The horticultural society also works with community organizations to hire local residents to maintain the sites and has a program, Roots to Re-entry, to hire and train formerly incarcerated people to perform landscape services.
"That's the key," said Green. "You can clean a vacant lot, but if you don't have maintenance, it's not going to work."
It's up to residents to decide how they use the parks. They're popular spaces for kids to play, as well as for weddings and cookouts, Green said, adding "you see horses grazing" on some.
Making Neighborhoods Safer
There's huge demand for the parks, and the neighborhoods with the most requests are the ones that get them, Green said.
There are a few guidelines: Sites must be in low-income neighborhoods and near business corridors and main thoroughfares, schools and rec centers. "We want to do as many in a 10-block radius as we can," Green said.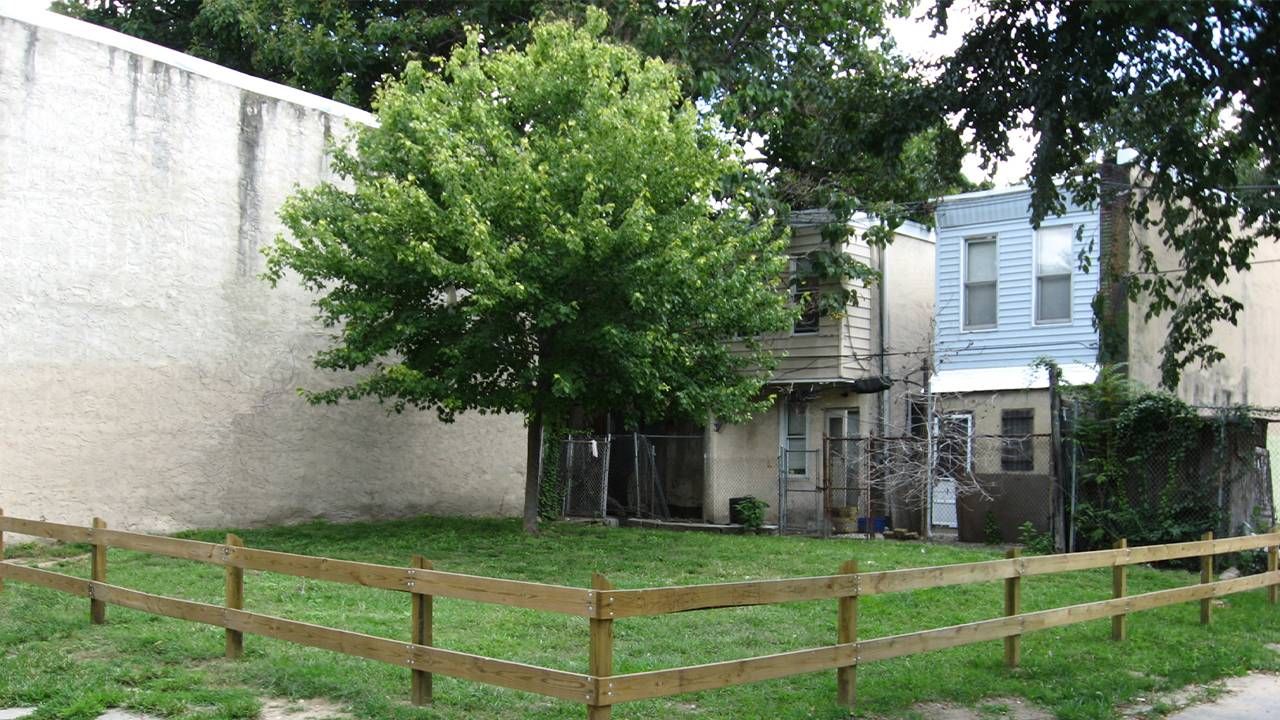 People of all ages use the parks, he added. For older adults, they create a sense that the neighborhood is a safe place to get out and about, he said. "Older people don't really want to walk past a vacant parcel," Green said.
When program officials decide to clean up a property, the city sends the owner of record a notice of violation and the bill for the work, and a lien is placed on the property so the money has to be paid if it's sold. The program has been so successful that the city is starting to recoup some of its investments, he said.
"We get too many requests," Green said. "We can't keep up with demand."
Rehabilitating vacant or dilapidated buildings can have similar effects on neighborhoods. These projects generally pose more of a challenge than greening vacant lots, in part because of legal issues, Branas said. But that's not to say it can't be done.
In 2012, Nationwide Children's Hospital in Columbus, Ohio, joined forces with a community organization to rehabilitate dilapidated homes near its campus. The hospital was starting a nearly $1 billion expansion, and the area had been hard hit by the mortgage foreclosure crisis, said Gretchen West, executive director of the hospital's Healthy Homes program.
Healthy Homes began by buying vacant properties and rehabilitating them for sale to lower-income families. It now provides grants for repairs to owner-occupied properties and it's also gotten into the rental market, West said in an interview.
"We hear time and time again how important our home-repair program has been," West said. The typical resident receiving a home-repair grant is an older adult on a fixed income, so "adding that seven-thousand dollar new roof has been critical to them staying in that home," she said.
Creating Sustainable Communities
"We've also done surveys of neighborhood residents, and they feel safer in their community just because there's far less vacant housing and opportunity for negative elements in the area," West said.
"This population health strategy has been a key reason some doctors and researchers have come to work for us," West said. "So many of these folks know it's so much more than the care you receive when you come in the hospital's front doors. It's the life you lead in your neighborhood and in your home."
"So many of these folks know it's so much more than the care you receive when you come in the hospital's front doors. It's the life you lead in your neighborhood and in your home."
The project includes an "urban food forest" with fruit trees and raised beds residents can use to grow plants, West said. Residents maintain the plots they sign up for, and the hospital cuts the grass and maintains a gravel walkway, she added.
It's important to avoid unintended consequences such as gentrification, Branas said. That means taking time to make sure residents, particularly long-term homeowners and renters, don't get displaced. Ordinances capping property tax and rent increases are one way of protecting residents — though the projects, by design, are small and not designed to be destination spaces, he said.
Nationwide has seen some of that in Columbus, and Healthy Homes is addressing it, West said.  "I think we'd be naïve to say our investments had no impact on the rate of change," she said. "But we're doing everything we possibly can to try to maintain a mixed-income community by continuing to provide affordable housing opportunities."
 "Around 2017, the south side of Columbus started to change, becoming a neighborhood that was desirable again," she said. "We realized we needed to preserve affordability."
That's where the rental program comes in. About 44% of the Healthy Homes rental properties are occupied by [the government's low-income housing program] Section 8 tenants, mostly headed by a woman with at least two children, according to West.
"There's a misconception that in a low-income area you can either have blight or gentrification, and there's nothing in between," said Michael Premo, director of engagement at Community Development for All People, a Columbus-based group that works with the hospital on the program . "I think we're proving there is a third way, where you can have a sustainable, mixed-income community."
"The places that surround us every day are vital to our health and well-being," Branas said. "They're shaping us in ways policymakers and we as a scientific community are just understanding in meaningful ways."