A Return to The Age of Aquarius
Theatre 55 stages 'Hair' with those who lived it
Creative inspiration can strike when it is least expected. For Richard Hitchler, co-founder and artistic director of Theatre 55, an early summer bike ride in 2018 past the Minnesota History Center in St. Paul, Minn. provided a light bulb moment as he was contemplating what would be the inaugural production for the Twin Cities theater.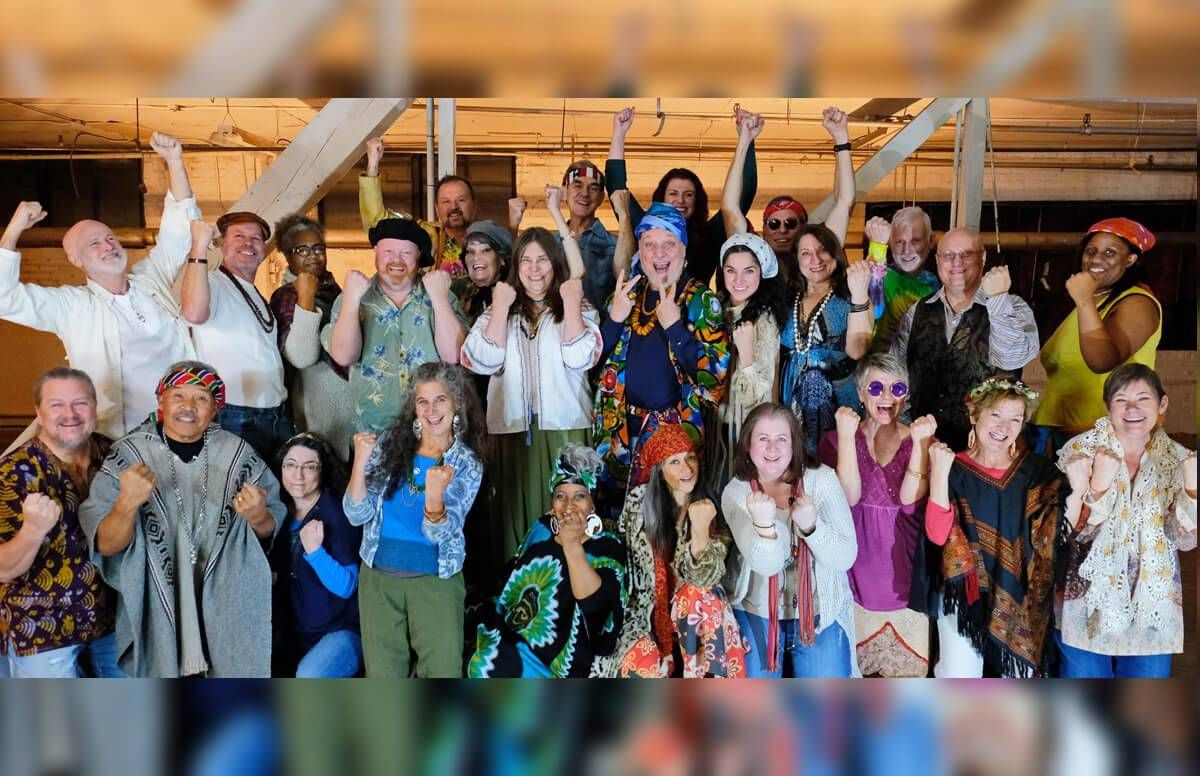 "The History Center had a banner on the side of the building promoting an exhibit about the year 1968. On that same day, I'd heard on the radio that the musical Hair was celebrating its 50anniversary," said Hitchler. "That's when it hit me — a production of Hair performed by those who lived it."
In February 2019, a seasoned cast, all over 55 (a mix of beginners and those with theater experience) mounted their version of the groundbreaking show at Mixed Blood Theatre in Minneapolis.
Lacking Opportunities in Theater
Hitchler, a program officer for the Minnesota State Arts Board, was inspired to launch Theatre 55 knowing there weren't any professional theaters like it in the Twin Cities, and as he has discovered in his research, anywhere else across the country.
"There are about 72 regular producing theaters in the Twin Cities alone, but there was something missing," said Hitchler. "In my work with the State Arts Board, I know that about 15 percent of adults over 65 participate in the arts, and the primary areas are painting, clay arts and choirs. There really weren't opportunities available for those interested in theater."
Managing a theater is a role with which Hitchler is very familiar; from 1997 to 2015, he was the artistic director of SteppingStone Theatre in St. Paul, which features performers ages 8 to 18 in several productions each year.
As it turned out, a friend and professional colleague, Steve Barberio, the founding artistic director for Stages Theatre in Minneapolis (another youth performance company) had also been paying attention to the lack of theater opportunities for older adults.
"Steve and I started talking, and then I contacted some other colleagues from SteppingStone, including choreographer Sandy Agustin and musical director Stephen Houtz. Among five of us, we have more than 150 years of theater experience and have previously worked together in various collaborations," said Hitchler.
The team was excited about moving forward and incorporated Theatre 55 in time to apply for funding. They launched the company in the fall of 2018.
Casting the Show
Finding performers to try out for the first production was surprisingly easy.
"I posted audition notices on Facebook and social media and started to hear from people right away," Hitchler said, adding that he originally slotted 45 audition spaces but wound up filling 60. Interested parties included those who had been active in theater in the past, those involved in community theater and even some who have never performed onstage before.
One of the Hair cast members is a nurse who just retired after 30 years, another is awaiting the birth of a fifth grandchild, and there is a husband and wife pair. It's also a culturally diverse cast, which Hitchler believes brings richness to the production.
A veteran of 15 community theater productions in the Minneapolis area, Melba Hensel, 73, was enthusiastic about finding a theater company where "I wasn't 20 years older than everyone else."  She added, "There was a production of Fiddler on the Roof that I was in several years ago where I had to play one of the old men!"
Discovering Theatre 55 was serendipitous for Hensel; she had actually been trying to reach out to people in the Twin Cities theater community looking for a company of age-mates. She came back to the stage through community theater at age 58; Hensel had been involved in theater when she was a young girl, then spent many years singing with choirs and playing percussion.
According to Hitchler, the lure of performing can be strong, even for those who haven't been on stage before.
"When I was at SteppingStone, I'd hear from parents of our young performers who'd say that once their kids were older, they'd like to try the theater themselves," said Hitchler, adding that one of his Hair cast members is the father of three SteppingStone alumnae.
"He said the girls always looked like they were having so much fun, and now he's experiencing that for himself," said Hitchler.
The Same Issues Exist Today
The cast numbers 28, with the performers ranging from age 50 to 79. For Hitchler, as well as for the players, there is great significance in the story behind Hair and the fact that they are playing the characters not as young hippies, but as their current ages.
"Hair was done as a protest play, and the issues it addresses — race, gender, class, the sexual revolution — are all still prevalent today. We've come a ways in 50 years, but in many respects, we're back where we were," said Hitchler.
Hensel, who had already graduated from college in 1968, remembers the time period well and feels fortunate that she came from a family where the issues of the day were freely discussed at the dinner table, something she knows wasn't especially common then.
In terms of the fashion, Hensel already had what she called "a professional job" in the late 1960s, so tie-dyed clothing wasn't in her wardrobe like it is for this production. And she's already found a long wig: "I don't think I've worn long hair since 1968," Hensel said with a laugh.
Making Adjustments
The rehearsal schedule was a rigorous one; four nights per week, two hours each night. Cast members were required to learn 29 songs, Hitchler said, so they are all practicing at home in order to learn their parts. There are seven lead roles, which have been filled with performers who are professional singers or have more stage experience, and the rest make up the chorus.
Hensel appreciates the efforts that have been made by the production team to help the cast members bond together.
"In community theater productions, you can cross paths with people from different shows, but no one in this cast knew each other. They are from varied backgrounds. There aren't many science nerds like me (Hensel is retired from a 43-year career as an environmental scientist), but we really have been building a tribe," she said.
Cast members are also working with Agustin on choreography, and according to Hitchler, both the dancing and the stage direction will accommodate the abilities of the performers.
"Our cast isn't going to be climbing on scaffolding like they did in the Broadway version," he said with a smile. "There will be places to sit on stage if needed."
Hensel, who broke her arm just days into the production schedule (but not in rehearsal) and will be cast-free by opening night, likes how Hair is a "music heavy, as opposed to a dance heavy" show. "Much of the story is carried through the songs," she added.
In the Spotlight
Hitchler expects there will be "a lot of nerves, a lot of excitement" on opening night, but the supportive audience — and fellow cast members — will help.
"From the beginning, I've reminded the cast that we need to take care of ourselves and take care of each other, and that's what's happened," said Hitchler
And now, they are ready for their moment in the spotlight. "I've told them, 'You know all the time you've had to watch your kids and your grandkids perform on stage?'" Hitchler said. "Well, now it's time for them to see Grandma and Grandpa in their show." But there is a caveat; due to the show's mature content, he's advising no grandchildren under the age of 13.
And as for the infamous nude scene?
"Much like the original on Broadway, I am leaving it up to the actors," said Hitchler.  "So it will be a surprise."  As of now, he said cast members are still thinking about it.
Community Outreach
Theatre 55 plans to stage two annual productions, as well as offer classes in improvisation, acting and script reading beginning later this year.
Hensel is particularly interested in one of the outreach programs that Hitchler is considering — bringing music and theater to assisted living and memory care residences. Hensel, whose older sister suffered from Lewy Body Dementia, would take books of sheet music with her when she'd visit and was amazed by the songs that her sister remembered.
"We would sing together, and I'd like to explore participating in Theatre 55 outreach that way," she said.
Hensel was eager for opening night. When given wishes to "break a leg," she laughed.
"I don't think that's something you want to say to an older theater group. That might be a threat!"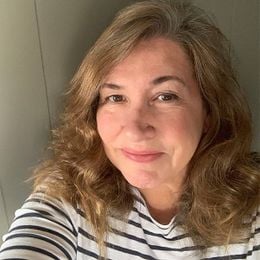 Julie Pfitzinger
is the managing editor for Next Avenue and senior editor for lifestyle coverage. Her journalism career has included feature writing for the Star-Tribune, as well as several local parenting and lifestyle publications, all in the Twin Cities area. Julie also served as managing editor for nine local community lifestyle magazines. She joined Next Avenue in October 2017. Reach her by email at [email protected]
Read More