What a Blast It Is Getting Old When You're in a Rock Band
Boomer musicians are in demand and getting plenty of life satisfaction
My 69-year-old cousin Matt Quilter has played rock 'n' roll and Southern California surf music for decades. He has always worked, but let's say the rock band business wasn't exactly booming.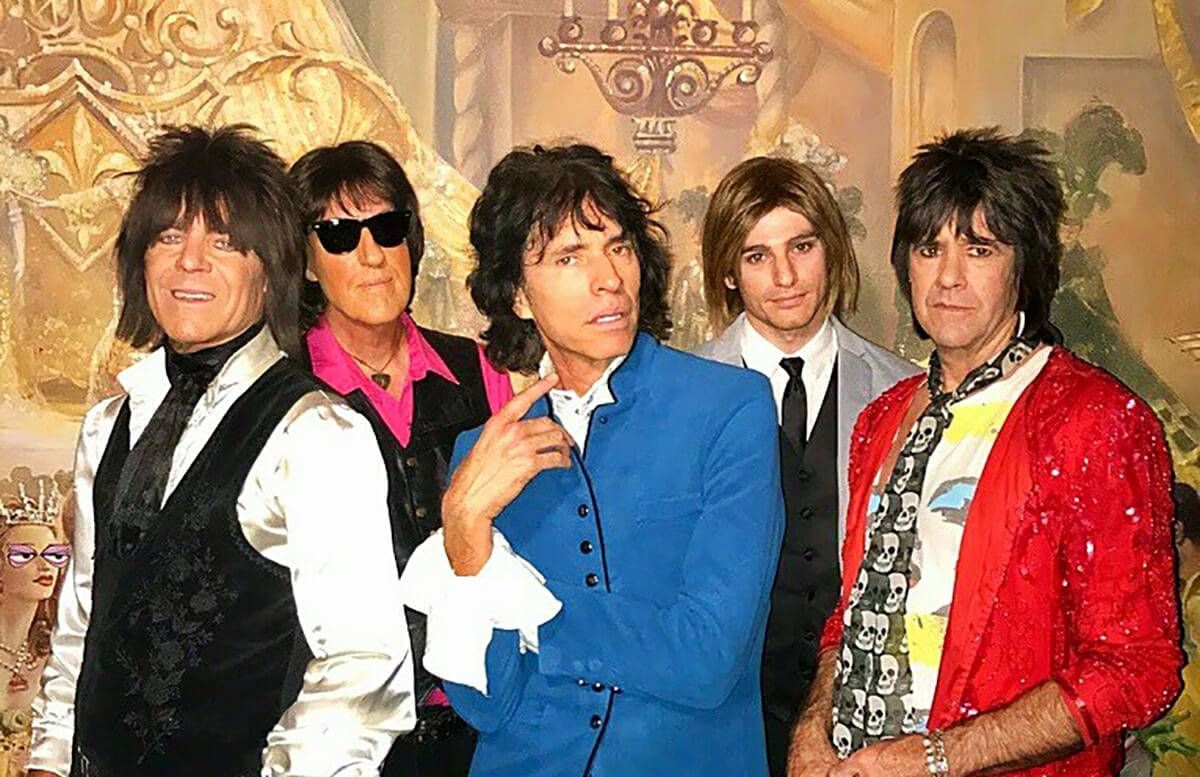 Then about 10 years ago, he got hired for a gig that does Beatles v. Stones Battle of the Bands shows, performing as Rolling Stones bassist Bill Wyman (and sometimes as a Beatle instead). Suddenly, he was passing off jobs to colleagues because he couldn't keep up with the demand. He was traveling all over the country, having a blast. The band, Jumping Jack Flash, plays performing arts centers, theaters, casinos and outdoor venues. To his astonishment, he says, "Geezers like us play sold-out shows to adoring fans." He also makes triple the money now.
Matt's not the only one. "There's a few musicians you never heard of who are making six figures. They do fly-in dates and they're always working," he says.
So what spurred the revival of interest?
Jumping Jack Flash founder and creative director Young Hutchison (who plays Keith Richards) explained the evolution of this tribute band. The musicians used to play a mix of rock and rhythm and blues, but they noticed audiences responded more when they played Stones' songs. "There was Beatlemania, and there have been Elvis impersonators forever. It just kind of unfolded," he says. Forming a Stones tribute act seemed like a natural.
The rise of tribute acts was a perfect storm of supply and demand, Hutchison says. "When baby boomers hit 21, you couldn't get into the clubs. They were crowded every night. Then the boomers got married and had kids."
Eventually, the boomers' kids grew up and moved out and the parents' careers wound down. "And Mom and Dad asked, 'What about us?,'" Hutchison says. "They wanted to rediscover their youth."
Pulling together Stones sound- and look-alikes is a huge undertaking, Hutchison says. He ticked off a laundry list of what he needed to find: First, you need to find musicians who can play the Stones' music really well. They also need to own the same instruments and costumes as the Stones. (One guy lugs five guitars to a show to avoid all the extra tuning.) They also need to be a good match physically: You can use wigs for the guys who don't have the right hair, but, Hutchison says, but they have to be able to look the part. "You can't have overweight guys who shouldn't be wearing tight pants," he notes.

It's all about creating an entertaining illusion. "We're dead serious about honoring the legacy of The Rolling Stones," Hutchison says. "You can still see The Rolling Stones — and that's the real guy, he's the one who wrote Satisfaction. What we do is present an illusion of The Rolling Stones in concert." To re-create the concert experience, Jumping Jack Flash musicians dress the part in vintage garb. When they perform their Stones v. Beatles show as the Fab Four, they sport black suits like the Beatles wore for the Ed Sullivan show, then move on to Sgt. Pepper, psychedelic and Abbey Road outfits.
The appeal is part magnetism, part nostalgia, Hutchison says. "There's something about the music that still resonates 50 years later. It's lightning in a bottle. There's some sort of magic," he notes.

"We're on the same ride as the audience," Hutchison says. "The rock generation is dying literally and figuratively. We're all reliving the soundtrack of our lives. Sometimes you look out and you'll see someone who looks like a retired bank president, and that'll be the guy at the meet and greet later who comes up to you with tears in his eyes and says, 'I saw the Stones in '66. That's where I met my wife, and that was the music we played at our wedding.'"
Jon McCracken, Jumping Jack Flash drummer (Charlie Watts) is 26, but Pat Hennessy (Brian Jones/Ron Wood) and the rest are boomers.
Because they are boomers themselves, Jumping Jack Flash knows about all the things that used to bother them back in the day — and got rid of them. You won't find extreme volume, a lag time of 30- or 40-minute changeovers between bands or 11 p.m. start times. Their shows tend to start at 7 or 8 o'clock at night.
Playing in a rock band requires stamina at any age, but for many musicians, it gets harder as you get older.
Joey Jagger Infante, who plays Mick Jagger, never imagined himself in this role. "I've been a bass player my whole career. I opened for Def Leppard in my 20s. We used to play Brown Sugar and sometimes I sang Stones' songs. My wife pushed me [into playing Mick Jagger]," he says. "I didn't know if I could sing two hours of Stones' music." Infante's second show proved a trial by fire: 5,000 people were in the audience. "How am I gonna do it?," he wondered. "Am I going to be halfway through and then (he makes a choking sound). It was unnerving."
Not only that, there's the aerobic endurance factor: "I saw Mick a couple years ago. It's like he's running track while he's singing and he's not even winded," says Infante.

Asked how he stays in shape to play the hyperkinetic 75-year-old, Infante replies: "I live close to the beach. If I know I'm doing a string of shows, I'll run to keep up my endurance. But when we're in season, the show is enough." Besides, he says, "It's more about not eating all the garbage. I've been a vegetarian for 20 years." He pauses, then adds. "Doughnuts are vegetarian."
Everyone who's done business travel knows it can be a drag. So how do the band members feel about jet lag and bad hotel food?
"I feel blessed for every mile on the road, every time I have to get up at 3 a.m. to make a 5 a.m. flight," Hutchison insists. "We are living our dream. Everybody dreams of being a rock 'n' roll band and we're doing it. Every night the crowds go wild. We just sold out a 1,200-seater and [the show's] not even until June."
Although it would be understandable for Infante to be braggy, he resists the temptation to gloat when asked about his profession. "Usually I say I'm a working musician," he says. "That's blessing enough."
And it's a gas gas gas.
Next Avenue Editors Also Recommend:
Deborah Quilter
is an ergonomics expert, a certified Feldenkrais practitioner, a yoga therapist and the founder of the Balance Project at the Martha Stewart Center for Living at Mount Sinai Hospital in New York. She is also the author of Repetitive Strain Injury: A Computer User's Guide and The Repetitive Strain Injury Recovery Book.
Read More