Food for Thought: Senior Residences Offering Better Dining Options
High-quality food, nicer surroundings and cooking activities please residents
Eli Ayoub plates a delicately cooked piece of fish to which he's added garden-fresh flavor and eye appeal with fresh rosemary. As he delivers the order to the diner and carefully situates the white plate on a linen-covered table in front of her, smiles spread across both of their faces.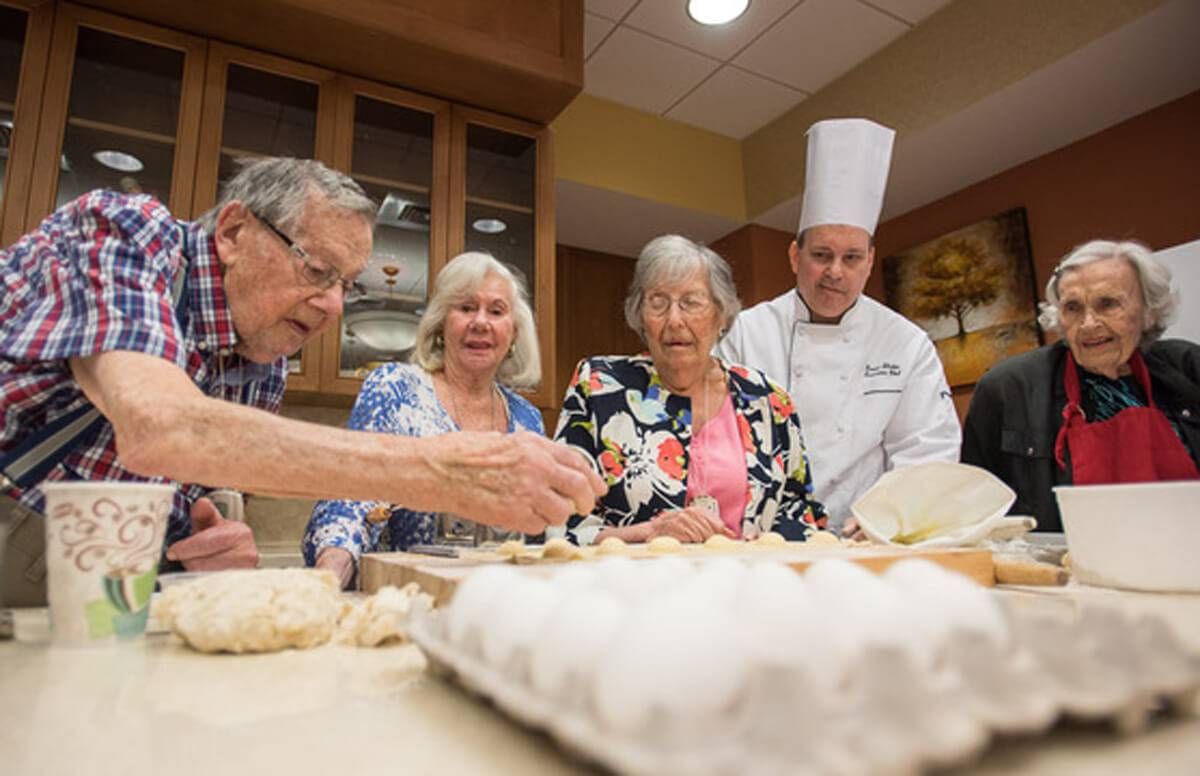 Ayoub is not a fancy restaurant chef. He is corporate director of culinary experience at Pathway to Living, a Chicago-based developer, owner and operator of 33 senior housing communities across the Midwest. This dining experience is an everyday occurrence at Pathway's residences, but it hasn't always been this way — not by a long shot.
"It used to be institutional dining [at senior care facilities] — a lot of premade things served with an ice cream scoop — and nobody cared about quality or presentation," Ayoub says.
Coming to the industry from a country club, Ayoub says "it was kind of heartbreaking" to witness how those members got the best food, the prettiest presentation and the greatest events, compared to the low-quality food and service often provided to residents of senior care communities. When he arrived at Pathway three years ago, he made it his personal mission to give residents the kind of dining they'd actually enjoy.
"We're thinking about not just a dining program, but a hospitality program," Ayoub says.
He's far from alone in his mission. Many other senior living communities around the country have made major improvements in their culinary offerings within the last few years. Yet it begs the question: What took so long?
"Shame on us as an industry for not stepping up sooner," says Carrie Traetow, executive vice president of operations for CA Senior Living, an investor and developer with nearly two dozen communities throughout the U.S.
A sort of "changing of the guard," she says, has marked the catalyst for change.
"We used to serve a very humble generation that grew up in a different time, where you got what you got," Traetow says. "As a younger generation of seniors has come [into senior housing communities], they've lived a little bit differently, and they're requesting more."
Elevated Presentation
The entire appearance of the dining experience — from the dishes to the dining room — has evolved. For example, at United Hebrew's assisted living community in New Rochelle, N.Y., residents dine in a two-story atrium restaurant.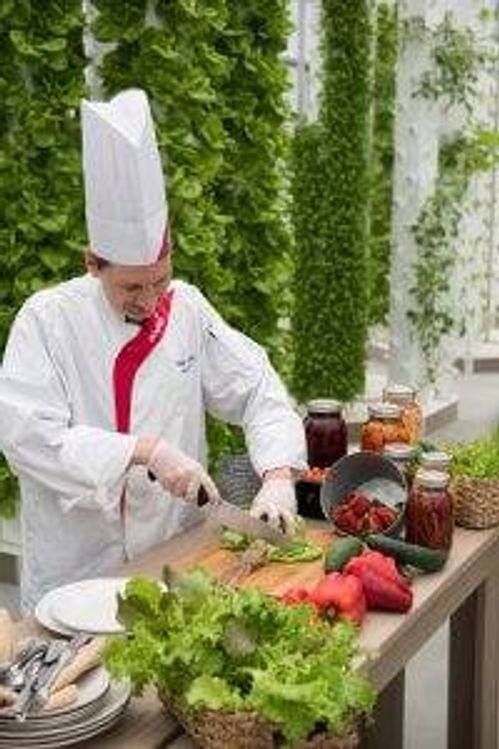 At CA Senior Living communities, the dining spaces are now more modern, Traetow says. Some also have large clubrooms, providing a private space for residents to gather with loved ones. "It's the next best option to having your entire family in your living room and kitchen," says Traetow.
Using fresh ingredients has improved how the food looks and tastes, and sourcing food locally whenever possible helps with this goal. Some communities even grow their own: Garden Spot Village, a retirement community in New Holland, Pa., produces more vegetables and herbs than it can consume from its onsite aeroponic greenhouse.
More Availability and Flexibility
As the concept of all-day cafes has gone mainstream in cities around the country, senior housing facilities are building a similar philosophy into their culinary programs.
"It used to be that meals were served at 8 a.m., noon and 5 p.m.," Traetow says, but no more. Offering greater flexibility in when to dine has been well received by residents and their families, avoiding the need to plan visits around scheduled mealtimes.
Ayoub helped spearhead bistro concepts in Pathway to Living's communities that change during the day from coffee shop to sandwich joint to snack bar. In the afternoons, residents enjoy treats like fresh-baked cookies and made-to-order smoothies. In the evenings, some of these bistros transform into bars, complete with wine, beer and cocktails.
CA Senior Living has also implemented bars in its communities, providing recreation areas with a heavy focus on the social element; women come in to play bridge, while men gather to watch a game.
"We're seeing a much more vibrant (resident) moving in these days, and they're used to a glass of wine or a beer at the end of the day," Traetow says.
Inviting Participation
In some communities, the act of eating has almost become a minor part of the dining experience compared to the activities that go along with it. Pathway launched cooking clubs in all of its communities. In these clubs, chefs instruct residents on how to make a dish, or a resident demonstrates how to prepare his or her favorite recipe. These items even get personalized names, such as John's Barbecue Salmon Filet, before being served to all.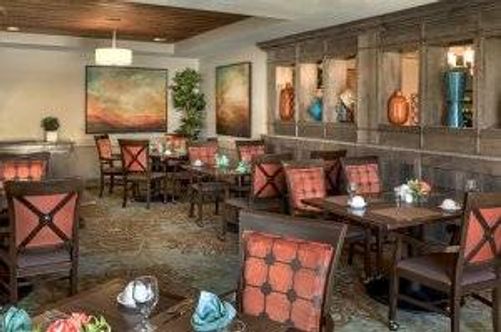 United Hebrew introduced cooking classes at its assisted living communities a few years ago and recently launched them for its nursing home side. In April, the latter held its first cook-off — a latke mash-up --— during which residents tasted and judged a competition among campus chefs for the best potato pancake recipe.
Even offsite adventures are becoming part of culinary programming. Ayoub planned an overnight camping trip, complete with a pig roast, for Pathway residents last year, along with field trips to local farms.
Inviting Input on Menus
Residents now have opportunities to interact with kitchen staff to help shape their menus. At Maplewood Senior Living in Westport, Conn., residents are asked to share recipes of meals they used to prepare at home, and get to see the cooking up close (and offer advice) thanks to an open-display kitchen.
Artis Senior Living, a Virginia-based owner/operator of 15 memory-care facilities in nine states, holds a monthly forum through which residents meet with the director of culinary services. Residents get to make special menu requests, talk about their culinary experiences and vote on what they'd like to see next (for example, a pasta bar or an omelet station).
Chefs at communities like Pathway to Living are also speaking with residents more regularly about individual dietary restrictions. When food is made to order, says Ayoub, it's much easier to accommodate requests like gluten-free or dairy-free meals. "I'll look at the same recipes and make changes to meet their diet," he says.
A Desire to Improve
Giving residents a voice about the food they eat has made a business difference for these senior living communities. Overall, the culinary experience "is and can be a real deciding factor" for potential residents considering whether to move in, Traetow says.
The ultimate goal of any senior living community's culinary program should be driving engagement between residents and their families, the chefs and staff, Ayoub says. "We might have differences, but when we're at the table, we respect each other and the food we have there," he says.
If the industry continues this way, he notes, dining experiences at senior living communities may be on par with those of the finest restaurants.
"To be honest," says Ayoub, "in the next five or 10 years, I think our communities will be better than a country club."
Kelsey Ogletree
is a freelance writer based in Chicago covering travel, food, health and wellness for magazines like Shape, AARP, Architectural Digest and more.
Read More