'Soccer is Life' for This Intergenerational Team
Players of all ages who gather every Tuesday morning for a pickup game find camaraderie and healthy competition on the field
Every Tuesday morning a pediatrician and a psychiatrist block time off in their calendars. A thirtysomething reaps the benefits of a flexible work-at-home schedule, abandoning his desk for a while. A retiree pedals his bike to the field. College kids join when they're home on break. It's the Tuesday morning pickup soccer game.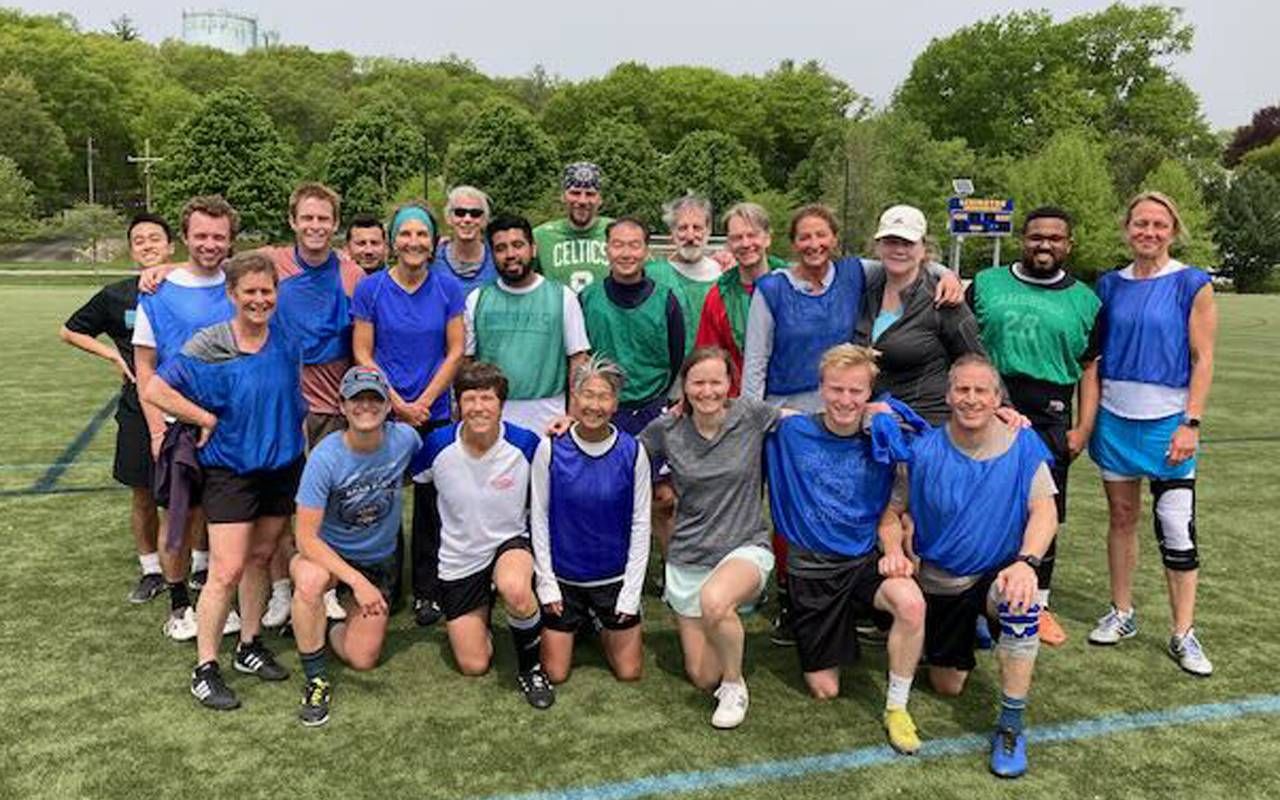 All are welcome. No subbing in and out; whether it's 15 people or 25, they're all on the field running for the entire hour. They play year-round. Rain schmain! Snow flurries do not deter them. When that white stuff blankets the ground, they shift to a bubble dome with three soccer fields inside. This scrimmage of dedicated diehards in Lexington, Massachusetts has been underway for about ten years.
All are welcome. No subbing in and out; whether it's 15 people or 25, they're all on the field running for the entire hour.
My personal history with soccer goes back twenty years. I was in my mid-forties watching my daughters play. Standing on the sidelines, I could scarcely stop myself from dashing onto the field. I could run five miles. Surely, I could sprint to the ball and kick it flying down the field. It could be me ... it should be me ... scoring that goal!
There had been no girls' soccer team at my high school or college. In fact, at 44, I'd never played any team sport before when I discovered a group of spirited women just starting to play in my hometown. Together we learned to dribble and shoot and in no time, we were hooked. We laughed and forgot about our to-do lists while we darted after the soccer ball.
A Close-Knit Community
Our numbers grew through word of mouth to friends, and then friends of friends. A decade later we have a hundred women on our email list and play in pickup games and indoor and outdoor leagues. Best of all, this close-knit community supports each other. We deliver casserole dinners when someone has a medical emergency. We celebrate joyful milestones, especially birthdays that tip us into an older age group in a league where the competition might be just a little slower.
Some of my soccer buddies kept raving about that weekday, mid-morning, coed intergenerational pickup game: "You gotta come." "Such a special group." But my dang work got in the way. Finally, in my mid-fifties, I took the leap from full-time engineer to part-time work and hobbies that aligned with my passions. More soccer! I now had the freedom to check out the Tuesday morning pickup game.
I stopped by the field to survey the scene. I was intimidated. Big time.
While this group had started as an all-women pickup, over time faster, talented and younger men and women had joined. They bobbed and weaved up the field as if they had been born with baby soccer balls tethered to their feet. What was I getting myself into? I spotted a few whose skills were at my mere mortal level. I did a warmup lap around the field and mustered my confidence.
'You Got This, Jean'
"Grab a blue pinny," someone hollered. I pulled it over my head and jogged onto the field. When the blue team had the ball, I dashed forward getting open to receive a pass. But half of my brain prayed they didn't send the ball my way because I was sure to lose it. I endeavored to silence my negative self-talk: Get open! You got this, Jean.
Some of the opposing players gave me space to handle the ball, even though they could have easily stolen it. Others swooped in and plucked it away from me. Fair enough. But I sprinted after those ball thieves, motivated to at least provide some annoying interference.
I heard an encouraging, "Nice pass, Jeannie." I appreciated it, especially the diminutive form of my name that made me feel like a kid again. But I also observed they didn't say that to everyone. Whatever. I'd accept the compliment.
At the end of that first pickup game, I enjoyed the upsurge of endorphins from a sweaty workout.
The Event of the Week
I returned the next week with a little less trepidation. Battered ego aside, I had to admit that the higher level of play raised my game. It also made me run all out.
A few more Tuesdays and this pickup game has now become my absolute favorite, hate-to-miss soccer event of the week. It is still my weekly dose of humility, but I am heartened when I deliver a strong pass and on occasion, I even score a goal.
I've always wondered why these skilled Tuesday players spend their precious leisure time with this hodge-podge crew of soccer fanatics. Plenty of more competitive leagues must vie for their time. So recently after we wrapped up, I polled the crowd: "What do you like about this pickup game? Why do you come every week?"
"I enjoy playing with all ages and feeling the great spirit, camaraderie and generosity. The beautiful game lifts your heart and makes you love the world."
Alison, in her mid-sixties, chimed in, "There's nothing like connecting on a good pass. It's better than scoring a goal. And nothing makes me run faster than trying to get to the ball first." I decided — right then and there — to adopt "Get to that ball first, Jean!" to my repertoire of self-talk on the field.
Joy, a few years shy of sixty, saw the weekly play as a healthy stress reliever, saying, "I love not thinking about anything else while I'm on the field."
"I enjoy playing with all ages and feeling the great spirit, camaraderie and generosity. The beautiful game lifts your heart and makes you love the world," said Andrea, who will celebrate her 70th birthday next year.
Several players mentioned the community spirit and expressed appreciation for being part of the group. Fiftysomething Gretchen agreed, "I learn so much watching others play. Where else can I play with people of such skill and still be included?"
Not Just Luck
"What I like about our game is that it reminds me of a big family pickup game where everyone plays from grandparents down to children. Everyone is important and everyone has fun regardless of skill level," added Jim, a few years from eighty. I admire both how fast he is on the field and how he calmly decides where to send the ball.
Some responses warmed my heart. Prior, age 49 said, "This group unearths the beauty of the game — all the good parts and none of the bad parts of soccer." Perhaps he was recalling unruly parents yelling at the refs, or a coach sidelining weaker teammates to improve the odds of a win, or professional players writhing on the ground in ersatz agony hoping to entice the ref to issue a yellow card against the opponent. None of that here.
A-few-years-out-of-college Hank added, "I like playing soccer with my mom," as the group gave a collective "Awwwwww."
Earlier that morning — before I had pulled out my reporter notepad — I had lobbed the ball over a few players and into the goal. I'll admit it was a pretty shot, but when someone gave me a high five, I instinctively responded "It was luck." They scolded me for sharing my credit with Lady Luck. Okay, maybe there was a little skill. I sighed and felt a wave of gratitude that I had found this group.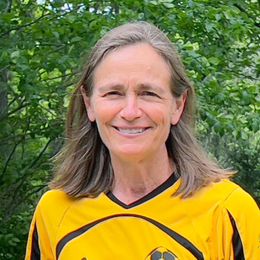 Jean Duffy
Jean Duffy is the author of nonfiction essays and a first book, Soccer Grannies: The South African Women Who Inspire the World (Rowman & Littlefield 2023). Jean can be found on the soccer field in Lexington, Massachusetts where her team, the Lexpressas, have been playing for some twenty years.

Read More