Listen In: StoryCorps Conversations On Creativity
Teachers and artists 55+ talk about inspiration and fulfillment
https://www.youtube.com/playlist?list=PLiKq9I_odSADQFwOEIzegrNWc4u82OKQM
(Part of the VITALITY ARTS SPECIAL REPORT)
For Roni Trulson, stepping onto the dance floor again offered both a sweet moment of nostalgia and an opportunity, as she says, "to feed my soul in a different way" at this time in her life.
In an audio conversation produced by StoryCorps, the nonprofit media organization that has been recording personal stories since 2003, Trulson tells dance teacher David de Blieck that her mother owned a studio in the family home when Trulson was in elementary school and that she has fond memories of dancing there.
In her early 20s, Trulson also operated her own dance studio. However, over the years, Trulson's practice fell by the wayside as she began a different career and raised a family. And her body changed; Trulson admitted she had been living a sedentary life, but her strong desire inspired a return to dancing.  So Trulson made a commitment to overcome her fear and enrolled in a 10-week class in September 2018 taught by de Blieck at the Whitney Senior Center in St. Cloud, Minn.
De Blieck, who also teaches dance at the College of St. Benedict in nearby St. Joseph, praised Trulson for her "adventurous spirit" and her demonstration, to her age mates and others, of "the power of following your creative impulse."
Stories of Inspiration and Confidence
In this StoryCorps project, created for Next Avenue's Vitality Arts series and funded by Aroha Philanthropies, three conversations between Minnesota teaching artists and their older students (and a conversation between two teaching artists — one older and one younger) tell stories of inspiration, dedication, passion and life-changing moments.
In these three-to-five minute discussions, you'll also meet ceramics instructor Ken Ferber and his student, Linda Schmidt, who has learned how art can impact life in many ways; Karen Gasche, who tells about how she "had nothing to lose" by enrolling in an opera class taught by Marcia Aubineau; and Lynda Monick-Isenberg and Zach North, talking about how their older students, who found joy and delight in a drawing class, actually inspired them.
All of the images of the artists were taken by photographer Tom Dunn.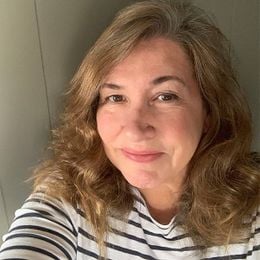 Julie Pfitzinger
is the managing editor for Next Avenue and senior editor for lifestyle coverage. Her journalism career has included feature writing for the Star-Tribune, as well as several local parenting and lifestyle publications, all in the Twin Cities area. Julie also served as managing editor for nine local community lifestyle magazines. She joined Next Avenue in October 2017. Reach her by email at [email protected].
Read More